Career
Tech Layoffs: What Happened In Q3?
01 December 2022
| Company | Job Losses | Reason |
| --- | --- | --- |
| HP | 7800 | Cost reduction |
| Yahoo | 2400 | Cost reduction |
| Twitter | 1700 | Cost reduction |
| Intel | 1400 | Cost reduction |
| Hospitality Industry | N/A | Impact of COVID-19 pandemic |
| Tourism Industry | N/A | Impact of COVID-19 pandemic |
| Oil and Gas Industry | N/A | Falling oil prices |
| Unknown tech companies | 5000+ | Cost reduction and pandemic impact |
| 2022 Tech Job Market | Predicted to be high | Ongoing pandemic situation and cost reduction |
| 2023 Tech Job Market | Predicted to be high | Potential economic fallout and cost reduction |
Tech layoffs are always a cause for concern, especially in Q3, when the holiday season is just around the corner. Unfortunately, it looks like things are going to get worse before they get better as more and more companies announce layoffs.
In this blog post, we'll look at what's been happening in the tech sector and figure out why things have gotten so bad. We'll also offer some advice on how to deal with job insecurity in the tech industry.
A recap of the most extensive layoffs in the tech industry during Q3
It's been a tough year for the tech industry, and Q3 was no exception. Several major tech companies announced layoffs during the quarter, with more than 16,000 jobs lost. The most extensive releases came from HP, which announced plans to eliminate 7,800 jobs to cut costs.
Other notable layoffs included 2,400 jobs at Yahoo, 1,700 at Twitter, and 1,400 at Intel. While the overall job market has begun to recover from the pandemic-induced recession, the tech industry is still feeling the effects. With companies cutting costs and consumers scaling back on spending, we'll likely see more job losses in the coming months.
Why did these companies lay off employees?
In early 2020, the outbreak of COVID-19 led to a sudden and dramatic drop in global demand for many products and services. As a result, many companies were forced to lay off employees to stay afloat. While the reasons for these layoffs vary from company to company, the general goal was to reduce costs and ensure that the business could continue operating during the crisis.
For some companies, this meant temporarily reducing staff levels, while others made more permanent cuts. While layoffs are always difficult, they are sometimes necessary to keep a business afloat during tough times.
How will this impact the tech industry as a whole?
2022 is just around the corner, and with it comes a host of new technologies set to revolutionize the tech industry. From self-driving cars to augmented reality, several breakthroughs are poised to change how we live and work. And while some may be hesitant to embrace these new technologies, there's no denying that they have the potential to improve our lives significantly.
2022 is shaping to be a year of significant change for the tech industry, and we'll likely see even more disruption in the future. So what can we expect from 2022? Here are a few predictions:
Self-driving cars will become more commonplace.
While self-driving cars have been making headlines for years, 2022 is shaping to be the year they finally go mainstream. Thanks to artificial intelligence and sensor technology advances, self-driving cars are becoming increasingly safe and reliable. As a result, 2022 is likely to be when we see a significant increase in the number of self-driving cars on the road.
Augmented reality will become more popular.
Augmented reality (AR) is an emerging technology that has the potential to change the way we interact with the world around us. By overlaying digital information in the real world, AR can revolutionize fields such as education, medicine, and retail. And while AR has been used in a limited capacity so far, 2022 is likely when it starts to go mainstream.
5G will become widely available
5G is the next generation of wireless technology that offers significantly faster speeds and lower latency than its predecessor, 4G. While 5G has been available in select markets for a few years, 2022 will likely be the year when it goes genuinely global. Thanks to a broader rollout of 5G networks and support from significant carriers, 2022 is shaping up to be the year when 5G becomes widely available.
These are just a few of the ways 2022 is likely to impact the tech industry. So whatever your opinion on new technologies, one thing is for sure: 2022 is shaping up to be a fascinating year for the tech world.
What do workers who lost their jobs need to do to stay competitive in today's job market?
2022 and 2023 are going to be tough years for the job market. With the pandemic, many people have lost their jobs and those who haven't are at risk of losing their jobs. So, what do workers who lost their jobs need to do to stay competitive in today's job market? First, they need to improve their skills. They need to update their resume.
They need to network. They need to find a job that they're passionate about. They need to be flexible. They need to be willing to learn new things. They also need to be patient and persistent. It's not going to be easy, but it is possible. So, don't give up hope if you've lost your job. Instead, start taking steps today to improve your chances of getting hired in 2022 and 2023.
Are there any other industries that are seeing mass layoffs right now?
2022 is going to be a challenging year for many industries. Some sectors, such as hospitality and tourism, are still feeling the effects of the pandemic, while others, such as oil and gas, have been hit hard by falling prices. And with vaccines still in development, it's unclear when things will return to normal.
As a result, many companies are preparing for mass layoffs. A recent survey found that nearly 40% of employers plan to reduce their workforce in the next 12 months. Sectors that are most at risk include retail, manufacturing, and transportation. So if you're looking for a job, it's essential to be aware of these trends. 2022 is shaping up to be a challenging year for the job market.
The layoffs in the tech industry signal a shift in the economy as a whole. As technology becomes more automated, there is less need for human employees. This means that workers who have lost their jobs in the tech industry need to stay competitive by learning new skills. Our online course can help you maintain your competencies and remain competitive in today's job market.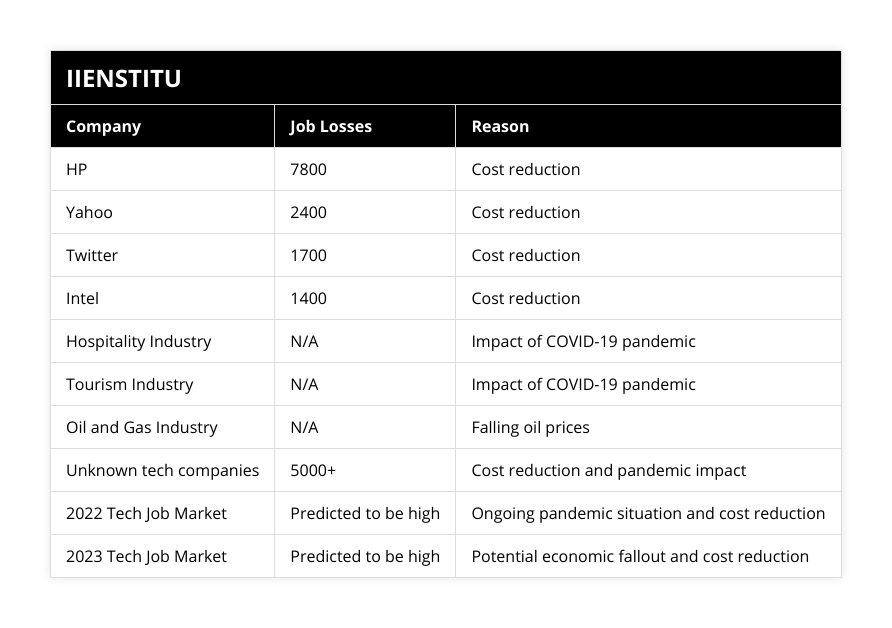 Meryem Winstead
Blogger
I graduated from the Family and Consumption Sciences Department at Hacettepe University. I hold certificates in blogging and personnel management. I have a Master's degree in English and have lived in the US for three years.
Related Posts
Our team of experts is passionate about providing accurate and helpful information, and we're always updating our blog with new articles and videos. So if you're looking for reliable advice and informative content, be sure to check out our blog today.