Logistic Management
Systematic Logistics Packaging Transport
25 February 2023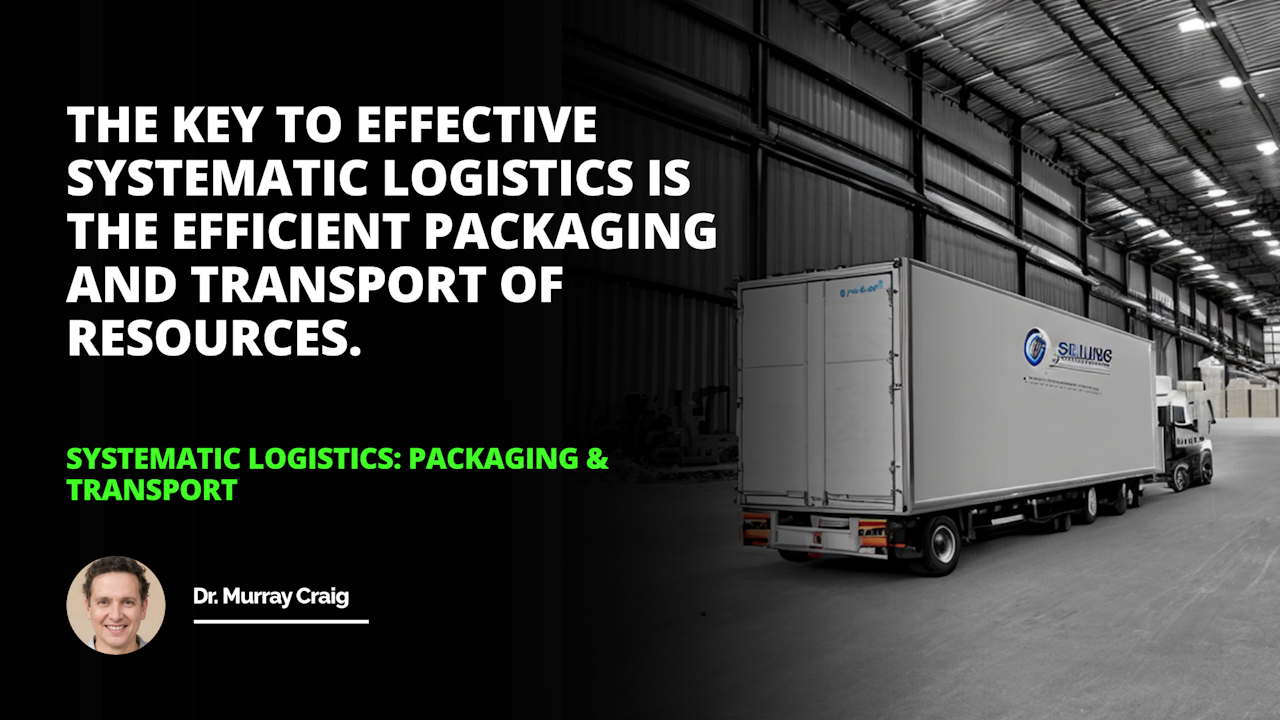 | Aspect of Logistics | Description | Relevance |
| --- | --- | --- |
| Packaging in Logistics | Utilization of suitable protective methods for transporting goods | Ensures the safety of goods, reduces the risk of damages, helps in tracking and monitoring |
| Customized Packaging | Specific packaging designed for particular types of goods | Safeguards specific goods like perishable, hazardous or liquid items effectively |
| Transport in Logistics | Effective and efficient movement of goods from one place to the other | Ensures timely delivery and reduces costs |
| Carriers in Transport | Use of reliable carriers for movement of goods | Minimizes delivery delays and increases reliability of transportation |
| Weather Planning | Monitoring and planning around weather conditions for transport | Prevents weather-related delays and damages |
| Technology in Transport | Use of geo-tracking and route optimization software | Enhances efficiency of transportation processes |
| Importance of Logistics | How systematic logistics contribute to the businesses | Reduces costs, minimizes delays, optimizes processes, and ensures safety of goods |
| Safety Precautions | Necessary safety steps taken during packaging and transport | Prevents accidents and damages to goods |
| Delivery Points | Strategic placement of delivery points to enhance transport efficiency | Reduces delivery time and costs, enhances customer satisfaction |
| Efficiency | Overall efficiency of the system in packaging and transport | Helps to optimize delivery process, increases productivity and reduces costs |
Introduction: Systematic logistics is essential for efficiently and successfully transporting goods from one location to another. Whether you are transporting goods for retail or emergencies, it is necessary to have a sound logistics system in place. This involves the packaging and transporting of goods, two components essential for any logistics operation.
Packaging in Systematic Logistics
Packaging is one of the essential components of systematic logistics since it helps protect and transport goods efficiently. Different types of packaging can be used depending on the type of goods being transported. For example, hazardous materials such as chemicals, special packaging, and safety precautions must be taken. Insulated packaging and temperature-controlled containers are necessary if a business is transporting perishable food products.
Similarly, if a company is transporting liquids, it must use spillproof containers and tightly sealed caps.
By using customized packaging, businesses can ensure that the proper packaging is used for suitable goods. This helps reduce the risk of damage during transit and increases the safety of the goods. Customized packaging also makes tracking and monitoring the goods during transit easier, as any problems can be easily identified.
Transport in Systematic Logistics
Transport is the other major component of systematic logistics. Once the goods have been packaged, they must be moved from one place to the other safely and efficiently. To do this, businesses must establish an effective transportation system that includes the use of reliable carriers, the adoption of flexible routes, and the strategic placement of delivery points.
To minimize delivery delays, businesses must ensure that their carriers are reliable and their vehicles are regularly maintained. It is also essential to plan and keep an eye on the weather conditions, as this can affect the speed of delivery. Additionally, businesses should also make use of technology to optimize the delivery processes, such as using geo-tracking and route optimization software.
The Importance of Systematic Logistics
Systematic logistics is essential for businesses that are involved in the transportation of goods. It helps reduce costs by minimizing delays, avoiding damages, and increasing productivity by optimizing transportation processes. It also ensures that goods are safely and securely packaged, which helps to reduce the risk of any untoward accidents or incidents.
Conclusion
Systematic logistics is an essential component of any business that involves the transportation of goods. It involves careful consideration of both the packaging and transport of goods, and it is necessary to ensure that all safety precautions are taken. By establishing an effective and efficient transportation system, businesses can minimize delivery delays and reduce costs, increasing productivity and efficiency.
The key to effective Systematic Logistics is the efficient packaging and transport of resources.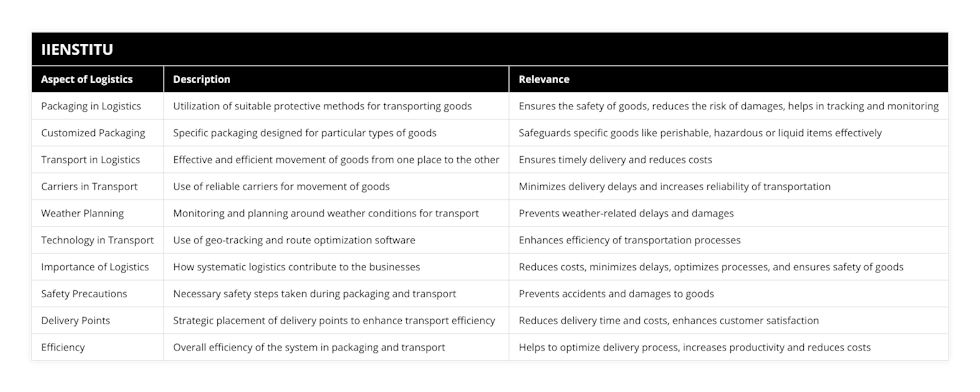 Systematic
Logistics
Packaging
Transport
Components
Goods
Types
Packaging
Hazardous
Materials
Chemicals
Perishable
Food
Products
Insulated
Temperature
Controlled
Containers
Liquids
Spillproof
Tightly
Sealed
Caps
Customized
Tracking
Monitor
Reliable
Carriers
Flexible
Routes
Strategic
Placement
Delivery
Points
Minimize
Delays
Technology
Route
Optimization
Software
Reducing
Costs
Productivity
Safety
Precautions
Increased
Efficiency

Dr. Murray Craig
Academic
Dr. Murray Craig is an academic and researcher who has dedicated his life to the study of human behavior. He has a particular interest in how people interact with their environment, and how that interaction can be used to improve their lives. Dr. Craig has spent many years teaching and conducting research at universities all over the world, and he is widely respected for his work in the field of behavioral science.
Related Posts
Our team of experts is passionate about providing accurate and helpful information, and we're always updating our blog with new articles and videos. So if you're looking for reliable advice and informative content, be sure to check out our blog today.