Logistic Management
Warehousing: Solving Logistical Challenges
25 February 2023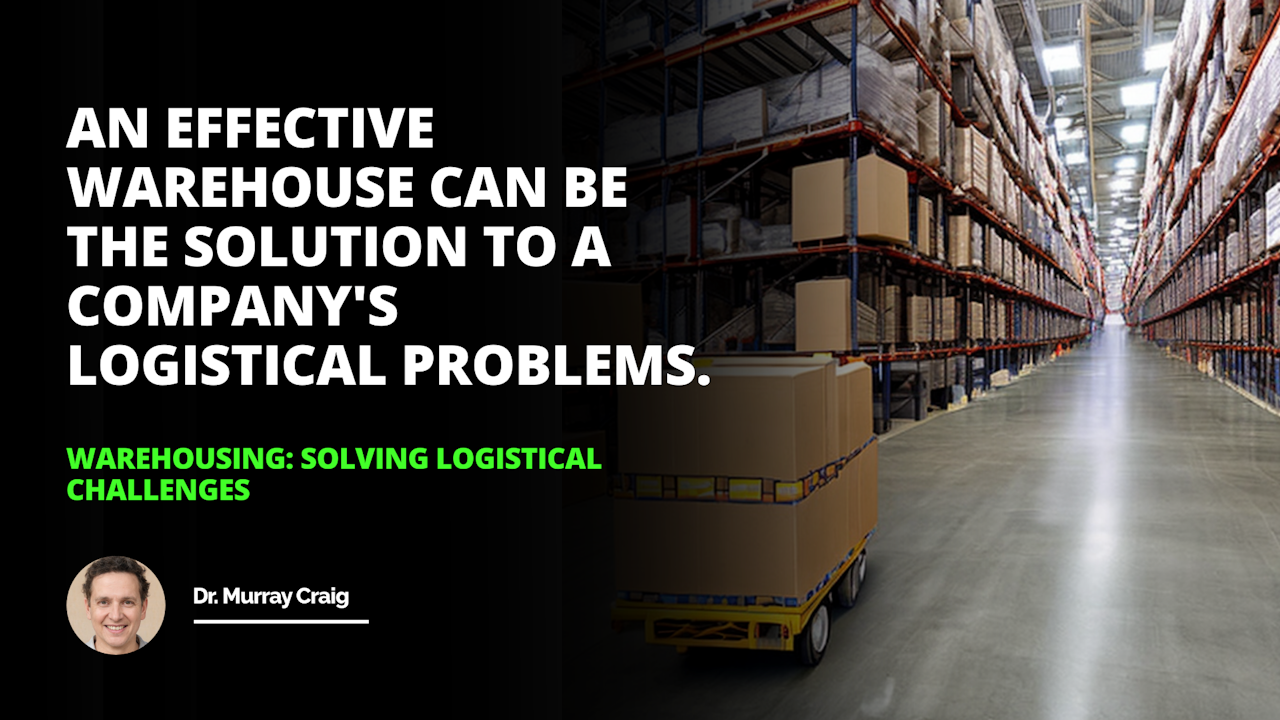 | Aspect | Challenge in Warehousing | Solution Provided |
| --- | --- | --- |
| Expertise Acquisition | Requires a team of knowledgeable professionals for efficient operations | Advocate for a team of experienced warehousing professionals |
| Cost Management | Companies often overlook factoring in costs of storing and managing products | Automation for more efficient, cost-effective operations |
| Space Utilization | Unoptimized use of space can lead to unnecessary costs and inefficiency | Better space planning and management, along with tracking systems implementation |
| Automation Application | Manual warehousing operations can be labor-intensive and less efficient | Utilization of automation technologies like robotic picking or AS/RS |
| Safety in Warehouse | Safety can be a concern in manual warehousing operations | Automation technologies can provide a safer work environment |
| Conclusion | A host of various challenges from expertise to cost and space management | A combination of automation, expertise and space optimization |
| Labor Costs | Overreliance on physical labor can be expensive and inefficient | Automation technologies can reduce labor costs |
| Inventory Management | Manual warehousing operations can lead to inventory management issues | Automation technologies offer accurate and efficient inventory tracking |
| Efficiency | Manual procedures can lead to delays and mishaps | Automation can significantly improve operational efficiency |
| Operational Excellence | Ensuring the highest standards of warehouse operations can be challenging | Investment in automation tech and a team of experienced professionals |
Challenges of Warehousing

Solutions for Logistical Challenges

Application of Automation in Warehousing
Warehousing is the process of storing products in a safe and organized way before distribution or sale. It also encompasses the transportation of products to and from one destination to another. It is an essential function in the physical supply chain. It is ideally situated at the center of a business's operations. Warehousing can be used to optimize logistical performance, reduce costs, and increase customer satisfaction.
When considering a business's success level, warehousing significantly affects the efficiency, storage capacity, and availability of products for sale. But like any process, warehousing can come with its challenges. From lack of expertise to the possible cost of warehousing, effectively managing logistics operations is no easy task.
Challenges of Warehousing
One of the biggest challenges in warehousing operations is acquiring and maintaining the expertise necessary for effective management. Warehousing requires a team of experienced professionals for efficient operations. Without the proper knowledge and skills, it is easy to overlook how crucial it is to manage the warehouses well - leading to delays and other costly mishaps.
Furthermore, the actual cost of warehousing needs to be addressed. Companies only sometimes factor in the prices of storing and managing the various products in their warehouses. This can lead to overexpansion of capacity, leading to unnecessary costs. Furthermore, a lack of understanding of the necessary space can cause difficulties when trying to fit products or increase efficiency.
Solutions for Logistical Challenges
Automation is one of the most critical solutions to the logistical challenges warehousing faces. Automation technology can make warehousing operations more efficient, cost-effective, and safe. Automated tools, AI-driven data, and automated storage and retrieval systems (AS/RS) can significantly reduce the manual labor involved in warehousing processes.
Additionally, with a team of experienced warehousing professionals, it is possible to manage operations and inventories effectively. This team should comprise warehouse analysts and operations personnel who can work together to analyze the effectiveness of logistical processes and ensure maximum efficiency.
Finally, effective space utilization is critical in warehousing. Companies must optimize the use of space and equipment in their warehouses to achieve the best use of resources. This includes the organized and proper placement of products, efficient warehousing systems, and the management of tracking systems.
Application of Automation in Warehousing
Automation technology has seen transformative use in various industries, including warehousing. Automation can improve efficiency and reduce labor costs while providing a safer workspace. Automation also offers a more consistent and accurate level of inventory tracking, which is essential in warehouses.
Examples of automation used in warehousing include robotic picking, voice picking, barcode scanning and labeling, automated storage and retrieval systems, 3D warehousing software, and RFID technology. These technologies are designed to reduce the labor-intensive work of manual warehousing operations, making them more efficient and cost-effective.
Conclusion: Warehousing requires effective logistical operations for optimal success. Warehousing operations often face challenges, from lack of expertise to cost and space management. To address these challenges, businesses must use automation, advocate for a team of experienced professionals, and utilize space effectively. Automation technologies offer numerous benefits, from improved efficiency to accurate inventory tracking. By using these solutions, businesses can ensure they take full advantage of their logistical operations and meet their warehousing goals.
An effective warehouse can be the solution to a company's logistical problems.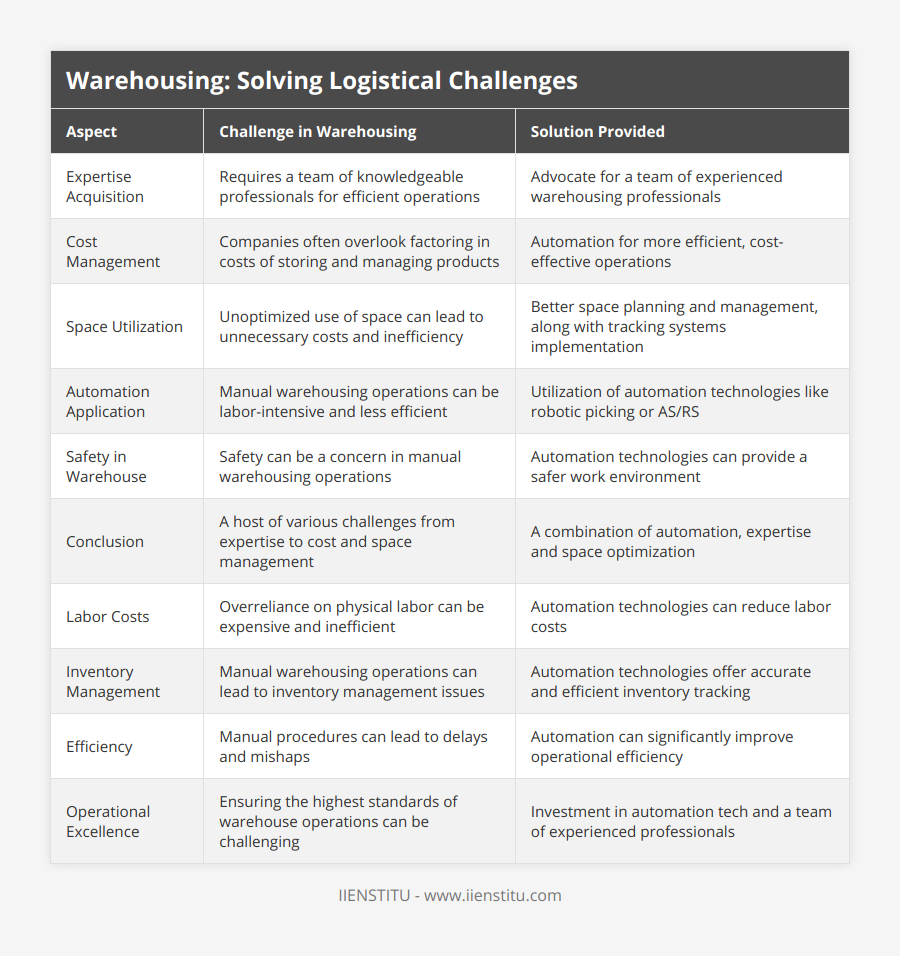 Warehousing
logistics
expertise
cost
space
automation
robotic tools
AI-driven data
automated storage
retrieval systems
manual labor
warehousing professionals
warehouse analysts
operations personnel
optimal success
inventory tracking
robotic picking
voice picking
barcode scanning
labeling
3D warehousing software
RFID technology
improved efficiency.

Dr. Murray Craig
Academic
Dr. Murray Craig is an academic and researcher who has dedicated his life to the study of human behavior. He has a particular interest in how people interact with their environment, and how that interaction can be used to improve their lives. Dr. Craig has spent many years teaching and conducting research at universities all over the world, and he is widely respected for his work in the field of behavioral science.
Related Posts
Our team of experts is passionate about providing accurate and helpful information, and we're always updating our blog with new articles and videos. So if you're looking for reliable advice and informative content, be sure to check out our blog today.