Logistic Management
Order Processing: Crucial Task in Logistics Operations
27 February 2023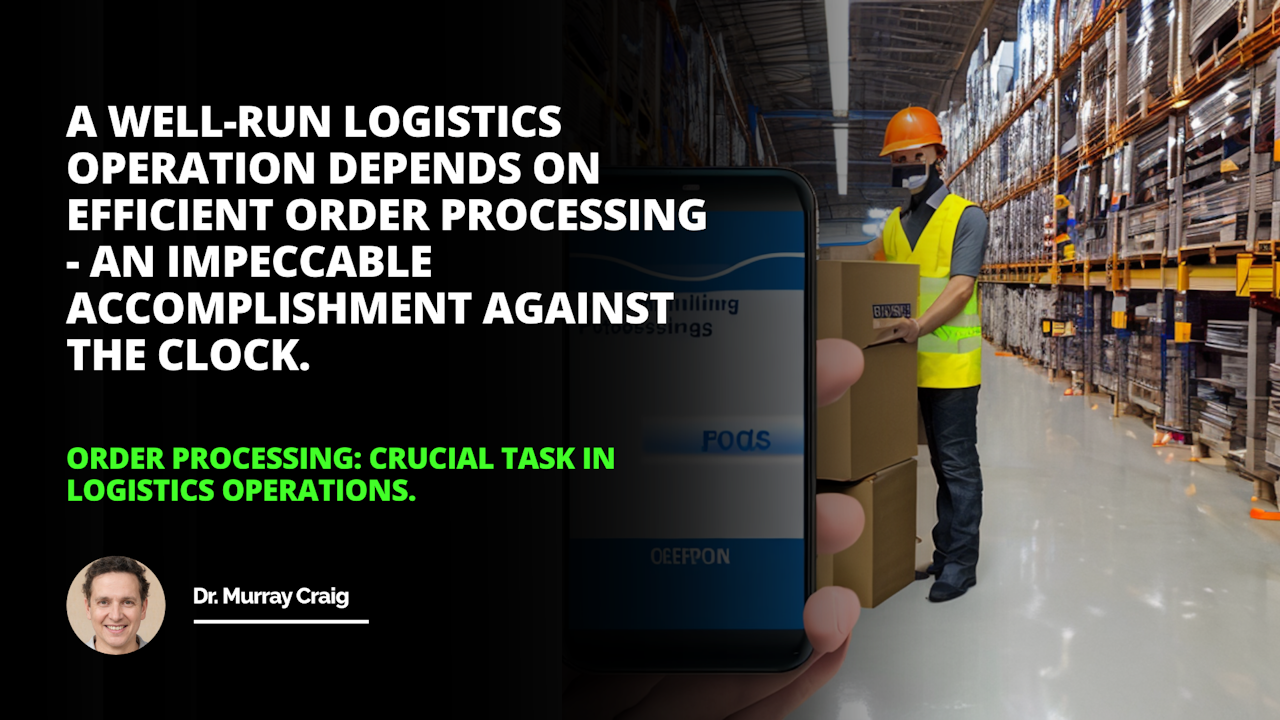 | Aspect | Reason for Importance | Solutions for Improvement |
| --- | --- | --- |
| Customer Satisfaction | Enhances customer relations, impacts probability of repeat business, aids in organic marketing. | Strive for shorter delivery times; use automation to streamline the process. |
| Short Delivery Times | Indicates efficiency of logistics operations, improves customer satisfaction and loyalty. | Utilize multi-channel integration; employ automated solutions. |
| Profitability | Mitigates delivery delays, reduces costs related to order processing. | Prevent errors and minimize paperwork; leverage order management services. |
| Automation | Minimizes manual workloads, reduces cost and time to fill orders. | Invest in suitable software; monitor and measure order processes to pinpoint areas that need automation. |
| Multi-Channel Integration | Facilitates efficient order processing, provides seamless customer experience. | Converge multiple channels; reduce reliance on manual processes. |
| Data Analysis & Reporting | Unveils performance metrics of order fulfillment operations, helps detect efficiency issues. | Researchers need data to make informed decisions; implement systems for efficient data collection and analysis. |
| Error Minimization | Helps in maintaining customer satisfaction, reduces cost of rectification. | Integrate automated solutions; ensure careful review and proofreading of order information. |
| Paperwork Reduction | Saves time and costs, reduces possibility of errors. | Introduce digital invoicing and documentation; shift towards paperless operations. |
| Logistics Efficiency | Directly affects customer satisfaction and company's profitability. | Ensure robust order processing systems; invest in training of logistics staff. |
| Research | Discloses potential areas of improvement, aids in strategic planning. | Promote a data-driven culture; regularly schedule audits and evaluations. |
Reasons why Order Processing is a Crucial Task

Tips for Improving Order Processing
Modern-day logistics operations play an influential role in the facilitation of commerce and the development of businesses. Today's global economy depends on this core activity of managing, transporting, and delivering goods and services. Logistics operations ensure that all the activities related to the distribution and storage of products from their point of origin to their destination are conducted in an orderly, efficient, and cost-effective manner.
Amongst the various activities involved in logistics, order processing is one of the most critical operations for a business. Order processing consists in completing transactions and ensuring customer orders are filled accurately, securely, and delivered quickly. Such tasks also encompass customer services and order management operations, such as handling refunds and product returns.
Reasons why Order Processing is a Crucial Task
Order processing is crucial in preserving customer relationships. Customers expect their orders to be accurately fulfilled and delivered on time. The customer ordering process, therefore, needs to be optimized and efficient so that the customer receives their desired product or service promptly. Some of the main reasons why order processing is a crucial task in logistics operations include the following:
Increased Satisfaction of Customers: Delivering orders to customers promptly and accurately leads to improved customer relations. Suppose a customer is satisfied with the order placement and delivery process. In that case, the likelihood of repeat business increases, meaning greater profitability. Furthermore, customers who provide positive feedback and advocate for a business's products and services create an invaluable form of marketing called "word of mouth" or "social media marketing."

Shorter Delivery Times: The time taken to complete an order is essential for customer satisfaction. Quick processing time enables customers to receive their purchases quickly, resulting in greater customer satisfaction and loyalty. Furthermore, short delivery times indicate the reliability and efficiency of the logistics operations.

Boosts Profitability: Good order processing performance is critical to increasing profitability. It helps to minimize delivery delays and improve customer experience. Order management services can also help to decrease the costs related to order processing, such as the need for paper invoicing and other documentation related to the process. By preventing order errors and minimizing paperwork, you can save money on rework and mistakes that can eat away at a company's profits.
Tips for Improving Order Processing
Several practical solutions can be implemented for companies looking to improve their order processing.
Automated Solutions: Automation is an effective way to streamline order processing operations. Automated processes help reduce manual workloads and the cost and time to fill orders. Automated solutions can also enable companies to monitor and measure order processes more accurately. It is, therefore, essential to monitor customer orders to identify potential areas that require automation to help streamline the process.

Multi-Channel Integration: Multi-channel integration facilitates efficiency in order processing. Multi-channel approaches empower businesses to offer a seamless experience to customers. At the same time, they place orders, receive invoices and receive their products. This approach helps reduce manual processes and offers customers more flexibility in placing orders.

Data Analysis & Reporting: Companies should use data analysis to gain insights into their order processing operations. Collecting data and conducting research will help a company determine how its order fulfillment operations are performing. Such studies can reveal existing efficiency problems and areas for improvement. Companies can ensure their operations run smoothly and efficiently by implementing solutions based on such data-driven insights.
Order processing is crucial in logistics operations, significantly impacting customer satisfaction and profitability. Poor order processing can lead to longer wait times, poor customer experiences, and decreased sales. On the other hand, efficient order processing can lead to shorter delivery times, improved customer satisfaction, and improved company profitability. Companies can improve their order processing performance enormously by utilizing automated solutions, multi-channel integration, and data analysis and reporting.
A well-run logistics operation depends on efficient order processing and impeccable accomplishment against the clock.

order processing
customer relationships
customer ordering process
customer satisfaction
loyalty
profitability
timely manner
accurate manner
shorter delivery times
cost
errors
automated solutions
multi-channel integration
data analysis
reporting
customer experiences
sales
automated solutions
multi-channel integration
data analysis
reporting

Dr. Murray Craig
Academic
Dr. Murray Craig is an academic and researcher who has dedicated his life to the study of human behavior. He has a particular interest in how people interact with their environment, and how that interaction can be used to improve their lives. Dr. Craig has spent many years teaching and conducting research at universities all over the world, and he is widely respected for his work in the field of behavioral science.
Related Posts
Our team of experts is passionate about providing accurate and helpful information, and we're always updating our blog with new articles and videos. So if you're looking for reliable advice and informative content, be sure to check out our blog today.