Logistic Management
Logistics: A Systematic Approach to Transportation
28 February 2023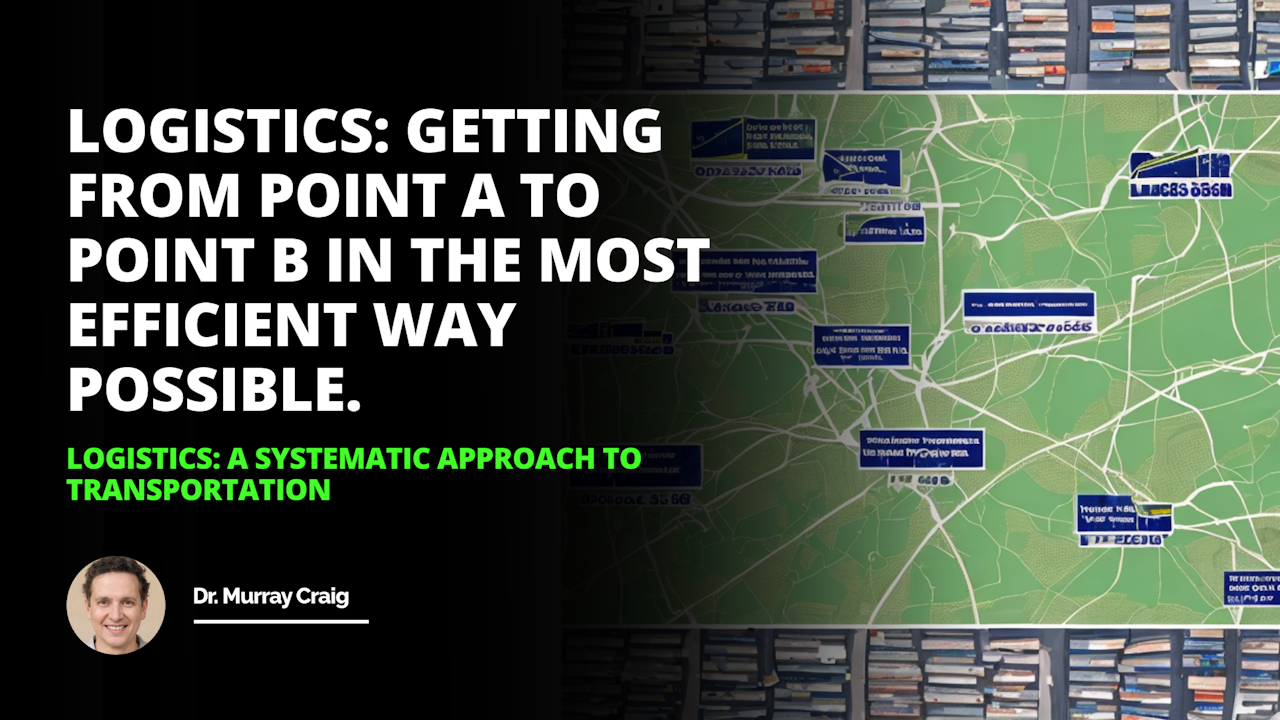 | Category | Description | Example |
| --- | --- | --- |
| Benefits of Systematic Transportation | Enhances efficiency, safety, and reduces cost in transportation. | Optimized transportation schedules, reduced delays, streamlined processes. |
| Challenges of Systematic Logistics | Complex coordination, cost of complexity and compliance are main challenges. | Coordinating transport, warehousing and personnel, investment in sophisticated systems, compliance with legislation. |
| Recommendations for System Improvement | Investments in technology, process streamlining, and compliance adherence. | Use of advanced software/hardware, process optimization, adherence to legislation. |
| Effect of Logistics on Economy | Facilitates timely delivery of goods, supports businesses in delivering services. | On-time product availability for customers, effective support for diverse businesses. |
| Role of Logistics | Involve planning, organizing, managing goods and resource movement. | Coordination of transportation, warehousing and other processes. |
| Impact of Unsystematic Logistics | Can lead to delays, unproductive activities and increase in cost. | Inefficient transport schedules, risks of accidents, increased packing, loading costs. |
| Systematic Logistics | Planned and well-organized transportation management. | Effective coordination of transportation, warehousing, personnel, etc. |
| Cost-Effectiveness in Logistics | Systematic approach facilitates better cost management. | Cost savings by reducing packing, loading and unloading costs. |
| Relevance of Compliance in Logistics | Adherence to laws and regulations is compulsory for smooth operations. | Compliance with transportation regulations, safety standards, etc. |
| Evolution of Logistics | Incorporation of advanced technologies for better management. | Use of AI, Machine Learning, Data Analytics in logistics. |
Benefits of Systematic Approach for Transportation

Challenges of Systematic Logistics

Recommendations for Improving Logistics System
Logistics is the process of planning, organizing, and managing the movement of goods and resources from one place to another. It involves the coordination of transportation, Warehousing, and other processes to ensure that products and services reach their destination most efficiently and cost-effectively. Logistics plays a vital role in the economy by making products available to Customers on time and providing essential support services to businesses.
Benefits of Systematic Approach for Transportation
Logistics Systems that are planned organized and managed systematically offer numerous benefits to businesses. The most important advantage of such systems is increased efficiency. Companies can use systematic processes to optimize their transportation system to reduce delays and minimize unproductive activities. These systems also reduce the risk of accidents and errors, improving safety. Additionally, systematic logistics systems help companies reduce the cost of transportation by streamlining processes and cutting the costs of packing, loading, and unloading.
Challenges of Systematic Logistics
Despite their numerous benefits, systematic logistics systems are often associated with challenges. The most significant challenge is the coordination of movements. Coordinating the different elements of a logistics system (such as transportation, warehousing, personnel, etc.) can be difficult and time-consuming. Additionally, the complexity of these systems can often be expensive, as companies must invest in sophisticated software and hardware to manage them properly. Moreover, companies must comply with relevant legislation and regulations, further complicating logistics. Systematic logistics systems can provide numerous advantages to businesses by increasing efficiency, improving safety, and reducing costs. However, these systems also come with specific challenges, such as coordination of movements, cost of complexity, and compliance with regulations. Ultimately, businesses must weigh the pros and cons of systematized logistics and decide whether the benefits outweigh the drawbacks.
Recommendations for Improving Logistics System
Businesses can make use of several strategies to improve their logistics systems. First, they can invest in the latest technologies, such as advanced software and hardware, to manage better and monitor the movement of goods and resources. Secondly, they should streamline their processes to ensure that they remain cost-effective. Lastly, they should ensure their systems comply with relevant legislation and regulations.
Logistics Getting from point A to point B in the most efficient way possible.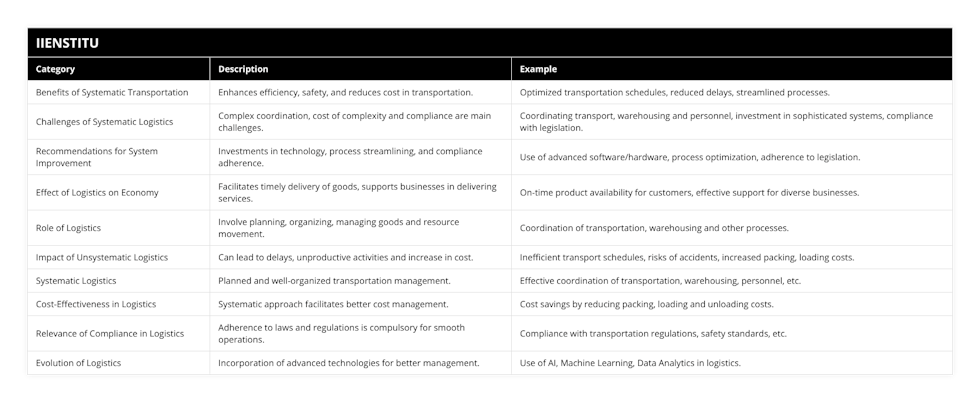 Logistics
Transportation
Warehousing
Efficiency
Cost-effective
Safety
Coordination
Movement
Complexity
Regulations
Technologies
Software
Hardware
Streamline
Processes
Legislation
Benefits
Drawbacks

Dr. Murray Craig
Academic
Dr. Murray Craig is an academic and researcher who has dedicated his life to the study of human behavior. He has a particular interest in how people interact with their environment, and how that interaction can be used to improve their lives. Dr. Craig has spent many years teaching and conducting research at universities all over the world, and he is widely respected for his work in the field of behavioral science.
Related Posts
Our team of experts is passionate about providing accurate and helpful information, and we're always updating our blog with new articles and videos. So if you're looking for reliable advice and informative content, be sure to check out our blog today.