Logistic Management
Logistics: System Approach to Inventory Control
03 March 2023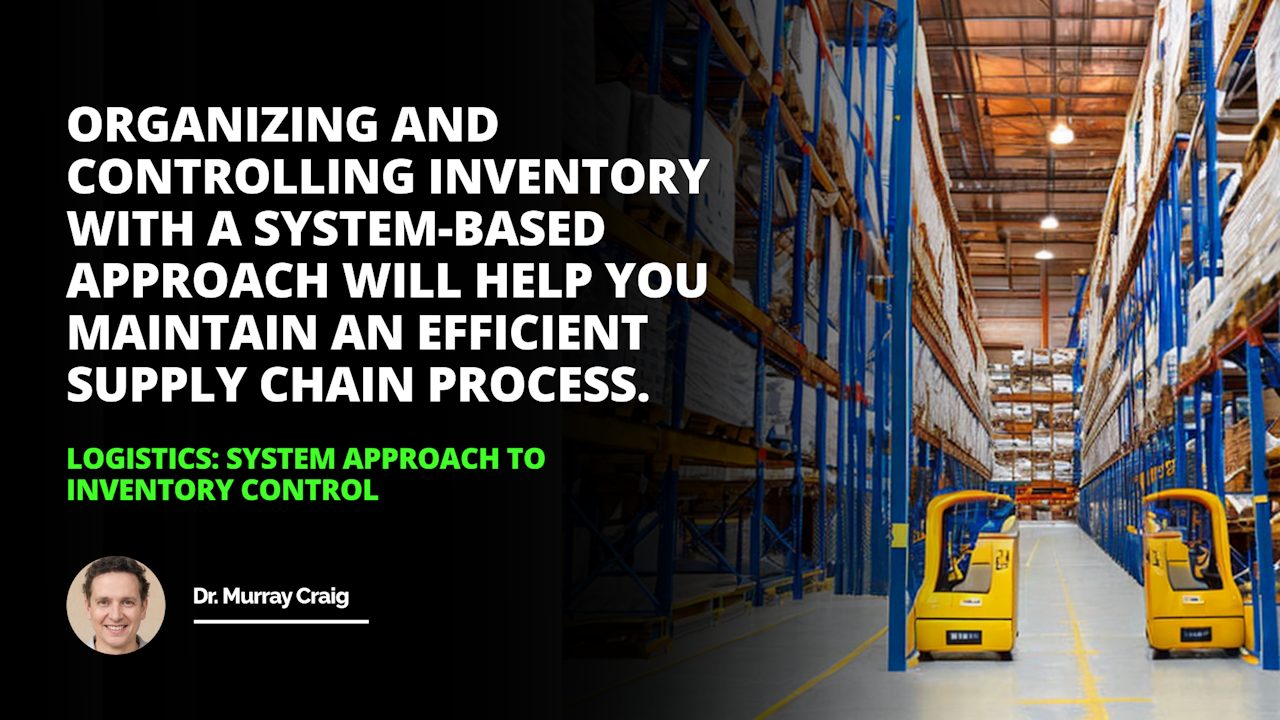 | Inventory Control Elements | Details | Impact on Business |
| --- | --- | --- |
| System Approach to Inventory Control | Optimizes inventory use for competitive advantage. Assesses stock levels, maintains material quality, and implements an inventory-management system. | Boosts efficiency, improves customer service, enhances profitability, reduces costs, assists in making timely inventory-related decisions. |
| Assessment of Inventory Control | Assessment includes considering stocking level, cost per unit, purchasing volume, and inventories' age. | Helps implement effective inventory management technologies, evaluates supply chain stability and its interaction with other business systems. |
| Challenges in System Approach | High costs for monitoring and maintaining the system including installation, training, upgrades, and support. | Can impact profitability due to the additional costs and potential delays or errors in the supply chain. |
| Managing Overstock and Shortages | Effective system can prevent inventory shortages and overstock with accurate information about stock levels. | Elimination of stockouts enhances customer satisfaction, prevents excess inventory costs, and helps maintain the right balance of stock. |
| Integration with Other Systems | Inventory control system interacts with other business systems and processes for a more efficient operation. | Allows for smoother and more streamlined operations resulting in cost savings and more informed decision making. |
| Customer Service Improvement | System approach improves customer service through more accurate and reliable inventory information. | Enhancement of customer satisfaction can contribute to customer loyalty and increased sales. |
| Reduction of Costs | A well-designed system can reduce the time and costs involved in stock assessment and inventory tracking. | Reduced operational costs can lead to increased profitability. |
| Profits Enhancement | System approach aims at turning inventory faster, reducing carrying costs, and improving cash flow. | Increased profits offer more funds for business investment and growth. |
| Supply Chain Optimization | Proper organization and control of supply chain activities are significant in system approach to inventory control. | An optimized supply chain ensures products are delivered timely and efficiently, leading to customer satisfaction. |
| Decision Making | System approach helps in making timely and accurate decisions related to inventory. | Improved decision-making processes can lead to a more efficient and profitable business. |
System Approach to Inventory Control

Assessing Inventory Control Through System Approach

Challenges of Inventory Control Through System Approach
Logistics is anticipating, organizing, and controlling the movement and storage of materials within a company's supply chain. Logistics encompasses all the activities related to shipping, such as loading, storage, delivery, and inventory tracking. A sound logistics practice is essential to efficient inventory management and control. As such, companies need to have a thorough understanding of their supply chain and the dynamics of their supply chain. Properly organizing, monitoring, and controlling supply chain activities and inventory is crucial in remaining competitive and delivering quality products to customers.
System Approach to Inventory Control
A system approach to inventory control focuses on optimizing the use of inventory to produce a competitive advantage. This approach involves analyzing inventory levels, ensuring the quantity and quality of materials are sufficient, and implementing an appropriate inventory-management system. In addition, the system approach to inventory control should consider improving customer service, enhancing profitability, and reducing costs.
With a system approach to inventory control, businesses can benefit from increased efficiency and improved customer service levels due to more accurate and reliable information about inventory levels. A well-designed system can also reduce the time required to accurately assess stock levels and help prevent inventory shortages and overstock. This approach can also assist businesses in making timely and accurate decisions related to their inventory.
Assessing Inventory Control Through System Approach
In assessing inventory control through the system approach, it is essential to consider the stocking level, the cost per unit of the inventory, the purchasing volume, and the inventories' age. Therefore, all these factors should be considered when implementing inventory management technologies. In addition, it is also necessary to consider the supply chain's stability and ability to interact with other business systems and processes.
Challenges of Inventory Control Through System Approach
There are some challenges associated with using a system approach to inventory control. One of the most significant challenges is the high cost of monitoring and maintaining the system. This high cost can include the cost of installation, training, upgrades, and support, which can add up quickly. In addition, supply chain delays, errors, and miscalculations can lead to stockout or overstock situations, all of which can be difficult to process and significantly impact the profitability of a business.
In conclusion, the system approach to inventory control is a cost-effective and efficient way of ensuring your inventory's accuracy and reliability, allowing you to meet customer demand and remain competitive in the marketplace. Utilizing the system approach can help you better see inventory levels, reduce the time required to assess stock levels, and maintain accurate inventory data correctly. However, it is essential to be aware of the associated costs and risks involved in the system approach to inventory control before making any changes.
Organizing and controlling inventory with a system-based approach will help maintain an efficient supply chain process.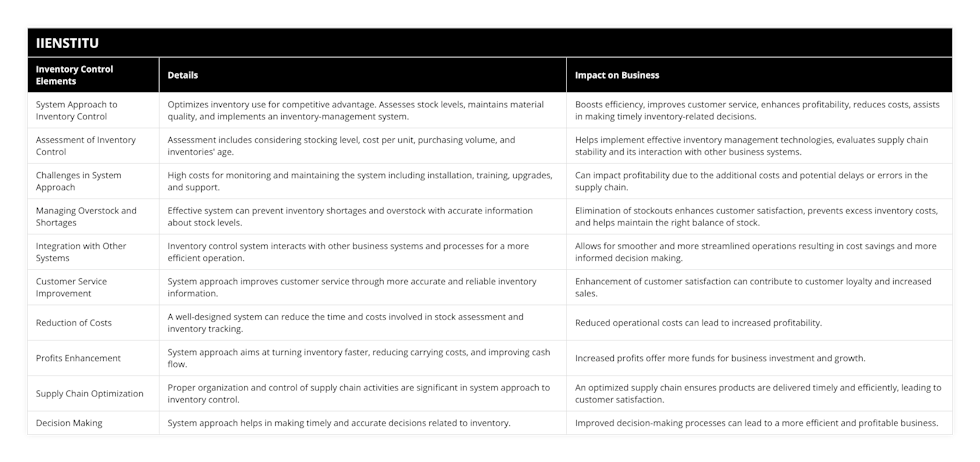 Logistics
supply chain
inventory management
control
optimize
material
customer service
profitability
cost
stocking
purchasing
age
monitoring
installation
training
upgrades
support
stockout
overstock
visibility
accuracy
reliability

Dr. Murray Craig
Academic
Dr. Murray Craig is an academic and researcher who has dedicated his life to the study of human behavior. He has a particular interest in how people interact with their environment, and how that interaction can be used to improve their lives. Dr. Craig has spent many years teaching and conducting research at universities all over the world, and he is widely respected for his work in the field of behavioral science.
Related Posts
Our team of experts is passionate about providing accurate and helpful information, and we're always updating our blog with new articles and videos. So if you're looking for reliable advice and informative content, be sure to check out our blog today.