Logistic Management
Logistics Systems: Warehousing, Material Storage & More
01 March 2023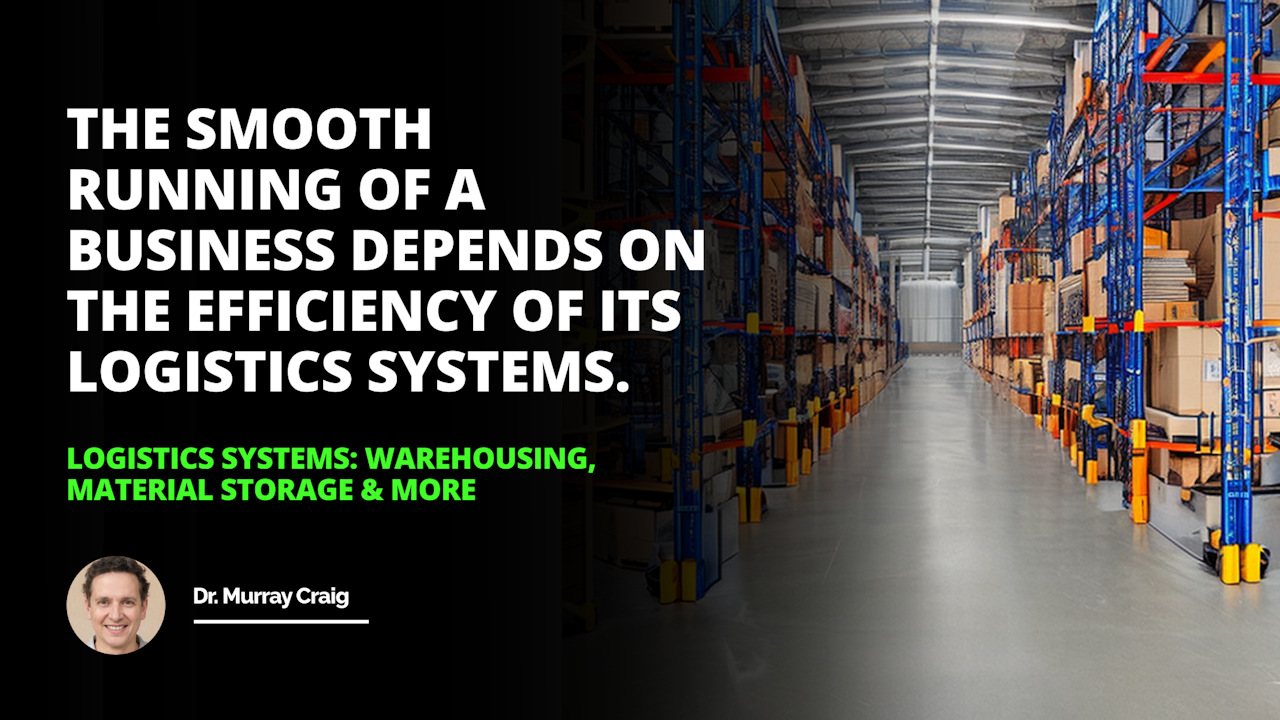 | Component of Logistics Systems | Role/Function | Benefits and Challenges |
| --- | --- | --- |
| Warehousing | Stores and manages materials needed for production and distribution. Involves loading/unloading of inventory and delivery of the product. | Benefits include centralized storage and control of inventory. Challenges include space optimization and efficient inventory tracking. |
| Material Storage | Critical part of the logistics system, depending on the product, different storage systems are used. | Benefits include security and efficiency. Challenges include risk of damage and theft due to improper storage and handling. |
| Technology in Logistics System | Automation and software systems to automate mundane tasks like loading, unloading, and tracking product progress. | Benefits include cost savings, efficiency boost, and error reduction. Challenges include the integration and maintenance of the technology. |
| Delivery | Responsible for the final step in the logistics process, which is the transfer of the product from the warehouse to the customer. | Benefits include ability to track delivery in real-time and improve customer satisfaction. Challenges include managing unforeseen circumstances like delays, product damage during transit. |
| Warehouse Management | Key in managing the storage, tracking, and shipment of inventory. | Benefits include improved efficiency and productivity. Challenges include accurate forecasting and managing warehouse staff. |
| AS/RS | Automated storage and retrieval systems assist in storing and retrieving items in warehouses. | Benefits include increased storage density and reduced labor costs. Challenges include high initial cost and maintenance. |
| WMS | Warehouse Management Systems help track inventory and store items in their designated areas. | Benefits include improved inventory accuracy, increased efficiency and reduced costs. Challenges include training for employees and initial setup costs. |
| Freight & Delivery | Critical in moving products from suppliers to customers efficiently and cost-effectively. | Benefits include larger market reach and improved customer satisfaction. Challenges include costs associated with freight and managing timely deliveries. |
| Automation in Logistics | Used to automate repetitive tasks resulting in increased efficiency and accuracy. | Benefits include cost reduction, increased productivity and reduced human error. Challenges include high initial investment and worker displacement. |
| Software Systems in Logistics | Helps in efficient inventory management, tracking, and delivery. | Benefits include real-time tracking, increased efficiency and improved decision making. Challenges include data security concerns and technical issues. |
Warehousing: Overview of Delivery, Storage & Warehouse Management

Material Storage: Types, Benefits & Challenges

Technology in Logistics System: Automation & Software Systems
Logistics systems are an essential part of the Supply Chain process. Logistics systems move products from the point of origin or supplier to a destination or customer. Logistics systems are responsible for storing, handling, and tracking materials needed for production and distribution efficiently and cost-effectively. They are also responsible for developing strategies and procedures to improve workflow and reduce costs associated with freight and delivery. As a result, logistics systems are vital for businesses to succeed in today's global economy.
Warehousing: Overview of Delivery, Storage & Warehouse Management
Warehousing is a critical component of a logistics system. Warehouses are used to store and store materials needed for production and distribution. Warehousing also involves the loading and unloading of inventory and can include the delivery of the product. Warehousing also requires management to store, track, and ship the list promptly. This can be done by using warehouse software or manually.
Material Storage: Types, Benefits & Challenges
Material storage is an integral part of any logistics system. Different storage systems can be used depending on the type of product being stored. For example, a storage system for liquids must be capable of containing the drinks. At the same time, one for solids must be able to manage and protect the merchandise.
There are numerous benefits to material storage. For example, indoor storage is typically more secure than outdoor storage, protecting materials from theft and damage. The right type of material storage also allows for maximum efficiency, as materials can be organized for easy retrieval.
However, there are also challenges associated with material storage. For example, the wrong materials can be stored in the wrong area, increasing the risk of damage and theft. Additionally, materials can become damaged due to improper storage and handling.
Technology in Logistics System: Automation & Software Systems
Technology is playing an ever-increasing role in the logistics industry. Automation and software systems can help automate mundane and time-consuming tasks like loading, unloading, and tracking product progress. Automated systems can also reduce errors associated with manual processes. Software systems like AS/RS (automated storage and retrieval systems) and WMS (warehouse management systems) can also help warehouse workers track inventory and store items in their designated areas.
The use of technology in the logistics system can also reduce costs associated with freight and delivery. For example, automated tracking systems can reduce the time spent tracking items, resulting in cost savings.
Conclusion: Summarizing the Importance of Logistics Systems
Logistics systems are an essential part of the supply chain process. They are responsible for the efficient and cost-effective product movement from suppliers to customers. Warehousing is a critical component of logistics systems and involves storing, handling, and tracking materials. Material storage must be considered when designing a logistics system, whether indoor or outdoor. Technology can also help reduce costs associated with freight and delivery by automating mundane processes. Logistics systems are essential for businesses to remain competitive and are vital to any successful operation.
The smooth running of a business depends on the efficiency of its logistics systems.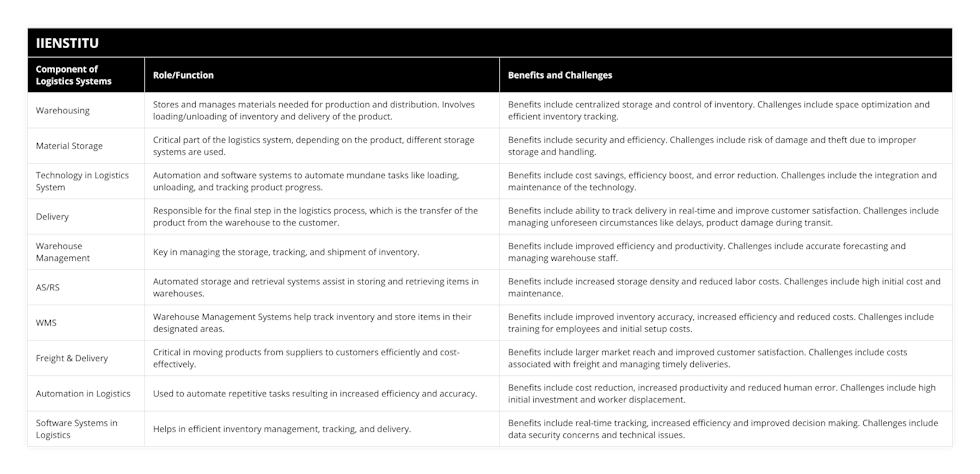 Logistics systems
supply chain process
Warehousing
storage
handling
tracking
materials
technology
automation
software systems
AS/RS
WMS
freight
delivery

Dr. Murray Craig
Academic
Dr. Murray Craig is an academic and researcher who has dedicated his life to the study of human behavior. He has a particular interest in how people interact with their environment, and how that interaction can be used to improve their lives. Dr. Craig has spent many years teaching and conducting research at universities all over the world, and he is widely respected for his work in the field of behavioral science.
Related Posts
Our team of experts is passionate about providing accurate and helpful information, and we're always updating our blog with new articles and videos. So if you're looking for reliable advice and informative content, be sure to check out our blog today.