Interview Questions
Interview Question: In Time Management, How Do You Handle Unforeseen Delays?
26 September 2023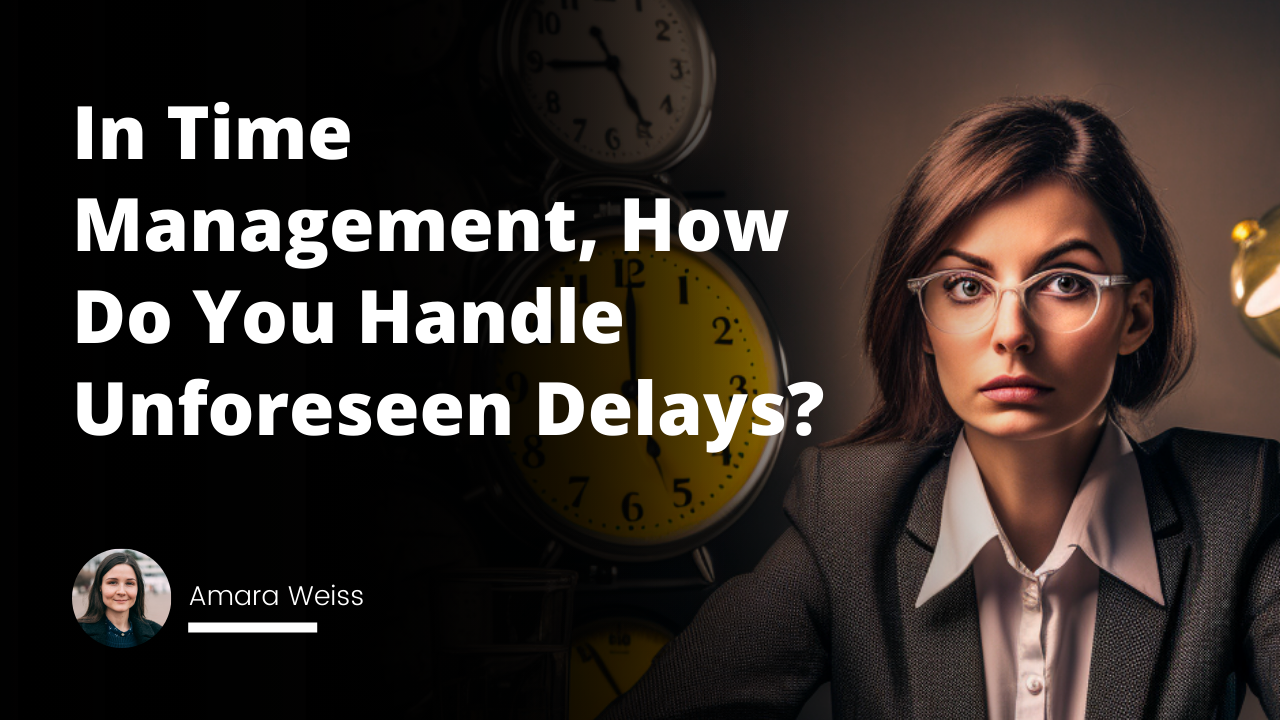 | Key Point | Explanation | Example |
| --- | --- | --- |
| Purpose of the Question | This question aims to assess your adaptability and resilience to delay and change. | Your ability to adapt and adjust your strategies when faced with unforeseen challenges. |
| Who is it Asked to | Anyone can be asked this, but roles related to planning and organization are most likely | Project managers, event coordinators, leadership positions, etc. |
| What Answer is Expected | Illustrate your ability to stay calm and proactive. | Specific scenarios where your ability to adapt lead to still meeting objectives |
| Strategies for Unforeseen Delays | Swift reevaluation and adjustment of priorities. | Prioritizing important tasks and optimizing resources to stay on course |
| Accountability | Owning up and finding solutions to the situation | Not blaming others but seeking a solution within the team |
| Stress Management | How you handle the stress associated with sudden delays | Keeping a calm demeanor and staying focused on the goal |
| Adaptability | Your capacity to adjust strategy when faced with unexpected challenges. | Adjusting your strategy mid-project due to sudden absence of a key team member. |
| Proactivity | A proactive, not reactive, approach to delays | Having contingency plans prepared for potential problems |
| Communication Skills | The way you communicate the changes in plans with your team or clients | Ensuring everyone is aware of the changes and why they are necessary |
| Illustrative Scenarios | Using real-life situations to illustrate your skills | An instance when you had to revise a project timeline due to unexpected staffing changes |
When an interviewer poses the question, "In time management, how do you handle unforeseen delays?" they're peering into your ability to navigate unforeseen circumstances that snarl up neatly laid plans, throwing an unexpected wrench into the works.
Related Course: Time Management Course
Is your resilience strong and your stress control superb? That's what they hope to unearth.
This question, after all, is a sneaky way of determining your ability to adapt to change, be proactive, react under pressure, and utilise strategic thinking.
Even more so, it's a gauge of your accountability – will you deflect blame or own up to a situation?
The Purpose of the Question: In Time Management, How Do You Handle Unforeseen Delays?
At its core, this question is about adaptability and resilience. In the ever-evolving world of work, these two traits are indispensable. Interviewers want to see if you are flexible enough to adjust your strategies in the face of unforeseen challenges, and if you're robust enough to handle the stress that inevitably comes with such delays.
Let's face it, delays in deliverables can sour business relationships and even dent the bottom line. An employee who effectively responds to this question is one who demonstrates the capacity to minimize such risks, which is a significant asset to any company.
At What Interview Level is it Asked?
This question can be asked at any interview level, but it's especially important for roles where planning and organization are key. This includes project managers, event coordinators, or any leadership position. However, even entry-level applicants may find themselves in the face of this query since time management is a crucial skill across professional environments.
Related Course: Leadership Development Course
What Kind of Answer is Expected from the Candidate?
The ideal answer to this question will demonstrate your ability to stay calm under pressure and successfully navigate unforeseen delays. The interviewer wants to know that you take a proactive, rather than reactive, approach to time management.
Smartly illustrate your skills with specific examples from your past where unforeseen circumstances threw your time management plans off track, but you adapted and still met your objectives. Be sure to explain how you revised your strategies, how you communicated with your team or clients, and what the eventual outcome was.
Possible Answers to Consider
A strong response might sound like this:
"When faced with unforeseen delays, my go-to is swift reevaluation and adjustment of priorities. Consider an instance where I was managing a project that depended on several moving parts, one of which got delayed substantially. Instead of panicking, I quickly pulled together the team, reassessed our resources, devised a new plan that shunted less critical tasks to the backburner, and optimized the remaining resources to keep us on course. Through clear, frequent, and transparent communication, we managed to successfully complete the project – not far off the initial timeline."
With such a response, we notice a full display of proactivity, teamwork, good communication, strategic thinking, and adaptability.
Wrapping Up
In essence, when asked, "In time management, how do you handle unforeseen delays?", shine a spotlight on your adaptability, resilience, strategic thinking, and stress management skills. Ensure to back your response with a real-life scenario to increase its impact. Navigate this question smartly and you might just win your interviewers' hearts, bagging that coveted position.
Related Course: Online Course Stress Management
Strategies to Address Unforeseen Delays in Time Management
| Strategies | Description | Benefits |
| --- | --- | --- |
| Prioritization | Rank tasks by importance and urgency to focus on the most critical ones | Ensure important tasks get completed before less important ones |
| Buffer Time | Allocate extra time between tasks and activities to account for unforeseen delays | Provide flexibility to accommodate unexpected delays and prevent time pressure |
| Delegating | Assign tasks to others when possible to reduce the load on your schedule | Free up time to address unforeseen delays or focus on more critical tasks |
| Time Blocking | Allocate specific time blocks for different tasks or activities to ensure dedicated focus | Improve productivity and maintain better control over time management |
| Re-evaluating Deadlines | Assess and adjust deadlines based on new circumstances or unforeseen delays | Prevent unnecessary stress by setting more realistic deadlines |
| Learning from Delays | Analyze the causes of unexpected delays and identify areas for improvement | Enhance future time management by finding patterns and implementing preventive measures |
The Table about the Interview Question "In Time Management, How Do You Handle Unforeseen Delays?" with Some Key Points
| Aspect | Description |
| --- | --- |
| Question Meaning | This question assesses your ability to manage unexpected disruptions and adapt in time management scenarios. |
| Purpose | To evaluate adaptability, resilience, proactive problem-solving, stress management, and strategic thinking skills. |
| Relevance | Crucial for roles involving planning, leadership, project management, and any profession where time management is vital. |
| Expected Answer | Demonstrates staying calm under pressure, ability to adapt, proactive approach, clear communication, and problem-solving skills. |
| Example Response | Swift reevaluation, priority adjustment, resource optimization, and transparent communication in response to unforeseen delays. |
| Impact | A strong answer showcases qualities valued in a variety of professional settings and positions. |
| Advice for Candidates | Use real-life examples, emphasize proactive approaches, teamwork, and highlight successful outcomes in your response. |
Impact Assessment of Unforeseen Delays on Project Timelines
| Delays | Impact on Project Timeline | Mitigation Measures |
| --- | --- | --- |
| Weather conditions | May extend project timeline due to inability to work outside | Plan for weather uncertainties and have alternative indoor tasks |
| Material shortage | May delay project progress if key materials are not available | Ensure timely procurement of materials and maintain buffer stock |
| Equipment breakdown | May halt or slow down project activities until equipment is fixed | Regular maintenance and service checks, backup equipment provision |
| Unexpected changes in project scope | May require additional time and resources for adjustment and rework | Effective change management system and clear communication channels |
| Staffing issues | May hinder project progress if key team members are unavailable | Resource contingency planning and cross-training of team members |
| Legal or regulatory hurdles | May cause delays due to compliance issues and legal requirements | Thoroughly research and anticipate potential legal and regulatory challenges |
Similar interview questions:
What strategies do you employ to manage unexpected delays in time management?

Can you explain your approach towards handling sudden interruptions in your time management?

What measures do you take in time management to cope with unforeseen delays?

Could you describe your process of dealing with unexpected disruptions in your time management plans?

How do you adapt your time management strategy when encountering unanticipated delays?

In terms of time management, how do you negotiate unwelcome or unexpected delays?

What methods do you use to manage the impact of unforeseen delays on your time management?

How do you realign your priorities when there are unforeseen delays in your time management?

What are your techniques to handle sudden interruptions in your time management plan?

If sudden delays disturb your time management, how do you respond and rearrange your schedule?

In Time Management
How Do You Handle Unforeseen Delays?
in time management how do you handle unforeseen delays
in time management
how do you handle unforeseen delays?

Amara Weiss
Institute Secretary, Author
I am Amara Weiss and for many years I have worked in the field of education, specifically in the area of technology. I firmly believe that technology is a powerful tool that can help educators achieve their goals and improve student outcomes. That is why I currently work with IIENSTITU, an organization that supports more than 2 million students worldwide. In my role, I strive to contribute to its global growth and help educators make the most of available technologies.
Related Posts
Our team of experts is passionate about providing accurate and helpful information, and we're always updating our blog with new articles and videos. So if you're looking for reliable advice and informative content, be sure to check out our blog today.