Human Resources Management
HRM: Training & Development for the New Age of Business
27 January 2023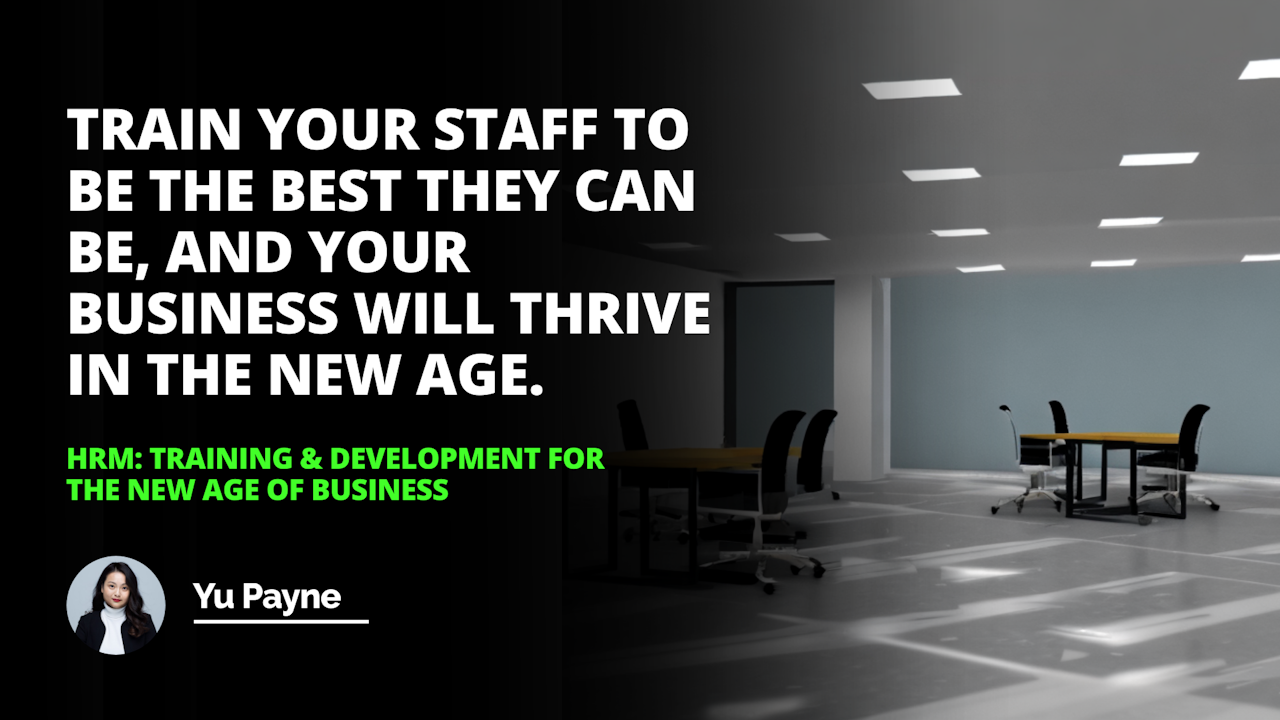 | Aspect | Challenges | Role of HRM |
| --- | --- | --- |
| Customer Engagement | Increased consumer empowerment, the demand for quality and prompt services. | Training employees to enhance customer service and understand shifting customer needs. |
| Employee Performance | Identifying and rewarding high achievers; fostering a culture of innovation and adaptability. | Identification of top-performers for incentivization and commendation. |
| Emerging Technology | Keeping up with rapidly evolving IT landscapes. Adapting to industry trends. | Training employees to use technology effectively and stay updated with industry standards. |
| Training & Development | Developing an effective training curriculum aligned with strategic objectives. | Identifying operational gaps, devising effective training programs and measuring its outcome. |
| Feedback & Improvement | Creating a culture of continuous learning and improvement. | Serving as a bridge between management and employees to offer timely feedback. |
| Strategic Alignment | Ensuring alignment between operational goals and overall strategic objectives of the firm. | Aligning training initiatives with the enterprise's strategy. |
| Performance Measurement | Measuring the effectiveness of training post-implementation. | Carrying out assessments to gauge training effectiveness and making necessary adjustments. |
| Workforce Adaptability | Ingraining a sense of agility and adaptability within the workforce. | Instilling adaptability through training and development programs. |
| Continuous Advancement | Encouraging a culture of continuous advancement in the firm. | Promoting continuous advancement by fostering a learning culture. |
| Cultural Development | Maintaining high performance, quality customer service, and a positive company culture. For instance, Southwest Airlines. | Developing strong HRM practices for comprehensive and efficient training and development. |
The business landscape in the 21st century has witnessed a multitude of significant alterations. It has evolved into a hyper-connected arena where opportunities are plentiful, but so are the challenges. In such an aggressive domain, businesses are left with no other alternative but to consistently revisit and refine their strategies. Firms have transitioned their focus to honing customer service, embracing continuous advancement, incentivizing exceptional performance, and ensuring a flexible work environment.
A notable part of this innovative management effort is the attention businesses are giving to employee training and development. Acknowledging that the workforce is the backbone to any business's success, companies now understand the necessity for effective training and development initiatives. Human Resource Management (HRM) has a significant role in orchestrating such programs, highlighting its relevance in today's business realm. This discourse will delve into the challenges businesses face in the modern-day and the crucial role HRM plays in training and development.
Related Course: Human Resources Course
Challenges of the New Age of Business
The swiftly evolving business milieu poses continuous challenges for firms. Agility and responsiveness are necessities for survival in a fiercely competitive marketplace. Consumers are more empowered than ever before, demanding that businesses provide quality services promptly or risk losing them to competitors.
Today's businesses must also understand the importance of engaging with consumers on different platforms to adapt to changing customer needs and preferences continually. Such an approach requires firms to have the ability to identify and reward high achievers, as these employees are the driving force behind innovativeness and adaptability.
Also, with the advent of technology, one of the biggest challenges today's firms face is staying abreast with rapidly evolving IT landscapes. They need to re-evaluate their strategies on a regular basis, keeping up with the latest industry trends and adopting the appropriate technologies.
The Role of HRM in Training & Development
In the face of these challenges, HRM plays a crucial role by leading the charge in the training and development process. HRM's responsibility ranges from identifying the operational gaps and training needs in the staff to developing an effective training curriculum and measuring its effectiveness post-implementation.
To maximize the firm's overall performance, HRM ensures alignment between the training initiatives and the organization's strategic objectives. Furthermore, the HRM team acts as a bridge between management and employees, providing feedback and guidance on performance, thereby fostering a culture of continuous learning and improvement.
A poignant example of this can be witnessed at Southwest Airlines. The company has always put its employees first, and that is evident from their top-tier HRM practices. The airline regularly trains its staff to maintain high performance, quality customer service, and a positive company culture. Their in-depth and precisely tailored training programs have been a significant driver behind the company's financial success and high customer satisfaction ratings.
Conclusion
The new age of business demands agility, responsiveness, adaptability, and continuous learning. Firms who rise to these challenges stand to gain a competitive edge. As such, employee training and development have taken center stage in the 21st-century business landscape.
To drive continual growth, HRM must take the reins of the training and development process. It must work on identifying training needs, devising effective training programs, evaluating the outcome, and providing timely feedback to employees.
The new age of business presents significant challenges, but it also offers immense opportunities. And by effectively leveraging HRM practices in employee training and development, businesses can take full advantage of these opportunities, ensuring continued progress and success.
Train your staff to be their best, and your business will thrive in the new age.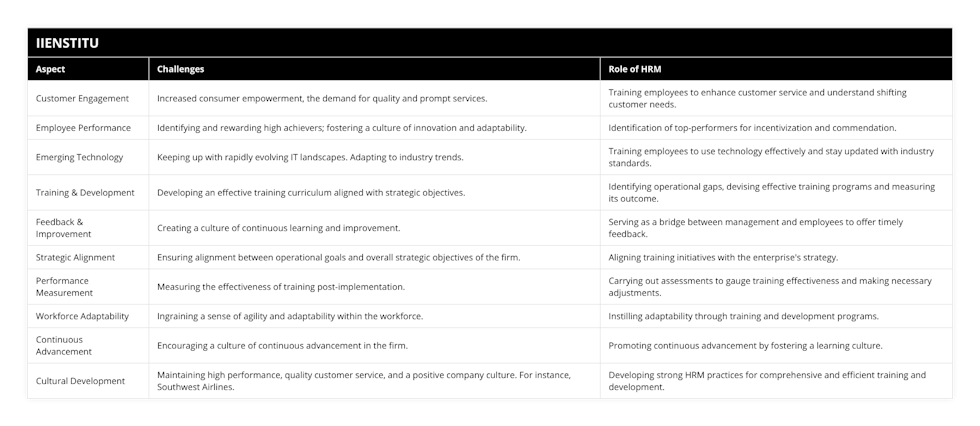 New age of business
customer service
rewarding high achievement
flexibility
employee training and development
HRM
training and development
training needs
skill level
knowledge
successful roles
Yu Payne
Blogger
Yu Payne is an American professional who believes in personal growth. After studying The Art & Science of Transformational from Erickson College, she continuously seeks out new trainings to improve herself. She has been producing content for the IIENSTITU Blog since 2021. Her work has been featured on various platforms, including but not limited to: ThriveGlobal, TinyBuddha, and Addicted2Success. Yu aspires to help others reach their full potential and live their best lives.
Related Posts
Our team of experts is passionate about providing accurate and helpful information, and we're always updating our blog with new articles and videos. So if you're looking for reliable advice and informative content, be sure to check out our blog today.