Problem Solving
Group Problem Solving: 6 Steps to Success
24 October 2022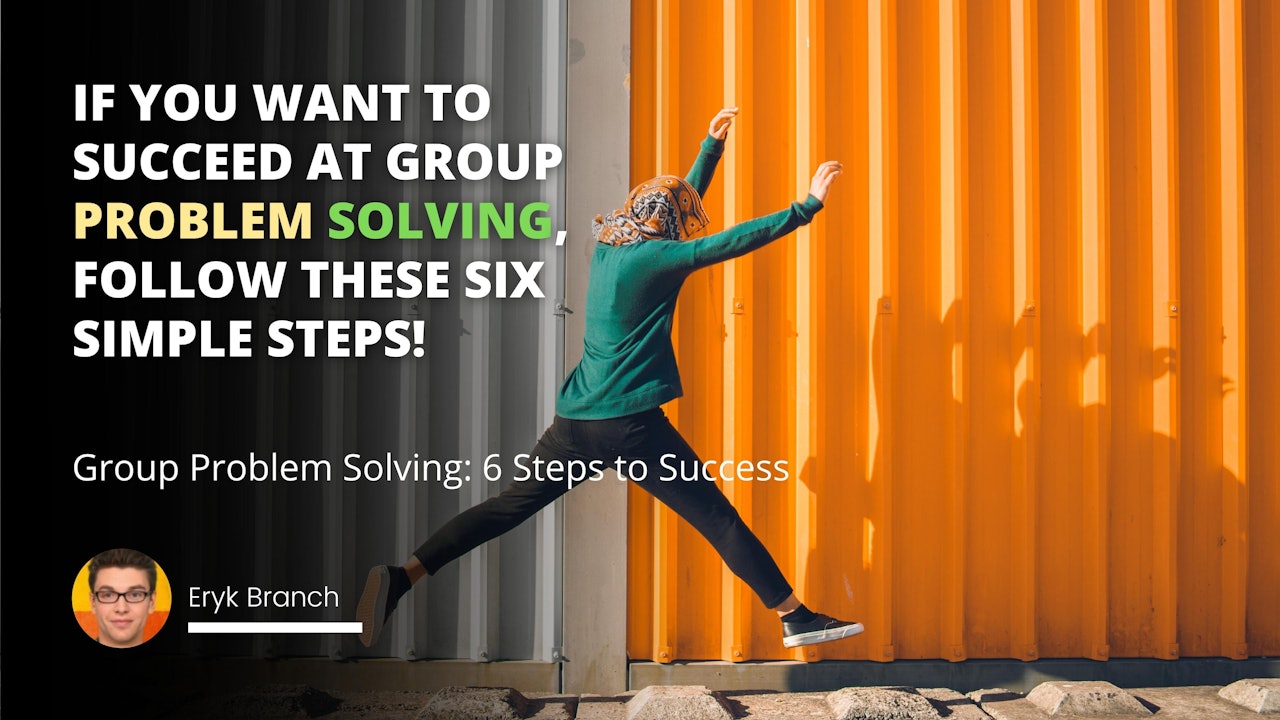 You've been there before. You're in a meeting, and the team is brainstorming solutions to a problem. But no matter how hard you try, you just can't seem to come up with a good idea. And to make matters worse, it seems like everyone else in the room is having the same issue. Sound familiar?
Learn how to spot and prevent groupthink, plus 6 steps to making better decisions as part of a team.
If you've ever struggled to come up with solutions as part of a group, you're not alone. In fact, it's a common problem that teams face. But the good news is that there are some things you can do to improve your chances of success. By following these six steps, you'll be on your way to becoming a master of group problem solving.
1. Define the problem
The first step in any group problem-solving session is to define the issue at hand. This may seem like an obvious step, but it's one that's often overlooked. Without a clear understanding of the problem, it will be difficult for the team to generate ideas that are relevant and impactful.
2. Brainstorm ideas individually
Once the problem has been defined, it's time for each team member to brainstorm solutions independently. This step is important because it allows everyone to come up with their own unique ideas without feeling pressure from others in the group. Plus, it's often easier to think creatively when you're working on your own.
3. Share ideas as a group
After everyone has had a chance to brainstorm independently, it's time to share ideas as a group. This is where things can get tricky, as people tend to get defensive about their ideas and feel like they need to defend them against others' critiques. The key here is to encourage an open exchange of ideas and avoid getting too attached to any one solution.
4. Evaluate ideas and narrow down options
Once all of the ideas have been shared, it's time to start evaluating them and narrowing down the options. To do this effectively, it's important to consider both the pros and cons of each idea and how feasible it would be to implement within the given timeframe and budget constraints.
5. Create an action plan
After careful evaluation, the team should have a good sense of which solution or combination of solutions is most likely to be successful. The next step is to create an action plan detailing how those solutions will be implemented. This plan should include specific steps, deadlines, and assignees for each task so that everyone knows what needs to be done and when it needs to be done by.
Keep in mind that an action plan may need to be revised as new information arises or unforeseen circumstances arise—and that's okay! The important thing is that there is a plan in place so that everyone knows what needs to happen and who is responsible for making it happen.
6. Monitor progress and course correct as needed
The final step is perhaps the most important: monitoring progress and course correcting as needed along the way. This step requires regular check-ins so that issues can be identified early on and dealt with before they become bigger problems further down the line. It also allows for adjustments to be made if the original plan isn't working as well as expected or if new challenges arise that weren't anticipated initially—because let's face it, things rarely go exactly according to plan! By staying flexible and adaptable throughout the process, you'll increase your chances of achieving success.
Group problem solving can be tough—but by following these six steps, you can increase your chances of success! Define the problem clearly at the outset, brainstorm ideas individually before sharing them with the group, evaluate all options carefully, create a detailed action plan outlining specific steps, deadlines, and assignees for each task, and monitor progress regularly along the way.

Eryk Branch
Blogger
He is a content producer who specializes in blog content. He has a master's degree in business administration and he lives in the Netherlands.
Related Posts
Our team of experts is passionate about providing accurate and helpful information, and we're always updating our blog with new articles and videos. So if you're looking for reliable advice and informative content, be sure to check out our blog today.