Problem Solving
Group Problem Solving: 6 Steps to Success
24 October 2022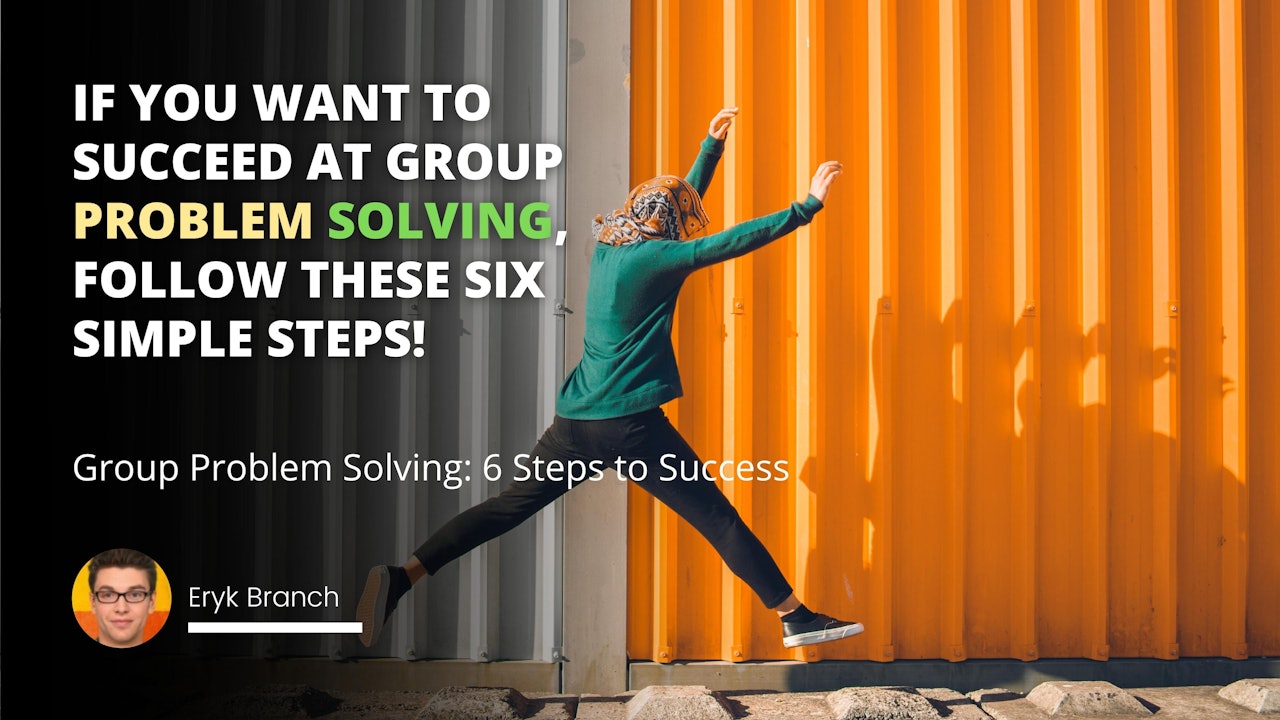 | Steps in Group Problem-Solving | Purpose/Description | Tips for Success or Possible Challenges |
| --- | --- | --- |
| Define the problem | This is the first and crucial step in group problem-solving that entails understanding the issue that needs to be resolved. | Ensure the problem is clear, concise, and agreed upon by all group members. Failure to thoroughly understand the problem can lead to ineffective solutions. |
| Brainstorm ideas individually | Each team member generates solutions independently, promoting creative and diverse input. | Create a conducive environment for individual brainstorming and perhaps allocate a specific time for this activity. Some team members might struggle with generating ideas due to various reasons. |
| Share ideas as a group | Team members gather and share their individual ideas for collective deliberation. | Ensure there is a safe and respectful atmosphere for sharing to reduce defensiveness and encourage an open exchange of ideas. |
| Evaluate ideas and narrow down options | All proposed solutions are scrutinized, and the list is refined based on feasibility, impact, and other relevant factors. | Encourage objective evaluation and avoid favoritism or premature dismissal of ideas. |
| Create an action plan | The team develops a detailed plan around the chosen solution(s), including specific measures, deadlines, and task assignees. | Ensure everyone understands their roles in the plan, and be prepared to revise the plan as new information comes to light. |
| Monitor progress and course correction as needed | The team regularly checks in on the progress, making necessary adjustments to stay on course towards the solution. | Keep the communication lines open, and be flexible to adapt the plan as new challenges arise. |
| Overall Strategy | A strategic approach to resolution enhances the chances of success by ensuring systematic and comprehensive problem-solving. | Having a robust strategy reduces the chances of overlooking potential solutions but it requires commitment from all group members. |
| Team Cohesion | Cooperative and harmonious interaction among team members is key to effective group problem-solving. | Maintaining team cohesion can be challenging due to differences in opinions, personality clashes, etc. |
| Maintaining Momentum | Sustained determination and effort are required throughout the problem-solving process. | Long or complex problem-solving processes may lead to fatigue or lack of interest. |
| Decision-Making | Final decisions on strategies and solutions should be made democratically and communicated clearly to all members. | Avoid hasty decisions and ensure all voices are heard. Potential challenges include communication gaps and hierarchical barriers. |
You've been there before. You're in a meeting, and the team is brainstorming solutions to a problem. But no matter how hard you try, you can't develop a good idea. And to make matters worse, everyone else in the room has the same issue. Sound familiar?
Learn how to spot and prevent groupthink, plus six steps to making better decisions as a team.
If you've ever struggled to develop solutions as part of a group, you're not alone. It's a common problem that teams face. But the good news is that there are some things you can do to improve your chances of success. By following these six steps, you'll be on your way to becoming a master of group problem-solving.
Define the problem
The first step in any group problem-solving session is defining the issue. This may seem like an obvious step, but it's one that's often overlooked. With a clear understanding of the problem, it will be easier for the team to generate relevant and impactful ideas.
Brainstorm ideas individually
Once the problem has been defined, it's time for each team member to brainstorm solutions independently. This step is crucial because it allows everyone to develop their unique ideas without pressure from others. Plus, it's often easier to think creatively when you're working on your own.
Share ideas as a group.
After everyone has had a chance to brainstorm independently, it's time to share ideas as a group. This is where things can get tricky, as people tend to get defensive about their thoughts and feel they need to defend them against others' critiques. The key here is to encourage an open exchange of ideas and avoid getting too attached to any one solution.
Evaluate ideas and narrow down options.
Once all the ideas have been shared, it's time to start evaluating them and narrowing down the options. To do this effectively, it's essential to consider both the pros and cons of each idea and how feasible it would be to implement within the given timeframe and budget constraints.
Create an action plan.
After careful evaluation, the team should know which solution or combination is most likely to be successful. The next step is to create an action plan detailing how those solutions will be implemented. This plan should include specific measures, deadlines, and assignees for each task so that everyone knows what needs to be done and when it needs to be done.
Remember that an action plan may need to be revised as new information or unforeseen circumstances arise—and that's okay! The important thing is that there is a plan so everyone knows what needs to happen and who is responsible for making it happen.
Monitor progress and course correction as needed.
The final step is the most important: monitoring progress and course correcting as needed. This step requires regular check-ins so that issues can be identified early on and dealt with before they become more significant problems further down the line. It also allows for adjustments if the original plan isn't working as well as expected or if new challenges arise that weren't anticipated initially—because, let's face it, things rarely go exactly according to plan! By staying flexible and adaptable throughout the process, you'll increase your chances of achieving success.
Group problem-solving can be challenging—but following these six steps can increase your chances of success! Define the problem clearly at the outset, brainstorm ideas individually before sharing them with the group, evaluate all options carefully, create a detailed action plan outlining specific steps, deadlines, and assignees for each task, and regularly monitor progress.
| Key Term | Description | Tips for Handling Conflicts and Disagreements |
| --- | --- | --- |
| Groupthink | A phenomenon where group members conform to a consensus without critical evaluation of alternative viewpoints. | Encourage diversity of thought and constructive disagreement. |
| Team | The collective working towards a common goal or solving a particular problem. | Foster an environment of trust and open communication. |
| Problem-solving | The process of defining issues, generating solutions, and implementing an action plan. | Focus on the problem, not on individuals, to prevent personal conflicts. |
| Decision-making | Choosing a course of action from various alternatives. | Ensure that everyone's perspective is considered. |
| Define the problem | Clearly identifying and articulating the issue that needs resolution. | Seek agreement on the problem definition before proceeding. |
| Brainstorm ideas | Generating a wide array of possible solutions without immediate judgment. | Facilitate a neutral space where everyone feels free to express ideas. |
| Individually | Working alone to come up with ideas or solutions. | Respect individual contributions and value diverse viewpoints. |
| Share ideas | Bringing individual ideas to the group for collaborative discussion. | Cultivate a respectful and non-judgmental attitude towards all ideas. |
| Evaluate ideas | Assessing the pros and cons of each idea, and how feasible they are. | Set clear evaluation criteria and stick to them. |
| Narrow down options | Reducing the number of ideas to a manageable few that can be further developed. | Aim for consensus but be willing to make executive decisions if necessary. |
| Action plan | Detailing the steps to implement the chosen solution(s), including specific measures, deadlines, and assignees. | Keep everyone informed and accountable. |
| Monitor progress | Keeping track of how the implementation is proceeding, and making adjustments as needed. | Regular check-ins and transparency in sharing progress. |
| Course correction | Making necessary adjustments to the action plan if things aren't going as planned or new challenges arise. | Be adaptable and responsive to the changing situation. |
| Success | Achieving the desired outcome or resolving the problem. | Celebrate successes and learn from failures. |
| Flexibility | Being willing to adapt and change course as needed. | Embrace changes and be willing to shift strategy if required. |
| Feasibility | Assessing if an idea is practical within given constraints like time and budget. | Align expectations with realistic constraints. |
| Deadlines | Specific time limits for accomplishing tasks. | Be clear on deadlines but also reasonable in setting them. |
| Assignees | Individuals or groups responsible for specific tasks. | Clarify roles and responsibilities from the start. |
| Budget | Financial constraints that may affect the feasibility of solutions. | Monitor and communicate budget considerations throughout. |
| Measures | Specific metrics or standards used to gauge success or progress. | Set clear, measurable goals and regularly review them. |
This table not only summarizes the essential concepts but also adds insights into managing potential conflicts and disagreements that may arise during the group problem-solving process. Utilizing these tips can help in creating a more harmonious and productive team environment.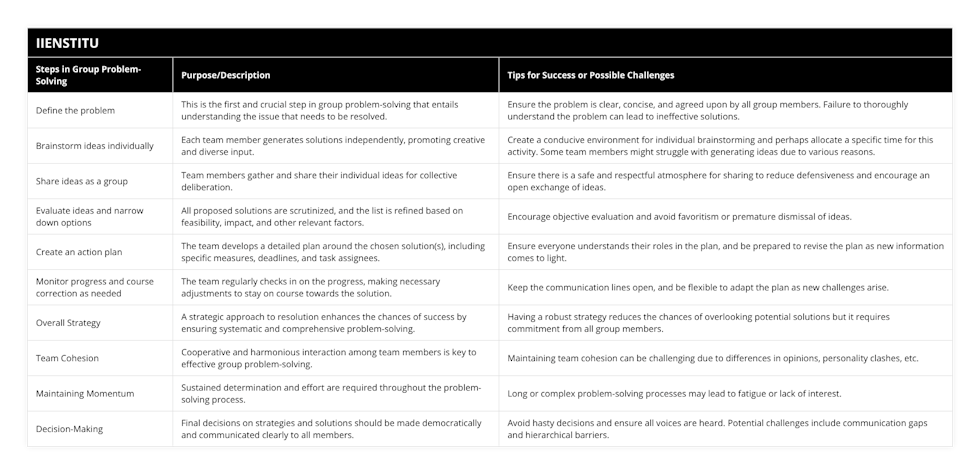 problem solving
Measures
Budget
Success
Assignees
Deadlines
Define the problem
Feasibility
Narrow down options
Brainstorm ideas
Groupthink
Evaluate ideas
Flexibility
Course correction
Monitor progress
Action plan
Share ideas
Individually
Decision-making
Problem-solving
Team

Eryk Branch
Blogger
He is a content producer who specializes in blog content. He has a master's degree in business administration and he lives in the Netherlands.
Related Posts
Our team of experts is passionate about providing accurate and helpful information, and we're always updating our blog with new articles and videos. So if you're looking for reliable advice and informative content, be sure to check out our blog today.