Human Resources Management
From Establishing to Enhancing an HR Function
18 February 2023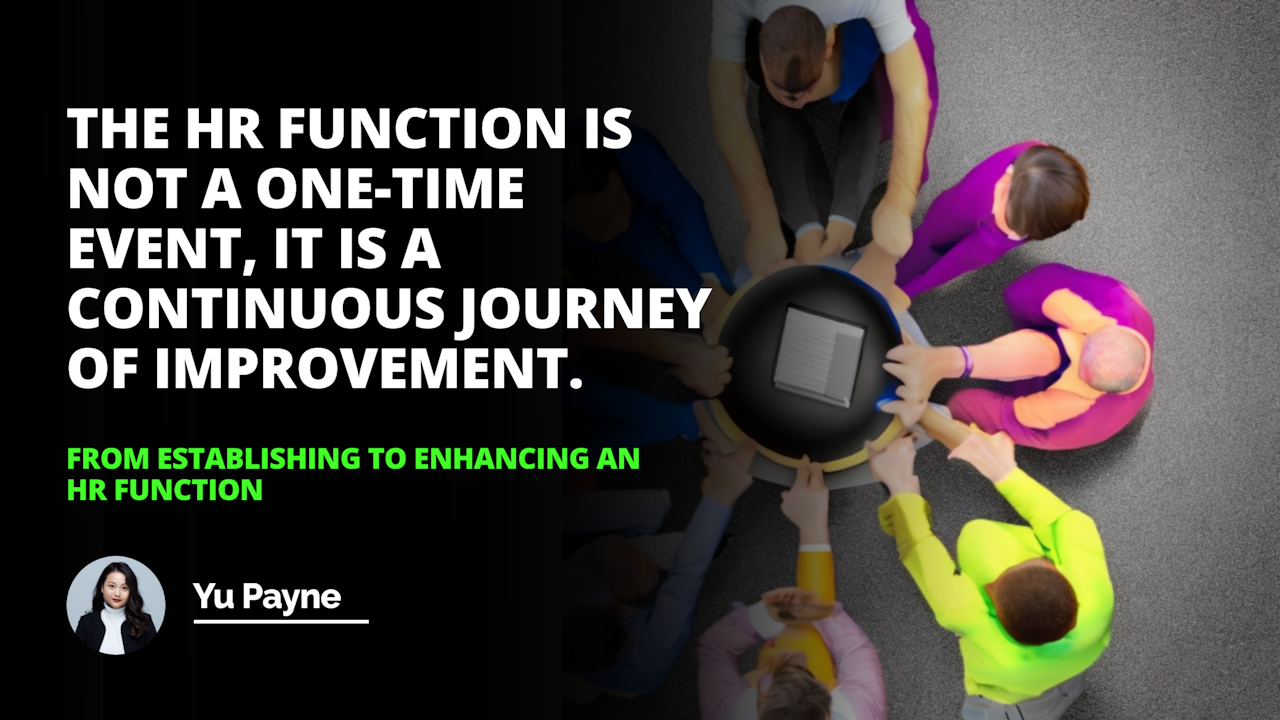 | HR Component | Description | Benefits |
| --- | --- | --- |
| Establishing an HR Function | Creating a core team focused on implementing and maintaining HR procedures. Involves developing a strategic HR plan that outlines the organization's goals, objectives, and resource allocation. | Provides a structured approach to recruitment, compensation, performance management, and training. Enables better resource planning and strategic decision-making. |
| Professionalizing HR | Ensuring the HR function is in line with labor regulations, and has structures for recruiting and retaining talent. The HR environment is based on organization policies. | Ensures compliance, improves workforce morale and productivity, reduces turnover cost, and provides visibility into workforce performance. |
| Data-Driven Decision-Making | Integrating data analysis into HR for more analytical insights, leading to better-informed strategic decisions. | Provides a clearer understanding of overall performance, allowing better strategic planning and execution. |
| Using Technology | Leveraging technological advances and automation to streamline HR operations like payroll and benefits management. | Reduces manual work, increasing operational efficiency. Allows HR personnel to focus more on strategic tasks. |
| Continuous Improvement | Regularly reviewing and refining the HR function for optimal efficiency and effectiveness. | Ensures the HR function remains adaptive and responsive in a dynamic business environment. |
| Recruitment | The process of sourcing, vetting, and onboarding new talent to meet the organization's needs. | Fills skills gaps, supports growth strategies, and ensures a consistent influx of new ideas. |
| Compensation Management | Developing and administering pay and benefits packages that are competitive and aligned with the organization's strategic goals. | Attracts and retains top talent, increases job satisfaction and motivation. |
| Performance Management | Systematic process by which an organization involves its employees in improving organizational effectiveness. | Improves employee performance, provides clarity about roles and responsibilities. |
| Training & Development | Organizational activities aimed at bettering the performance of individuals and groups within the business. | Enhances skills, increases productivity, improves job satisfaction, and fosters a learning culture. |
| Compliance | Ensuring all HR policies and practices are in line with labor laws and regulations. | Lowers legal risk, upholds organizational reputation, ensures a fair and respectful workplace. |
Establishing an HR Function

The Benefits of Professionalizing HR

Strategies for Enhancing an HR Function
Businesses of all sizes rely on an effective Human Resources (HR) function to ensure the success and well-being of their organizations. HR is responsible for everything from recruiting and retaining top talent to developing and administering compensation plans and benefits. Unfortunately, creating an HR function within an organization can be lengthy and complex. Still, once established, it can be further improved by leveraging various strategies for optimizing operations and ensuring long-term success.
Establishing an HR Function
Establishing an HR function in an organization typically begins with the creation of a core team that is responsible for the implementation and maintenance of HR procedures. Ideally, organizations will seek out experts in HR who understand how various components of a successful HR function—such as recruitment, compensation, performance management, and training—interrelate. With a core team, organizations can move on to strategically planning their HR processes. Strategic planning typically involves the development of a comprehensive HR plan that outlines the organization's goals and objectives and how they will be achieved within the confines of its available resources. Once a comprehensive strategy is created and approved, organizations can begin the process of execution and development.
The Benefits of Professionalizing HR
Professionalizing an organization's HR function is essential to any business's long-term success. Professionalizing HR ensures that an organization is in compliance with labor regulations and provides a reliable structure for recruiting and retaining top talent. Professionalizing the HR function within an organization can also lead to improved morale and productivity among the workforce by providing an environment that is based upon company policies rather than individual wants and needs. Additionally, professionalizing HR can help to bring down the various costs associated with employee turnover and provide organizations with increased visibility into the performance of their workforce.
Strategies for Enhancing an HR Function
Once an organization has established an effective and professional HR function, various strategies can be leveraged to increase the efficiency and effectiveness of the process. For example, integrating data-driven decision-making into HR can give organizations the analytical insights necessary to make informed decisions.
Data-driven decision-making can also help to provide organizations with increased visibility into overall performance, allowing them to make more strategic decisions. Additionally, organizations can improve their HR functions by leveraging technological advances and automation to streamline operational processes, such as payroll and benefits management. By incorporating automation into their HR functions, organizations can reduce the manual work required and enable HR personnel to focus on more strategic activities.
Conclusion: A well-functioning HR function is essential for any organization's success. Establishing a practical HR function begins with creating a core team and developing a comprehensive strategy. In addition, professionalizing the HR function is critical to ensure compliance with labor regulations and that an organization can attract and retain the best talent.
Leveraging strategies for enhancing an HR function, such as data-driven decision-making and technological advances, can further increase the efficiency and effectiveness of the process. Ultimately, having a well-functioning HR function can lead to improved morale and productivity within an organization, increased visibility into employee performance, and lower costs associated with employee turnover.
The HR function is not a one-time event. Instead, it is a continuous journey of improvement.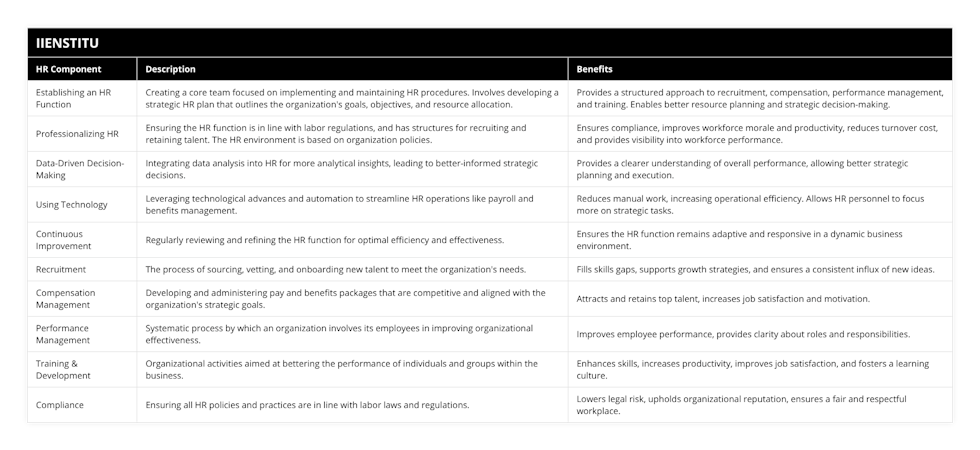 Human Resources
HR
Recruiting
Retaining
Compensation
Performance Management
Training
Strategic Planning
Data-driven Decision-Making
Automation
Payroll
Benefits Management
Compliance
Labor Regulations
Talent
Morale
Productivity
Visibility
Employee Performance
Employee Turnover
Yu Payne
Blogger
Yu Payne is an American professional who believes in personal growth. After studying The Art & Science of Transformational from Erickson College, she continuously seeks out new trainings to improve herself. She has been producing content for the IIENSTITU Blog since 2021. Her work has been featured on various platforms, including but not limited to: ThriveGlobal, TinyBuddha, and Addicted2Success. Yu aspires to help others reach their full potential and live their best lives.
Related Posts
Our team of experts is passionate about providing accurate and helpful information, and we're always updating our blog with new articles and videos. So if you're looking for reliable advice and informative content, be sure to check out our blog today.