Human Resources Management
The Unity of Corporate HR and Departments: A Vital Link
18 February 2023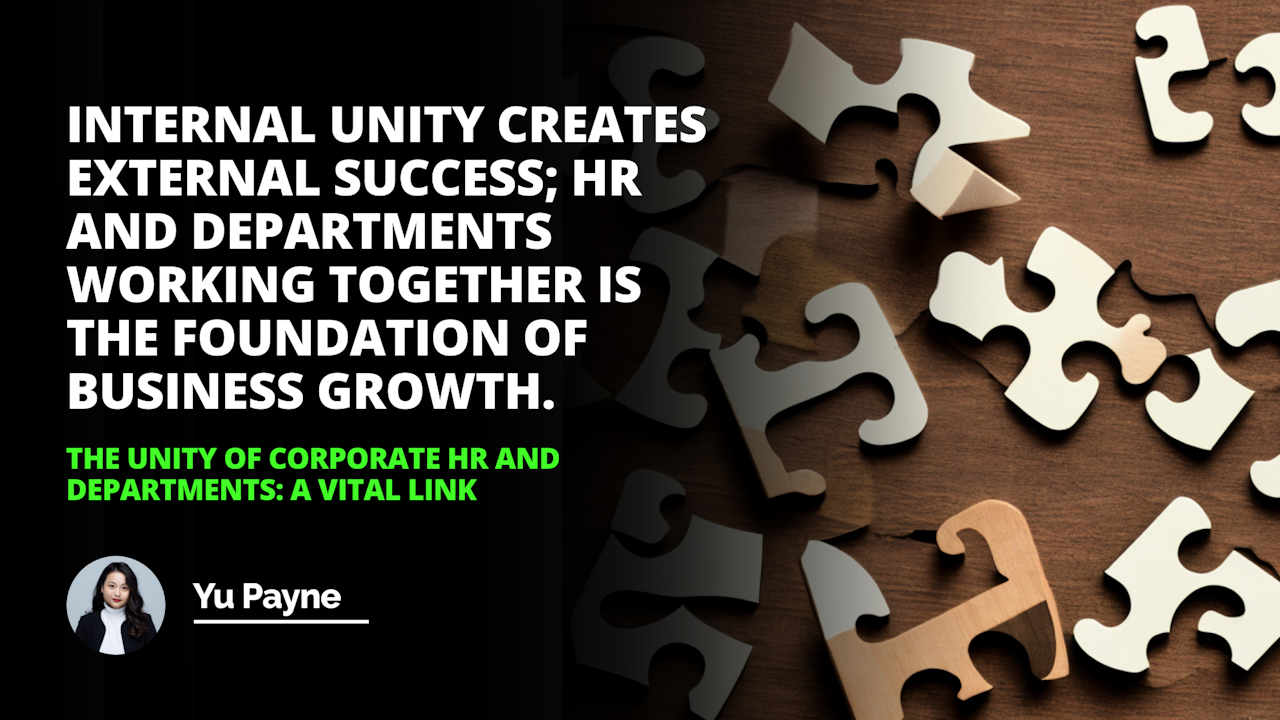 | Key Topic | Overview | Key Benefits and Challenges |
| --- | --- | --- |
| Corporate HR | The department aimed to ensure the optimal performance of an organization's employees. | Vital for the functioning of the company, connects with other departments, drives corporate performance. |
| Unity of HR and Departments | Effective collaboration and interaction between HR and other departments results in more informed decision-making. | Improves quality of outcomes, helps in aligning policies and technology, aids in identifying and overcoming cultural misalignment. |
| Cultural Misalignment | Occurs when different departments view the same issues differently, which often leads to discrepancies or conflicts. | Identifying and overcoming such misalignment is a major challenge but is crucial for aligning objectives and ensuring departmental unity. |
| Effective Talent Management | It's easier to identify and assess talent when HR and other departments work in tandem. | Allows for better deployment and utilization of resources, leads to increased efficiency and improved performance. |
| Unified Vision | Strong linkages between corporate HR and other departments can help in developing a unified vision in a company. | Cultivates sense of pride and ownership, encourages employee engagement, enhances overall organizational success. |
| Role of HR | Role of HR becomes imperative in bridging the gap and aligning the goals of each department. | Facilitates collaborative decision-making, unifies corporate performance, helps in overcoming departmental challenges. |
| Challenges and Need for Unity | Signifies the need for unity among the disparate objectives of HR and other departments. | Alleviates cultural misalignment, aligns differing objectives, ensures overall departmental agreement. |
| Impact of Strong Linkages | The importance of effective linkages or connections between HR and other departments. | Drives organizational performance, aids effective talent management, facilitates a unified vision. |
| Strong Linkage Benefits | The significant benefits of strong linkages between HR and other departments. | Facilitates development of a unified vision, boosts employee engagement, enhances chances of organizational success. |
| HR and Departmental Unity | The necessity of HR and departmental unity to drive corporate performance and productivity. | Improves overall decision-making and industry best practices, enhances organizational success, talent management. |
Introduction

Overview of Corporate Human Resources

Impact of Existing Interaction Between HR and Other Departments

Evidence of Unity

Benefits from Collaborative Decision Making

Improvement in the Quality of the Final Outcome

Challenges Signifying the Need for Unity

Identifying and Overcoming Cultural Misalignment

Aligning Objectives of HR and Other Departments

The Benefits of Strong Linkages

Effective Talent Management

Facilitation of a Unified Vision

Conclusion

Summary of Benefits from Effectual Link between Corporate HR and Departments

Impact of Strengthened Connections on Overall Performance
Introduction
The purpose of corporate Human Resources (HR) aims to ensure that the organization's employees are utilized and performing to their highest potential. To do this, corporate HR must effectively connect to other departments. This connection is vital for the company to function in a meaningful and successful manner. Therefore, the unity of corporate HR and other departments is essential to driving corporate performance.
Evidence of Unity
The unity of corporate HR and other departments hinges on effective collaboration. Much like a well-oiled machine, well-aligned departments are more likely to produce positive outcomes. In the case of corporate HR and other departments, the benefits of collaborative decision-making are apparent. For example, project teams with HR involvement can analyze the strengths of the entire organization rather than just the department for which a particular decision is intended. This results in a much more informed decision-making process that is more likely to lead to satisfactory outcomes.
Furthermore, this collaboration results in an improvement in the quality of the outcome. When HR is involved in any decisions made by the other departments, it allows for a more objective view. The office of HR can provide invaluable insight and expertise into how decisions made by other departments might affect overall corporate performance. This also helps to ensure that policies and technology are aligned, increasing efficiency throughout the organization as a whole.
Challenges Signifying the Need for Unity
Identifying and overcoming cultural misalignment is part of the challenge of establishing strong links between corporate HR and other departments. This misalignment occurs when different departments view the same issues differently. For example, the IT department may share different views on employee engagement than the Sales department. To properly assess the situation and come to an effective agreement that all departments agree on, HR must be present to mediate between departments to bridge the gap.
Another challenge that signifies an urgent need for unity is that the objectives of HR and other departments are typically disparate. It's not uncommon for the office of HR to strive for adherence to certain principles and guidelines, whereas other departments may be operating under different objectives altogether. Again, the role of HR is valuable in bridging this gap and ensuring that the goals of each department are aligned with one another.
The Benefits of Strong Linkages
The importance of effective linkages between corporate HR and other departments cannot be overemphasized. Such links can have a substantial and positive impact on how an organization performs overall. One of the most significant benefits of such linkages is effective talent management. With HR and other departments working in tandem, it's much easier to identify and assess the available talent. This allows for better deployment and utilization of the organization's resources, leading to increased efficiency and improved performance.
Furthermore, strong linkages between corporate HR and other departments can facilitate the development of a unified vision within the organization. As a result, HR is uniquely positioned to help cultivate a sense of pride and ownership, encouraging employees to be more engaged and motivated. This helps create an environment where everyone is working towards the same goal and increases the organization's chances of success.
Conclusion
The unity of corporate HR and other departments is necessary to drive corporate performance. This unity is marked by an effective collaboration between departments, which allows for comprehensive decision-making and industry best practices. Several challenges associated with this unity need to be addressed for it to be successful, but the benefits are undeniable.
Effective talent management and establishing a unified vision throughout the organization are the most critical of these benefits. When the link between corporate HR and the other departments is strong, the organization has a higher chance of success.
Internal unity creates external success HR and departments working together is the foundation of business growth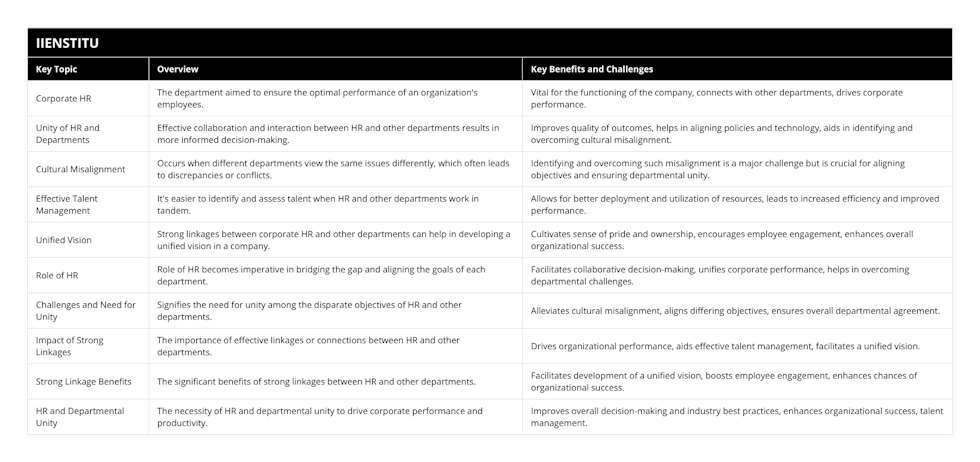 Corporate Human Resources
other departments
collaboration
decision making
objective view
cultural misalignment
objectives
effective linkages
talent management
unified vision
performance
efficiency
success
Yu Payne
Blogger
Yu Payne is an American professional who believes in personal growth. After studying The Art & Science of Transformational from Erickson College, she continuously seeks out new trainings to improve herself. She has been producing content for the IIENSTITU Blog since 2021. Her work has been featured on various platforms, including but not limited to: ThriveGlobal, TinyBuddha, and Addicted2Success. Yu aspires to help others reach their full potential and live their best lives.
Related Posts
Our team of experts is passionate about providing accurate and helpful information, and we're always updating our blog with new articles and videos. So if you're looking for reliable advice and informative content, be sure to check out our blog today.