Logistic Management
Extending Credit: Building Longterm Relationships
02 March 2023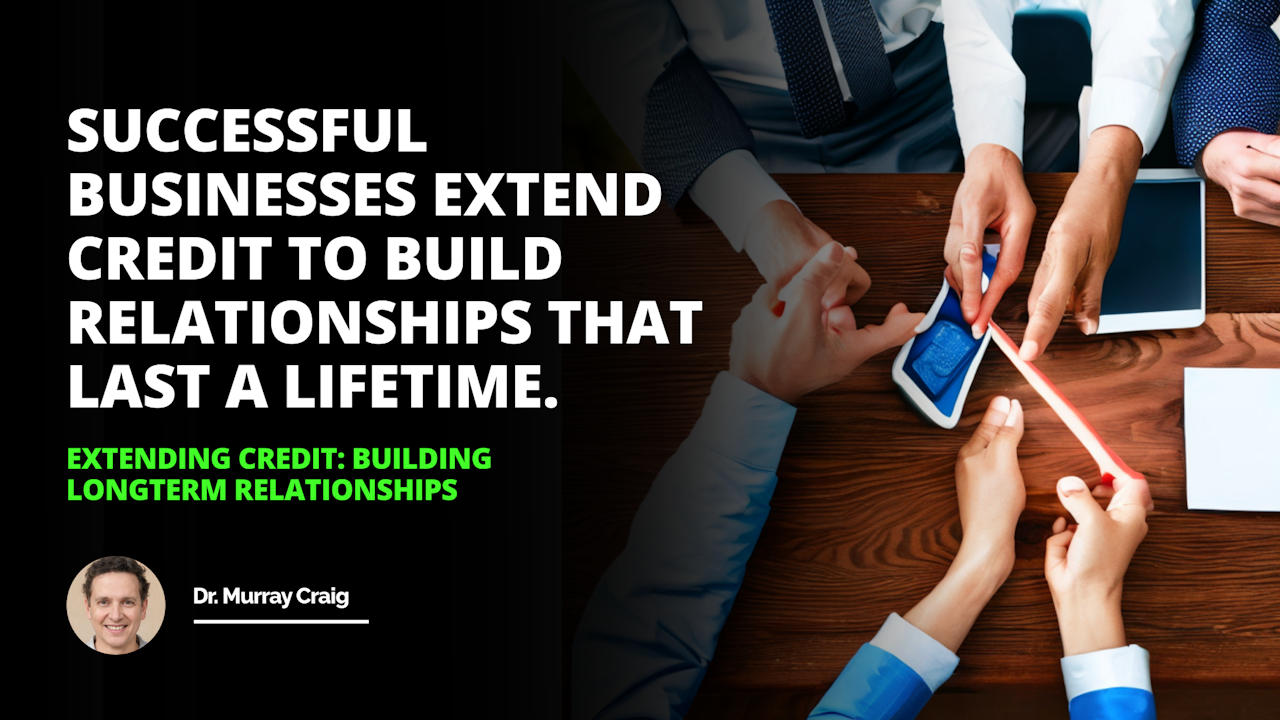 | Aspect | Details | Extra Information |
| --- | --- | --- |
| Advantages of Extending Credit | Increased profitability, Encouraged customer loyalty, Enhanced customer service | By allowing customers to purchase services sooner, companies can boost cash flow and revenue. Customer loyalty can also be fostered by offering credit terms. |
| Challenges of Extending Credit | Risk of bad debts, The need for assessing customer creditworthiness | If the customers fail to pay their debts, companies could face substantial losses. Additionally, the process of assessing a customer's ability to repay debts can be both time-consuming and costly. |
| Strategies for Mitigating Risk | Establish precise credit terms, Erect strong credit policies | To minimize risks associated with extending credit, businesses should define clear credit terms outlining the customer's debts repayment obligations. Moreover, creating detailed credit policies, which stipulate the requirements for approving credit and the credit limits for each customer can also be helpful. |
| Building Long-term Relationships | Extending credit fosters loyalty | When businesses allow their customers to pay over time, this can lead to a strong, long-term relationship, increasing customer loyalty and reducing churn. |
| Increased Cash Flow | Extending credit can improve cash flow | By granting customers the ability to make purchases earlier, companies can regulate their cash flow and potentially increase it. |
| Reduced Marketing Costs | Customer retention through credit extension | Customers are more likely to return to businesses offering credit terms, thereby reducing marketing costs associated with acquiring new customers. |
| Customer Service Enhancement | Offering credit terms can improve customer service | Customers often prefer not to pay in total upfront, so offering credit terms can improve the customer experience and service. |
| Bad Debt Risk | Possibility of substantial financial loss | If customers fail to pay their debts, businesses can face substantial losses, posing a significant financial risk. |
| Assessing Creditworthiness | The need for careful assessment of customer | The capability to assess customer creditworthiness accurately is vital in deciding if customers are qualified to repay their debts, which can be a costly and time-consuming process. |
| Credit Terms and Policies | Prevent Bad Debts | By setting up clear credit terms and stringent policies, businesses can better protect themselves from the risks of bad debts while offering their customers the convenience of credit. |
Advantages of Extending Credit

Challenges of Extending Credit

Strategies for Mitigating Risk
Extending credit allows customers to purchase goods and services on credit rather than paying them immediately in cash. It is a common practice in business transactions and is essential for building long-term customer relationships.
Advantages of Extending Credit
There are many advantages to extending credit. The most obvious benefit is increased profitability. By allowing customers to purchase goods and services earlier, businesses can increase their cash flow and generate more revenue. Additionally, customers are more likely to return to companies that offer them credit terms, which can help reduce marketing costs. Finally, extending credit allows businesses to provide enhanced customer service. Customers prefer not to pay in total upfront and would instead make payments over time. As such, offering credit terms can be a powerful way to retain customers and earn loyalty.
Challenges of Extending Credit
While extending credit has many advantages, it can come with specific challenges. One of the most significant risks associated with extending credit is the risk of bad debt. If customers cannot pay their debts, businesses could face substantial losses. Companies must also be able to accurately assess customer creditworthiness to determine if they can repay their debts. This assessment can be both time-consuming and costly.
Strategies for Mitigating Risk
Fortunately, there are several strategies that businesses can use to mitigate the risk of extending credit. The most important is establishing clear credit terms with customers. These terms should be agreed upon in writing before any transactions and should outline the customer's repayment obligations. Additionally, businesses should consider establishing credit policies that outline the criteria for approving customer applications and the credit limits given to each customer.
In conclusion, extending credit can be a powerful way to build long-term customer relationships. It can increase profitability, improve cash flow, and enhance customer service. However, it is essential to consider the risks associated with extending credit and take steps to mitigate them. Establishing clear credit terms and policies helps protect businesses from the threat of bad debt while still allowing customers to purchase goods and services on credit. Companies can leverage this powerful tool to build strong customer relationships and ensure long-term success by understanding the benefits and risks of extending credit.
Successful businesses extend credit to build relationships that last a lifetime.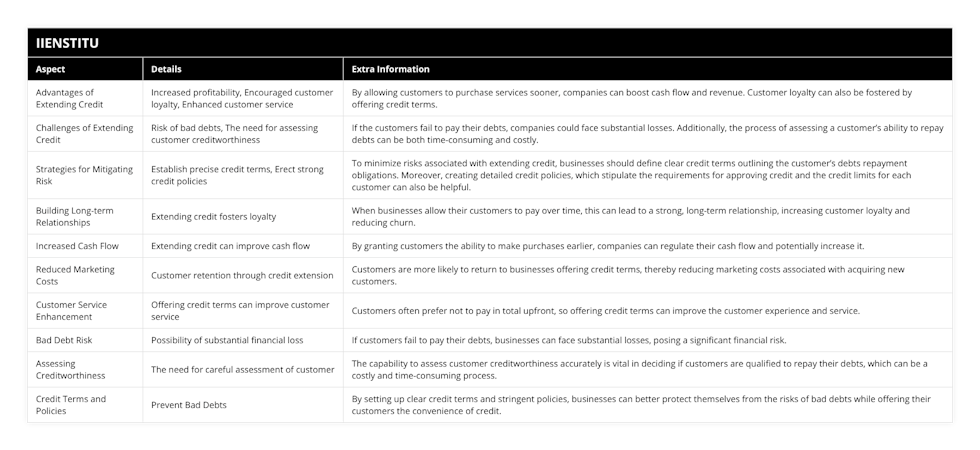 Extending credit
advantages
challenges
risk
customer relationships
cash flow
profits
credit terms
credit policies
bad debt
customer service

Dr. Murray Craig
Academic
Dr. Murray Craig is an academic and researcher who has dedicated his life to the study of human behavior. He has a particular interest in how people interact with their environment, and how that interaction can be used to improve their lives. Dr. Craig has spent many years teaching and conducting research at universities all over the world, and he is widely respected for his work in the field of behavioral science.
Related Posts
Our team of experts is passionate about providing accurate and helpful information, and we're always updating our blog with new articles and videos. So if you're looking for reliable advice and informative content, be sure to check out our blog today.