Logistic Management
Procurement: Making the Right Purchases, at the Right Time
02 March 2023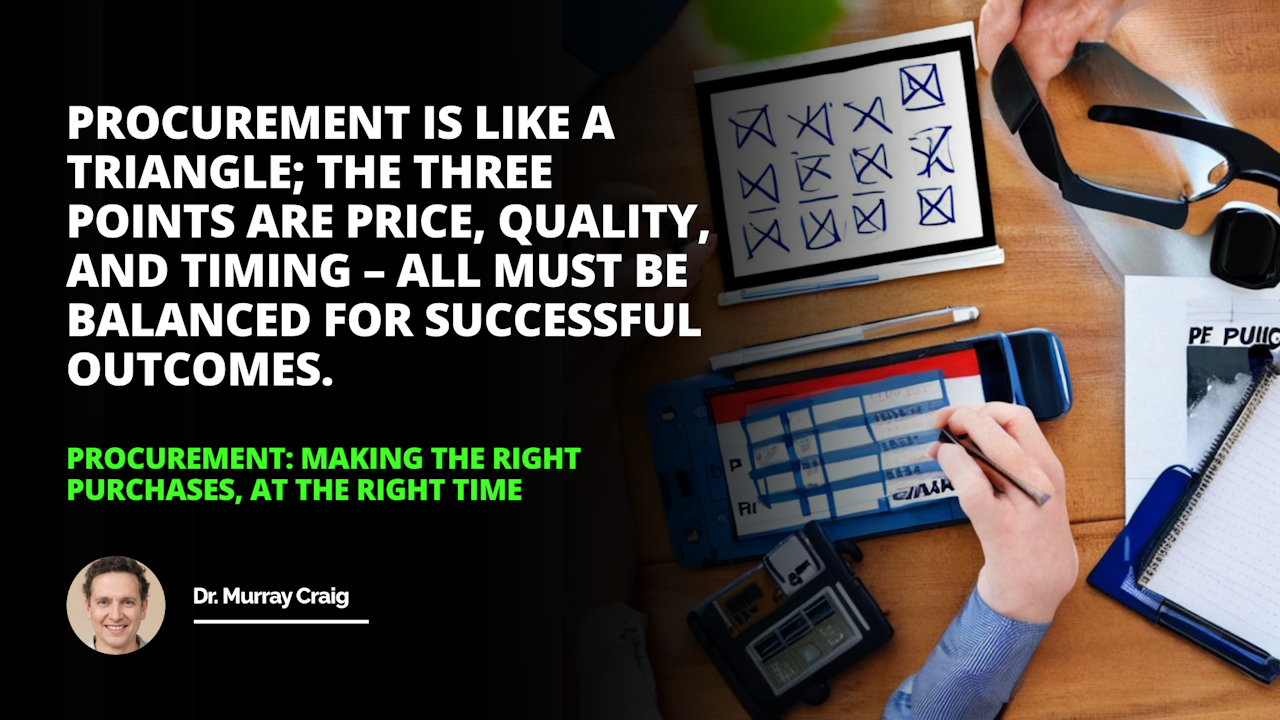 | Key Procurement Areas | Description | Further Strategies and Challenges |
| --- | --- | --- |
| Types of Procurement | Includes open tender procurement, single-source procurement, negotiated procurement, and framework procurement. | Organizations need to determine the most suitable procurement type based on their specific circumstances and needs. |
| Product or Service Specifications | Clear, detailed specs of the required products or services are crucial. They ensure that final output aligns with organizational needs. | Specifications need to be constantly updated and revised in response to changes in organizational needs and market conditions. |
| Supplier Qualification | Assessing the quality, cost, and turnaround time is an essential step before identifying a supplier. | Organizations face the challenge of constantly monitoring and evaluating suppliers to ensure they deliver quality products and services on time within budget. |
| Contract Development | Once a supplier is identified, a contract is developed to ensure a smooth procurement process. | Contracts need to be flexible and adjustable according to changing requirements and circumstances. |
| Procurement Process Efficiencies | Analyzing the procurement process to identify inefficiencies is crucial. It implies ensuring purchased products/services align with the organization's objectives. | Potential uncertainties like market condition changes or delivery delays can often disrupt the procurement efficiency. Organizations must be prepared to manage these changes. |
| Process Automation | Using automation can streamline the procurement process and reduce manual labor. | The challenge is integrating automated tools within existing systems and workflows. Organizations need technical expertise for the same. |
| Priority Setting | Having clarity on procurement priorities facilitates the successful implementation of the process. | Effective priority setting requires a thorough understanding of organizational needs and objectives. |
| Interdepartmental Collaboration | Collaboration between different departments ensures smooth procurement functioning. | Addressing cultural differences, communication gaps, and resource allocation are common challenges in promoting collaboration. |
| Cost Management | Effective procurement can result in cost reduction, improving overall profitability. | Balancing quality and cost can be challenging. Obtaining optimum quality at the lowest cost requires skilled negotiations. |
| Quality, Price, and Timing Balance | Procurement is like a triangle where quality, price, and timing need to be balanced. | Achieving this balance requires a nuanced understanding of the market, suppliers, and internal needs. |
Important Components of Procurement

Challenges of Procurement

Strategies for Improved Procurement
Procurement is obtaining goods, services, or works from an external source, usually through contracts. It is an integral part of the supply chain. It is becoming increasingly crucial for businesses as it is considered an effective way to manage overall costs and ensure the timely execution of projects. Depending on the nature of the purchase, there are different types of procurement, such as open tender procurement, single-source procurement, negotiated procurement, and framework procurement.
Important Components of Procurement
The success of any procurement process boils down to the efficiency of the various components involved:
Developing clear and detailed specifications of the products or services required is essential. This will help ensure that the final product or service meets the organization's needs.

A supplier must be qualified after assessing the quality, cost, and turnaround time.

Once the supplier has been identified, a contract can be developed to ensure a smooth procurement process.
Challenges of Procurement
The procurement process can be challenging, requiring careful analysis to identify inefficiencies. This includes ensuring that procurement meets the requirements, such as budgetary constraints, and that the purchased products or services are consistent with the organization's objectives. Additionally, there is always the possibility of uncertainties during the procurement process, such as changes in market conditions or delays in delivery.
Strategies for Improved Procurement
To ensure that procurement functions optimally, organizations must take a proactive approach to manage it. This can be done by utilizing automation to streamline the process and reduce manual labor. Organizations should also have a clear sense of priorities when engaging in the procurement process. By prioritizing the essential requirements, it can facilitate the successful implementation of the process while saving time. Collaboration between different departments within the organization is also necessary as it helps to ensure smooth functioning.
In conclusion, procurement is a complex process that requires expertise and proper management to function effectively. For organizations to procure efficiently, specific vital components are needed, such as developing precise specifications, qualifying suppliers, and entering into contracts. Furthermore, difficulties may arise during the procurement process, requiring organizations to employ strategies such as automating processes, creating clear priorities, and reinforcing collaboration to ensure success. As a result of effective procurement, organizations can benefit from reduced costs, improved delivery times, and, ultimately, increased profitability.
Procurement is like a triangle. The three points are price, quality, and timing. All must be balanced for successful outcomes.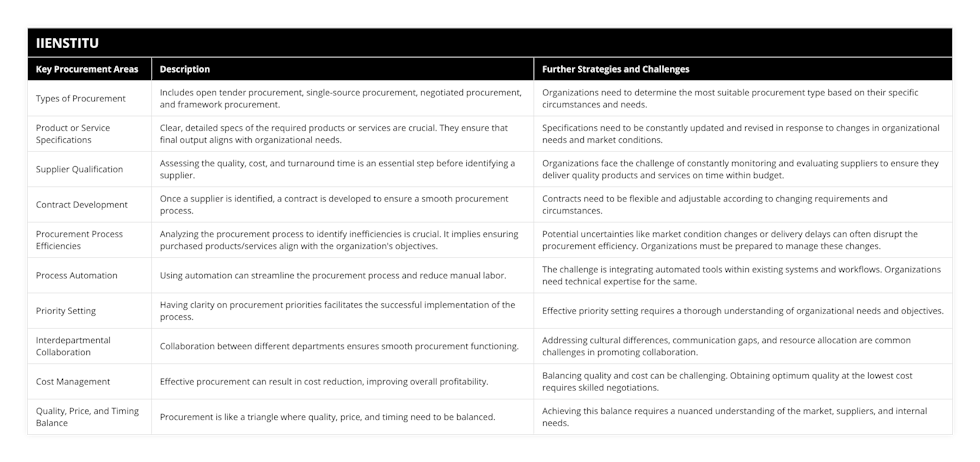 Procurement
external source
contracts
goods
services
works
supply chain
open tender procurement
single-source procurement
negotiated procurement
framework procurement
clear specifications
supplier
quality
cost
turnaround time
contracts
budget constraints
market conditions
automation
manual labor
priorities
collaboration
reduced costs
improved delivery times
increased profitability

Dr. Murray Craig
Academic
Dr. Murray Craig is an academic and researcher who has dedicated his life to the study of human behavior. He has a particular interest in how people interact with their environment, and how that interaction can be used to improve their lives. Dr. Craig has spent many years teaching and conducting research at universities all over the world, and he is widely respected for his work in the field of behavioral science.
Related Posts
Our team of experts is passionate about providing accurate and helpful information, and we're always updating our blog with new articles and videos. So if you're looking for reliable advice and informative content, be sure to check out our blog today.