Logistic Management
Enhancing Value Through Value-Added Logistical Services
02 March 2023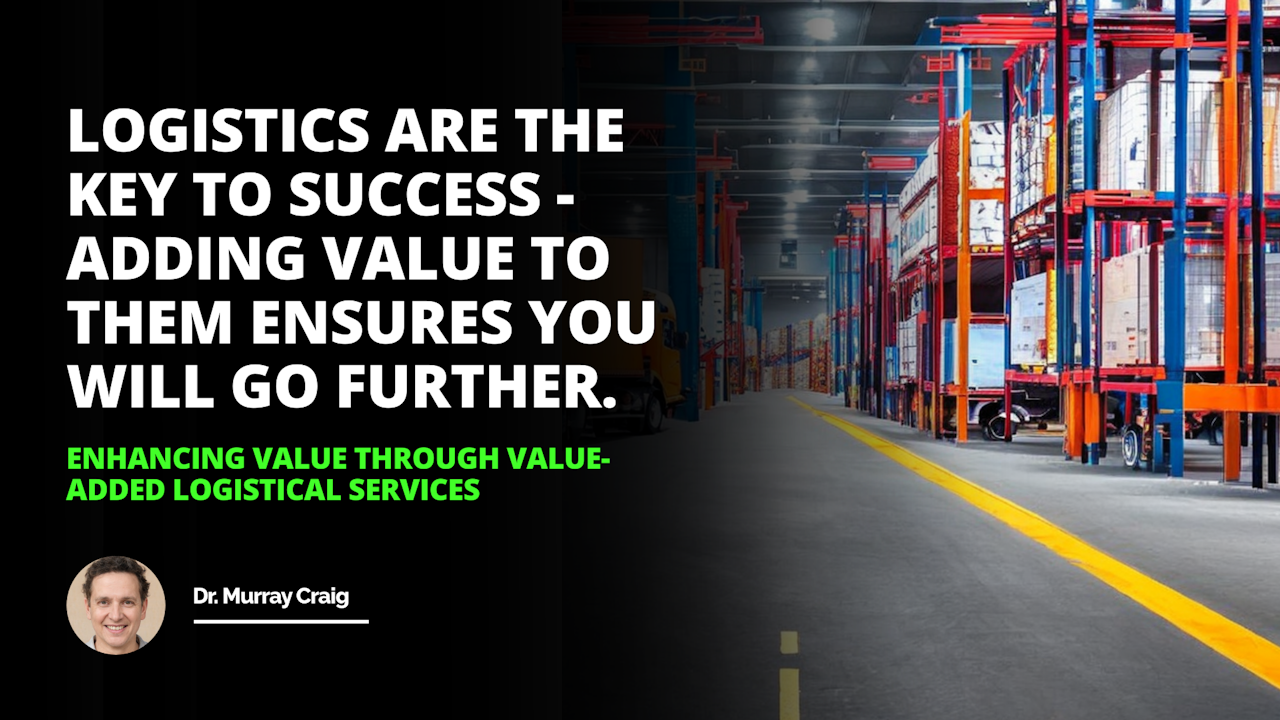 | Aspect | Details | Solutions |
| --- | --- | --- |
| Value-Added Logistical Services | Services that enhance the efficiency and cost-effectiveness of goods delivery | Automating processes, using multiple transportation methods, ensuring on-time delivery |
| Challenges of Implementation | Additional cost for technologies and personnel, Increased complexity in supply chain | Exploring automation technologies, Outsourcing logistical services |
| Benefits of Implementation | Improved efficiency, Reduced delivery costs, Enhanced customer satisfaction | Effective planning and operation, Constant review and fine-tuning of procedures |
| Reduced Customer Dissatisfaction | Ensuring goods arrive on time and in good condition | Provide regular updates, Utilizing reliable carriers |
| Increased Efficiency | Faster delivery from one point to another | Effective route planning, Use of advanced logistics technologies |
| Cost Savings | Leveraging on multiple carriers or transportation methods for most favorable pricing | Negotiating better agreements with carriers, Using software for price comparison |
| Complex Supply Chain Management | Challenges in managing a network of resources | Implementing advanced logistics strategies, Ongoing training for staff |
| Overcoming Challenges | Issues faced when implementing value-added services | Investment in automation technologies, Exploring outsourcing options |
| Improving Customer Service | Dealing with customer demands effectively and efficiently | Adherence to ETA, Quality checks before shipping |
| Automation and Outsourcing | Involvement of advanced technologies and third-party service providers | Exploring feasible automation options, Selection of reliable and efficient service providers |
Benefits of Using Value-Added Logistical Services

Challenges of Implementing Value-Added Logistical Services

How to Overcome Challenges
Value-added logistical services are increasingly becoming popular in the modern business world. Globalization, competition, and the increasing number of worldwide customers all make it essential for companies to stay up-to-date with the latest logistics technologies and strategies. This blog post will discuss how companies can enhance value through value-added logistical services.
Benefits of Using Value-Added Logistical Services
Value-added logistical services can help companies achieve greater efficiency, cost savings, and improved customer service. It allows companies to quickly deliver goods from one destination to another, saving time and energy. Additionally, it can lower delivery costs by utilizing multiple carriers or transportation methods. Lastly, it can reduce customer dissatisfaction by ensuring that goods arrive on time and in excellent condition.
Challenges of Implementing Value-Added Logistical Services
A few challenges come with implementing value-added logistical services, primarily due to its added costs. For example, companies must invest in additional technology and personnel to adequately implement the service and ensure it runs efficiently. Additionally, the supply chain can become increasingly complex when implementing advanced logistics strategies, which can lead to further cost increases.
How to Overcome Challenges
Fortunately, there are a few strategies companies can turn to overcome the obstacles of implementing value-added services. First, companies should explore automation technologies to streamline their logistics processes and reduce the cost of implementing these services. Companies can also outsource their logistical services to reduce their costs, improve their customer service, and better leverage their technology for higher efficiency.
In conclusion, value-added logistical services can be an excellent option for companies looking to enhance value by reducing costs and improving customer service. However, while value-added logistical services can provide numerous benefits, implementation can face several challenges. Therefore, companies should look into automation technologies and outsourcing options to help mitigate these pitfalls and ensure that their services can help maximize value.
Logistics are the key to success. Adding value to them ensures you will go further.

Value-added logistical services
globalisation
competition
customers
efficiency
cost savings
customer service
delivery costs
transportation
customer dissatisfaction
additional technology
personnel
supply chain
automation technologies
outsourcing

Dr. Murray Craig
Academic
Dr. Murray Craig is an academic and researcher who has dedicated his life to the study of human behavior. He has a particular interest in how people interact with their environment, and how that interaction can be used to improve their lives. Dr. Craig has spent many years teaching and conducting research at universities all over the world, and he is widely respected for his work in the field of behavioral science.
Related Posts
Our team of experts is passionate about providing accurate and helpful information, and we're always updating our blog with new articles and videos. So if you're looking for reliable advice and informative content, be sure to check out our blog today.