Personal Development
Differences Between Laziness and Burnout
28 April 2022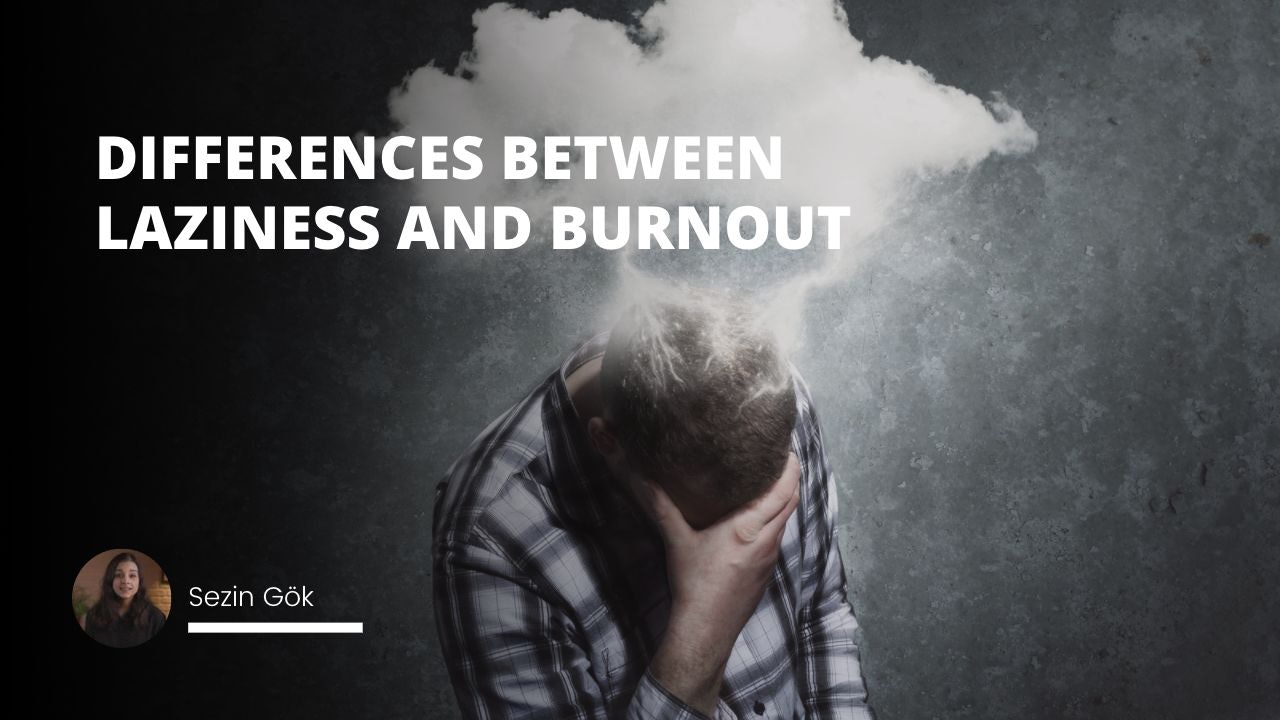 | Concept | Manifestation | Treatment |
| --- | --- | --- |
| Laziness | Unable or unwilling to work hard, characterized by lack of energy or effort | Improvement in time management, setting achievable goals, breaking tasks into smaller parts |
| Burnout Syndrome | Loss of enthusiasm, inability to be creative, feelings of helplessness, lack of sleep, depression due to excessive work stress | Time off, finding balance between work and personal time, seeking professional help |
| Laziness Vs. Burnout | Lazy person doesn't put in enough effort, A person suffering from burnout is drained due to excessive work | Overcoming laziness requires self-motivation and discipline, Burnout requires rest and oftentimes professional help |
| Symptoms of Laziness | Procrastination, low productivity, lack of motivation | Finding motivation, setting and achieving small goals, boosting self-confidence |
| Symptoms of Burnout | Constant fatigue, inability to concentrate or think clearly, feeling overwhelmed and unable to meet constant demands | Reduce stress, seek support from colleagues, friends or a professional, set boundaries between work and personal life |
| Effects of Laziness | Poor academic or work performance | Improving work ethics, decision-making |
| Effects of Burnout | May lead to serious physical and emotional health problems | Life changes, professional help |
| Potential Causes of Laziness | Lack of self-esteem, fear of failure, lack of goals or motivation, feelings of inadequacy | Being positive, practicing self-compassion, setting clear and feasible objectives |
| Potential Causes of Burnout | Excessive workload, lack of control over work or work-life imbalance, prolonged work stress | Time management, relaxation techniques, building supportive relationships |
| Dealing with Laziness | A struggle to focus or stay organized, low morale | Imposing self-discipline through routine, maintaining an organized environment, maintaining a positive mindset |
| Dealing with Burnout | Decreased motivation or initiative, feelings of disillusion | Involving mental health professionals, taking regular breaks, exercise, diet and a healthy life balance |
The business world is full of stress. Every employee knows this, especially those who want to move up or are looking for a job. Burnout syndrome has become quite common nowadays among almost all people, including workers and students. Students complain of feeling tired or even discouraged after spending important years of their lives seeking knowledge.
What is the problem? Isn't that what they've been waiting for? What causes them to feel this way? How can you avoid falling into the trap of laziness and exhausted life? Read on for answers to questions like these!
What is Laziness?
People often think that lazing around all day is tantamount to being lazy. This is wrong. Laziness means you are too tired to do anything. Going to school or work takes a lot of effort for you. If you want to get good grades, you need to work hard, work on projects even when you're too tired so you can keep up with the class schedule, or get college assignments done when you're feeling tired from all the work and deadlines for the semester.
Sometimes laziness can be attributed to laziness, but other times it is because the person is exhausted. There's a huge difference between being lazy and feeling academically drained. Let's continue with the burnout syndrome to find out what this difference is.
What is Burnout Syndrome?
This type of syndrome affects students who stay in school too long. Burnout is basically the condition of an individual who has been under too much pressure for long periods of time. It's like you work at a fast food chain where your workload doubles on Monday, triples on Tuesday, and keeps increasing until your schedule gets that tight. Let's talk more about burnout syndrome to be enlightened;
Symptoms of burnout include lack of concentration, loss of enthusiasm, inability to be creative, persistent feelings of hopelessness and helplessness, poor grades despite intense training, absenteeism, frequent illness or illness due to reduced immunity, lack of sleep or rest. It is a state of depression. A person suffering from burnout often feels that there is no end to their suffering.
So what's the difference between being lazy and experiencing burnout? Knowing someone's symptoms lets you know if you have them, so be sure to jot them down. Laziness often results in a person not putting in enough effort while studying, doing projects, or working on papers. When asked about your sudden change in behavior, "I'm just taking a break" might be an answer.
On the other hand, burnout can be attributed to long working hours with little or no breaks. The person loses interest in socializing with friends and even meeting family members for lunch becomes tiring. When you feel academically drained, consider: Could your current situation put you in a situation where you can no longer tell the difference between laziness and burnout?
Could the condition have become chronic? If you're really experiencing burnout, maybe it's time to take a break! Note how students drop out academically, even after being admitted to reputable universities. What could cause this? Is it because these students are too lazy to work hard for their degrees, or because they are pushed beyond the limits of their endurance by overworking? Maybe these people have given up on education, but many will say that education is not just about acquiring knowledge… It is more than that. Education changes lives, don't underestimate its power!
To learn more about Burnout Syndrome, you can attend the Burnout Syndrome training at the Institute. Here you will learn the symptoms in more detail and you will get information from the specialist about how you can prevent it.
What are the Differences Between Laziness and Burnout Syndrome?
If you're lazy, of course, it may have to do with your personality. So you can always have a low energy level. It's bad to feel this way. Because being lazy and being lazy are two very different things. But there are very important differences between laziness and burnout syndrome.
Burnout syndrome occurs not because of laziness, but when you can no longer find the motivation to do something in yourself. On the contrary, sloths can be active. So instead of working, they can do things like play computer games. But a person with burnout syndrome has no desire to do something. It just acts depressingly.
For example, while lazy people are having fun, a person with burnout syndrome can get angry very quickly and go into crying fits. He does not pay attention to his eating and drinking. Even if her phone rings, she stops looking. So there is a big difference between laziness and laziness. It can be said that mental and physical fatigue outweighs.
When you're tired, you run out of energy and you don't want to do anything. Conversely, sometimes even if you feel lazy, there are times when you still want to do something but procrastinate, or you lose motivation halfway through a task or project, causing you to not finish it on time.
Do you think it's possible that some people are both lazy and exhausted?
Yes, it's possible to be both exhausted and lazy at the same time. If you are someone who always procrastinates, but instead of studying the day before the exam like most students, you find yourself surfing social media and playing computer games until late in the evening, the situation is serious. If you are a lazy and exhausted person, you are now in the last and serious stage of burnout syndrome. In this case, it would be the best decision to seek psychological support.
If you are academically exhausted, it may mean that your interest in learning has been lost, or that you have been pushed beyond the limits of endurance due to overwork and stress. In this case, what you need to do is to improve yourself to find the motivation you are looking for. NLP Education or Life Coaching Training may be good options for you. You can attend these online trainings at the Institute and improve yourself to feel better.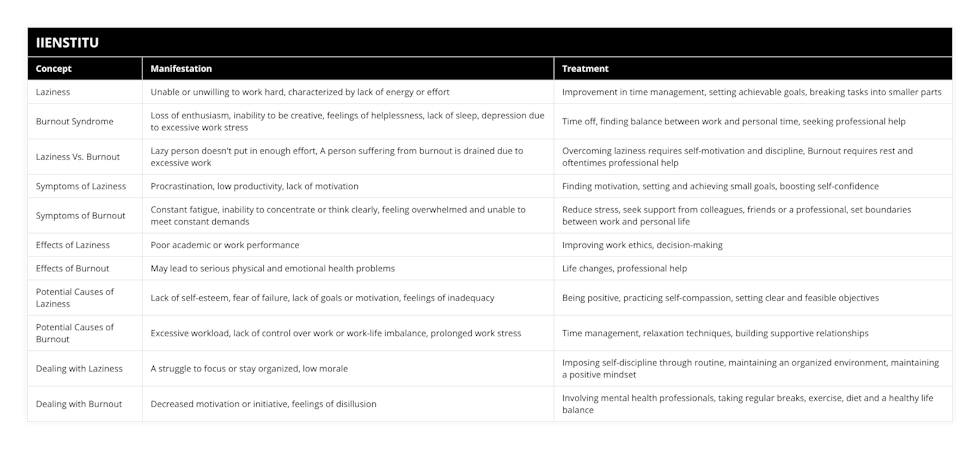 Sezin Gök
Blogger
SHe is a graduate of Akdeniz University, Department of Business Administration. She graduated from the university with a faculty degree. It has contributed to its environment with its social responsibility project. She writes articles about business and its fields.
Related Posts
Our team of experts is passionate about providing accurate and helpful information, and we're always updating our blog with new articles and videos. So if you're looking for reliable advice and informative content, be sure to check out our blog today.