Human Resources Management
The Plentitude of Job Opportunities
19 February 2023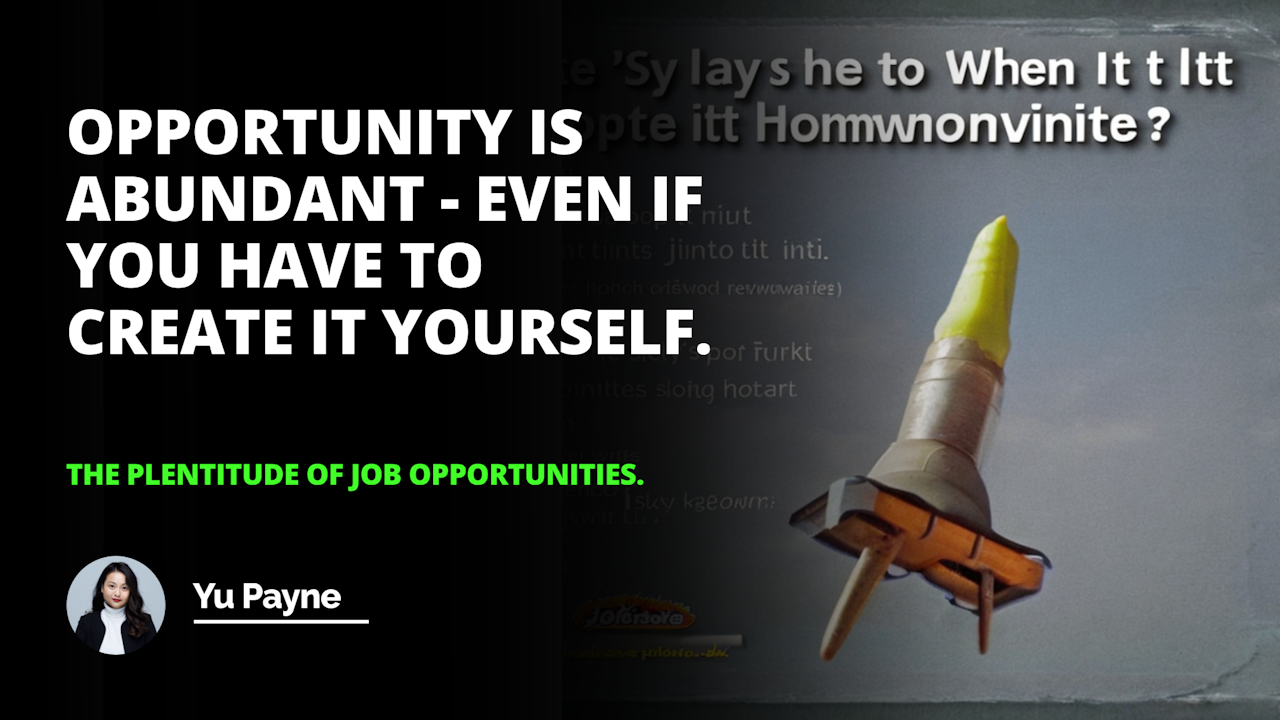 | Aspect | Benefits | Challenges |
| --- | --- | --- |
| Skills Development | More job opportunities offer chances to pursue specialized skills and professional growth. | The highly diverse job market may require multi-skilled abilities, increasing the pressure to keep learning. |
| Pursuit of Passions | Diverse job opportunities allow individuals to pursue creative and professional passions. | The search for jobs that align with one's passion can be long and tiring, and there's uncertainty of securing such jobs. |
| Financial Stability | Increased job opportunities reduce risk of getting stuck in an unsatisfactory role, and can result in higher wages. | The job market is volatile, and financial stability is subjective to changes in economy and job security. |
| Job Security | Some positions offer long-term growth, which increases job security. | With plenty of job opportunities, there's also higher competition and uncertainty about job security. |
| Job Searching | Availability of numerous resources namely recruitment websites, career advice platforms, and networking tools. | The process of job searching is often time-consuming and stressful due to intense competition. |
| Career Growth | Abundance of opportunities can provide quicker career advancement. | Increased job opportunities can also mean a non-linear career path with many job switches. |
| Knowledge Enhancement | Diverse job opportunities provide a breadth of knowledge and insight about different fields. | Keeping up with the knowledge requirement of diverse roles can be challenging. |
| Personal Fulfilment | Plenty job opportunities might offer higher chances of finding a job that brings personal fulfilment. | The pursuit for personal fulfilment might involve going through dissatisfying job roles. |
| Job Diversity | Diverse job roles allow exploring different fields, thus broadening an individual's perspective. | The need to adapt to different job roles can be demanding. |
| Networking | Job seekers can connect with industry professionals and potential employers, enhancing their professional network. | Building a strong professional network is a time-consuming process and requires consistent efforts. |
Benefits of Job Opportunities

Challenges of Job Opportunities

Strategies for Exploring Job Opportunities
Today's job landscape has never been more diverse and competitive. With the rapid growth of technology and globalization, more job opportunities are available. The abundance of job opportunities can be beneficial and challenging, providing individuals with increased access to specialized skills development, the chance to pursue creative and professional passions, and improved financial stability. However, there is also the increasing pressure to succeed, the ever-present uncertainty about the security of those jobs, and the growing competition that intensifies with each additional applicant. Knowing how to navigate the ever-changing job market requires being informed and prepared, which can be difficult in an atmosphere of such constant flux. By exploring the benefits and challenges of job opportunities and learning strategies to seek out and apply for jobs successfully, individuals can take control of the process, take advantage of the available openings, and have a greater chance of finding meaningful, long-term employment.
Benefits of Job Opportunities
One of the primary benefits of increased job opportunities is access to skills development, specialization, and growth. Individuals now have the chance to pursue their chosen field in more depth and with greater efficiency, as the array of available positions allows access to a much more comprehensive range of tasks and learning experiences. With more positions available, individuals can pursue creative, professional passions and diversify their backgrounds. This provides more stability in the job market and can generate more significant levels of enjoyment and personal fulfillment. In addition, the extra breadth of knowledge and insight gained from these positions can be a valuable asset for the future.
Financial stability is another critical benefit of expanded job opportunities. With more jobs on offer, the risk of getting stuck in an underpaid or unsatisfying role is reduced, as individuals have greater freedom to explore different avenues and organizations. This can also lead to higher wages as employers often have greater flexibility in salary structure. Additionally, certain positions offer long-term growth, providing peace of mind and allowing individuals to plan for their futures.
Challenges of Job Opportunities
An increase in job opportunities does not come without its challenges. One of the most prominent difficulties is the competition for roles. With more people applying for the same jobs, the level of talent and selection process becomes increasingly difficult. This can be unsafe, and individuals must be able to stand out from the crowd to be chosen. Another issue is the stress that comes with job searching. As applications and interviews become more frequent and the chances of success remain uncertain, both emotionally and financially, the process can quickly become exhausting.
There is also a degree of uncertainty, as job security is rarely guaranteed. This can make long-term career planning difficult and require individuals to reassess their options constantly. Not every job will lead to permanent employment; some may end up as mere stepping stones; even those who are successful may still face the risk of termination or relocation. Fear of the unknown can be crippling and lead to a lack of faith.
Strategies for Exploring Job Opportunities
Taking control of the job search is essential for reaping the benefits of increased opportunities. Researching existing job markets and connecting with potential employers through professional networks can give individuals an understanding of their chosen field and the appropriate steps for entering it. This helps to build critical skills such as networking, communication, and problem-solving, which potential employers look for when reviewing applications. Networking is also valuable for meeting people in the same field, gaining insight into how the industry works, and developing valuable contacts.
Individuals can also take advantage of resources available to job seekers, such as recruitment websites, career advice websites, and career advisors. These are useful for helping people craft effective CVs and applications and providing guidance on alternative career paths and methods of self-promotion. Software such as AI-powered tools can also be incorporated into the process, automating tedious tasks such as data entry and releasing time to focus on more critical parts of the process.
Conclusion: The abundance of job opportunities can bring various benefits and challenges. From access to skills development and improved financial stability to intense competition, stress, and uncertainty, navigating such a variable landscape requires resourcefulness and commitment. However, by researching existing job markets, connecting with employers, and networking in the industry, individuals can take control of the process and increase their chances of success. Moreover, in a world with abundant job opportunities, individuals can seize the moment and discover openings that can lead to meaningful, long-term employment.
Opportunity is abundant even if you have to create it yourself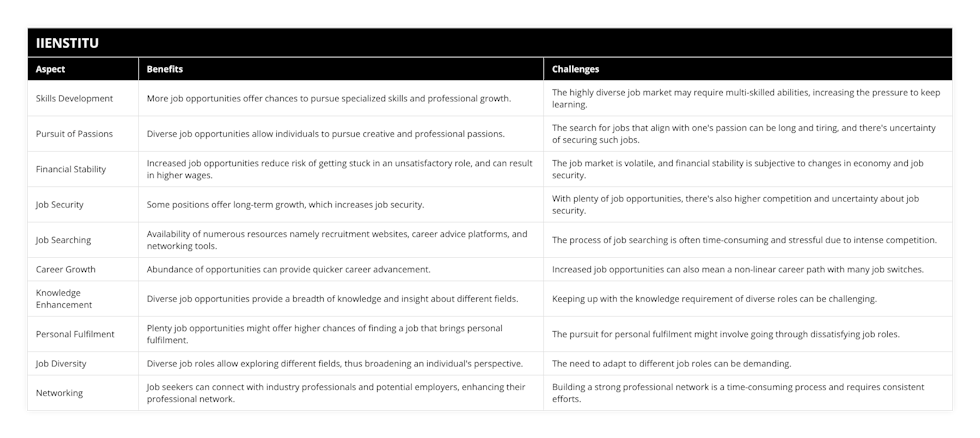 Job Opportunities
Skills Development
Specialization
Financial Stability
Creative
Professional Passions
Competition
Stress
Uncertainty
Job Searching
Talent
Selection Process
Networking
Communication
Problem-Solving
Recruitment Websites
Career Advice Websites
Career Advisors
AI-Powered Tools
Researching
Employers
Networking
Resourcefulness
Commitment
Meaningful
Long-Term Employment
Yu Payne
Blogger
Yu Payne is an American professional who believes in personal growth. After studying The Art & Science of Transformational from Erickson College, she continuously seeks out new trainings to improve herself. She has been producing content for the IIENSTITU Blog since 2021. Her work has been featured on various platforms, including but not limited to: ThriveGlobal, TinyBuddha, and Addicted2Success. Yu aspires to help others reach their full potential and live their best lives.
Related Posts
Our team of experts is passionate about providing accurate and helpful information, and we're always updating our blog with new articles and videos. So if you're looking for reliable advice and informative content, be sure to check out our blog today.