Human Resources Management
Corporate HR: Transforming Cultures Building & Cultural Awareness
21 February 2023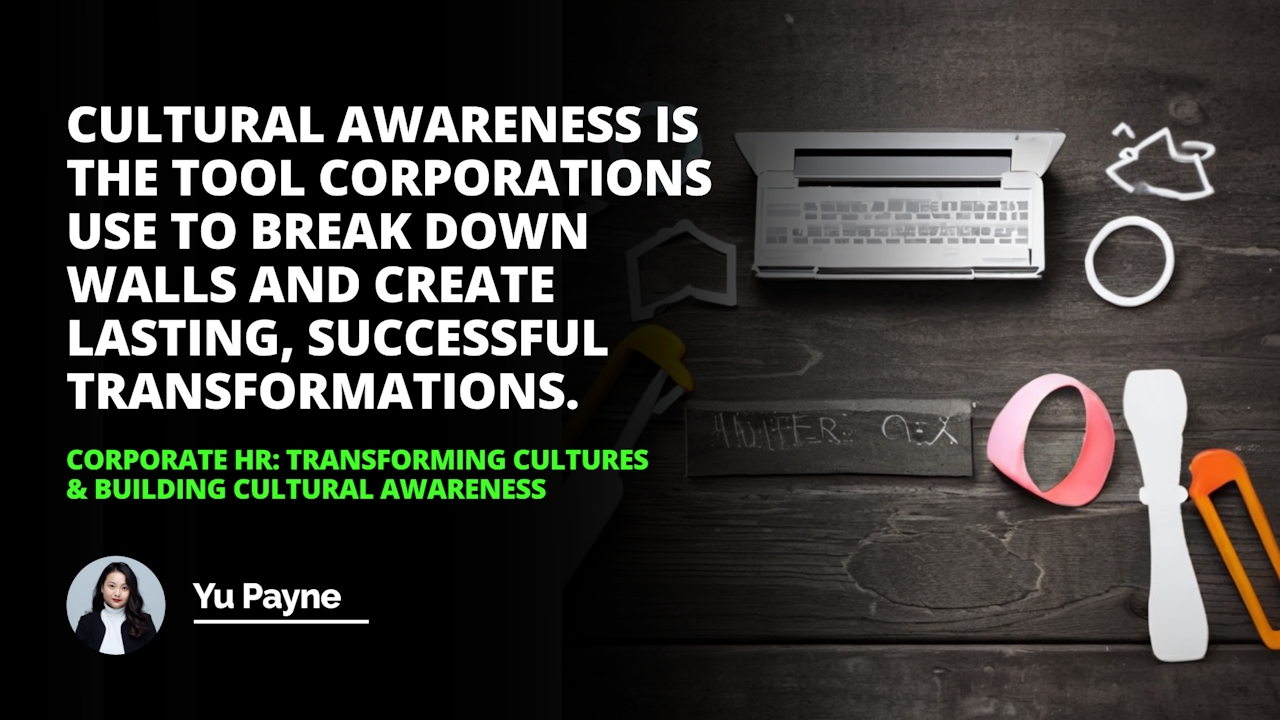 | Key Concepts | Definition | Implementation Strategies |
| --- | --- | --- |
| Cultural Awareness | An understanding and recognition of individuals' different backgrounds and experiences within the organization. | Open dialogue about identity and cultural differences; initiatives fostering an environment where everyone thrives. |
| Transforming Cultures in the Workplace | Evolving the shared values and beliefs that guide the behavior of individuals and groups within an organization. | Recognizing and honoring individual backgrounds and experiences; fostering open dialogue about identity and cultural differences. |
| Benefits of Supporting Cultural Evolution | The positive outcomes that arise from promoting a diverse culture within the organization. | Encourage healthy debate about diversity; promote a discrimination-free workplace; highlight the unique perspectives of each employee. |
| Building Cultural Awareness | Creating a culture that values understanding, respecting, and appreciating individuals' differences. | Cultural agreements; Cultural training and education; Celebrating diversity. |
| Creating Cultural Agreements | Setting shared agreements that encapsulate respect, communication, collaboration, and feedback within the organization. | Create simple, concise, achievable, and measurable conditions to encourage employees to value each other's differences. |
| Cultural Training & Education | A learning process that fosters understanding of different cultures, behaviors, and communication styles. | Offer opportunities for employees to learn about different cultures and share their unique perspectives. |
| Celebrating Diversity & Cultural Inclusion | Acknowledging and valuing the variety of cultures within the organization. | Promote diversity through events, external speakers, and constructive conversations about different cultures. |
| Implementing Effective Practices | Establishing methods that ensure practical culture development within the organization. | Set development goals, regularly assess progress, promote open conversation about different identities and backgrounds. |
| Measuring Cultural Development & Awareness | The process of evaluating progress toward the organization's culture-related goals. | Conduct regular surveys, focus groups, and one-on-one dialogues to gather meaningful data. |
| Moving Forward: Creating a Future of Cultural Inclusivity | Continuous improvement and promotion of cultural understanding within the organization. | Effective practice implementation, cultural development measurement, and open conversation about diverse identities and backgrounds. |
Transforming Cultures in the Workplace

Building Cultural Awareness

Moving Forward: Creating a Future of Cultural Inclusivity
In today's workplace, corporate HR (Human Resources) plays a critical role in creating a positive and successful culture where employees can thrive, engage and be productive. Corporate HR has to keep up with the ever-evolving needs, expectations, and practices of the workplace, and building cultural awareness is a vital part of this process.
Cultural awareness enables the organization to create an environment that values and respects individuals of all backgrounds and creates a culture of belonging for all employees. In this blog post, we will explore how corporate HR can promote cultural awareness and successfully foster cultures of inclusivity and positivity.
Transforming Cultures in the Workplace
Organizational culture, defined as "the shared values and beliefs that guide the behavior of individuals and groups within an organization," significantly impacts the internal workings of a company and the level of employee engagement. Therefore, building cultural awareness is essential for transforming organizational culture and creating a culture of inclusivity and respect.
When examining the impact of cultural awareness in the workplace, it is essential to consider the importance of recognizing and honoring the different backgrounds and experiences of individual employees. With this update, HR can develop systems and initiatives to create an environment where everyone can thrive. Corporate HR can foster cultural evolution by having an open dialogue about identity and cultural differences and highlighting the unique perspectives each employee brings an s to the organization.
Benefits of Supporting Cultural Evolution
When a corporate HR team supports a culture of shunning workplace discrimination and encourages healthy debate about diversity, it can create a more engaged and unified workforce. Additionally, it can result in higher productivity, improved company morale, increased creativity, and better customer service.
By recognizing and maintaining differences within the organization, people are more likely to be open and honest with one another, creating an environment of trust and respect.
Building Cultural Awareness
Creating a culture of awareness and inclusivity can be difficult, but it is a critical aspect of corporate HR's responsibilities. Several key strategies can be implemented to help create and foster a culture of understanding and respect.
Creating Cultural Agreements
To ensure that all team members clearly understand company culture, creating a set of shared agreements is essential. These agreements should be simple, concise, achievable, and measurable. Additionally, they should encompass a wide range of topics, such as respect, communication, collaboration, and feedback. By creating these conditions, corporate HR can encourage employees to work harmoniously and value each other's differences.
Cultural Training & Education
Artistic training and education can benefit corporate HR departments by creating a culture of understanding. Through formal and informabenefitearn about different cultures, share their unique perspectives, and gain valuable insights into how other cultures think, behave, and communicate. This type of education can be precious in multinational organizations, as it can help employees develop an awareness of different cultural values and norms.
Celebrating Diversity & Cultural Inclusion
Celebrating diversity and recognizing different cultures within the workplace can create an environment of inclusion and positivity. Corporate HR can be crucial in fostering a positive environment by promoting diversity and highlighting cultural events and activities. Additionally, HR can bring in external speakers, host events, and encourage conversations about different cultures to promote cultural awareness further.
Moving Forward: Creating a Future of Cultural Inclusivity
As corporate HR continues to promote cultural awareness further and cultural understanding, several elements can be considered to ensure that the desired outcomes are achieved.
Implemenseveral elements can that cultural development is practical, corporate HR needs to implement effective practices. This includes setting team and organizational goals for artistic development, regularly assessing and reviewing progress, and creating an environment where employees feel comfortable sharing their perspectives. Additionally, having open and honest conversations about different identities and backgrounds can help create a more inclusive environment.
Measuring Cultural Development & Awareness
Measuring cultural development and awareness is essential for ensuring that progress is being made and that the desired objectives have been met. Regular surveys, focus groups, and one-on-one dialogues are effective methods for gathering meaningful data that allow corporate HR to measure progress and improve.
In conclusion, corporate HR is essential to transform organizational culture and create a culture of understanding and acceptance. By establishing cultural agreements, providing educational resources, and celebrating diversity, corporate HR has the potential to create a more inclusive and productive workplace. Furthermore, through effective practices and regular assessments, corporate HR can ensure that cultural development and awareness are continuously promoted.
Cultural awareness is the tool corporations use to break down walls and create prosperous, lasting transformations.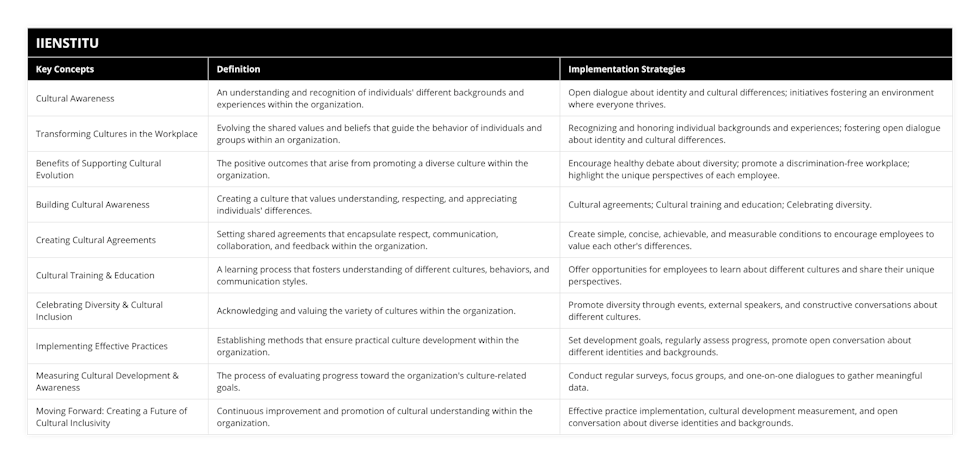 The article emphasizes the pivotal role of corporate HR in instigating cultural awareness and inclusivity in the workplace, transforming cultures to empower employees and boosting productivity. HR classes are important in equipping HR professionals with the skills required to stimulate open dialogue around identity and cultural differences, fostering respect and understanding among team members. The text highlights several strategies that HR can implement towards achieving this goal, including setting cultural agreements, facilitating cultural training and education, celebrating diversity, implementing effective practices, and measuring cultural development and awareness. Through these strategies, corporate HR stands to benefit from higher engagement, better morale, increased creativity, and improved customer service.hr classes
Corporate HR
culture
cultural awareness
cultural evolution
creating a culture
workplace
inclusivity
respect
behavior
identity
cultural differences
perspectives
engagement
employee engagement
diversity
understanding
cultural training
education
celebrating diversity
cultural inclusion
setting team goals
measuring cultural development
open dialogue
Yu Payne
Blogger
Yu Payne is an American professional who believes in personal growth. After studying The Art & Science of Transformational from Erickson College, she continuously seeks out new trainings to improve herself. She has been producing content for the IIENSTITU Blog since 2021. Her work has been featured on various platforms, including but not limited to: ThriveGlobal, TinyBuddha, and Addicted2Success. Yu aspires to help others reach their full potential and live their best lives.
Related Posts
Our team of experts is passionate about providing accurate and helpful information, and we're always updating our blog with new articles and videos. So if you're looking for reliable advice and informative content, be sure to check out our blog today.