SEO
Advanced IA: Design and Dev for Effective Taxonomies
09 March 2023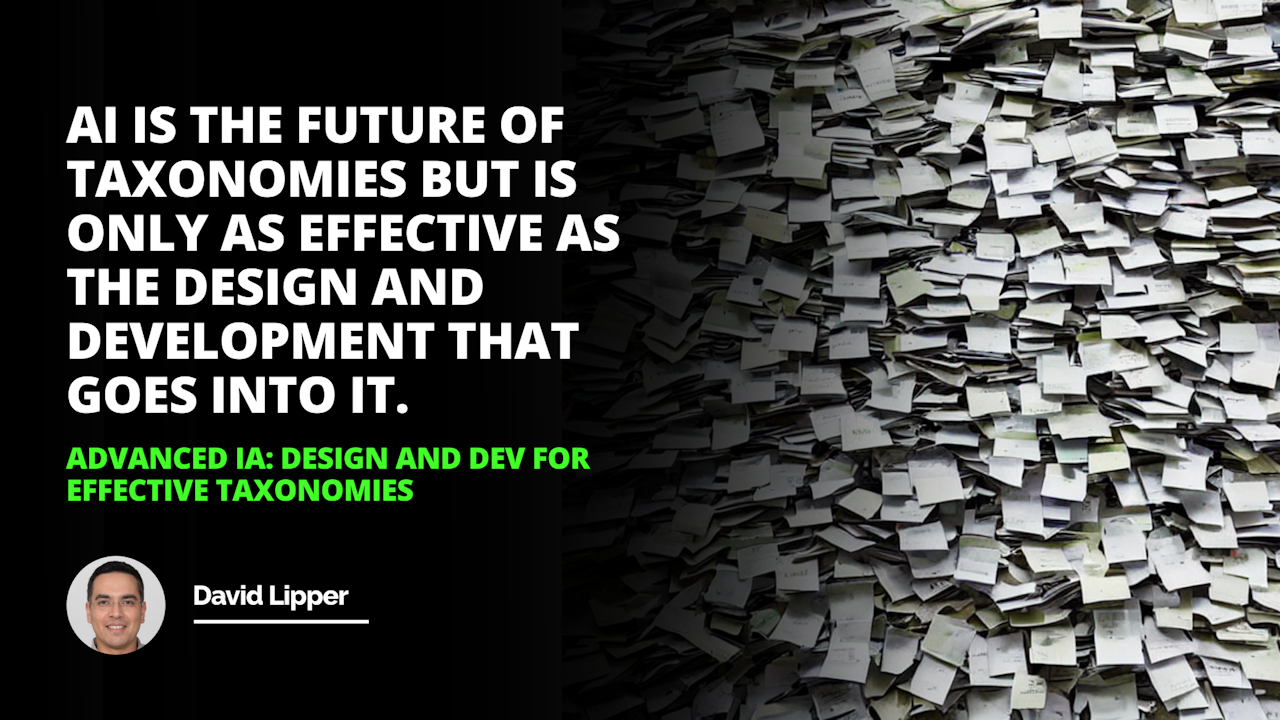 | Topic | Description | Best Practice |
| --- | --- | --- |
| Taxonomy Basics | A system for organizing and classifying items or concepts according to pre-established criteria. | Taxonomy should be intuitive and easy to understand, and flexible enough to adapt to future changes. |
| Role of taxonomy in IA | Provides structure, context and meaning, making it easier for users to find and connect related content. | The taxonomy should be expansive and granular enough to provide sufficient context for each item. |
| Designing a Taxonomy | Involves determining what items should be included, how they should be grouped, and how users will interact with the content. | Consider the overall scope of the taxonomy to anticipate and address changes. |
| IA Process | Includes designing a taxonomy and conducting usability testing. | Include surveys, interviews, or usability labs to glean insights into user preferences and behavior. |
| Implementing Taxonomies | Ensuring accuracy and effectiveness of the established taxonomy. | Store taxonomies in a centralized repository for easy changes and additions. |
| Maintaining Taxonomies | Involves regular auditing and reviewing, and handling user feedback. | Regularly check for inconsistencies and redundancies, and consider an enterprise taxonomy management solution. |
| Taxonomy and AI | As AI technologies become more prevalent, the need for a well-structured taxonomy increases. | Ensure your design and development processes are robust to harness the benefits of AI. |
| Disadvantages of Poor Taxonomy | Without proper taxonomy, information discoverability and navigation could be difficult, leading to poor user experience. | Regular auditing of taxonomy to maintain its accuracy and reduce complexity. |
| Benefits of Good Taxonomy | Improved user experience, enhanced content discoverability, organized data, and space for data-driven insights. | Effective design, implementation, and maintenance of taxonomies. |
| Evolution of Taxonomy | Taxonomies must evolve according to users' changing needs and expectations. | Monitor user interaction and feedback, and make necessary updates accordingly. |
Taxonomies have become an essential part of information architecture (IA)—organizing, structuring, and presenting content to make it easy to find and use. As the digital environment evolves and technologies like artificial intelligence (AI) become more widespread, the need for a well-designed and robust taxonomy grows in importance.
With taxonomies, organizations can bridge the gap between data collection and presentation, allowing users to quickly and easily access the necessary information. This blog post will explore taxonomy design, development, and implementation basics and discuss best practices for deploying a successful taxonomy.
Taxonomy Basics: What It Is and Why It's Important
A taxonomy is a system of organizing and classifying items or concepts according to predetermined criteria. It is a controlled vocabulary that imposes rules that dictate how information should be collected. Taxonomies may be used to structure data related to topics, products, services, or any other class of objects.
Taxonomies are essential in IA because they provide additional structure, which makes it easier for users to find and identify the content they need. Additionally, taxonomies help provide context and meaning to content, allowing users to make connections between related topics and discover more information.
Designing a Taxonomy and Developing Your IA Process
When designing a taxonomy, it's essential to consider the overall IA of the system. This will guide what items should be included, how they should be grouped, and how users are expected to interact with the content.
Ideally, your taxonomy should be expansive enough to accommodate a variety of use cases while also being granular sufficient to provide adequate context for each item. Additionally, it should be easy to understand, intuitive, and flexible enough to accommodate future changes.
Finally, it's also essential to consider the overall scope of the taxonomy—when structuring a taxonomy, teams should think about how the content could evolve and how changes could be anticipated and addressed promptly.
The IA process should also include usability testing to ensure users can understand and interact with the taxonomy as expected. This may involve implementing surveys, interviews, or usability labs to dig deeper into user preferences and behavior.
Best Practices for Implementing and Maintaining Taxonomies
Once a taxonomy is established, organizations must ensure its accuracy and effectiveness. Storing taxonomies in a centralized repository is essential, allowing organizations to make changes and additions quickly. In addition, regularly auditing and reviewing the taxonomy can reduce its complexity and maintain its accuracy. It is also essential to keep track of user feedback, as this will inform any changes that should be made.
Taxonomies should also be updated by regularly checking for inconsistencies and redundancies. Additionally, organizations should consider investing in an enterprise taxonomy management solution, which can provide users with a graphical taxonomy map and automated support for managing and updating the taxonomy.
Leveraging Taxonomies to Strengthen IA Foundations
Taxonomies are essential to well-structured IA, providing users with additional information and context to find the content they need quickly and accurately. With proper design and maintenance, taxonomies can reduce complexity, optimize the user experience, and provide better organization and discoverability. By leveraging the power of taxonomies, organizations can strengthen their IA foundations and open the door to data-driven insights.
AI is the future of taxonomies but is only as effective as the design and development that goes into it.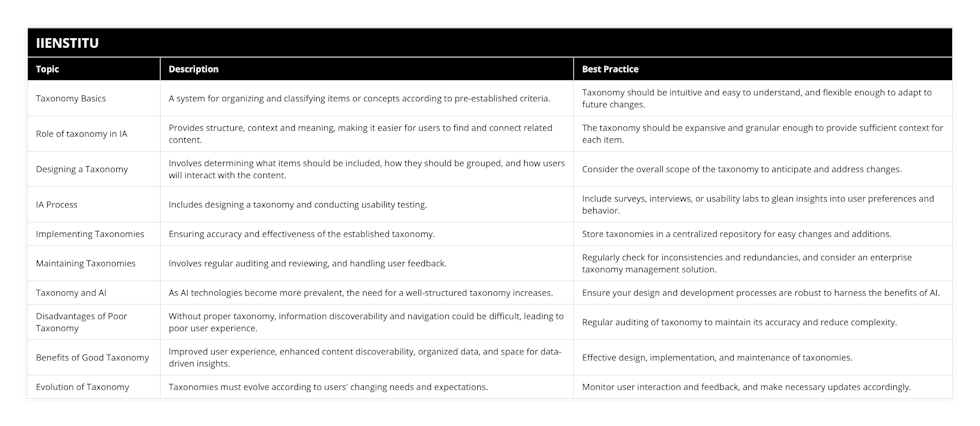 Taxonomies
Information Architecture
Artificial Intelligence
Controlled Vocabulary
Data Collection
Presentation
User Experience
Discoverability
Organization
Data-Driven Insights
David Lipper
SEO Professional
David Lipper is an experienced and successful SEO professional. He has worked in the industry since 1997 and has been with his current company since 2006.
David is a highly sought-after consultant and speaker and has given presentations on SEO at various conferences worldwide. He is also a contributing writer for Search Engine Land.
When he's not working or writing about SEO, David enjoys spending time with his wife and two young children.
Related Posts
Our team of experts is passionate about providing accurate and helpful information, and we're always updating our blog with new articles and videos. So if you're looking for reliable advice and informative content, be sure to check out our blog today.