Human Resources Management
7 Things Every HR Officer Needs to Know
31 October 2022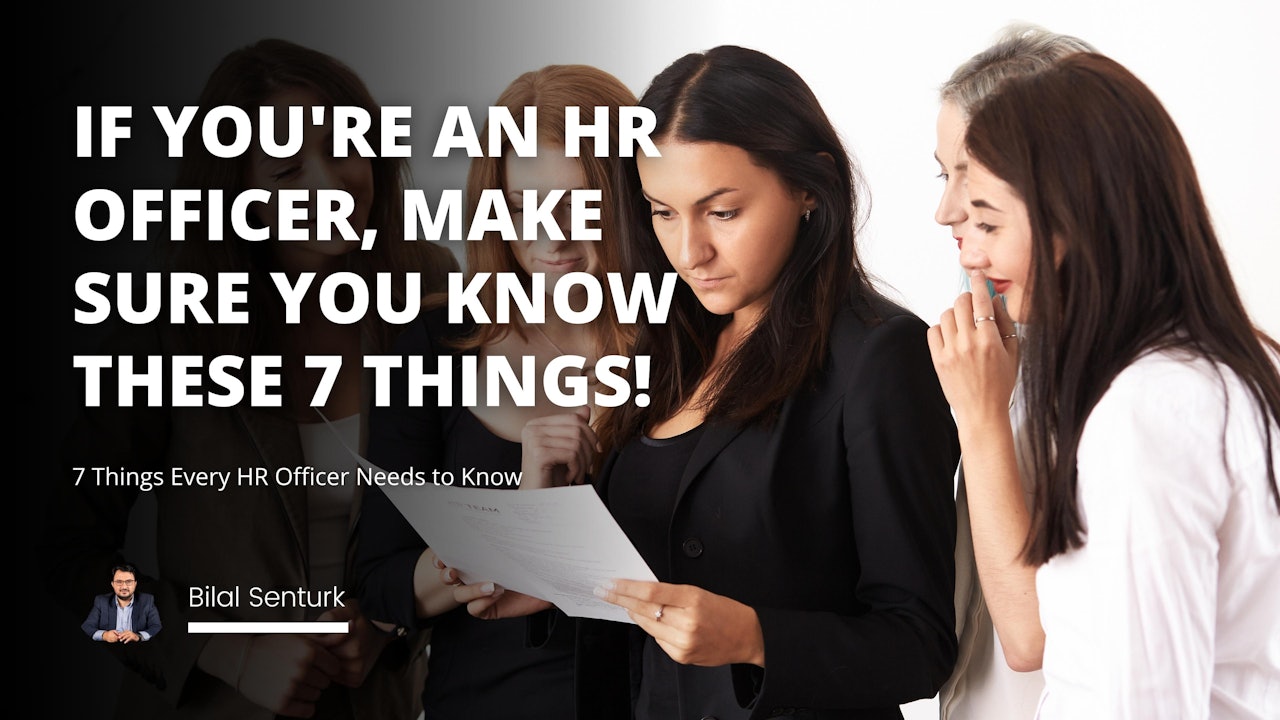 As the world of work continues to evolve, so too does the role of the HR officer. In order to be successful in today's ever-changing business landscape, HR professionals need to be up-to-date on the latest trends and developments. Here are 7 things every HR officer needs to know:
The future of work: what HR officers need to know
Stay ahead of the curve by preparing for changes in the workplace

Get advice from experts on how to manage a changing workforce

Understand the potential implications of new technologies on your workforce

Gain insights into what the future of work holds and how to prepare for it
1. The importance of data analytics
In today's business world, data is king. Making decisions based on data analytics is crucial for any business looking to stay ahead of the competition. As an HR professional, it's important that you understand how to collect and interpret data so that you can make recommendations that will help your company achieve its goals.
2. The gig economy is here to stay
The rise of the gig economy has been a game-changer for businesses all over the world. And it doesn't show any signs of slowing down anytime soon. As an HR professional, it's important that you understand how the gig economy works and how it can benefit your company.
3. The importance of employer branding
In today's competitive job market, employer branding is more important than ever before. Attracting top talent requires a strong employer brand—one that clearly articulates what your company stands for and what sets it apart from other employers. As an HR professional, it's important that you understand how to build and maintain a strong employer brand.
4. The power of social media
Social media isn't just for sharing photos and staying in touch with friends—it's also a powerful tool for businesses of all sizes. From recruiting top talent to promoting your brand, social media can be a powerful asset for any company. As an HR professional, it's important that you understand how to leverage social media to achieve your company's goals.
5. The rise of artificial intelligence (AI)
Artificial intelligence is quickly becoming a staple in businesses all over the world—and there's no reason why your company should be any different. From automating routine tasks to enhancing the candidate experience, AI can be a valuable asset for any HR department. As an HR professional, it's important that you understand how AI can benefit your company and how to implement it effectively.
6. The changing landscape of benefits and perks
Gone are the days when offering health insurance and a 401(k) plan was enough to attract and retain top talent—today's employees are looking for much more than that. In order to attract and retain the best employees, companies need to offer unique benefits and perks that appeal to their target workforce—and as an HR professional, it's your job to find them.
7. Communication and collaboration
Good communication and collaboration are essential to the success of any company—and this is especially true for HR departments. As an HR professional, it's important that you understand how to communicate effectively with your colleagues and foster a culture of collaboration within your team. With the right skills, you can help take your company to the next level.
As an HR professional, it's important that you stay up-to-date on the latest trends and developments in the world of work—only then will you be able to effectively support your company in its quest for success. By understanding the importance of data analytics, employer branding, social media, artificial intelligence, and more, you'll position yourself as a valuable asset to any organization.
process hr
human resource management
human resources information system
long term goals
success of any business
hr practices
hr professional
hr department
applicant tracking system
good communication
employee engagement
learning management system
effective hr
hr team
customer satisfaction
employee experience
talent management
hr information
hr manager
leaving the company
Bilal Şentürk
Blogger
He completed his undergraduate studies at Celal Bayar University, Anadolu University and Istanbul University, and a Master's degree with thesis on Human Resources Management at Yıldız Technical University and Business Management at Beykent University. He is currently writing a doctoral thesis on human resources and consulting businesses on human resources.
Related Posts
Our team of experts is passionate about providing accurate and helpful information, and we're always updating our blog with new articles and videos. So if you're looking for reliable advice and informative content, be sure to check out our blog today.