Human Resources Management
Why Is Labor Called Human Resource?
08 November 2022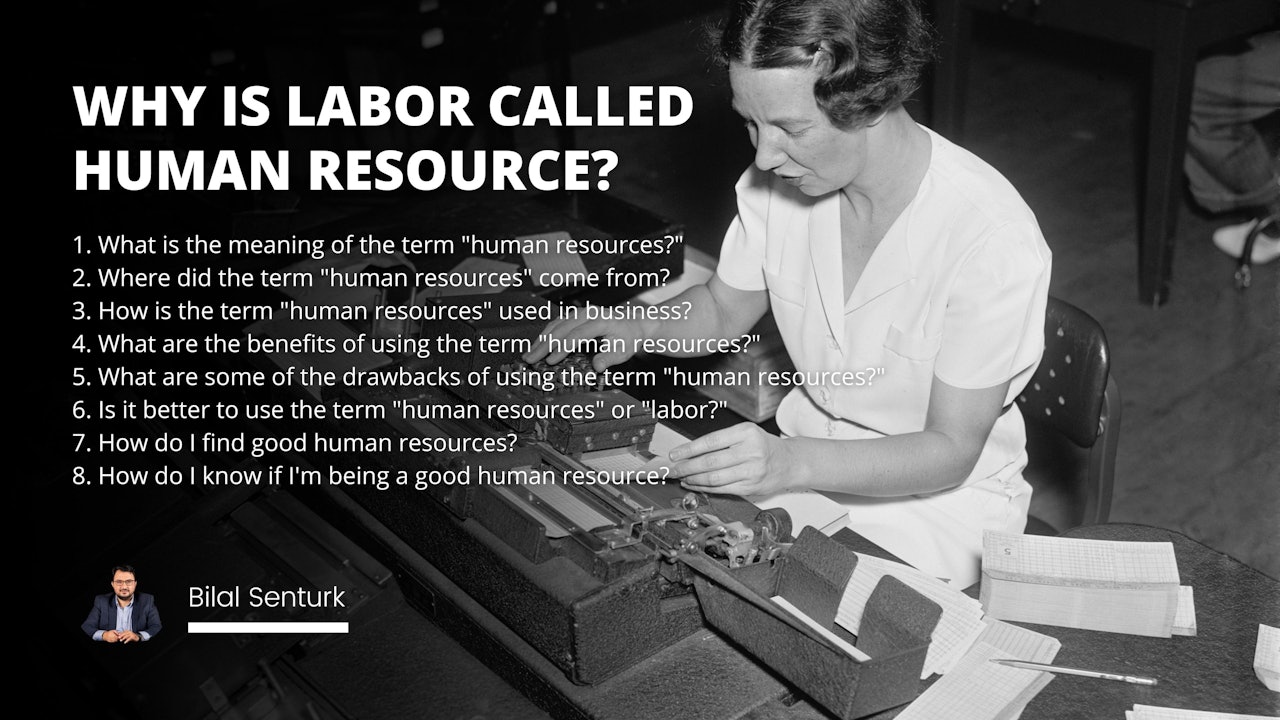 The term "human resource" is often used about the workforce, and it's interesting to consider where this terminology comes from. The phrase "human resources" was first coined by Frederick Winslow Taylor in his 1911 book The Principles of Scientific Management. In the book, Taylor uses the term to refer to the workers who are performing manual labor. He argues that these workers are valuable resources that should be managed in a scientific way. 
Thus, the term "human resource" is actually quite old, and it has always been used to refer to people who are performing manual labor. While the meaning of the term has changed over time, it still reflects our perceptions of workers as valuable assets.
The term "labor" or "human resource" can be traced back to the Industrial Revolution, when workers were first employed in factories and other large-scale manufacturing facilities. At that time, many people viewed labourers as simply commodities or objects to be bought and sold as needed. The term "human resources" was therefore seen as a way of acknowledging the value and importance of these workers in our economy.
Over time, however, this perception has shifted somewhat. Many now view labor as a form of human capital, that is, an investment that produces valuable returns over time. This idea is closely tied to the concept of human development, which refers to efforts aimed at improving the lives and capacities of individuals and communities. As such, it is essential for us to recognize the value of labor, not just as a way of increasing worker productivity but also as a means of promoting human welfare and progress.
In today's global economy, the term "human resource" is seen as an essential indicator of a nation's economic success. Countries with large numbers of well-educated workers who are skilled in high-demand areas like technology and engineering are often viewed as having valuable resources that can help drive innovation and growth.
However, we must also recognize the importance of labor for more personal reasons, namely, that it provides us with an opportunity to contribute meaningfully to society and to support our loved ones through stable employment. In this sense, human resources represent both our most significant potential and our most basic needs--which makes them a truly invaluable asset.
How labor is related to human resources
There is a close relationship between labor and human resources, as both are essential factors in the success of businesses and other organizations. labor refers to the physical and mental activities performed by individuals to produce goods or services, while human resources refer to their skills, abilities, knowledge, and experience. Together, these factors contribute to an organization's ability to achieve its goals through the effective management of its workforce.
Companies may invest in training programs for human resources employees in order to increase their competencies and develop new skills that can be applied on the job. This allows businesses to retain valuable employees who have the potential to become leaders within the organization or bring innovative ideas into their work.
Similarly, companies may also focus on attracting qualified candidates with the right skills and experience, as well as implementing strategies that help them retain employees over the long term.
Overall, the relationship between labor and human resources reflects a shared emphasis on improving worker productivity through effective management practices. Both factors are essential for companies to consider as they seek to grow their businesses and maintain a competitive advantage in today's global economy.
The history of the term human resource
The use of "human resources" as a standard term dates back to the early 20th century when it was first used by prominent industrialist Frederick Winslow Taylor. In his 1911 book "The Principles of Scientific Management," Taylor described workers performing manual labor as a valuable resource that should be managed in a scientific way. He argued that systems for managing workers could be used to help businesses become more efficient and productive, thus aligning with the growing focus on scientific management that was gaining popularity at the time.
By the 1950s, the term "human resources" had become a standard part of business language as companies began adopting similar strategies for managing their employees. However, its use was often controversial due to concerns about treating workers as commodities or objects rather than people. While many viewed labor as simply a means of achieving economic success, others feared that this approach could lead to exploitation or unethical treatment of workers.
Today, the term human resource is still commonly used in business contexts and continues to be an essential indicator of a company's overall performance. Despite these controversies, it is clear that the effective management of human resources is critical to achieving success in today's modern economy.
Criticisms of the term human resource
While many businesses recognize the importance of managing their labor effectively, critics have raised concerns about the use of the term "human resource" itself. Some argue that this term reflects a dehumanizing approach to workers, treating them as mere objects or assets rather than individuals with unique needs, desires, and aspirations. Others point out that it can also contribute to negative stereotypes about low-skilled or manual laborers, furthering perceptions of these workers as unintelligent or uneducated.
Others have suggested replacing the term "human resources" with more inclusive terminology like "talent" or "people" in order to better reflect the diversity and complexity of today's workforce. While there is no single agreed-upon alternative, these critiques highlight the importance of talking about labor in a way that reflects its actual value and respects the contributions that workers make to an organization's success.
Human resources are often defined as the people who make up the workforce of an organization, company, or economy. However, the term human resources have come to mean much more than just referring to people. Human resource management is a branch of business that focuses on the efficient and effective use of employees in order to achieve organizational goals. If you want to learn more about how to manage human resources effectively, join our HR management course today!
hr management
employee benefits
personnel management department
long term
background checks
working conditions
good managers
employment opportunities
managing people
hr department
working environment
hiring process
day to day
united states
business partners
human resources department
human resource management hrm
employer employee
national cash register
human capital
Bilal Şentürk
Blogger
He completed his undergraduate studies at Celal Bayar University, Anadolu University and Istanbul University, and a Master's degree with thesis on Human Resources Management at Yıldız Technical University and Business Management at Beykent University. He is currently writing a doctoral thesis on human resources and consulting businesses on human resources.
Related Posts
Our team of experts is passionate about providing accurate and helpful information, and we're always updating our blog with new articles and videos. So if you're looking for reliable advice and informative content, be sure to check out our blog today.