Human Resources Management
Is Getting a Professional Certification in HR Worth It?
16 September 2022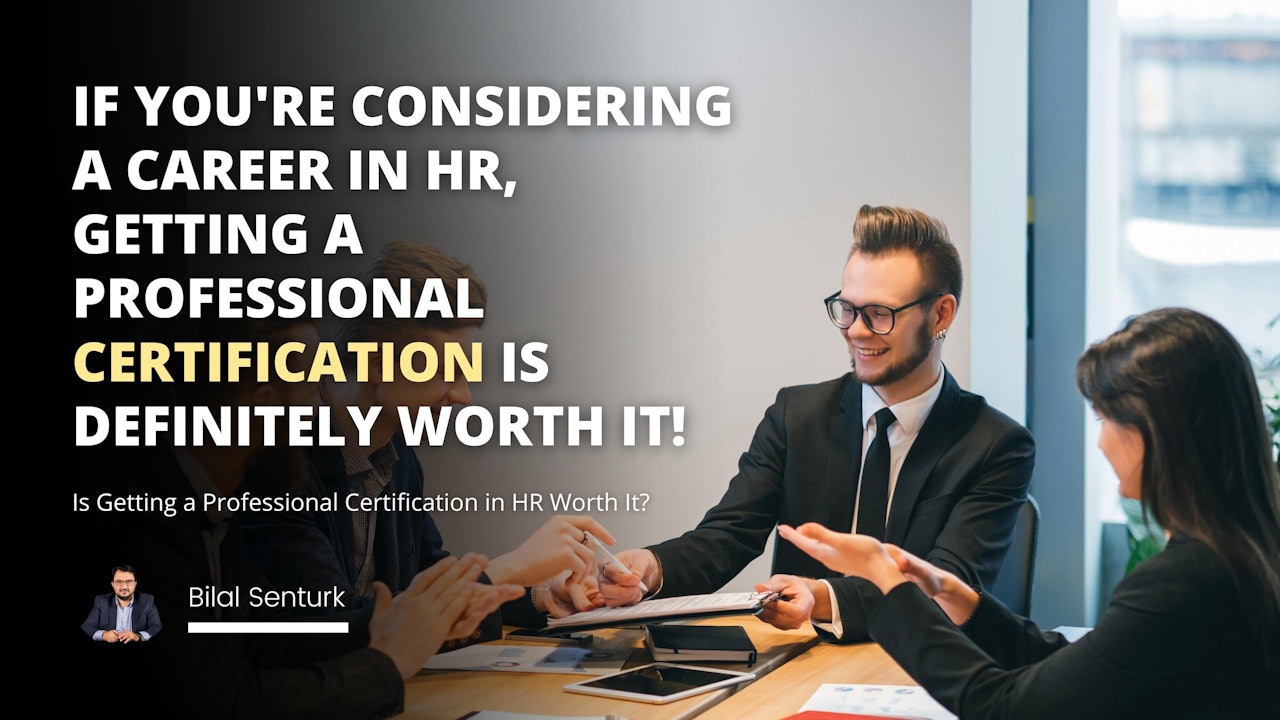 | Aspect | Pros | Cons |
| --- | --- | --- |
| Job Opportunities | Certifications can enhance job prospects and chances of promotion | While helpful for job prospects, certification is not a substitute for experience |
| Recognition | Certified individuals stand out from peers and can earn respect as experts in their field | Certification may not be necessary for professionals with substantial HR experience and achievements |
| Salary | Certified HR professionals may earn an average of 10% more | Costs for certification programs can range into several thousand dollars |
| Education | Certification demonstrates extensive knowledge in HR topics and skills | The commitment to studying and preparing for the exams can be time-consuming |
| Career Advancement | Certification can provide a boost to those starting in HR or transitioning from another field | Professionals already in advanced HR positions may find little benefit from certification |
| Skill Enhancement | Certification can provide advanced skills in areas like employee relations, regulations compliance, and benefits administration | The certification process can be intensive and challenging |
| Networking Opportunities | Certified professionals may have increased access to networking and professional development events | Networking benefits depend individually on one's participation in networking events |
| Professional Credibility | Holding a certification can add credibility to a HR professional | Overreliance on certification for credibility can overshadow the value of practical experiences and personal attributes |
| Continuing Education Requirements | Staying certified requires ongoing education, which can keep skills updated | The demands of continuing education can be taxing, especially for those with full-time roles |
| Personal Development | Studying for certification can be personally fulfilling and boost confidence | It requires commitment and self-discipline which can interfere with personal time and other responsibilities |
On the surface, human resources may not seem like the most complicated of professions. After all, its primary function is to act as a link between an organization's employees and management. However, there is a lot more to HR than meets the eye. HR professionals have full hands, from payroll and benefits administration to workforce planning and employee relations.
Given the challenges that come with the job, you may be wondering if getting a professional certification in HR is worth your time and money. Let's look at some of the pros and cons of becoming certified.
The Pros of Getting a Professional Certification in HR 
1 - A significant benefit of becoming certified is that it can help you land a job or promotion. In today's competitive job market, employers are increasingly looking for candidates with credentials beyond just a bachelor's degree. By becoming certified, you will be able to demonstrate that you have the knowledge and skills necessary to excel in an HR role. 
2 - Another advantage of getting certified is that it can help you stand out from your colleagues who don't have credentials. In addition to making you more attractive to potential employers, this can also help you earn respect from your peers and become seen as an expert in your field. 
3 - Professional certifications can also lead to higher salaries. According to Payscale's 2019 compensation data, HR professionals with credentials earn an average of 10 percent more than those without them. 
The Cons of Getting a Professional Certification in HR 
1 - One downside of getting certified is that it takes time and effort to study for and pass the exams. If you're already working full-time, this may mean sacrificing evenings and weekends to prepare for the exams. 
2 - Another potential drawback is that certification programs can be expensive, costing several thousand dollars depending on your chosen program. If you're on a tight budget, this may not be feasible. 
3 - Finally, remember that while having a credential may give you a leg up when applying for jobs or promotions, it's no substitute for experience. Employers will still want to see that you have relevant work experience before considering you for an HR role. 
So, is getting certified in human resources worth it? The answer depends on your circumstances. If you're starting your career or looking to move into HR from another field, becoming credentialed could give you the boost you need to land the job or promotion you're after. However, certification may not be necessary if you've been working in HR for a while and are happy with your current position.
Human resource is a critical part of any organization, and those who work in HR play an essential role in ensuring that the workforce is engaged and productive. Register for our training program today if you're interested in pursuing a career in human resources.
Through our program, you'll learn about the various aspects of HR, including employee recruitment and retention, benefits administration, and compliance with employment laws. You'll also gain valuable skills that will prepare you for a successful career in HR. So don't delay - register today and start your journey to a rewarding career in human resources.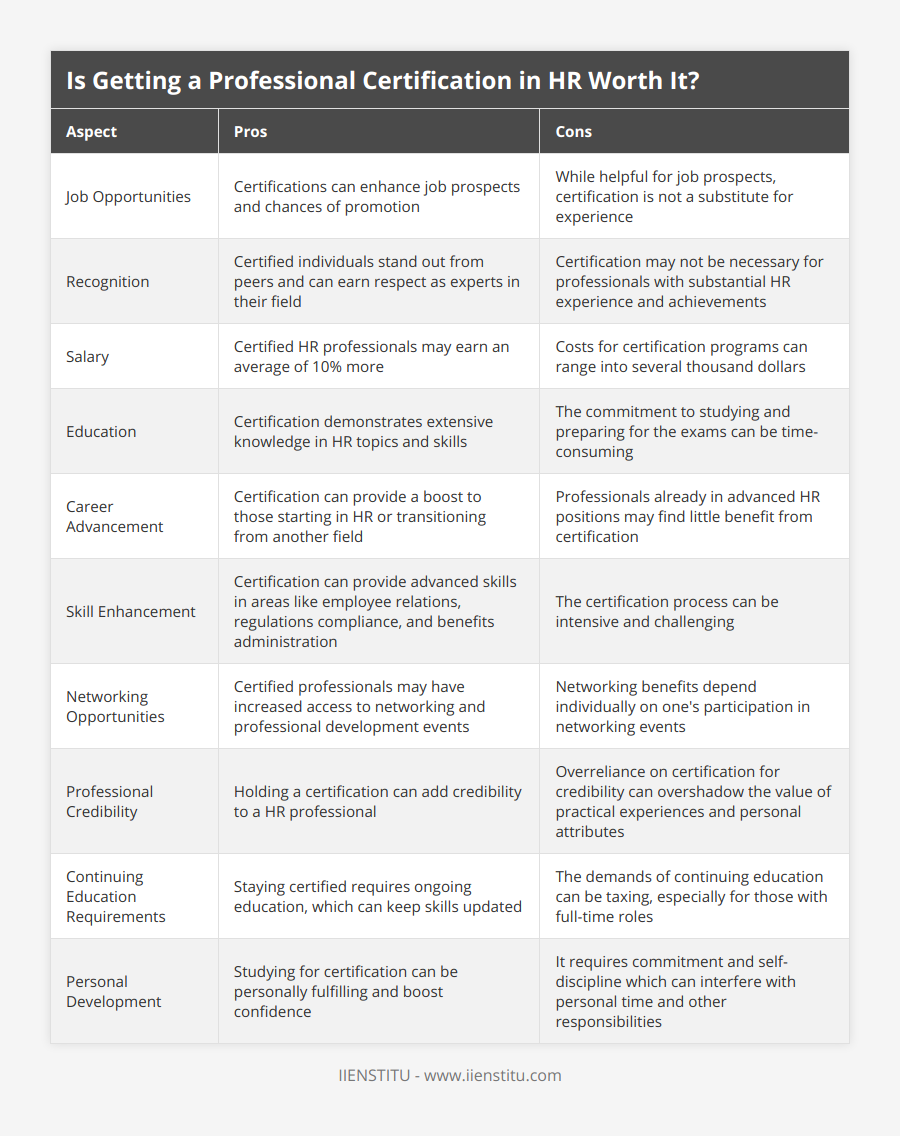 human resources sphr
hr certification institute
human resources certification
sphr certification
hr management
master s degree
shrm scp
level hr
hr certifications
hr pros
knowledge and skills
year of experience
hr professionals
human resource management
hr jobs
bachelor s degree
society for human resource
senior professional in human resources phr
professional level
shrm cp
Bilal Şentürk
Blogger
He completed his undergraduate studies at Celal Bayar University, Anadolu University and Istanbul University, and a Master's degree with thesis on Human Resources Management at Yıldız Technical University and Business Management at Beykent University. He is currently writing a doctoral thesis on human resources and consulting businesses on human resources.
Related Posts
Our team of experts is passionate about providing accurate and helpful information, and we're always updating our blog with new articles and videos. So if you're looking for reliable advice and informative content, be sure to check out our blog today.