Interview Questions
Interview Question: Collaborating with Departments to Optimize Supply Chain
25 September 2023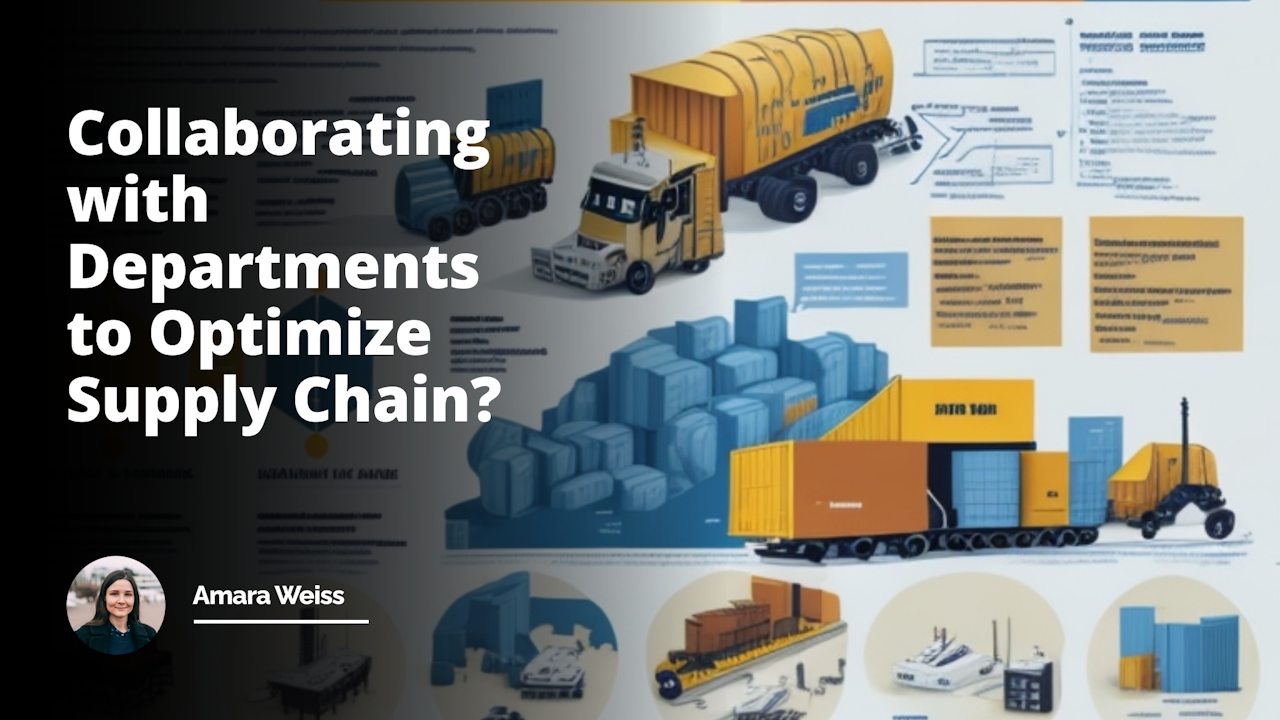 | Element | Description | Beneficial Outcome |
| --- | --- | --- |
| Question Purpose | Probes candidate's collaborative, communicative skills and cross-functional understanding | Assesses potential for leadership and strategic decision-making within an organization |
| Interview Level | Mainly Asked at mid to senior level positions in operations, procurement, logistics. | Helps gauge managerial or leadership skills |
| Expected Answer | Should demonstrate understanding of each department's role and how collaboration can optimize procedures. | Indicates holistic approach and potential for process improvement |
| STAR Approach | Situation, Task, Action, Result - structure used for successfully answering the question. | Provides concrete examples and results of past collaborations |
| Interdepartmental Communication | Crucial for effective supply chain management. | Promotes harmony and shared goals between departments |
| Role of Various Departments | Each has a specific function in optimizing supply chain operations. | Ensures comprehensive and efficient supply chain management |
| Impact of Collaboration | Cross-departmental collaboration greatly enhances supply chain efficiency. | Increases productivity and process streamlining |
| Similar Interview Questions | Other questions that might be asked regarding department collaboration and supply chain optimization. | May indicate vital viewpoints and considerations |
| Optimization Effort | Supply chain optimization is an ongoing, collaborative process. | Continuous supply chain improvement is deemed possible |
| Preparation for Interview | Enter the interview room with confidence, preparation, and a desire for departmental collaboration. | Demonstrates readiness and aptitude for the role |
Do the various departments within your business sparkle on their own but fizzle out on integration? In an era where digital disruption has become a commonplace, many organizations grapple with a critical question – "Collaborating with Departments to Optimize Supply Chain"
In this article, we explore the essence, implications, expectations, and possible responses to this critical interview question.
Why is this Interview Question Asked: Collaborating with Departments to Optimize Supply Chain
The main catalyst behind this seemingly straightforward query is to assess a candidate's understanding of interdepartmental collaborations in optimizing the supply chain.
It underlines the fact that supply chain efficiency is not a one-man show, but a result of seamless connectivity between different functional units. Companies are seeking professionals who acknowledge the value of cooperation and can drive such collaborations to streamline supply chain operations.
The Purpose of the Question
When the question, "Collaborating with Departments to Optimize Supply Chain?" pops up in your interview, the prime intent is to unveil your skills in collaboration, communication, cross-functional working knowledge, and problem-solving abilities.
This precision question also probes your strengths in strategizing, implementing supply chain optimization tools, and inspiring teamwork, indicating your potential as a future leader in the organization.
At What Interview Level is it Asked?
This question is typically floated at mid to senior job interview levels, particularly for roles in supply chain management, operations, procurement, or logistics, where strategic collaborations and decision-making are pivotal.
Related course: Supply Chain Management
It addresses the pertinence of integrated efforts in driving supply chain efficiency, making it a preferred choice for employers to evaluate their potential managerial or leadership candidates.
Related Course: Leadership Development Course
What Kind of Answer is Expected from the Candidate?
In response to "Collaborating with Departments to Optimize Supply Chain?" your answer should showcase your cognizance of each department's role within the supply chain and how their collaboration can optimize processes.
It is crucial to instill in the interviewer that you perceive optimization as a holistic task, promising substantive improvements not only for the supply chain but the entire business spectrum. Evidence-based examples of where you have championed such collaborations or how you plan to facilitate them would place you in a good light.
Possible Answers to Consider
There's no "one-size-fits-all" answer to this kind of question, but well-structured responses typically follow the STAR (Situation, Task, Action, Result) approach.
This entails discussing a relevant situation, your specific task, the actions you took to promote departmental collaboration, and the resulting impact on supply chain optimization. Strategic and innovative solutions, coupled with a keen appreciation for teamwork, can make your answer stand out.
So, when you are asked "Collaborating with Departments to Optimize Supply Chain?", it's your golden opportunity to put forward your expertise and vision for leading symbiotic efforts across the organization.
Remember, supply chain optimization is an ongoing and collaborative process, and any instance where you've actively contributed to this aspect will underline your value proposition to the company. Therefore, enter that interview room armed with confidence, preparation, and a sincere desire to foster departmental collaborations for an optimized supply chain.
Interdepartmental Communication Strategies for Effective Supply Chain Management
| Communication Strategy | Benefits | Examples |
| --- | --- | --- |
| Regular meetings | Improved coordination and collaboration | Weekly team meetings to discuss performance and address any issues |
| Email updates | Quick dissemination of information | Sending updates on inventory levels or production delays |
| Shared database | Centralized access to real-time data | Using a cloud-based platform to share inventory levels and order status |
| Cross-functional teams | Enhanced understanding of different departments' needs | Forming a team consisting of members from procurement, production, and logistics to optimize supply chain processes |
| Regular performance reviews | Identification of areas for improvement | Conducting quarterly performance reviews to assess departmental performance and identify opportunities for optimization |
| Supplier collaboration | Improved visibility and responsiveness in the supply chain | Establishing regular communication channels with suppliers to share forecasts and address any issues |
Role of Various Departments in Optimizing Supply Chain Operations
| Department | Role | Responsibilities |
| --- | --- | --- |
| Procurement | Sourcing and purchasing | Identifying suppliers, negotiating contracts, and procuring goods and services |
| Inventory Management | Stock control and optimization | Managing inventory levels, monitoring demand, and optimizing stock availability |
| Logistics | Transportation and distribution | Managing the movement of goods, arranging shipments, and optimizing delivery routes |
| Demand Planning | Forecasting and demand analysis | Analyzing historical data, predicting future demand, and aligning supply with demand |
| Production | Manufacturing and assembly | Planning production schedules, managing resources, and ensuring efficient operations |
| Quality Assurance | Product inspection and quality control | Ensuring product quality, conducting inspections, and implementing quality improvement initiatives |
Impact of Cross-Departmental Collaboration on Supply Chain Efficiency
| Impact of Cross-Departmental Collaboration | Supply Chain Efficiency | Explanation |
| --- | --- | --- |
| Improved Communication | Enhanced | Collaboration between departments leads to better communication, reducing misunderstandings and delays, resulting in improved supply chain efficiency. |
| Streamlined Processes | Improved | Cross-departmental collaboration enables a more integrated approach to supply chain processes, eliminating duplication, reducing inefficiencies, and improving overall efficiency. |
| Faster Decision-Making | Increased | Collaboration allows for faster decision-making as information can be shared promptly across departments, enabling quicker response times and more agile supply chain operations. |
| Better Risk Management | Heightened | Collaboration between different departments enhances risk identification and mitigation capabilities, leading to improved supply chain resilience and better overall efficiency. |
| Increased Innovation | Augmented | Collaboration fosters the exchange of ideas and diverse perspectives, leading to increased innovation in supply chain processes, products, and services, ultimately improving efficiency. |
| Higher Customer Satisfaction | Elevated | Collaboration across departments results in a more customer-centric approach, aligning supply chain activities to meet customer needs and expectations, consequently improving overall satisfaction and efficiency. |
Similar interview questions:
How can we cooperate with different departments to enhance our supply chain?

In what way can collaboration between departments optimize the supply chain?

Could collaboration with various departments improve our supply chain optimizing efforts?

How does a departmental collaborative approach benefit the supply chain optimization?

What role does inter-departmental collaboration play in supply chain optimization?

How significant is departmental cooperation in the process of optimizing a supply chain?

Does collaborating with departments simplify the process of supply chain optimization?

What are your thoughts on partnering with different departments for supply chain optimization?

How does cross-department collaboration influence the efficiency of our supply chain?

What is the impact of interdepartmental collaboration on supply chain improvement?


collaborating with departments to optimize supply chain
interview question

Amara Weiss
Institute Secretary, Author
I am Amara Weiss and for many years I have worked in the field of education, specifically in the area of technology. I firmly believe that technology is a powerful tool that can help educators achieve their goals and improve student outcomes. That is why I currently work with IIENSTITU, an organization that supports more than 2 million students worldwide. In my role, I strive to contribute to its global growth and help educators make the most of available technologies.
Related Posts
Our team of experts is passionate about providing accurate and helpful information, and we're always updating our blog with new articles and videos. So if you're looking for reliable advice and informative content, be sure to check out our blog today.