Interview Questions
Interview Question: How Has Remote Work Influenced Your Time Management Techniques?
26 September 2023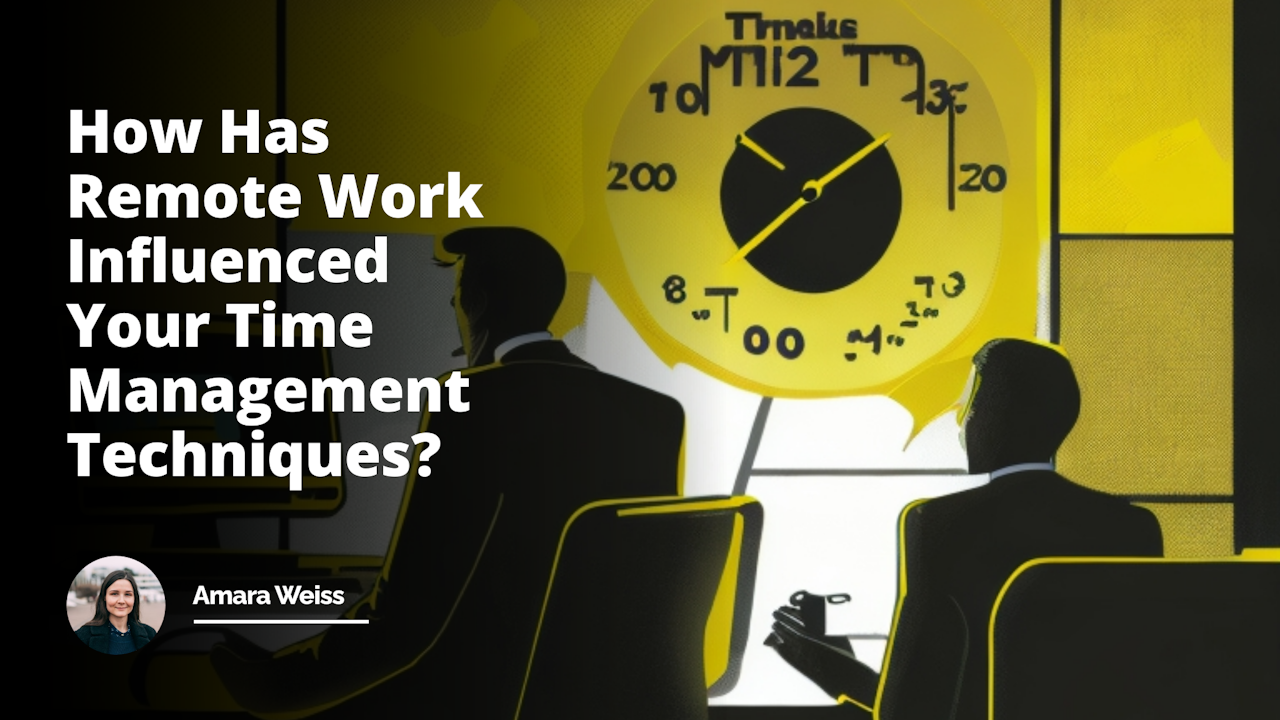 | Factor | Pre-Remote Work | Post-Remote Work |
| --- | --- | --- |
| Working environment | Typically in an office setting with colleagues | Adaptation to a home environment with potential distractions |
| Use of digital tools | Possibly limited to use within an office environment | Becoming reliant on digital tools for collaboration, task management, and communication |
| Task prioritization | Oversight from superiors and colleagues | Greater autonomy leading to self-initiated prioritization |
| Communication style | Primarily synchronous, face-to-face communication | Synchronous and asynchronous virtual communication |
| Routine | Structured office hours | Flexible hours requiring self-regulation in scheduling |
| Exercise and health | Fixed lunch and break times | Need for proactive personal health initiatives |
| Time management | Structured around office hours and physical meetings | Adaptation to a more flexible schedule with potentially more/less time for tasks |
| Project management | Handled in-person with physical oversight | Reliance on digital tools for project developments |
| Work-life balance | Clear segregation of work times and personal times | Potential blurring of work and personal time, requiring active effort to balance |
| Discipline | External accountability from supervisors and colleagues | Increased self-discipline and independence necessary |
"Remote work" and "time management" are buzzwords that have become ingrained in our professional lives recently. With the significant shift due to the global pandemic pushing us to work from our homes, employers are interested in not only your ability to adapt but also your proficiency in managing your time effectively in a remote environment.
Related Course: Time Management Course Free
Hence, this burning question: "How has remote work influenced your time management techniques?"
The Purpose of the Question: How Has Remote Work Influenced Your Time Management Techniques?
As we navigate this new norm of working from home, employers want to assess how proactive and independent their potential hires are.
Asking how remote work has influenced your time management techniques enables recruiters to gauge your adaptability, discipline, and productivity within an unstructured environment.
It assists them in understanding your capability to not only manage your work but also to self-manage without immediate oversight.
At What Interview Level Is it Asked?
This question is typically posed at various levels of the interview process, primarily for roles which involve significant autonomy or foreseeable remote duty. It doesn't restrict itself to senior roles but spans across levels.
Whether you're a seasoned manager or a recent graduate, understanding your time management techniques in a remote work scenario exhibits an understanding of modern work methods and digital literacy, which is valuable to a prospective employer.
What Kind of Answer is Expected from the Candidate?
When posed with this question, convey your effective remote work strategies and discuss how you've refined your time management techniques to adapt to a remote work style. The interviewer expects you to share specific examples and strategies that illustrate your adaptability and highlight your ability to stay focused and disciplined. Bonus points for showcasing your fluidity in moving between synchronous and asynchronous communication.
Possible Answers to Consider
Immerse your interviewer in your personal experience and don't shy away from sharing challenges you've encountered. Maybe initially, the integration of work and personal life became blurrier with remote working, and it took a conscious effort to delineate the two; or the lack of face-to-face interaction led to communication challenges, influencing you to develop a more robust communication routine.
A well-constructed answer could be,
"Initially, moving to remote work was a bit of a challenge, but I developed a structured daily routine, akin to an office environment, that helped me cope. I optimized my workspace for productivity, ensured regular exercise, and used digital tools for project management and effective virtual meetings. I've learned to prioritize tasks, exhibit more significant self-discipline, and enhance my digital communication, all of which have empowered me to manage my time more efficiently."
-or-
"Remote work introduced me to various digital tools that revolutionized my time management techniques. I became reliant on online calendars, task management apps, and adopted time-blocking methods. Regular check-ins and virtual meetings became routine, facilitating regular progress discussions and clarifying project directions."
Remember that each individual's experience is unique; your answer should reflect your journey and how it has molded you.
In composing your answer to "how has remote work influenced your time management techniques," remember honesty is key. Showcase your adaptability, your learning journey, and how you've refined your ability to manage yourself and your time in the evolving digital workspace.
A Comparative Analysis of Time Management Techniques Before and After Remote Work Implementation
| Techniques | Before Remote Work | After Remote Work |
| --- | --- | --- |
| To-Do Lists | Handwritten to-do lists were commonly used. | Digital to-do list apps became more prevalent. |
| Time Blocking | Limiting specific time slots for different tasks. | Still utilized, but with more flexibility in scheduling. |
| Prioritizing Tasks | Using urgency and importance criteria to prioritize tasks. | Became even more crucial to manage workload effectively. |
| Pomodoro Technique | Focusing on 25-minute work intervals with short breaks. | Remained an effective technique to maintain focus. |
| Batch Processing | Completing similar tasks together in a designated period. | Enabled better productivity due to fewer interruptions. |
| Digital Tools | Limited reliance on digital tools for time management. | Increased adoption of various digital tools for organizing tasks. |
The Impact of Remote Work on Productivity Levels and Time management
| Factors | Positive Impact | Negative Impact |
| --- | --- | --- |
| Flexibility | Ability to work at convenient times | Difficulty setting boundaries between work and personal life |
| Increased autonomy | Ability to work independently | Lack of supervision or guidance |
| Reduced commuting time | Saves time and reduces stress | Lack of separation between work and personal life |
| Decreased distractions | Increased focus and productivity | Lack of social interaction and collaboration |
| Work-life balance | Ability to spend more time with family and engage in personal activities | Difficulty disconnecting from work and maintaining boundaries |
| Technology challenges | Enables remote collaboration and communication | Technical difficulties and connectivity issues |
Frequency and Types of Distractions in Traditional vs. Remote Work conditions: Effects on Time Management.
| Frequency | Traditional Work | Remote Work |
| --- | --- | --- |
| High | Office noises | Home noises (e.g. kids, pets) |
| Medium | Meetings | Online distractions (e.g. social media) |
| Low | Co-worker interruptions | Technical issues (e.g. internet problems) |
| High | Unplanned interruptions | Household chores |
| Medium | Emails | Home responsibilities |
| Low | Office equipment malfunction | Home distractions (e.g. TV, gaming) |
Similar interview questions:
What impact has remote work made on your time management strategies?

Could you discuss how working remotely has affected your time management skills?

Can you elaborate on how your approach to managing your time has changed since you started working remotely?

Do you feel that remote work has changed your time management habits?

In what ways has telecommuting reshaped your time management techniques?

How have your methods for managing your time evolved as a result of working remotely?

Has your time management strategy been influenced by remote work, and if so, how?

Has telecommuting transformed your techniques to manage your time effectively?

Has working from home influenced any changes in your time management approach?

Have you encountered any significant shifts in your methods for managing time due to your remote work experience?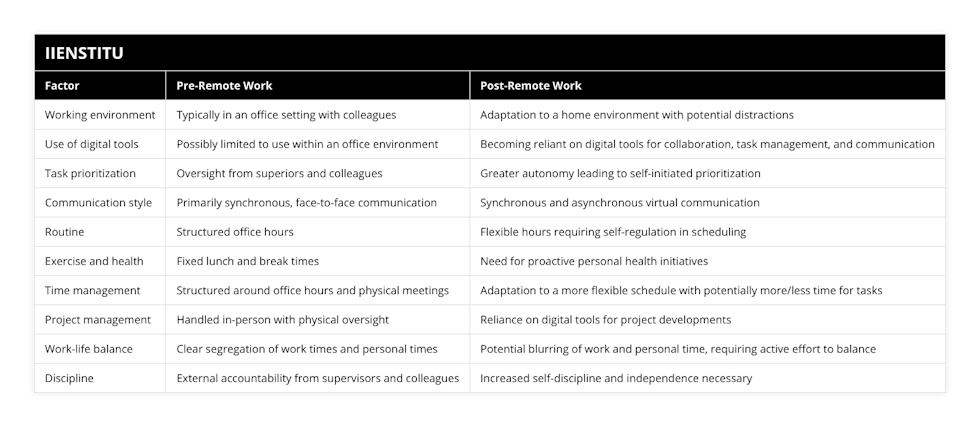 How Has Remote Work Influenced Your Time Management Techniques?
how has remote work influenced your time management techniques
how has remote work influenced your time management techniques?

Amara Weiss
Institute Secretary, Author
I am Amara Weiss and for many years I have worked in the field of education, specifically in the area of technology. I firmly believe that technology is a powerful tool that can help educators achieve their goals and improve student outcomes. That is why I currently work with IIENSTITU, an organization that supports more than 2 million students worldwide. In my role, I strive to contribute to its global growth and help educators make the most of available technologies.
Related Posts
Our team of experts is passionate about providing accurate and helpful information, and we're always updating our blog with new articles and videos. So if you're looking for reliable advice and informative content, be sure to check out our blog today.