SEO
Uncovering SEO with JavaScript Trackers
27 January 2023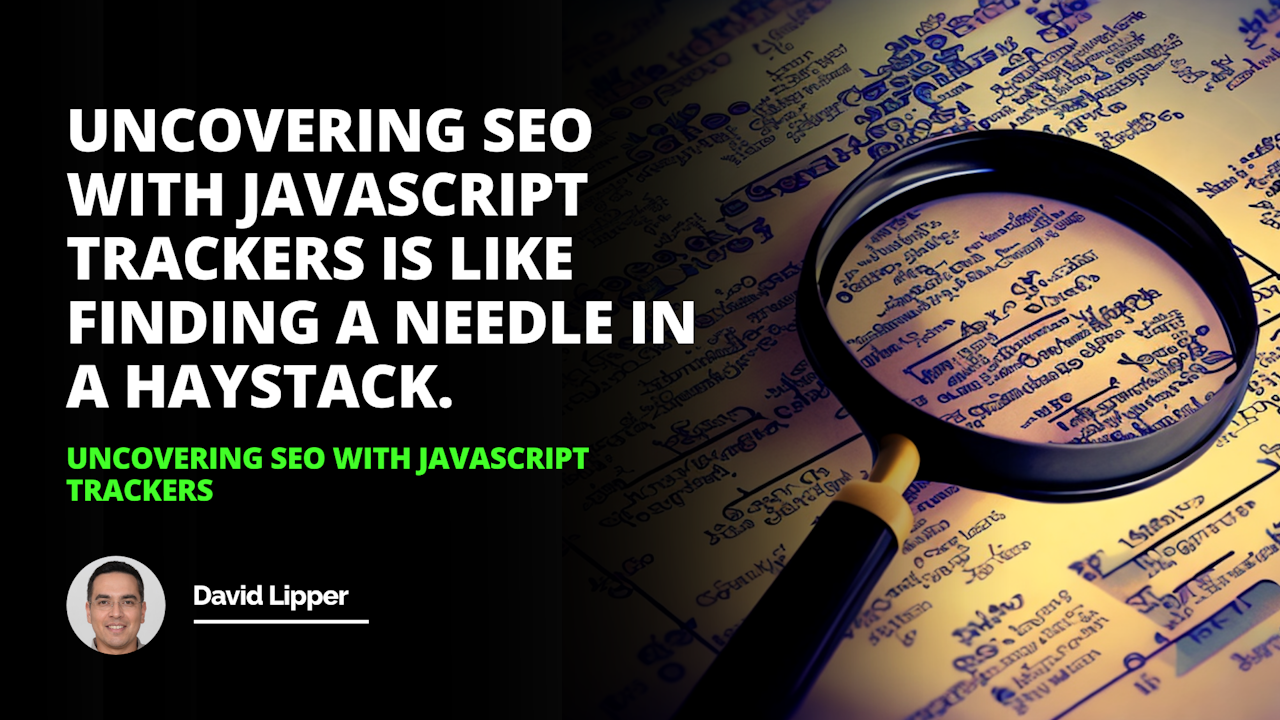 | Topic | Description | Benefits and Considerations |
| --- | --- | --- |
| JavaScript Trackers | Tools that monitor user behavior on a website, tracking interactions like mouse movements and clicks. | Helps identify and weed out bots, provides in-depth user info. Limited to tracking activity on the site itself. |
| Use in SEO | JavaScript trackers offer more detailed insights into visitor activity than traditional web server log stats. | Assists in differentiating between real visitors and bots, offers insights for content optimization and design decisions. |
| Identifying Bots | JavaScript trackers can help identify crawlers and bots that may be using false user strings. | Enables website owners to weed out non-human traffic, improving data accuracy. |
| Collecting Visitor Information | JavaScript trackers collect detailed visitor info including IP address, browser type, operating system, etc. | Provides detailed understanding of user behavior. Privacy and data use policies need to be strictly enforced. |
| Limitations | JavaScript trackers are limited to tracking activity on the website itself. | Cannot track user activity on other websites or across multiple devices and sessions without integration of external data. |
| External Data Integration | External data sources such as social media activity and third-party analytics can be integrated with JavaScript trackers. | Overcomes tracker limitations, provides a more comprehensive view of visitor behavior. Privacy and security considerations are critical. |
| Social Media Data | Combining social media data provides insights on visitor interactions on social media platforms. | Helps understand cross-platform visitor behavior. Requires careful data integration and responsible data use. |
| Multiple Device and Session Tracking | With the integration of third-party analytics, user behavior across multiple devices and sessions can be tracked. | Gives a more holistic view of user behavior. Privacy and data use policies need to be strictly enforced. |
| Privacy and Security | It's critical to ensure data is used responsibly and securely. | Visitors need to be informed about how their data is being used to ensure transparency and trust. |
| Value for SEO Professionals | JavaScript trackers provides an in-depth view of website visitor behavior that is unavailable from traditional web server log stats. | Data from trackers can be used to make informed SEO strategies and decisions. However, remember to ensure privacy and security of data collected. |
This article provides an overview of how JavaScript trackers work, their benefits, and how to integrate external data sources to gain a more comprehensive view of visitor behavior.
JavaScript trackers allow website owners to identify and weed out crawlers and bots and gain a better understanding of user activity across multiple devices and sessions. In addition, integrating external data sources into JavaScript trackers can provide website owners with an even more detailed view of visitor behavior. However, it is essential to be aware of privacy and security considerations.
Introduction

How JavaScript Trackers Work

Integrating External Data

Conclusion
Introduction: Using JavaScript trackers is valuable for SEO professionals, offering more detailed insights into website visitor activity than traditional web server log stats. JavaScript trackers provide a comprehensive view of visitor behavior, allowing website owners to accurately differentiate between real visitors and bots and gain a better understanding of user activity across multiple devices and sessions. This article will provide an overview of how JavaScript trackers work, their benefits, and how to integrate external data for even more detailed insights.
How JavaScript Trackers Work
JavaScript trackers monitor user behavior on a website, tracking mouse movements, clicks, and other user interactions. This allows website owners to identify and weed out crawlers and bots that may be using false user strings. JavaScript trackers can also collect in-depth visitor information, such as the visitor's IP address, browser type, operating system, etc. This information can be used to understand user behavior better, allowing website owners to make informed decisions about content optimization and website design.
The main limitation of JavaScript trackers is that they are limited to tracking activity on the website itself. They cannot track user activity on other websites or across multiple devices and sessions. However, this limitation can be overcome by integrating external data sources, such as social media activity and third-party analytics, to gain an even more detailed view of visitor behavior.
Integrating External Data
Integrating external data sources into JavaScript trackers can give website owners a more comprehensive view of visitor behavior. For example, combining social media data can provide insights into how visitors interact with the website on social media platforms. In addition, integrating third-party analytics can provide insights into user behavior across multiple devices and sessions.
When integrating external data sources, it is essential to be aware of privacy and security considerations. In addition, it is vital to ensure that any data collected is used responsibly and securely and that visitors know how their data is used.
Conclusion: JavaScript trackers are a valuable asset for SEO professionals, providing an in-depth view of website visitor behavior that is unavailable from traditional web server log stats. They can be used to differentiate between real visitors and bots and gain a better understanding of user activity across multiple devices and sessions. In addition, external data sources can be integrated into JavaScript trackers to provide an even more comprehensive view of visitor behavior. However, it is essential to be aware of privacy and security considerations.
Uncovering SEO with JavaScript Trackers is like finding a needle in a haystack.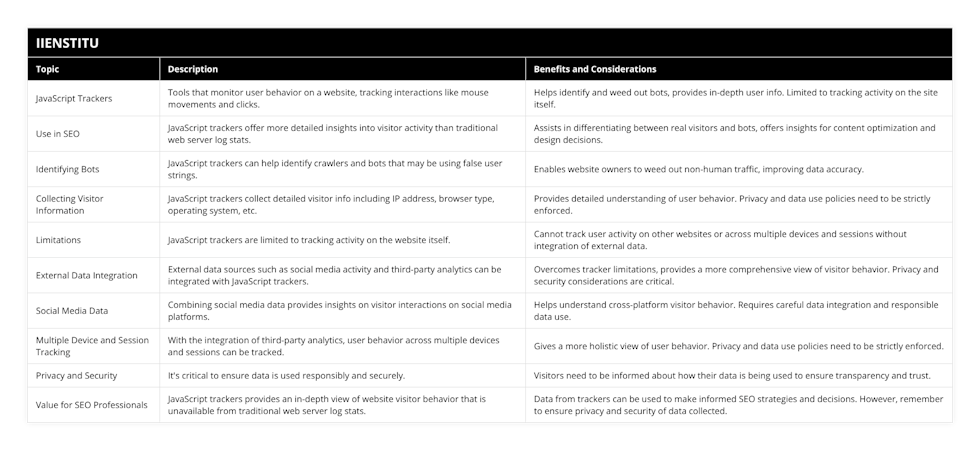 JavaScript trackers
user behavior
website visitor activity
traditional web server log stats
mouse movements
clicks
user interactions
visitor information
IP address
browser type
operating system
content optimization
website design
external data sources
social media activity
third-party analytics
visitor behavior
privacy
security
SEO professionals
real visitors
bots
user activity
multiple devices
sessions
site point
David Lipper
SEO Professional
David Lipper is an experienced and successful SEO professional. He has worked in the industry since 1997 and has been with his current company since 2006.
David is a highly sought-after consultant and speaker and has given presentations on SEO at various conferences worldwide. He is also a contributing writer for Search Engine Land.
When he's not working or writing about SEO, David enjoys spending time with his wife and two young children.
Related Posts
Our team of experts is passionate about providing accurate and helpful information, and we're always updating our blog with new articles and videos. So if you're looking for reliable advice and informative content, be sure to check out our blog today.