Human Resources Management
Why HR Managers Can't Fix Bad Jobs
07 December 2022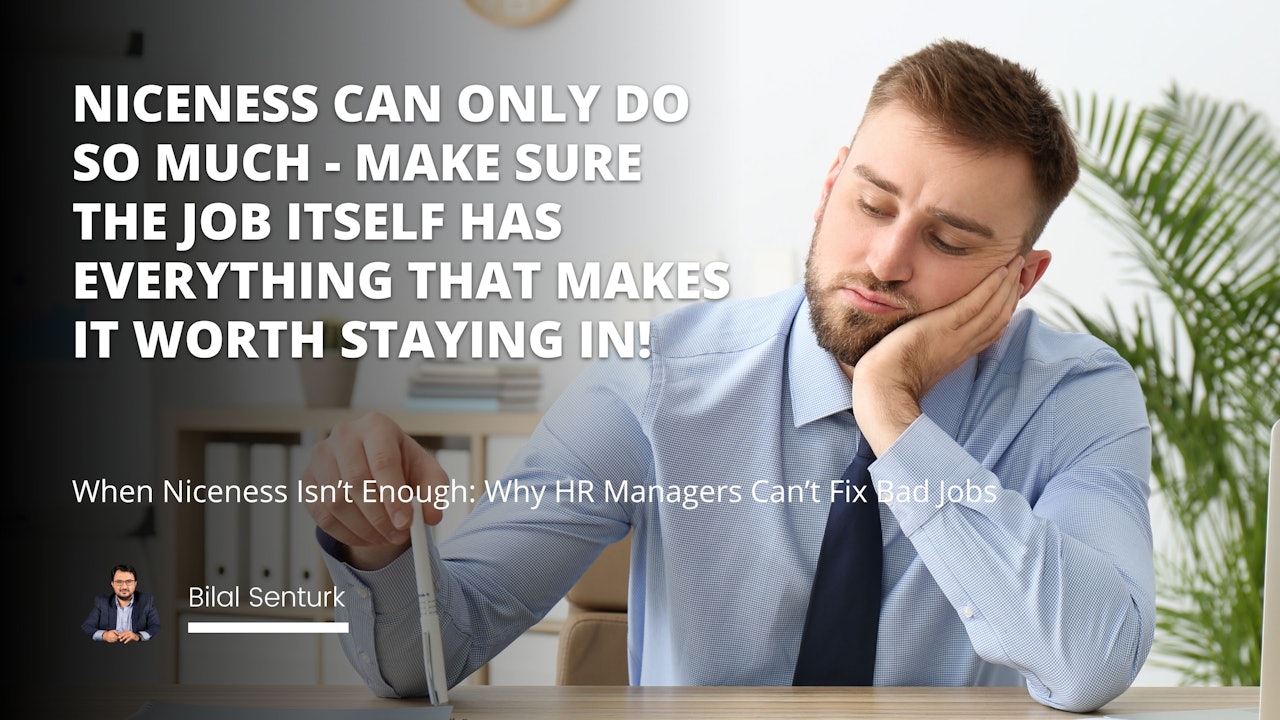 | Reasons For Leaving a Job | Signs and Symptoms | Possible Mitigation Measures by HR |
| --- | --- | --- |
| Unsustainable Job | Discrepancies in salary, toxic work environment, or unbearable work hours | Implementing structural change or dispute mediation might not always be possible |
| Goals Misalignment | Outgrowing the role, change in career aspirations | Possible role adjustment or promotion, but it may not coincide with company's needs or structure all the time |
| Lack of Recognition | No feedback or appreciation for work, disrespectful coworkers | HR could try to influence company culture, but might require top-level support |
| Toxic Culture | Bullying, harassment, or discrimination in the organisation | Enforce stronger policies, but might struggle if issues are engrained or involve higher hierarchy |
| No career progression | No opportunities for task variety, learning or promotion | Could advocate for employee training and development, but limited by budget or management will |
| Poor management | Erratic decision-making, unprofessional behavior from superiors | HR could mediate, but they may struggle if top management is the problem |
| Unfair treatment | Inequity in workload, pay or benefits | Address and redress, but scope might be limited |
| Lack of work-life balance | Excessive overtime, unrealistic deadlines | Promote healthy balance, but may be overruled by business needs |
| Job insecurity | Frequent layoffs, company instability | HR can provide information and support during difficult times, yet can't secure positions |
| Lack of trust in leadership | Unfulfilled promises, lack of transparency | HR can advocate for better communication, but can't control leadership actions |
A nice Human Resources (HR) manager can make a world of difference for employees. But what happens when a job is bad—so bad that even the nicest of HR managers can't fix it? How do you know when it's time to start looking for something new? Let's explore why some jobs just aren't salvageable and how to tell when you need to move on.
When the Job Is Unsustainable
Sometimes, there are certain aspects of a job that simply can't be fixed by an HR manager, no matter how nice they are. These could include salary discrepancies, a toxic work environment, or even long hours that don't align with your schedule. In cases like these, staying in the job is not only unsustainable but also potentially harmful.
When Your Goals Don't Align With Your Job
In other cases, your goals may no longer align with the job itself. This could mean you've outgrown the role or that your career aspirations have changed since you first accepted the job offer. It's important to remember here that your goals and ambitions should always come first—if they're not being met by this particular role then it might be time to consider moving on.
When You Don't Feel Valued
Feeling valued at work is essential for employee morale and productivity. If you don't feel like your work is being recognized or if feedback is lacking, then it's likely due to a lack of respect from management or co-workers alike. It's hard to stay motivated in this kind of environment and unfortunately, HR managers may not be able to change this dynamic without serious intervention from higher-ups in the company.
No matter how nice an HR manager is, sometimes bad jobs just can't be saved. Keep an eye out for signs such as unsustainable working conditions, lack of recognition for hard work done, or goals not being met within the company. If any of these signs pop up in your current workplace then it may be time to start looking elsewhere! After all, our career aspirations should always come first and taking care of ourselves means having the courage to move on when we need to.
In the realm of employment, a suitable HR manager with HR certification can significantly enhance a worker's experience. However, there are situations where job conditions are essentially beyond repair, even by the most proficient HR managers. These circumstances could encompass problematic pay scales, an unhealthy work environment, or excessive work hours that are incongruous with your lifestyle. It may also relate to a deviation between your personal ambitions and the job responsibilities or feeling undervalued in your role. Despite having a competent HR manager, the inability to rectify these issues may require the exploration of new job opportunities. Prioritizing personal goals and welfare in situations like these is essential, thus highlighting the significance of vigilance towards these negative signs at the workplace.hr certification
human resources
hr management
Bilal Şentürk
Blogger
He completed his undergraduate studies at Celal Bayar University, Anadolu University and Istanbul University, and a Master's degree with thesis on Human Resources Management at Yıldız Technical University and Business Management at Beykent University. He is currently writing a doctoral thesis on human resources and consulting businesses on human resources.
Related Posts
Our team of experts is passionate about providing accurate and helpful information, and we're always updating our blog with new articles and videos. So if you're looking for reliable advice and informative content, be sure to check out our blog today.