Human Resources Management
Transforming Your Business with Training Development
21 February 2023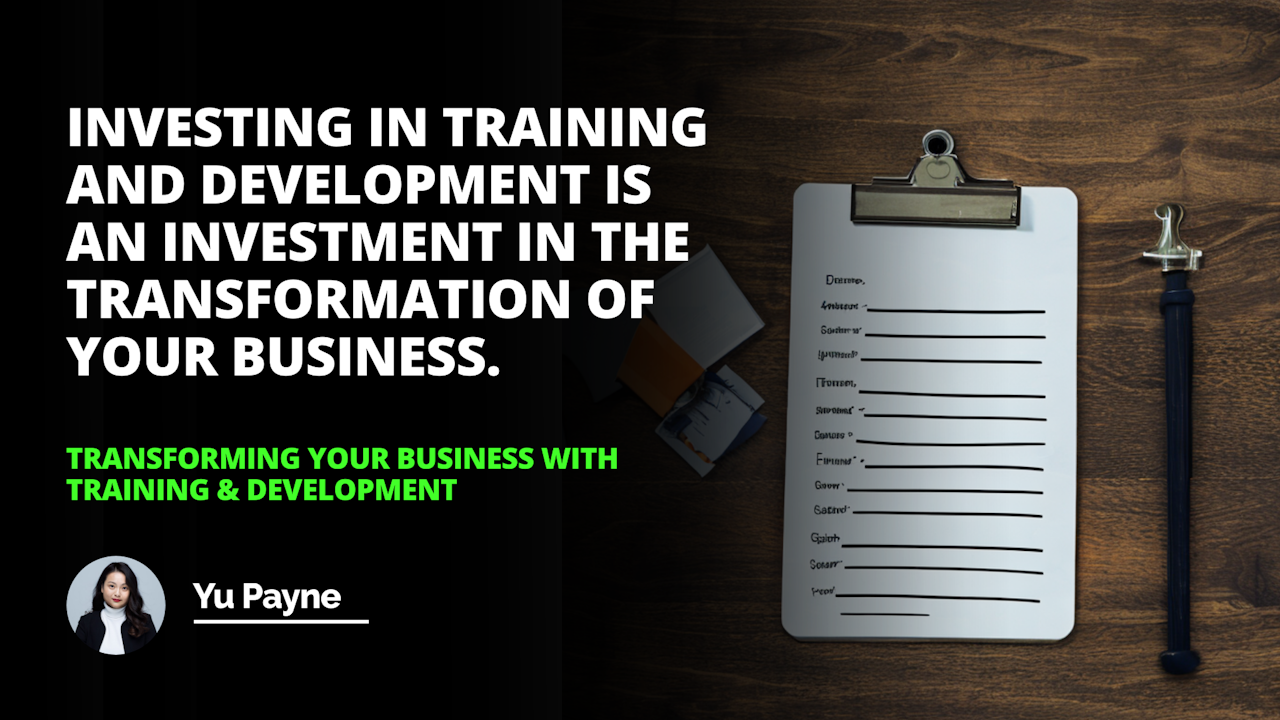 | Aspect | Details | Benefits |
| --- | --- | --- |
| Introduction to Training & Development | Training and development are crucial for the successful functioning of any business, ensuring employees have the necessary skills, knowledge, and attitude. | Increases productivity, motivates employees, improves customer service, reduces costs, enhances employee development, increases workforce flexibility. |
| Benefits of Training & Development | Helps businesses to cope with competition, keep employees updated with latest tools, skills, software, and motivates and values employees. | Increased competitiveness, improved job satisfaction, reduced employee turnover, identification and retention of talented employees. |
| Strategies for Training & Development | Tailoring training according to the business needs and creating positive learning environments, offering workshops, webinars, online courses, seminars. | Targeted skills development, improved resource allocation, better engagement with training, cost-effectiveness. |
| Tips for Successful Training & Development Plan | Setting realistic, SMART goals, tailoring the plan to employees' needs, using versatile training methods such as online courses, workshops, seminars, mentors, and coaches. | Practical, relevant training, improved engagement, motivation during the training process, broader depth of learning. |
| Role in Employee Development | By providing various opportunities for training, companies can help employees in improving their existing skill sets and gaining new skills. | Increased job performance, career progression, fostering talent within the organization. |
| Role in Competitive Edge | Training programs help employees to stay updated with industry trends, shifts and technologies, ensuring the company remains competitive. | Better market standing, staying ahead of competitors, long-lasting relationships with clients. |
| Role in Reducing Turnover | Well-executed training programs lead to higher job satisfaction among employees and can retain them for longer. | Reduced staff turnover, saving costs related to hiring and onboarding, maintaining consistency in operations. |
| Role in Promoting Internal Learning Culture | Regular training makes learning a part of the organization culture and encourages constant growth and improvement. | Encourages knowledge-sharing, builds a culture of continuous improvement, boosts creativity and innovation. |
| Role in Performance Management | Training programs can be used as an effective tool for managing performance and promoting desirable behaviour among employees. | Better performance metrics, development of positive behaviours, harmonious work environment. |
| Role in Risk Management | Providing necessary training can ensure employees are aware of various risks and how to minimize them. | Enhanced safety, reduced risk, compliance with regulations. |
Introduction

Benefits of Training & Development

Strategies for Training & Development

Tips for Creating a Successful Training & Development Plan

Conclusion
Introduction
Training and development are essential parts of any business's success. It allows companies to ensure that their employees are adequately equipped with the skills, knowledge, and attitudes to be successful in their roles. This can increase productivity, motivate employees, and improve customer service. Training and development can also help businesses reduce costs, enhance employee development and increase the flexibility of their workforce.
Benefits of Training & Development
The benefits of training and development are numerous. Firstly, it helps businesses stay competitive. Companies can stay ahead of the competition by ensuring that employees are kept up to date with the latest tools, skills, and software. Secondly, training and development can motivate employees and help them feel valued. This will result in greater job satisfaction and lower employee turnover.
Another benefit of training and development is that it can help businesses identify and develop talented employees. By providing opportunities for employees to develop their skills, companies can identify talented individuals and ensure they remain integral to the business's success.
Strategies for Training & Development
Regarding training and development, there are several strategies businesses can use. The most effective method is to tailor the training to the business's specific needs. For example, a company may focus on developing a specific skill set in its employees or ensuring they can use particular software packages.
In addition to tailoring training to the needs of the business, businesses can also create a positive learning environment. This can include providing workshops, webinars, online courses, and seminars. This allows companies to provide targeted training for specific departments or roles, which can be conducted more efficiently and cost-effectively.
Tips for Creating a Successful Training & Development Plan
Businesses should consider the following tips when creating a training and development plan.
Firstly, it is essential to set realistic goals. Goals should be SMART (specific, measurable, achievable, relevant, and time-bound) to ensure the training is practical and relevant to the business's needs.
Secondly, businesses should ensure that their training and development plan is tailored to the needs of their employees. This will ensure that employees are engaged and motivated during the training process.
Thirdly, businesses should use various methods and techniques to provide training. This can include online courses, workshops, and seminars and providing mentors and coaches who can offer advice and guidance.

Finally, businesses should monitor and review their training and development plans regularly. This will ensure that the training meets and effectively implements the business's needs.
Conclusion
Training and development are an essential parts of any successful business. It helps companies to stay competitive, motivates employees, and allows them to develop their skills. By adopting effective strategies and creating a successful training and development plan, companies can ensure their employees have the skills and knowledge needed to succeed.
Investing in training and development is an investment in transforming your business.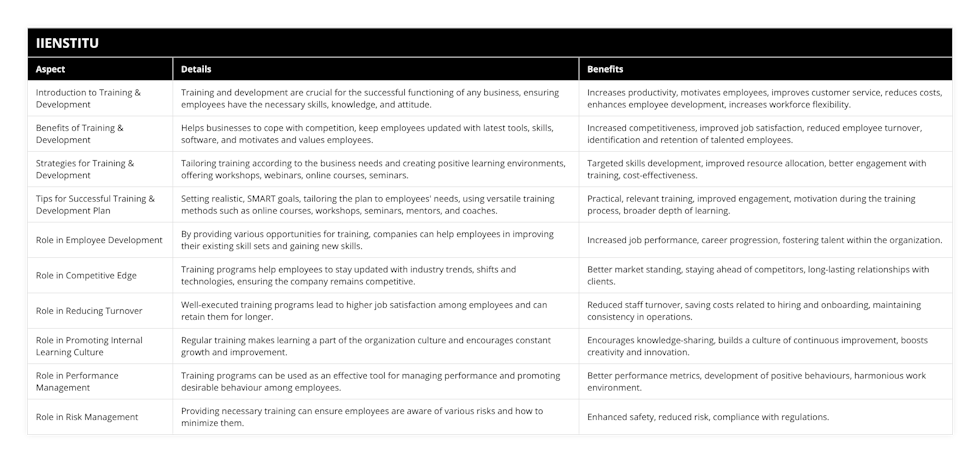 Training and development
essential
business
success
skills
knowledge
attitudes
productivity
motivated
customer service
reduce costs
improve
flexibility
workforce
stay competitive
job satisfaction
employee turnover
talented employees
development
skillset
software
positive learning environment
workshops
webinars
online courses
seminars
SMART
goals
tailored
monitoring
review
coaches
mentors
effective
successful.
Yu Payne
Blogger
Yu Payne is an American professional who believes in personal growth. After studying The Art & Science of Transformational from Erickson College, she continuously seeks out new trainings to improve herself. She has been producing content for the IIENSTITU Blog since 2021. Her work has been featured on various platforms, including but not limited to: ThriveGlobal, TinyBuddha, and Addicted2Success. Yu aspires to help others reach their full potential and live their best lives.
Related Posts
Our team of experts is passionate about providing accurate and helpful information, and we're always updating our blog with new articles and videos. So if you're looking for reliable advice and informative content, be sure to check out our blog today.