Human Resources Management
The Core of HR: Legal, Hiring, Comp, Perf, Benefits, ER, Training, HRIS
18 February 2023
| Aspect of HR | Description | Importance |
| --- | --- | --- |
| Legal Aspects of HR | HR must adhere to labor laws, EEOC regulations, employment contracts, etc. and handle all disputes within law confines. | Ensures the organization stays compliant and protects both employer and employee. |
| Hiring Processes | HR creates job descriptions, finds and interviews potential candidates, negotiates job offers, and carries out onboarding processes. | Crucial for recruiting and retaining talent that aligns with the company's values and culture. |
| Compensation and Performance | HR must ensure fair wages, set and manage performance goals, which are monitored through performance reviews and recognition systems. | Maintains an engaged workforce, ensures fair career progression. |
| Employee Benefits | HR is in charge of managing employee benefits including healthcare, retirement plans, and other workplace perks. | Provides employee welfare, attracts and retains talent, and improves employee satisfaction. |
| Employee Relations (ER) | HR handles ER, ensuring equitable working conditions. | Preserves a positive and fair work environment, prevents conflicts and fosters team spirit. |
| Training and Development | HR is responsible for providing training and development opportunities to employees. | Ensures employees have necessary skills to advance, boosts productivity and job satisfaction. |
| Human Resource Information Systems (HRIS) | HR uses HRIS to store employee records, track performance and attendance, monitor HR budgets, and maintain employee communications, payroll, and benefits information. | Supports effective workforce maintenance and provides essential HR tools. |
| Compliance | HR is responsible for ensuring the organization complies with all relevant laws and regulations. | Prevents legal issues, boosts the company's reputation and maintains a fair and productive work environment. |
| Strategic HRM | HR professionals devise strategies to ensure the HR goals align with the strategic goals of the organization. | Boosts organization's competitive advantage, enhances workforce adaptation to changes. |
| Performance Appraisal | HR oversees standard performance appraisal processes to assess work of employees, providing feedback for improvement. | Promotes employee development, identifies high potential employees, and reinforces organization's culture and values. |
Legal aspects of HR

Hiring Processes

Compensation and Performance

Employee Benefits, ER, and Training

The Role of HRIS
Human resource management (HRM) is integral to any business or organization. HR is responsible for all the decisions and actions made regarding the workforce. It ensures that the organization's people, ethical standards, and values align and promote a safe, fair, and productive environment. The core of HR consists of legal, hiring, compensation and performance, employee benefits, employee relations, training and development, and HR information systems (HRIS). Each area has a unique focus, but all are connected and work together to create effective HR policies and procedures.
Related Course: Hr Online Course
Legal Aspects of HR
From an HR perspective, the legal aspects must be adhered to for an organization to remain compliant. This includes staying up-to-date on all labor laws, EEOC regulations, and employment contracts. It also means performing background checks or adhering to anti-discrimination policies to protect both employer and employee. Lastly, any dispute resolution needs to be handled fairly and within the confines of the law. HR must be aware of changing legal policies and adhere to them to maintain a compliant workforce.
Hiring Processes
The hiring process is critical for recruiting and retaining the best talent. This starts with creating a job description, listing the criteria and qualifications of the desired candidate. Next, HR is responsible for finding and interviewing potential candidates, negotiating job offers, and performing onboarding procedures. Throughout this process, HR must focus on the company's values and culture to find the right fit.
Compensation and Performance
No matter how great of a fit the employee might be, if the compensation and performance expectations are not on par, it could result in a disengaged workforce. Thus, HR must ensure fair wages and opportunities for employees while setting and managing performance goals. These goals can be monitored through performance reviews and recognition systems.
Employee Benefits, ER, and Training
HR is responsible for managing employee benefits to ensure employees have access to healthcare, retirement plans, and other perks. In addition, HR must handle employee relations by ensuring equitable working conditions. Lastly, HR must provide employees with appropriate training and development opportunities to ensure everyone has the necessary skills to advance in their careers.
The Role of HRIS
Every part of HR is essential, but it wouldn't be possible to maintain an effective workforce without the tools available through an HRIS system. This system allows HR to store employee records, track performance, and attendance, and monitor HR budgets. It also provides access to employee communications, payroll, and benefits information. Without an effective HRIS system, organizations would be unable to maintain a solid HR foundation.
The core of HR relies on all of its aspects, from legal compliance to HRIS. These are all connected and must work together for any organization to remain successful. HR professionals must stay up-to-date on the latest laws and best practices in each area to ensure a productive and healthy workplace that benefits both employer and employee.
Successful HR management requires a comprehensive approach to balancing legal compliance with employee recruitment compensation performance benefits, employee relations training, and HRIS.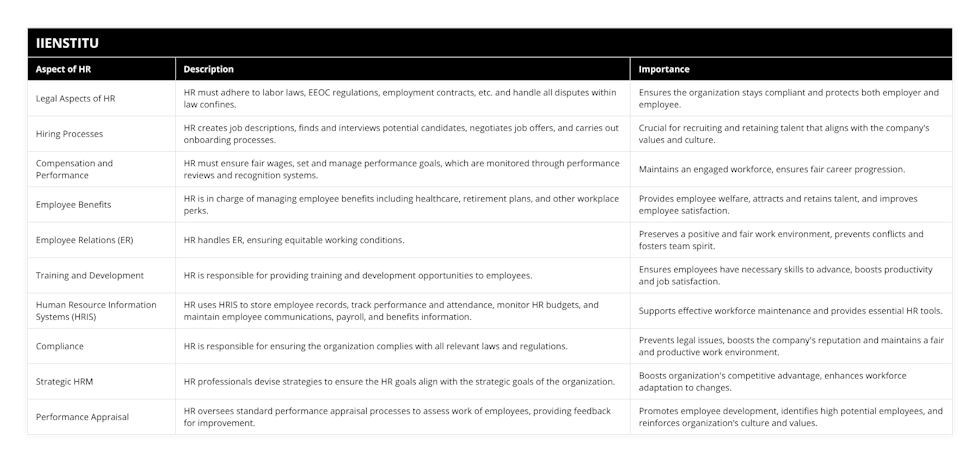 Human Resource Management
Legal Aspects
Hiring Processes
Compensation and Performance
Employee Benefits
ER
Training
HRIS
Legal Compliance
Best Practices
Productive
Healthy Workplace
Employer
Employee
Yu Payne
Blogger
Yu Payne is an American professional who believes in personal growth. After studying The Art & Science of Transformational from Erickson College, she continuously seeks out new trainings to improve herself. She has been producing content for the IIENSTITU Blog since 2021. Her work has been featured on various platforms, including but not limited to: ThriveGlobal, TinyBuddha, and Addicted2Success. Yu aspires to help others reach their full potential and live their best lives.
Related Posts
Our team of experts is passionate about providing accurate and helpful information, and we're always updating our blog with new articles and videos. So if you're looking for reliable advice and informative content, be sure to check out our blog today.