Blogger
Online Blogger Courses
16 November 2021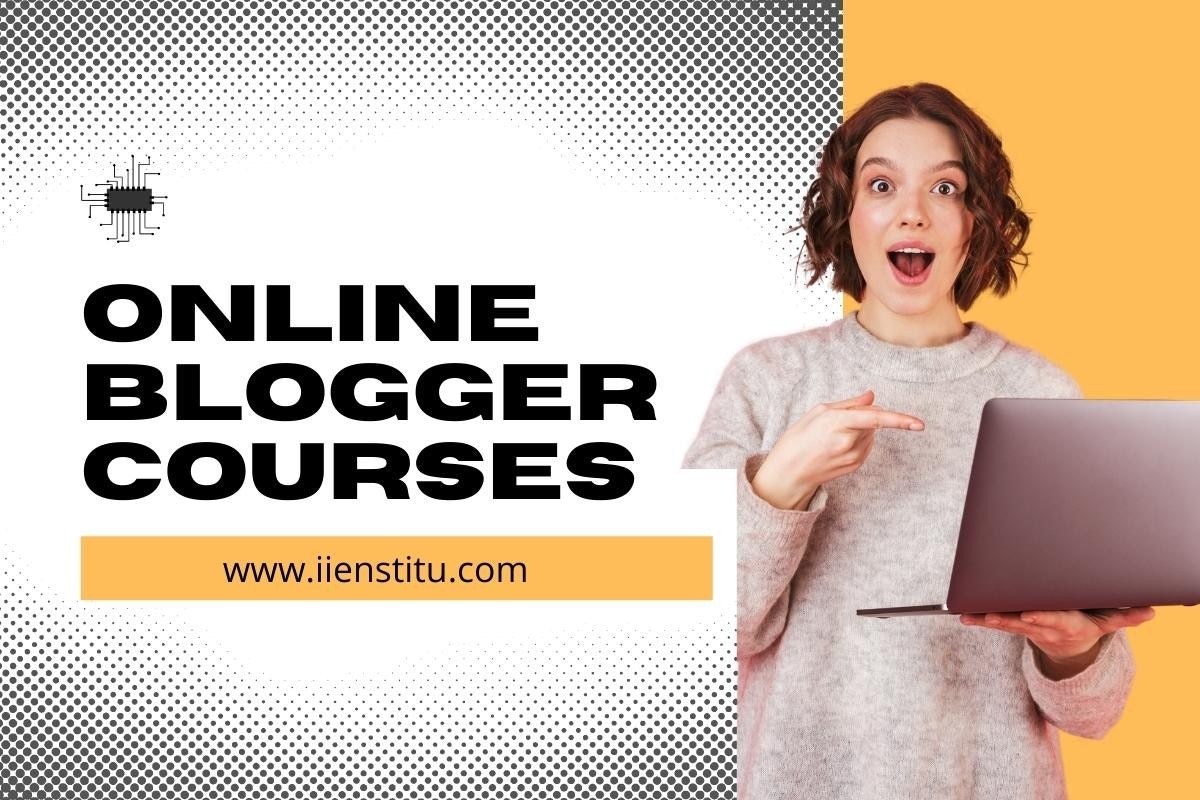 | Course Features | Benefits | Teaching Platform |
| --- | --- | --- |
| Blogging Training | Understanding blogging basics, SEO, and content creation | IIENSTITU |
| Search Engine Optimization Training | Improve visibility of blog/page on search engine | IIENSTITU |
| Content Editor Training | Enhancing writing skills, grammar, and structure | IIENSTITU |
| Online Course | Convenience, flexible timing, and location independent | IIENSTITU |
| Course for Beginners | Lay a solid foundation for your blogging career | IIENSTITU |
| Assignment Evaluation | Get personal feedback and improve over time | IIENSTITU |
| Certification of Completion | Proof of your competency and skills | IIENSTITU |
| Blogging Boot Camp | Comprehensive learning package | IIENSTITU |
| Unlimited Support | Round the clock assistance for concerns and queries | IIENSTITU |
| Career Growth | Increased job opportunities and skills | IIENSTITU |
Please note that the online blogger course you decide to take will depend on the online company. Every online training program has different teaching methods, techniques, and tools for blogging online. You must study it carefully before completing an online blogging course. That's why it's essential to get the Blogging Training from the institute. IIENSTITU is the most popular platform by search engines.
The online blogger course also includes search engine optimization SEO training to help your webpage/blog be easily found by users using keywords and phrases.
Even if online blogging courses are only for beginners with little or no knowledge of blogging, it is essential that you choose an excellent online course because it will be the foundation on which your future in online blogging will rest; so you can be sure that the best blogging course you can attend online is at the institute. Because we understand this concern very well and design our training to give you competence.
If you want to take blog training from scratch, you should look at the category of blogger training. Because when you only get blogging training, there are some issues that you need to improve yourself. You should also improve yourself in subjects such as content editor and SEO. Especially when creating your content, you should pay attention to SEO compatibility. The titles and text content you choose should be thoroughly targeted. In the blogging training you receive from the institute, which is at the forefront with its own blog posts, you will learn many things through an expert trainer who knows precisely this business. You will not only learn but put it into practice. You can also apply for blogging at the institute.
What Can I Learn in Online Blogger Training?
If you have decided to take an online blogging course, keep your eyes open and try to choose the best online blogging course possible. Remember, this is a once-in-a-lifetime opportunity, so choose wisely! Choosing the institute is the right choice. You can join the training immediately.
Online blogging is one of the most popular online courses available online today. This online course is designed for beginners and includes a variety of courses to choose from. An online blogger course starts with simple things like selecting a hosting web service, how to create a blog, and submitting to a search engine, to name a few.
The online blogging training will suit anyone interested in becoming an online entrepreneur or trying to start online with your own personal niche website. There are many benefits to creating an online blog, including making money online, having complete control over your business, increased traffic levels for promotional purposes, and much more.
Remember that once you learn blogging techniques, your company or your content will be at the forefront. You will become professional in the content you write, and you will specialize in the selection of titles and topics.
Those who have successfully completed this course have found it easy to follow with detailed step-by-step instructions throughout the online blogger course. You can also receive your certificate of achievement that you have successfully completed the training.
The online blogger course will guide you through all the details of online blogging, online marketing strategies, and how to make money online. The online blogger course is designed for beginners and those who want to start their own online business or run an existing business.
Content Editor Training
Looking for an online blogger course? If your answer is yes, online content editor training will provide you with all the knowledge you need to know to start your online career as a blogger. In this training, the assignments you send are evaluated, and in addition, a referral is provided to the institutions. If you want to be a good blogger, you should definitely attend the Content Editing training and the Blogging training.
Online blogger training is a short online course that guides potential online bloggers through the steps they need to take to become successful online writers. This online class covers everything from getting started and building a readership to promoting the blog and making money. The curriculum for this class even includes how to continue to develop their writing skills and social networks so that more opportunities can be found in the future.
There are many online blogging courses, but only a few offer such comprehensive packages and unlimited support for any blogging questions or concerns. Only one online blogger boot camp online course is available online for free.
Is the name. No cheats, no catches, and any online blogger can enroll in the online course. You don't need to search for the Blogger course in different institutions. IIENSTITU is the best online education platform for this.
What are the Benefits of Online Blogger Trainings?
Online blogger courses are online courses that teach writers how to write a blog post correctly and give readers the best knowledge.
The institute makes it possible to be a blogger. Suppose you want your online content to be of high quality. In that case, IIENSTITU is an excellent place for it, and it is the best and most brilliant way to become a blogger.
Online blogger courses ensure that every article is comprehensive and leaves no questions unanswered. Online blogger courses also provide online bloggers with tips on what not to do when writing a blog post. Every online blogger is unique because they use real examples of excellent and lousy blogging styles from real bloggers worldwide! You will receive feedback from the instructors on the assignments you have already done. You can make up for your shortcomings in writing as a blogger.
By taking an online blogger course, you can learn how online bloggers should write a blog post from start to finish. In addition, they teach online bloggers what to include in their online content and where to put them in the online blogger course. Anyone who wants to learn how to blog online, whether a business or personal blog, can take advantage of the online blogger courses offered by online blogger courses!
Is Blogger Future Open?
There is no doubt that content writing or blogging is also an excellent way to make money from people by making them aware of the various products and services around us using blogs.
The digital age is becoming a part of our lives and is a big step in the right direction. We all have laptops, and smartphones, whether for academic or hobby purposes. We carry our devices with us wherever we go. In addition, almost all people use the internet.
It is impossible not to come across a blog post when searching for something on the internet. Before the invention of the internet, we used brochures and advertisements to get information on different topics. Still, now we don't want to clutter up these lengthy articles, so it's time to move on to the more convenient online blogs. In the future, the content will be guiding everyone.
Bloggers are essential in today's world, where people can be entertained, informed, and educated from a single blog. The more valuable a blogger is today, the more he will be in the future.
In this article, we focused on the importance of blogging. If you want to be a blogger and create content for your company or your personal blog, join the institute's training now. Start learning now if you're going to specialize and become certified in blogging.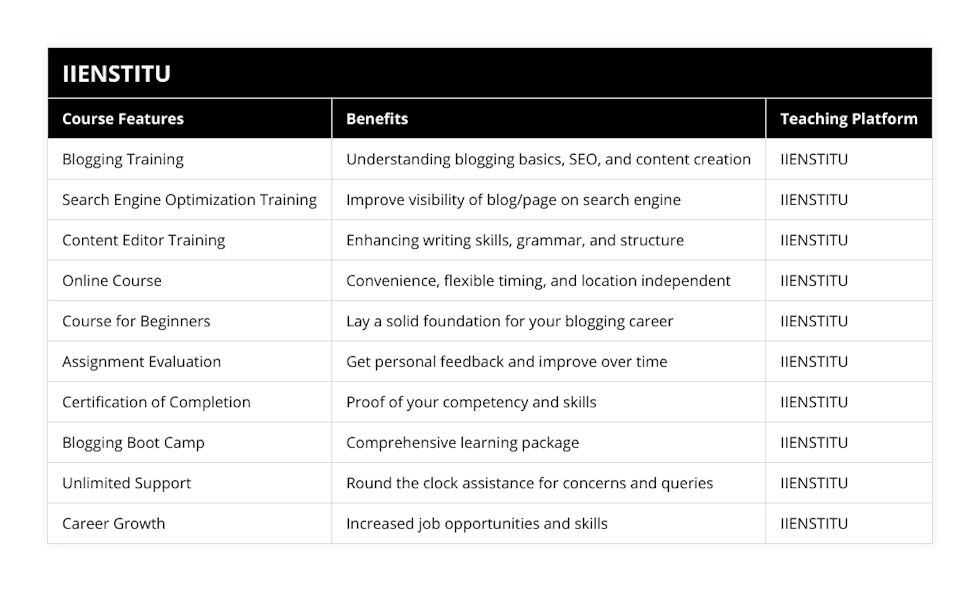 blogging
blogger
blogging training
online blogging trainings

Sezin Gök
Blogger
SHe is a graduate of Akdeniz University, Department of Business Administration. She graduated from the university with a faculty degree. It has contributed to its environment with its social responsibility project. She writes articles about business and its fields.
Related Posts
Our team of experts is passionate about providing accurate and helpful information, and we're always updating our blog with new articles and videos. So if you're looking for reliable advice and informative content, be sure to check out our blog today.