Logistic Management
Obtaining the Edge Through Outbound Distribution Logistics
27 February 2023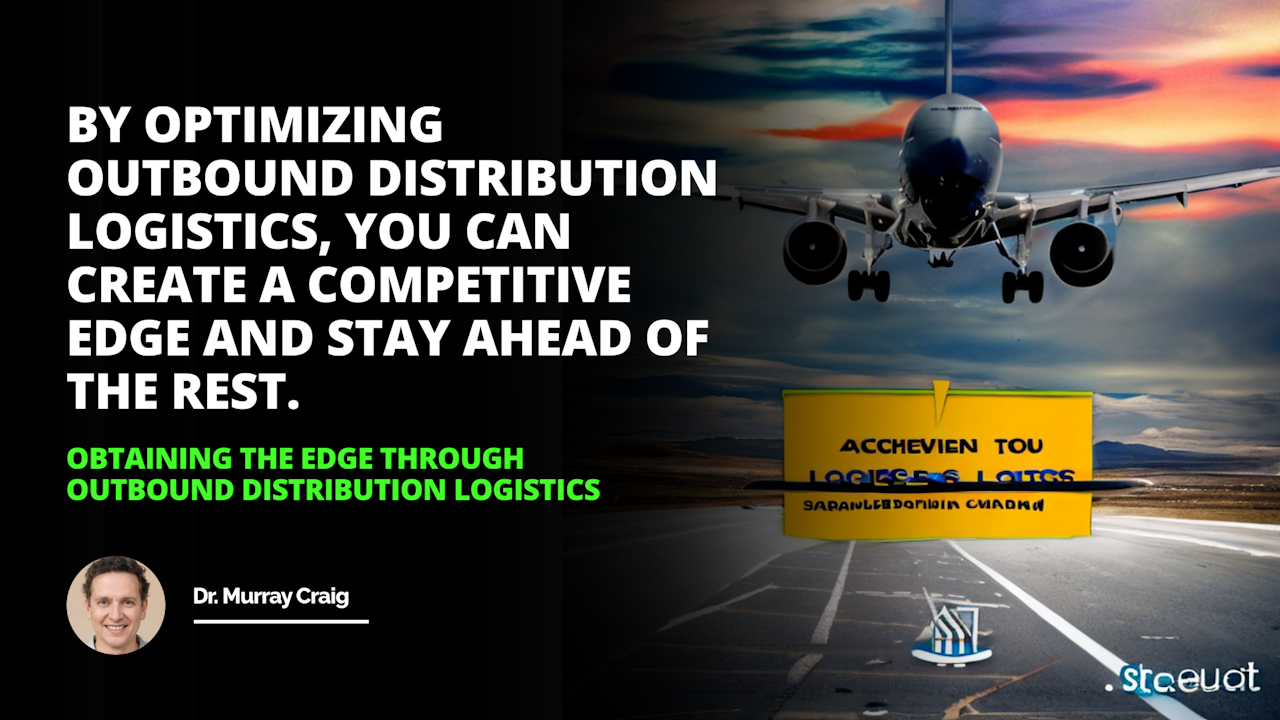 | Aspect | Description | Benefits |
| --- | --- | --- |
| Outbound Distribution Logistics | The process of getting goods from one point to another efficiently. | Reduces operational costs, improves supply chain operation and ensures timely delivery of goods. |
| Supply Chain Visibility | The ability to track goods as they move through the supply chain. | Prevents delay in delivery, provides improved process controls and reduces manual errors. |
| Supply Chain Automation | The use of technology to improve and streamline the supply chain process. | Improves visibility, reduces errors and potential delays. |
| Real-time data | Instant updates on the status of goods in transit. | Allows for quick decision-making and optimizes supply chain management. |
| Utilization of Technology | Leveraging of modern technology such as GPS tracking to optimize logistics. | Provides real-time visibility into location and movement of goods, improves supply chain management. |
| Planning for Volume Changes | Development of strategies to handle changes in demand. | Prevents inefficient processes and delays in delivery. |
| Outsourcing Challenging Tasks | Delegating complex logistics tasks to third-party providers to streamline operations. | Frees up resources, allows focus on key aspects of operations. |
| Efficiency Strategies | Implementing plans to maximize the efficiency of outbound distribution logistics. | Optimizes operations, creates a competitive edge. |
| Investing in Logistics | Allocating resources to improve outbound distribution logistics system. | Gains a competitive advantage, improves overall business success. |
| Implementation of Latest Technology | Adoption and utilization of the newest technologies in logistics. | Streamlines processes, improves efficiency and visibility over the supply chain. |
Advantages of Supply Chain Visibility

Utilizing Technology for Efficient Logistics

Implementing Strategies for Maximum Efficiency
Outbound distribution logistics is the process of getting goods from one point to another safely and efficiently. Logistics has become an increasingly important part of a company's competitive edge. It can mean the difference between success and failure in the competitive global market. By implementing the right logistics system, a business can gain an edge over its competitors, allowing it to succeed tremendously in the market.
The benefits of outbound distribution logistics are clear. It can help businesses improve their supply chain and ensure that goods arrive on time and within budget. Furthermore, it is an effective way to increase efficiency in the supply chain and reduce operational costs.
However, several challenges must be conquered to implement efficient outbound distribution logistics. One of the main challenges is the need for more visibility into the supply chain and the ability to track goods as they move through the network accurately. This can lead to delays in delivery and, ultimately, a poor customer experience.
Advantages of Supply Chain Visibility
One way to solve the visibility issue is through supply chain automation. Automation can provide businesses with improved process controls and clear visibility into the movement of goods along the supply chain. Furthermore, automation can help to reduce or eliminate manual errors that can lead to delays in delivery.
Real-time data is also essential for an efficient outbound logistics system. Real-time data can give businesses insights into the status of their goods and decide how best to proceed without waiting for manual processes to complete. This is especially beneficial for companies that must make quick decisions as goods move along the supply chain.
Utilizing Technology for Efficient Logistics
To gain the most from outbound distribution logistics, businesses must leverage the latest technology to stay ahead. Many technology solutions on the market can help companies to optimize their logistics processes. For example, GPS tracking is one of the most critical technology solutions for outbound logistics. GPS tracking can give businesses real-time visibility into the location of goods and provide detailed information about the movement of goods along the supply chain.
Implementing Strategies for Maximum Efficiency
Businesses must develop strategies to maximize efficiency to get the most from outbound distribution logistics. Planning for volume changes is essential for success in outbound logistics. In addition, companies should have a plan in place to handle sudden changes in demand that can lead to inefficient processes and delays in delivery.
Another strategy that businesses can implement to ensure maximum efficiency is to offload challenging tasks to third-party logistics providers. Outsourcing some complex tasks can free up resources and allow companies to focus on tasks that are key to overall success.
Conclusion: Outbound distribution logistics is a complex process that requires a significant amount of planning and implementation. Businesses must have suitable systems to gain an edge over their competitors. Visibility into the supply chain, implementation of the latest technology, and strategies for maximum efficiency are all critical to obtaining the edge through outbound distribution logistics. By leveraging the newest technology and making the necessary investments in outbound distribution logistics, businesses can gain a competitive advantage in the market and improve their overall success.
Optimizing outbound distribution logistics can create a competitive edge and stay ahead of the rest.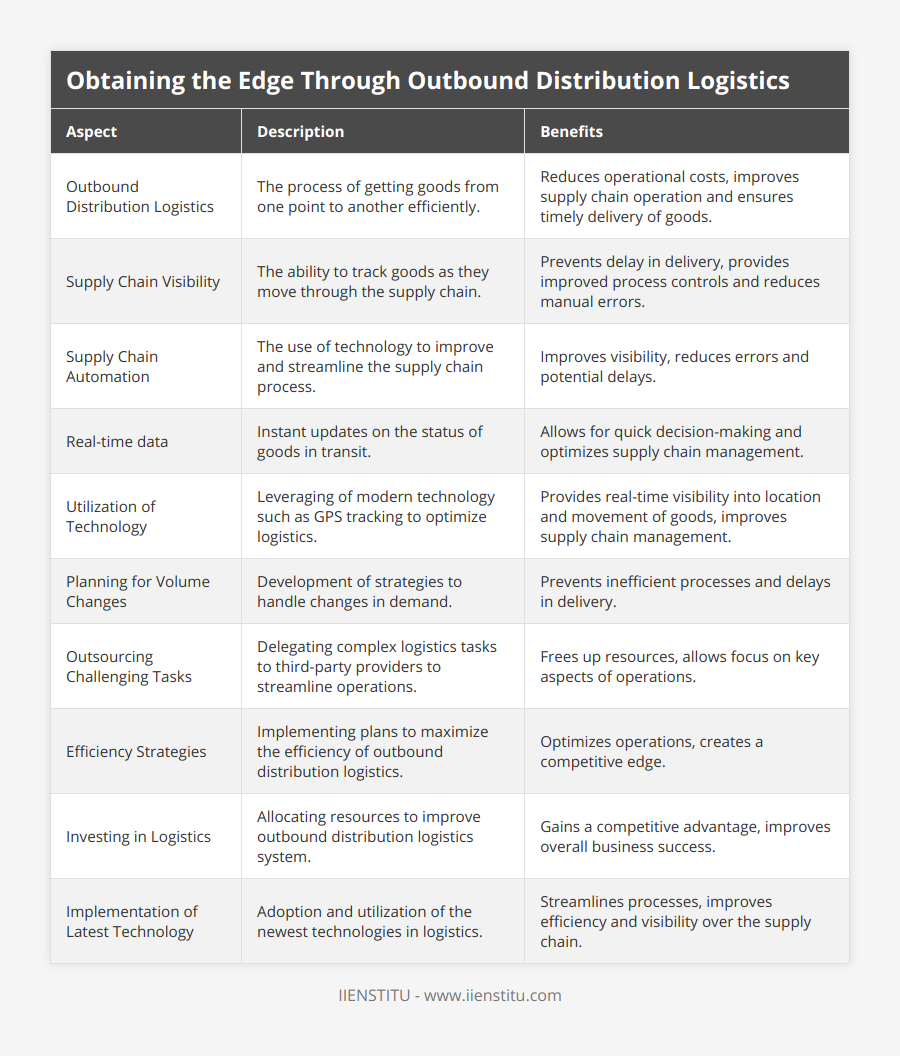 Outbound distribution logistics
supply chain
competitive edge
global market
efficiency
operational costs
visibility
automation
process control
real-time data
GPS tracking
volume changes
third-party logistics
outsourcing
planning
implementation

Dr. Murray Craig
Academic
Dr. Murray Craig is an academic and researcher who has dedicated his life to the study of human behavior. He has a particular interest in how people interact with their environment, and how that interaction can be used to improve their lives. Dr. Craig has spent many years teaching and conducting research at universities all over the world, and he is widely respected for his work in the field of behavioral science.
Related Posts
Our team of experts is passionate about providing accurate and helpful information, and we're always updating our blog with new articles and videos. So if you're looking for reliable advice and informative content, be sure to check out our blog today.