Interview Questions
Interview Question: What Time Management Technique Starts Your Day?
26 September 2023
| Time Management Techniques | Description | Use in Job Roles |
| --- | --- | --- |
| Creating a task list based on urgency and importance | This involves ranking tasks based on their urgency and importance to prioritize what to work on first. | Applicable in virtually all roles where task organization and prioritization is key. |
| Time-block technique | Allocating specific periods of the day to each task. Enhances focus, reduces distractions, and ensures tasks get necessary attention. | Ideal for roles which require intense concentration such as coding, content writing, or project planning. |
| Eisenhower matrix | A method to segregate tasks into four categories - urgent and important, important but not urgent, urgent but not important, and not urgent or important. Allows for better focus on high-priority activities. | Highly beneficial in management or coordinating roles where many diverse tasks compete for attention. |
| Pomodoro method | Involves breaking down work into intervals typically 25 minutes in length separated by short breaks. Boosts productivity by encouraging focus and regular resting. | Suitable in roles with high cognitive demands like developers, writers, analysts, etc. |
| Batching or chunking | A time-management method where similar tasks are grouped together & tackled in one go, leading to increased productivity and cognitive fluidity. | Particularly helpful in creative or brainstorming roles such as graphic designing, content creation, etc. |
| Use of productivity tools | From to-do lists to project management apps, there are tools that help keep tasks and schedules organized, making time management more efficient. | Excellent for remote workers, project managers, or any role requiring task tracking. |
| Reduction of Distractions | Includes strategies such as shutting off social media notifications or working in a quiet location, to ensure optimal focus on tasks. | Best in roles where concentration and attention to details is crucial, like editor, proofreader, researcher, etc. |
| Strategic delegation | The art of delegating tasks to others to ensure tasks are executed satisfactorily without being overwhelmed. | Key for senior professionals, team leaders, managers, or anyone who leads a team. |
| Self-care and regular breaks | Addressing personal health and well-being to ensure sustained productivity, focus and overall performance. | Crucial in all roles to maintain work-life balance and prevent burnout. |
| Goal setting | Defines targets and objectives that motivate and guide productive behavior. | Beneficial for any role that requires meeting targets or achieving set objectives. |
As an HR expert, I can confidently say that one probing question often asked in interviews is, "What time management technique starts your day?"
Related Course: Online Time Management Course
This is not just your regular, run-of-the-mill question; it sits at the heart of assessing your organizational skills, productivity levels, and your overall ability to successfully navigate your workday.
In other words, it's an indirect inquiry into your ability to manage your tasks, prioritize effectively, and handle daily pressures - all critical aspects of virtually any job role.
The Purpose of the Question: What time management technique starts your day?
Companies keenly understand the significance of time management as it directly correlates with productivity, efficiency, and the successful completion of tasks.
With this question, hiring managers want to delve into your personal methods of task organization and assess whether they align with the company's work culture and the specific demands of the role they're looking to fill. They are keen on learning how you set your priorities, organize your tasks, allocate your time and cope with stressors.
At What Interview Level is it Asked?
This question is not only posed to high-level executives or project managers. It can be raised in interviews for entry-level positions, mid-level roles, and even intern positions.
Since the core component of this question is time management, a skill that is universally required across sectors and job positions, it can be asked at any interview level.
What Kind of Answer is Expected from the Candidate?
When answering, remember that the interviewer is not looking for a perfect answer but an honest and reflective perspective on how you handle your time. A good response to this question would involve discussing your prioritizing techniques, how you manage your tasks, and how you handle distractions and interruptions.
The most effective answers often include specific methods or strategies that you utilize, for example, the use of certain productivity tools, applications, or techniques such as the Eisenhower matrix, time-blocking or batching, or the Pomodoro method.
Remember to give tangible examples because they give credibility to your answer and set you apart from other candidates.
Possible Answers to Consider
Here are a couple of examples that you might find helpful:
"I start my day by creating a list of tasks that need to be accomplished, ranking them based on urgency and importance. Then I use the time-block technique to allocate specific periods for each task. This way, I ensure that I am focused while working and limit distractions."

"I am a big fan of the Eisenhower matrix. I segregate my tasks into four categories – urgent and important, important but not urgent, urgent but not important, and not important or urgent. This has considerably increased my productivity by helping me to focus on high-priority activities."
Remember, there is no one-size-fits-all answer to the question, "What time management technique starts your day?" It's about determining what works best for you and communicating that effectively to your potential employer. Be honest, be specific, and most importantly, let your passion for productivity shine through your response!
Time Management Techniques Commonly Used to Start the Day
| Technique | Description | Benefits |
| --- | --- | --- |
| Creating a to-do list | Write down tasks and prioritize them to have a clear plan for the day | Increases productivity and ensures nothing is forgotten |
| Setting specific goals | Define what needs to be accomplished with clear objectives | Provides focus and motivation |
| Using time blocking | Allocate specific time slots for different tasks or activities | Helps with prioritization and prevents procrastination |
| Starting with the most important task | Tackle the most crucial and challenging task first thing in the morning | Creates a sense of accomplishment and sets a productive tone for the day |
| Avoiding distractions | Eliminate or minimize interruptions and temptations that can derail focus | Improves concentration and efficiency |
| Reviewing and adjusting plans | Regularly assess progress and make necessary changes to stay on track | Enables adaptability and keeps goals aligned |
Time Management Question and How to Approach It
| Topic | Explanation |
| --- | --- |
| Purpose of the Question | - Gauge organizational skills and productivity - Understand task prioritization and stress handling capabilities - Assess alignment with company culture and role demands |
| Interview Level | - Entry-level positions - Mid-level roles - Intern positions Note: Universally relevant as it pertains to time management. |
| Expected Answer | - Discussion of prioritization techniques - How tasks are managed - Handling of distractions and interruptions - Specific methods, tools, or techniques used |
| Sample Answers | 1. "I start with a task list, ranking based on urgency. Then I use time-blocking to allocate specific periods for each task." 2. "I use the Eisenhower matrix to categorize tasks by urgency and importance, which increases my focus on high-priority activities." |
| Key Takeaway | - Be genuine in your response - Provide tangible examples - Showcase your dedication to productivity and efficient time management |
The Effectiveness of Different Time Management Techniques at the Start of the Day
| Time Management Technique | Effectiveness | Benefits |
| --- | --- | --- |
| Creating a to-do list | High | Clear overview of tasks, prioritization |
| Setting specific goals | High | Focused work, increased motivation |
| Prioritizing tasks | Medium | Efficient task completion, reduced stress |
| Using a time blocking schedule | High | Structured day, better time allocation |
| Eliminating distractions | High | Improved concentration, productivity |
| Maintaining a morning routine | Medium | Consistency, mental preparation |
Similar interview questions:
Can you mention the time management technique which initiates your day?

Which technique for managing time do you begin your day with?

Would you please specify the time management technique you kick off your day with?

What process do you use to manage your time at the start of the day?

What strategy do you use to get your day off to a good start via time management?

How do you begin your day according to time management principles?

Do you have a particular time management approach that kickstarts your day?

What is the key time management practice you implement as you start your day?

Does any time management method serve as the starting point for your day?

In terms of time management, which strategy propels the start of your day?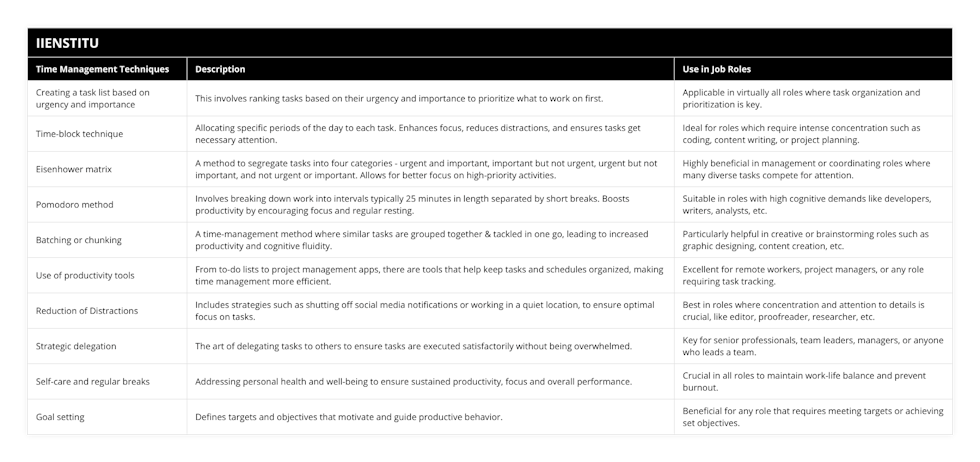 What Time Management Technique Starts Your Day?
what time management technique starts your day
what time management technique starts your day?

Amara Weiss
Institute Secretary, Author
I am Amara Weiss and for many years I have worked in the field of education, specifically in the area of technology. I firmly believe that technology is a powerful tool that can help educators achieve their goals and improve student outcomes. That is why I currently work with IIENSTITU, an organization that supports more than 2 million students worldwide. In my role, I strive to contribute to its global growth and help educators make the most of available technologies.
Related Posts
Our team of experts is passionate about providing accurate and helpful information, and we're always updating our blog with new articles and videos. So if you're looking for reliable advice and informative content, be sure to check out our blog today.