Interview - Job Interview
50 Job Interview Questions And How to Answer Them Like a Pro
04 December 2022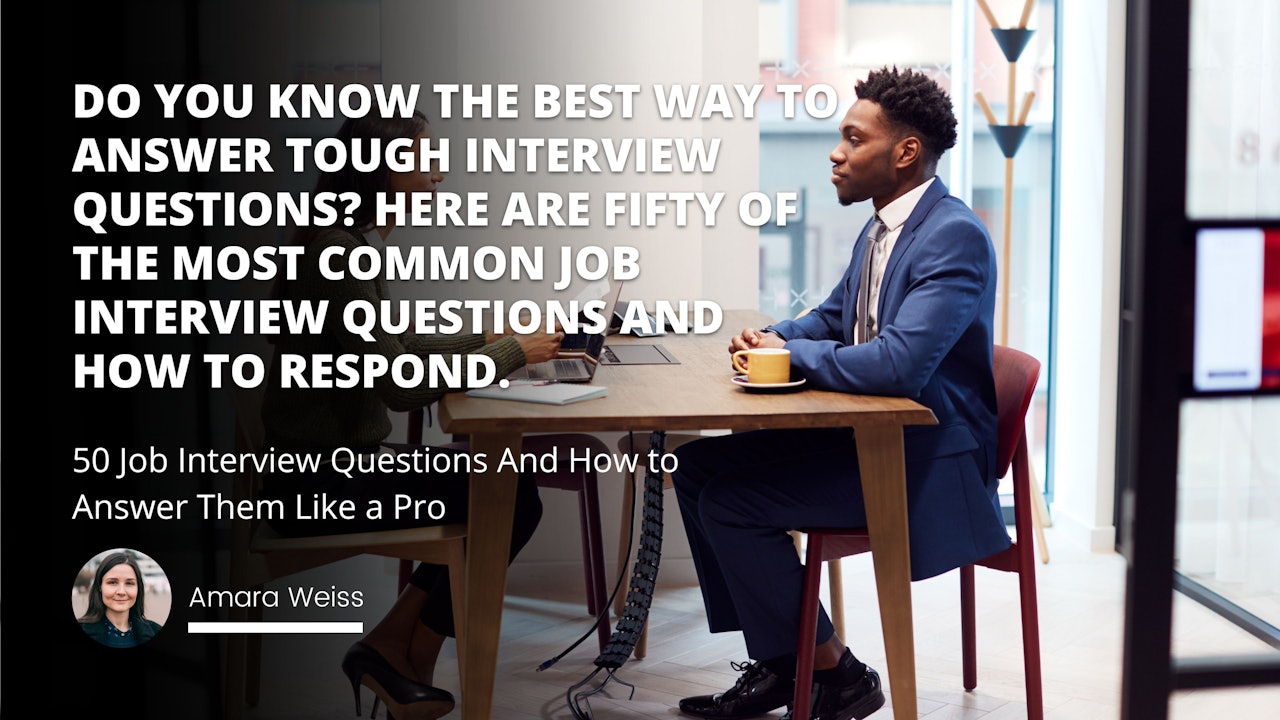 | Question Type | Example Question | Strategy to Answer |
| --- | --- | --- |
| Experience-based | Describe a situation when you dealt with a demanding customer. | Outline the situation in detail, emphasizing how you remained calm and resolved the issue. |
| Behavioural | How do you handle stressful situations? | Give real-life examples, demonstrate your problem-solving skills and adaptability. |
| Skills-based | What programs are you proficient in? | Mention the programs you're highly experienced with, provide specific examples where possible. |
| Situational | What would you do if you disagreed with your manager's decision? | Depict respect for authority while showcasing your assertiveness and communication skills. |
| Problem-solving | Can you provide an example of a time when you solved a complex problem at work? | Use the STAR (Situation, Task, Action, Result) method to structure your response. |
| Motivational | What motivates you at work? | Link your personal motivations to aspects of the job role, showing your interest and commitment. |
| Teamwork-based | Describe a time you had a conflict in a team. How did you handle it? | Describe the situation, actions you took and the positive outcome, focusing on your team-building skills. |
| Future-oriented | Where do you see yourself in five years? | Align your long-term professional goals with the company's growth and development. |
| Personality-based | How would your colleagues describe you? | Be honest, focus on the positive aspects of your personality, back your answer with examples. |
| Company-related | Why do you want to work for our company? | Demonstrate your knowledge of the company and express how its values and goals align with yours. |
Landing a job is a daunting task. And, if you're like most people, you need help answering some of the typical job interview questions. Well, never fear - here are 50 job interview questions (and how to answer them like a pro). By preparing for these questions ahead of time, you'll be able to sail through your following job interview easily! So read on and get ready to rule the interviewing world!
What are job interview questions and answers?
The job interview was going well. He had answered all the questions they had asked him, and he felt confident that he had done a great job. But then they asked him a question that he had never encountered before. They asked him to describe when he dealt with a demanding customer.
He didn't know how to answer that question. He had never dealt with a demanding customer, let alone described it in detail. Finally, he started to panic and could feel his heart racing. He knew he would get rejected if he couldn't answer the question.
But then he remembered something his friend had told him. His friend said you couldn't predict the questions they will ask in a job interview, but you can prepare for them. So he took a deep breath and described a time when he had dealt with an angry customer.
He talked about how he had stayed calm and collected under pressure and how he managed to resolve the situation without any drama. When he finished describing the problem, his heart wasn't racing anymore, and he felt confident that he would get the job.
This is a scenario you can face all the time.
Job interviews can be nerve-wracking, but with the right preparation, you can ace them every time. By practicing common questions and answers, you'll feel more confident when it comes time to interview for your dream job. Not only will you impress your interviewer with your knowledge and skills, but you'll also show that you're motivated and excited about the opportunity. So what are you waiting for? Start practicing today!

interview
Interview questions

Amara Weiss
Institute Secretary, Author
I am Amara Weiss and for many years I have worked in the field of education, specifically in the area of technology. I firmly believe that technology is a powerful tool that can help educators achieve their goals and improve student outcomes. That is why I currently work with IIENSTITU, an organization that supports more than 2 million students worldwide. In my role, I strive to contribute to its global growth and help educators make the most of available technologies.
Related Posts
Our team of experts is passionate about providing accurate and helpful information, and we're always updating our blog with new articles and videos. So if you're looking for reliable advice and informative content, be sure to check out our blog today.