Human Resources Management
The Rise of Personnel: 1945 - 1975
20 February 2023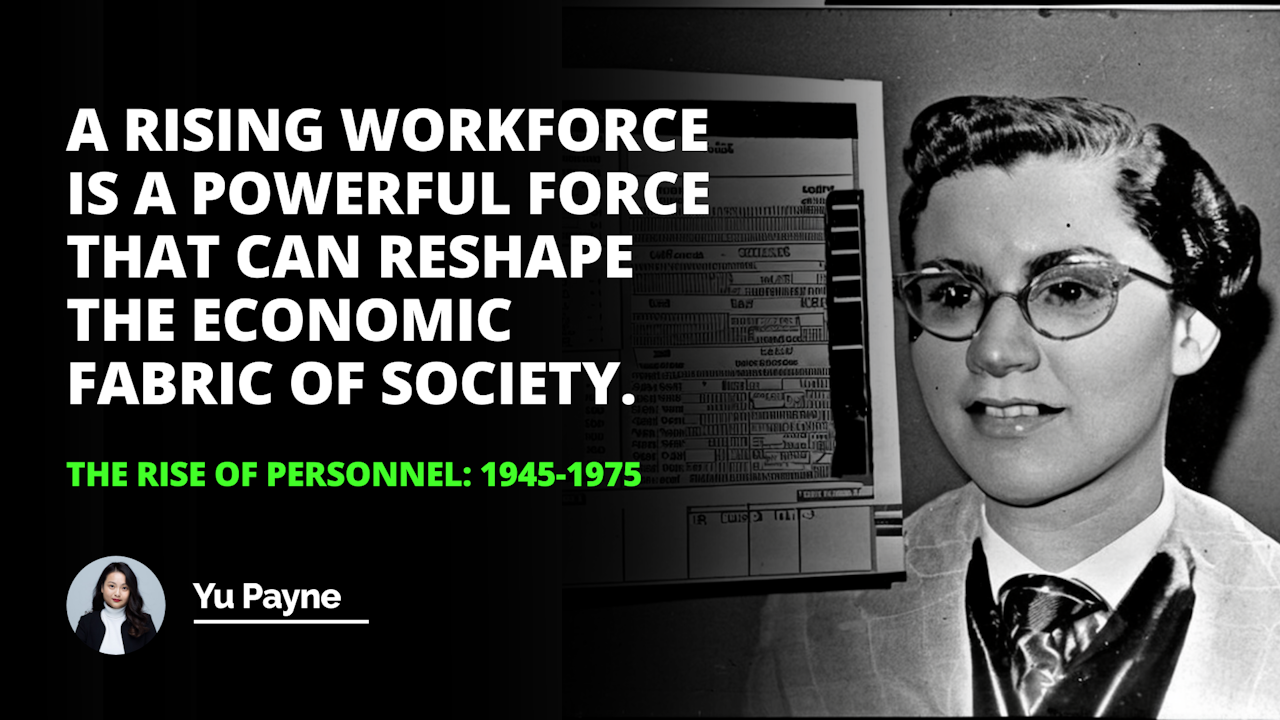 | Time Period | Significant Changes | Impact on Workplace |
| --- | --- | --- |
| 1945-1975 | Rise of Personnel Management | Cultivation of harmonious relations between staff boosting productivity |
| Post-War Boom | Expansion of Personnel Management and role | More effective system for managing personnel with addition of organization development, training and career counseling services |
| Post-Tayloristic Period | Shift from controlling employees to recognizing individual needs | Collaborative and rewarding working environment |
| Contemporary | Personnel managers becoming significant decision-makers | Implementation of ethical and effective policies, procedures, and improved employee-management relations |
| Contemporary | Fostering relationships with Unions | Resolution of conflicts and negotiation of fair pay and working conditions |
| Contemporary | Shift from 'Industrial Relations' to 'Human Resources' | Recognition of varied employee needs including motivation, safety, compensation, recognition, and talent development |
| Contemporary | Development of Personnel Policies | Guidance and structure for ethical and consistent decision-making processes |
| Contemporary | Increase in dialogue between unions and companies | Improved engagement, more dynamic and productive environments |
| 1945-1975 to Present | Evolving role of personnel managers | Greater influence in shaping company policies and culture |
| 1945-1975 to Present | Increase in corporate personnel managers | Enhanced recruitment, retention, and cultivation of fulfilling work environment |
Defining Key Terms

The Rise of Personnel 1945-1975

The challenge to the Tayloristic Approach

Expansion of Personnel Management During the Post-War Boom

Development of Personnel Policies and Processes
The last three decades have seen a dramatic rise in the number of corporate personnel managers. Personnel is responsible for the recruitment and retention of workers, as well as establishing and cultivating a fulfilling work environment.
This article will explore the rise of personnel managers and how they shape workplace culture.
Defining Key Terms
Employee relations are the administrative staff's communication, direction, and guidance. On the other hand, human resources (HR) refers to the specialized personnel department within a business responsible for personnel management and recruitment. "Personnel" refers to individuals with the qualifications, skills, and experience to manage staff effectively.
The Rise of Personnel 1945-1975
The emergence of personnel management can be linked to the end of the Second World War. Many businesses attempted to increase their profits during this period, and personnel management, emphasizing harmonious relations between all staff members, was seen as a solution. In this period, personnel managers first began to be hired to promote loyalty, trust, and respect within organizations, to help to stimulate productivity.
The challenge to the Tayloristic Approach
The emergence of personnel management challenged the Tayloristic approach, which focused solely on controlling and managing employees. The rise of personnel managers allowed employees to be viewed as human beings with individual needs and aspirations rather than mere production units. This evolution in management practice resulted in a more collaborative and rewarding working environment.
Expansion of Personnel Management During the Post-War Boom
The post-war period was characterized by rapid economic growth and increased demand for goods and services. This resulted in the rapid expansion of personnel management, with many companies recognizing the need for an effective system for managing personnel. As a result, the role of personnel managers expanded to include organizational development, training and career counseling, recruitment and selection, and orientation and induction.
Personnel and Their Role in the Workplace
The role of personnel managers has evolved to include more significant input into decision-making processes. They are now responsible for ensuring that policies and procedures are implemented ethically and effectively as promotion promotes between management and staff. In addition, aIn addition, aIn addition, aIn addition, aIn addition, aIn addition, as personnel managers are in direct contact with employees, they are in a prime position to identify any potential issues or grievances that may be causing workplace disruption.
Increasing Dialog Between Unions and Companies
'Personnel management also has a direct role in fostering mutually beneficial relationships between unions and companies, as specialty carriers of 'industrial relations how personnel managers are responsible for developing strategies for resolving conflicts and negotiating pay and working conditions. This dialog between both entities increases the level of engagement among employees, resulting in a more productive and dynamic working environment.
Human Resources Rather than Industrial Relations
In the evolving world of personnel management, practitioners are increasingly embracing the term "human resources" instead of "industrial relations." This reflects that they must address various issues, such as employee motivation, workplace safety, compensation and benefits, staff recognition, and talent development. Moreover, by adopting this new term, personnel managers have asserted the importance of their role within organizations.
Development of Personnel Policies and Processes
In addition to establishing trusted relationships between unions and companies, personnel managers are also responsible for developing personnel policies and processes. These policies provide guidance and structure to ensure that decisions are implemented ethically, productively, and consistently. It also promotes collaboration, loyalty, and trust among staff members, as each individual understands their administrative and organizational rights and responsibilities.

Conclusion: The rise of personnel managers has had a profound impact on the culture of organizations. Through their ongoing collaboration with managers and employees, personnel managers have developed a set of policies and processes that promote trust, respect, and engagement among all staff members. Moreover, personnel managers are now seen as critical advisors, aiding management in decision-making.
A rising workforce is a powerful force that can reshape the economic fabric of society.

personnel managers
employee relations
Human Resources
personnel
Tayloristic approach
organizational development
training and career counseling
recruitment and selection
orientation
industrial relations
employee motivation
workplace safety
compensation and benefits
staff recognition
talent development
policies
processes
trust
respect
engagement
Yu Payne
Blogger
Yu Payne is an American professional who believes in personal growth. After studying The Art & Science of Transformational from Erickson College, she continuously seeks out new trainings to improve herself. She has been producing content for the IIENSTITU Blog since 2021. Her work has been featured on various platforms, including but not limited to: ThriveGlobal, TinyBuddha, and Addicted2Success. Yu aspires to help others reach their full potential and live their best lives.
Related Posts
Our team of experts is passionate about providing accurate and helpful information, and we're always updating our blog with new articles and videos. So if you're looking for reliable advice and informative content, be sure to check out our blog today.