Human Resources Management
HR Development and Data Privacy
14 July 2023
| Aspect | Description | Impact |
| --- | --- | --- |
| HR Development | Involves setting up training sessions, encouraging talent, overseeing performance, and creating a learning-focused environment. | Boosts employees' performance, increases job satisfaction and reduces employee turnover. |
| Case Study: Techie Inc. | Implemented a program that included mentorship scheme, regular training sessions, performance management system, defined career paths, and celebrating continuous learning. | Reduced employee attrition and increased employee satisfaction. |
| Data Privacy | Consists of rules around collecting, using, and protecting personal data. | Maintains individuals' trust and compliance with the law. |
| Case Study: E-Shop | Updated their privacy policy, ensured contracts with third-party vendors included strict data privacy rules, invested in encryption technologies, hired a Data Privacy Officer, and conducted regular employee training on data privacy. | Restored customers' trust and established a strong data privacy culture. |
| Data Privacy in HR | HR handles sensitive employee data, hence strong data protection is essential. | Helps ensure legal compliance and maintains employees' trust. |
| Knowledge of Privacy Regulations | Being well-versed with privacy laws and regulations like GDPR, CCPA etc. | Promotes compliance with local and international data privacy laws. |
| Risk Assessment Skills | Ability to identify potential privacy risks and adopt measures to avoid them. | Prevents breaches and enhances data safety. |
| Data Management | Involves the proper collection, storage, and use of data respecting privacy laws and individuals' rights. | Prevents misuse of data and ensures lawful and ethical handling of personal info. |
| Creating a privacy-conscious culture | Training staff on privacy practices, promoting open and honest communication about privacy. | Encourages employees to respect others' privacy and adhere to established data privacy practices. |
| Intersection of HR Development and Data Privacy | In the digital age, HR needs to manage both personnel development and data privacy. | Leads to a balanced HR approach that values employee growth on one hand and privacy on the other. |
Think of HR Development and data privacy as two friends who've become super close in this digital age. But how are they linked? How do HR folks stay updated on personal data safety while growing their careers? Let's find out.
Getting to Know HR Development
What's HR Development All About?
HR Development is like the cheerleader for a talented and effective workforce. It's about setting up training sessions, encouraging talent, overseeing performance, and creating an atmosphere that screams 'Never Stop Learning!'
A Case Study of Techie Inc.
Let's talk about Techie Inc., a medium-sized tech company, losing its engineers at a steady pace. To find out why, the HR team started doing exit interviews and anonymous surveys.
It turned out the people leaving felt they weren't given enough chances to grow and learn new skills. The workplace was great, the pay was good, but the lack of growth was a deal-breaker.
So, the HR team decided to go all-in on HR development. They came up with a program including:
A mentorship scheme, where each new engineer is paired with a senior one for guidance and support.

Regular training sessions to learn about the latest technologies and best practices.

A performance management system to assess performance and areas to improve.

Defined career paths so everyone knows what they need to do to move up.

Celebrating and rewarding continuous learning and development.
After a year, fewer people were leaving Techie Inc., and employee satisfaction was up. So, HR development helped keep employees and created a learning-focused environment.
Why Does HR Development Matter?
Here's why: Businesses do well when their people do well. With a good HR development plan, you'll see better performance from employees, more job satisfaction, and fewer people leaving. It's about helping your people be the best they can be.
Data Privacy in HR
What's Data Privacy?
Data privacy is about the rules around collecting, using, and protecting personal data. It's the game plan for making sure personal information is dealt with safely and properly.
A Case Study of E-Shop
Let's talk about E-Shop, an online store with a lot of customers. They collect loads of customer data like names, addresses, contact details, and payment info.
E-Shop discovered that a third-party vendor was selling customer data to other companies. This discovery caused a significant loss of trust with their customers.
To fix this, E-Shop decided to invest in data privacy. Here's what they did:
They updated their privacy policy. The purpose was to make it crystal clear. They wanted to clearly state what customer data they collect, how they use it, and how they protect it.

Made sure their contracts with third-party vendors included strict data privacy rules.

Invested in the latest encryption technologies to protect customer data.

Hired a Data Privacy Officer to make sure all data practices followed privacy laws and regulations.

Trained their employees regularly on the importance of data privacy.
By doing this, E-Shop won back their customers' trust. They're proud of their data privacy practices and check regularly to keep it up-to-date.
Why Does Data Privacy Matter in HR?
In HR, data privacy is a big deal. HR teams handle a lot of personal info about employees, like addresses, health records, and salary details. So strong data protection isn't just about following the law; it's about keeping employees' trust.
Where HR Development and Data Privacy Meet
What HR Skills Are Needed for Data Privacy?
In today's digital world, HR professionals need to have their finger on the pulse when it comes to data privacy. So, what skills are we talking about here?
Knowledge of Privacy Regulations: First things first, HR folks need to know their way around privacy laws and regulations. These rules can change depending on where you are and what industry you're in. So, an HR pro needs to know about things like the General Data Protection Regulation (GDPR) in Europe, the California Consumer Privacy Act (CCPA) in the U.S., or other local data protection laws.

Risk Assessment Skills: Next up is risk assessment. This means being able to identify potential privacy risks and knowing how to avoid them. If you're storing employee data in a new database, you need to identify potential security risks. Make sure these risks are dealt with before anything goes wrong.

Data Management: Data management is all about how you collect, store, and use data. It's crucial that HR professionals know how to handle data properly, whether that's collecting only the data they need, storing it securely, or using it in a way that respects privacy laws and the rights of the individuals involved.

To build a privacy-conscious culture, HR professionals need to know how to create a culture that respects privacy. This is the last point, but it is also the most important one.

This means training staff on privacy practices, promoting open and honest communication about data privacy, and making sure everyone in the organization understands the importance of protecting personal data.
These skills can take time to develop, but they're well worth the effort. A solid understanding of data privacy can make an HR professional a real asset to their organization, helping to protect both the company and its employees.
How Does Data Privacy Affect HR Development?
Data privacy is changing how HR works. It affects how employee data is collected when hiring, stored during employment, and deleted after they leave. HR development programs need to make data privacy a top priority.
And there's more to explore – HR certification in data privacy, understanding privacy regulations, training in data privacy, and ensuring data protection and confidentiality in HR, and how all these influence HR career growth. But those are stories for another time.
Are you ready to take your HR skills to the next level? Our HR Development course is designed just for that. Now, more than ever, HR professionals need to be adept in data privacy, and this course offers a comprehensive program to help you navigate this vital aspect.
From understanding complex privacy regulations to conducting risk assessments, mastering data management, and building a privacy-conscious culture, this course covers it all. Our aim? To empower you with the knowledge and tools you need to ensure personal data security in your organization.
Don't miss this opportunity to boost your HR skills. Our HR Training is waiting to take you on a journey of professional growth and enlightenment in the field of data privacy. Join us and become a part of the proactive HR professionals making a difference in the digital era.
Ready to take a step towards a rewarding HR career that balances HR development and data privacy seamlessly? Sign up today! Your future self will thank you.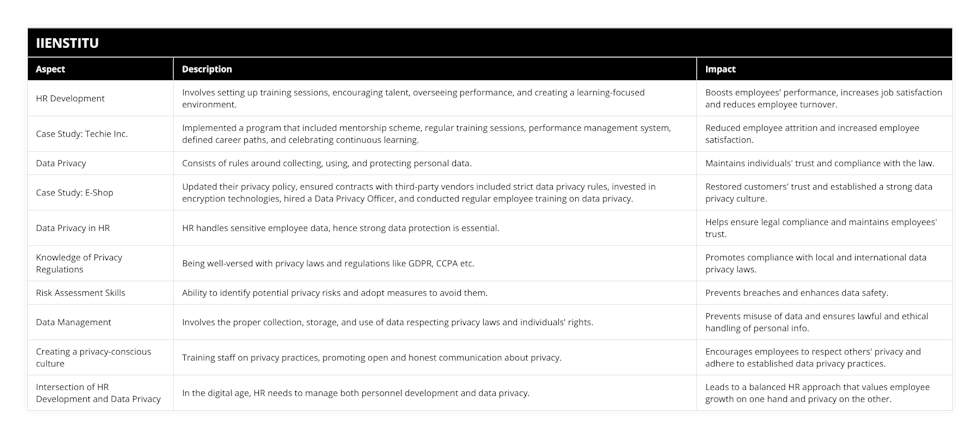 HR Development
data privacy
training programs
talent nurturing
performance management
continual learning
workforce growth
personal data
data security
professional growth
career advancement
workplace environment
mentorship program
regular training sessions
performance management system
career paths
rewarding learning
employee satisfaction
data protection
third-party vendors
Yu Payne
Blogger
Yu Payne is an American professional who believes in personal growth. After studying The Art & Science of Transformational from Erickson College, she continuously seeks out new trainings to improve herself. She has been producing content for the IIENSTITU Blog since 2021. Her work has been featured on various platforms, including but not limited to: ThriveGlobal, TinyBuddha, and Addicted2Success. Yu aspires to help others reach their full potential and live their best lives.
Related Posts
Our team of experts is passionate about providing accurate and helpful information, and we're always updating our blog with new articles and videos. So if you're looking for reliable advice and informative content, be sure to check out our blog today.