Human Resources Management
Virtual Management: Adapting to the Telecommuting Revolution
21 February 2023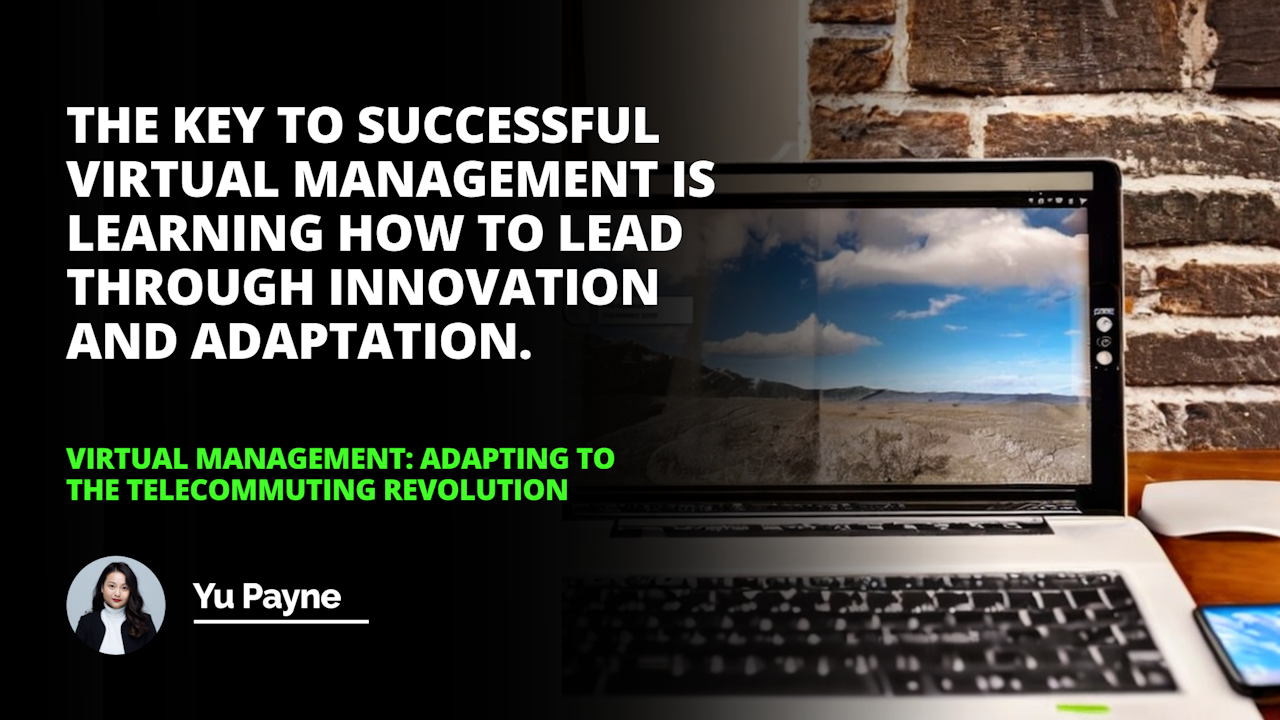 | Challenges of Virtual Management | Strategies for Virtual Management | Benefits of Effective Virtual Management |
| --- | --- | --- |
| Time Management | Setting and monitoring clear expectations | Efficient Utilization of work hours and meeting deadlines |
| Communication Difficulties | Establishing effective collaboration strategies and communication systems | Enhanced team collaboration and seamless workflow |
| Motivation Issues | Active engagement, providing feedback and support | Improved employee engagement and productivity |
| Cultural differences | Understanding cultural norms, promoting inclusivity | Better mutual understanding, improved team cohesion |
| Language Barrier | Implementing multilingual communication tools | Smoother communication across diverse team members |
| Lack of necessary technology | Investing in the right technology solutions | Improved efficiency and remote work experience |
| Isolation and lack of connection | Conducting regular team building activities | Enhanced connection and collaboration within the team |
| Unorganized work patterns | Establishing guidelines for working remotely | Clarified expectations and more structured working patterns |
| Inability to monitor performance effectively | Utilizing performance tracking tools and providing regular feedback | Transparent performance evaluation and improvement |
| Unclear roles and responsibilities | Defining clear roles and responsibilities | Clear understanding of individual's work scope, avoiding conflicts |
The Challenges of Virtual Management

Strategies For Virtual Management
The digital age's technological environment has drastically changed how businesses operate. As homeowners and business owners shift to digital-based operations and telecommuting, the need for effective virtual management has become increasingly apparent. Virtual management effectively leads and supervises a dispersed team while they work remotely.
This revolutionary shift has the potential to unlock a vast range of positive benefits. From improved flexibility to enhanced productivity and decreased overhead costs, telecommuting brings an array of potential advantages that organizations must learn to leverage effectively.
However, virtual management is not without its own unique set of challenges. From difficulties in maintaining productivity to possible communication issues, several potential pitfalls must be considered as businesses adapt to the telecommuting revolution. Fortunately, a range of strategies can be employed to counter these issues and ensure successful virtual management.
The Challenges of Virtual Management
Time Management - Time management is a critical challenge for any organization relying on telecommuting and virtual management. Employees may become lax in managing their work hours and deadlines without a traditional clock-in-clock-out system. Virtual management requires setting and monitoring clear expectations and providing the necessary tools and instruction for employees to succeed.
Related Course: Course On Time Management
Communication Difficulties - Communication between remote teams can also be problematic. The language barrier and cultural differences can make it difficult for virtual teams to work together effectively. Virtual managers must ensure effective collaboration strategies and communication systems are in place to mitigate these issues. This may include instant messaging or video conferencing software and clear guidelines for communication between teams.
Motivation Issues - Virtual teams may also suffer from low motivation. Many remote employees may struggle to remain engaged and motivated while working from home without face-to-face contact and meaningful connection. Therefore, virtual managers must ensure that they are actively engaging their team, providing feedback and support, and maintaining an open dialogue.
Strategies For Successful Virtual Management
Technology Solutions - Organizations should first invest in the right technology to ensure successful virtual management. Cloud Software, collaboration tools, communication systems, and other tools can significantly enhance the remote work experience and improve efficiency. Additionally, it is essential to ensure that all virtual team members have access to and are properly trained on this technology.
Team Building Activities - Regular team building activities are essential for remote teams, as it encourages connection and collaboration between members of the dispersed team. This can include virtual happy hours, online puzzles, or other activities specifically designed for remote teams. Furthermore, managers must provide ongoing feedback and reassurance to their virtual team to increase morale and ensure everyone's work is recognized.
Guidelines For Working Remotely - Establishing and enforcing clear guidelines for working remotely can also be an effective tool for virtual management. This includes guidelines around working hours, deadlines, communication, reporting, and all other tasks necessary for the team to succeed. Establishing these guidelines also ensures that all members are on the same page and can clarify what is expected of everyone.

Conclusion: The telecommuting revolution opens up many opportunities for organizations willing to adapt to this new way of working. From improved flexibility to enhanced productivity and decreased overhead costs, the potential advantages of virtual management are clear.
However, virtual management comes with its unique set of challenges that can be successfully addressed by implementing various strategies and technology solutions. With the right resources, organizations can take their teams to the next level and experience increased efficiency, productivity, and collaboration.
The key to successful virtual management is learning to lead through innovation and adaptation.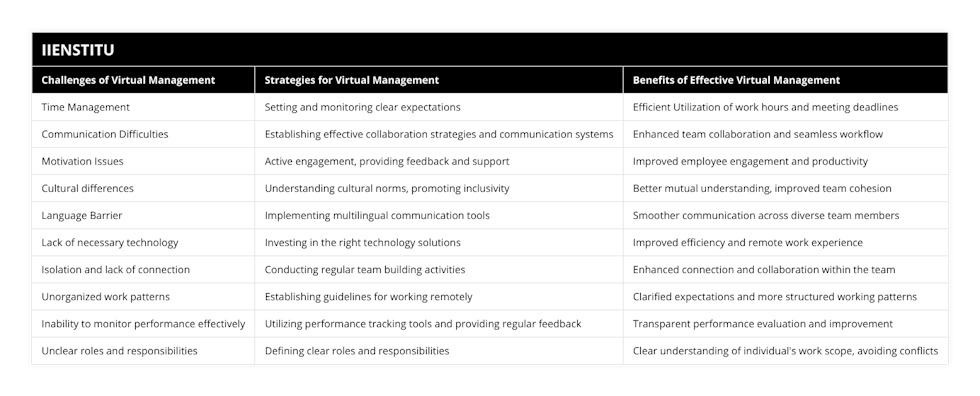 virtual management
telecommuting
flexibility
productivity
overhead costs
time management
communication difficulties
motivation
cloud software
collaboration tools
communication systems
team building activities
working hours
deadlines
reporting
collaboration
technology solutions
Yu Payne
Blogger
Yu Payne is an American professional who believes in personal growth. After studying The Art & Science of Transformational from Erickson College, she continuously seeks out new trainings to improve herself. She has been producing content for the IIENSTITU Blog since 2021. Her work has been featured on various platforms, including but not limited to: ThriveGlobal, TinyBuddha, and Addicted2Success. Yu aspires to help others reach their full potential and live their best lives.
Related Posts
Our team of experts is passionate about providing accurate and helpful information, and we're always updating our blog with new articles and videos. So if you're looking for reliable advice and informative content, be sure to check out our blog today.