Interview Questions
Interview Question: How Do You Teach Problem Solving?
25 August 2023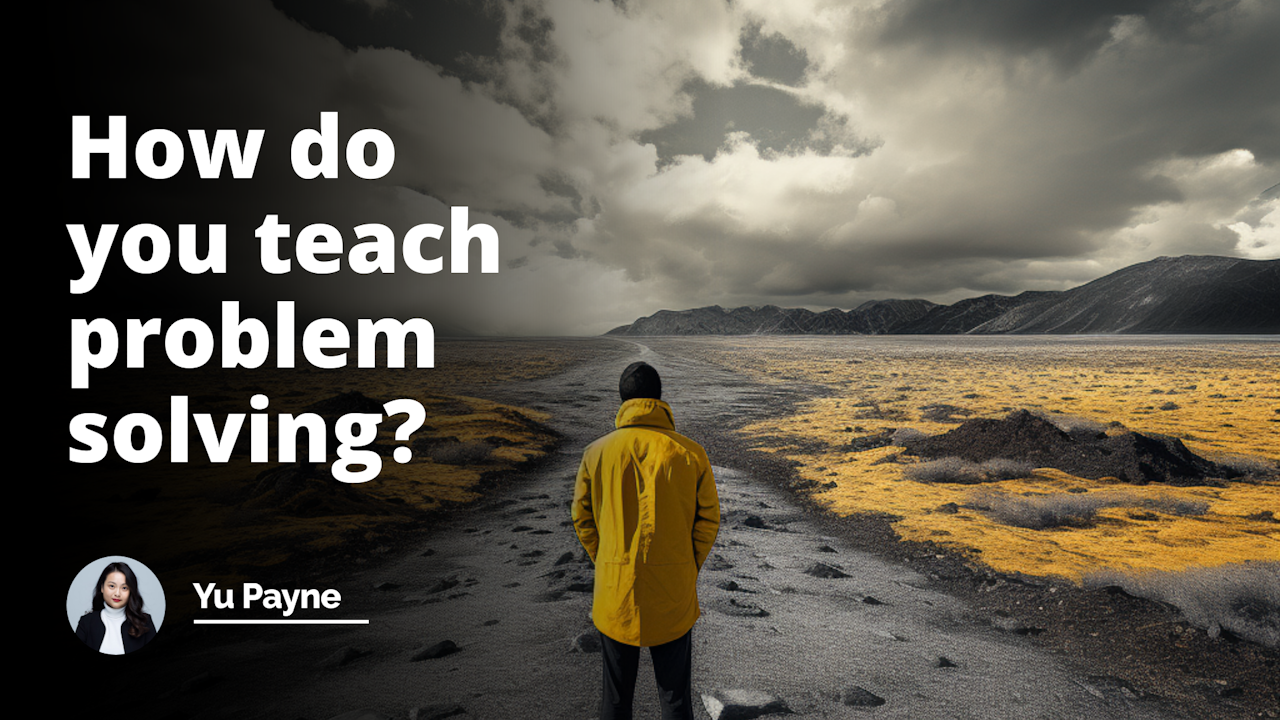 | Aspect | Details | Examples |
| --- | --- | --- |
| Why Problem Solving is Asked | To assess a candidate's ability to solve problems and to teach others how to do the same. | Understanding complex problems, deriving solutions, leading team through problem-solving process. |
| Purpose of the Question | To test both critical thinking and communication skills as part of problem solving. | Ability to explain parallel problem-solving methods, use of concise language. |
| Interview Level | Mid to senior-level job interviews, where problem-solving and leadership qualities are significant. | Managerial roles, project management, senior technical roles. |
| Expected Candidate Response | Demonstration of expertise in problem-solving methodologies and aptitude in teaching. | Clear assessment and definition of problem, utilization of systematic models, explanation of decision-making steps. |
| Structured Approach | Candidates should showcase knowledgeable of systematic approaches to problem solving. | '5 Whys' method, 'SARA' model, logical deduction, clear communication. |
| Use of Real-Life Examples | Candidates are encouraged to share past instance where they solved complex problems. | Case studies, personal experiences, professional references. |
| Collaborative Problem-Solving | Candidates need to highlight the importance of teamwork and inclusivity in problem solving. | Group brainstorming, facilitating open discussions, fostering creativity. |
| Adaptability and Flexibility | Candidates should show their ability to adjust to different problem contexts. | Different approaches for varying problem scenarios, teaching others to adapt. |
| Role-Specific Responses | Candidate responses should align with the job requirements and relevant industry. | Industry-specific problem-solving methods, role-specific experiences. |
| Communication Clarity | Candidates must demonstrate the ability to simplify complex problems. | Simplicity in communication, explaining concepts in layman's terms. |
Problem solving is an essential skill that is highly sought after by employers across industries. The ability to identify, analyze, and find effective solutions to complex problems is not only valuable in the professional realm but also in personal life. Given its significance, it is no wonder that this question often pops up in job interviews.
In this article, we will explore why this interview question is asked, the purpose it serves, the interview level at which it is commonly posed, the expected answer from candidates, possible answers, and key considerations when responding.
Why is this interview question asked?
The question 'How do you teach problem solving?' is frequently asked by employers to gain insights into a candidate's problem-solving skills and their ability to impart knowledge to others. Employers want to assess if a potential hire possesses a strong problem-solving mindset and can effectively teach others how to approach and solve problems.
The purpose of the question:
The purpose of this question is twofold.
Firstly, it enables the interviewer to gauge the candidate's ability to think critically and analytically. Problem-solving skills are valuable assets in a variety of work settings, and employers are keen to identify individuals who can tackle challenges and find innovative solutions.
Secondly, the question helps assess the candidate's communication and teaching abilities, as effective problem solving often involves conveying complex ideas and strategies in a clear and understandable manner.
At what interview level is this question asked?
The question 'How do you teach problem solving?' is generally asked in mid to senior-level job interviews where problem-solving skills and the ability to guide and mentor others are crucial. Employers at this level expect candidates to have a solid grasp of problem-solving methodologies and the aptitude to teach and guide junior team members.
What kind of answer is expected from the candidate?
Employers are looking for answers that showcase a candidate's expertise in problem solving and their ability to effectively teach others. The desired response should emphasize a systematic and logical approach to problem solving, demonstrating an understanding of different problem-solving models and methodologies. Additionally, candidates should highlight their communication skills, explaining how they break down complex problems and guide others through the step-by-step process of finding solutions.
Possible answers:
1. Emphasizing a structured approach: A candidate could explain their preferred problem-solving model, such as the '5 Whys' or the 'SARA' method. They can discuss the importance of gathering information, defining the problem, generating potential solutions, evaluating options, and implementing the best course of action. This answer should highlight their ability to teach others the importance of a systematic approach.
2. Utilizing real-life examples: Candidates can share anecdotes from their own experiences where they successfully solved complex problems. By narrating the story, they can demonstrate their problem-solving skills and guide interviewers through their decision-making process. This approach showcases their ability to make abstract concepts relatable and understandable to others.
3. Highlighting collaborative problem-solving: Candidates can emphasize the importance of teamwork and collaboration in problem solving. They can explain how they have encouraged group brainstorming sessions and facilitated open discussions to foster creativity and collective problem solving. This answer portrays their ability to create an inclusive and collaborative problem-solving environment.
Key considerations when answering:
1. Tailor the answer to the specific job role: It is important for candidates to align their response with the requirements of the position they are interviewing for. Candidates should highlight problem-solving techniques and teaching methods relevant to the industry or job role they are applying for.
2. Discuss adaptability and flexibility: Problem-solving approaches may vary depending on the nature of the problem and the context in which it arises. Candidates should emphasize their ability to adapt their problem-solving strategies and teach others to do the same. Employers value individuals who can think on their feet and adjust their methods when needed.
3. Communicate with clarity and simplicity: Effective problem solvers can break down complex problems into simpler components and convey their thought processes in a clear and concise manner. Candidates should showcase their communication skills by explaining problem-solving concepts using everyday language, ensuring the interviewer can understand and follow their approach.
The question 'How do you teach problem solving?' is asked in job interviews to gauge a candidate's problem-solving and teaching abilities. By providing a structured and logical answer, highlighting relevant real-life examples, and emphasizing collaboration, candidates can impress employers and demonstrate their expertise in problem solving.
It is essential to tailor the response to the specific job role and communicate with clarity and simplicity. By doing so, candidates can stand out as effective problem solvers and educators, offering valuable skills to potential employers.
Strategies and techniques for problem solving
| Strategies | Techniques | Example |
| --- | --- | --- |
| Identify the problem | Define the problem clearly and understand its context | Analyzing customer complaints to determine the root cause of product issues |
| Gather information | Research, observe, interview, or collect data | Conducting surveys or interviewing experts to gather insights |
| Generate possible solutions | Brainstorming, mind mapping, or using creativity techniques | Creating a list of potential marketing strategies for a new product launch |
| Evaluate and select the best solution | Weighing pros and cons, conducting cost-benefit analysis, or using decision matrices | Comparing different vendor proposals to choose the most suitable one |
| Implement and assess the solution | Developing an action plan, testing the solution, and monitoring progress | Rolling out a new IT system and monitoring its performance and user feedback |
| Reflect and learn from the experience | Evaluating outcomes, identifying lessons learned, and making improvements | Conducting a post-project review and documenting recommendations |
Importance of critical thinking in problem solving
| Importance of Critical Thinking | Importance of Problem Solving |
| --- | --- |
| Enhances decision-making skills | Critical thinking enables individuals to effectively analyze problems, evaluate options, and make informed decisions. |
| Promotes creative and innovative solutions | Critical thinking helps individuals think outside the box, explore alternative perspectives, and come up with unique solutions to complex problems. |
| Improves analytical and logical reasoning | Critical thinking enhances individuals' ability to analyze information, identify patterns, and apply logical reasoning to solve problems effectively. |
| Reduces the influence of cognitive biases | Critical thinking helps individuals recognize and overcome cognitive biases, allowing for more objective problem-solving. |
Practical applications of problem solving skills
| Practical Application | Problem Solving Skill Used | Outcome |
| --- | --- | --- |
| Solving a customer complaint | Active listening and empathy | Resolving the issue and improving customer satisfaction |
| Troubleshooting a technical problem | Analytical thinking and problem analysis | Identifying and resolving the root cause of the issue |
| Planning and executing a project | Critical thinking and decision making | Efficient use of resources and successful project completion |
| Resolving conflicts in a team | Negotiation and collaboration | Improving teamwork and finding a win-win solution |
Similar interview questions:
1. What methods or strategies do you use to teach problem solving?
2. In what ways do you approach teaching problem-solving skills?
3. Can you share some effective techniques for teaching problem solving?
4. How do you facilitate problem-solving discussions in the classroom?
5. What steps do you take to help students improve their problem-solving abilities?
6. What resources or tools do you utilize to teach problem solving?
7. Share an example of a specific problem-solving activity you use in your teaching.
8. How do you encourage critical thinking during problem-solving lessons?
9. Describe your approach to assessing students' problem-solving skills.
10. What role does collaboration play in your problem-solving teaching methods?
11. How do you differentiate instruction when teaching problem-solving to students with different abilities?
12. Can you explain your rationale behind the sequence in which you teach problem-solving skills?
13. In what ways do you incorporate real-life problems into your teaching of problem solving?
14. How do you scaffold problem-solving lessons to support students' learning?
15. Share a challenge or obstacle you have encountered while teaching problem-solving and how you overcame it.
16. How do you integrate technology into problem-solving instruction?
17. Can you explain the role of metacognition in problem solving and how you foster it in your students?
18. Describe a successful problem-solving case study or project you have implemented in your teaching.
19. How do you promote creativity and innovation in problem-solving lessons?
20. What advice or tips do you have for other teachers who want to improve their problem-solving instruction?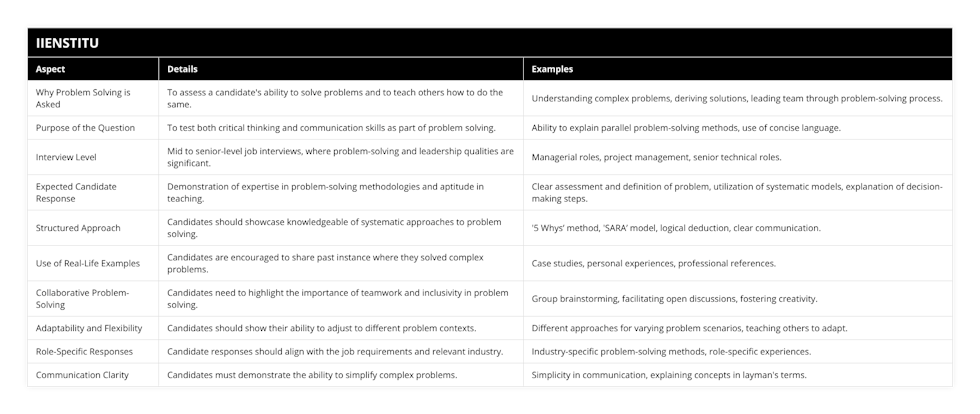 How do you teach problem solving?
how do you teach problem solving
how do you teach problem solving?
Yu Payne
Blogger
Yu Payne is an American professional who believes in personal growth. After studying The Art & Science of Transformational from Erickson College, she continuously seeks out new trainings to improve herself. She has been producing content for the IIENSTITU Blog since 2021. Her work has been featured on various platforms, including but not limited to: ThriveGlobal, TinyBuddha, and Addicted2Success. Yu aspires to help others reach their full potential and live their best lives.
Related Posts
Our team of experts is passionate about providing accurate and helpful information, and we're always updating our blog with new articles and videos. So if you're looking for reliable advice and informative content, be sure to check out our blog today.