Interview Questions
Interview Question: Communicate Bad News
14 September 2023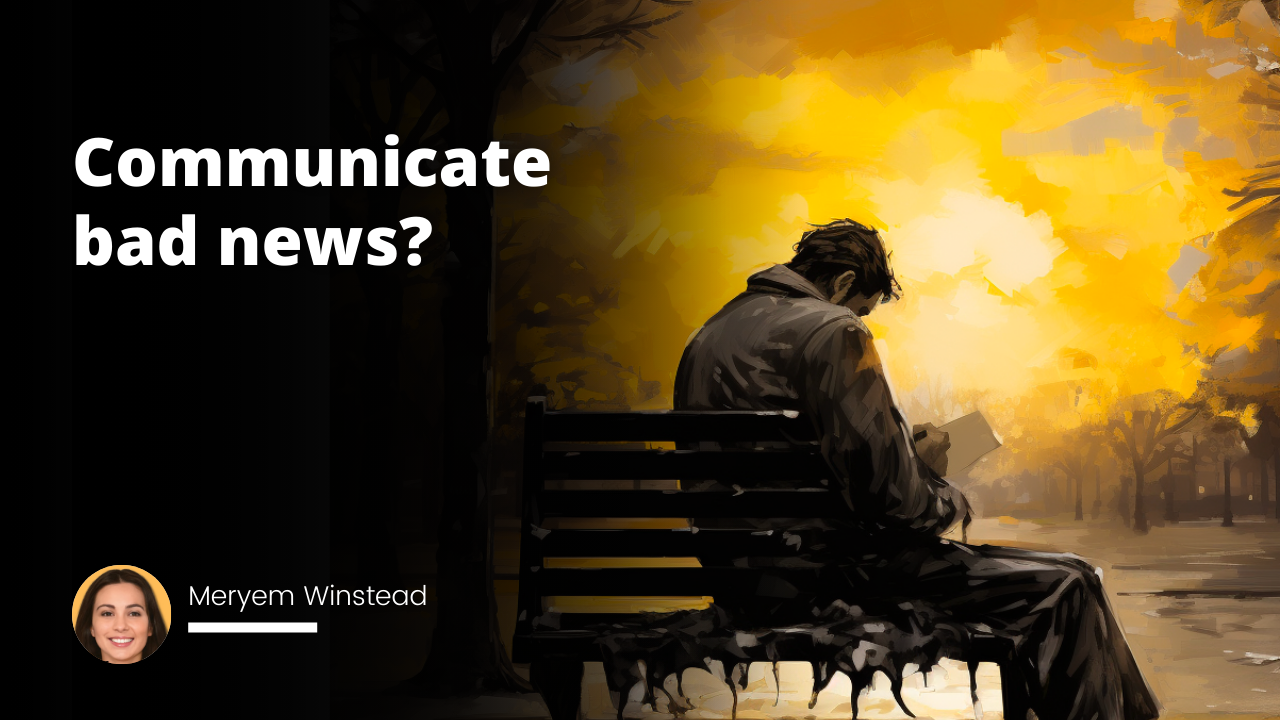 | Topic | Explanation | Sample Question or Strategy |
| --- | --- | --- |
| Importance of 'Communicate Bad News' | This interview query probes a candidate's ability to deliver unfavorable information while maintaining professionalism and tact. | How can you effectively convey unfortunate news? |
| Purpose of the Question | The intention is to assess a candidate's diplomacy and communication style while discussing negative events without causing unnecessary conflict. | What approach would you take to share upsetting information? |
| Level of Interview | This question is usually asked in mid to senior-level positions, but could also pop up in entry-level roles like public relations and customer service. | Can you provide an example of a situation where you had to communicate disappointing news? |
| Expected Answer | A good response should demonstrate empathy, responsibility, effective communication principles, and an ability for straightforward and solution-oriented dialogue. | If you had to inform someone about some negative news, how would you go about it? |
| Preparing the Answer | Prepare by reflecting on past experiences where you've had to deliver negative news and draw lessons from them. | What do you think is the best method to relay bad news? |
| Tips for Delivering Bad News | Aspects to consider when delivering bad news include professionalism, empathy, use of clear and direct language and ending on a positive note. | What considerations should be kept in mind while communicating unfortunate updates? |
| Value of this Skill | Effective communication of bad news speaks volumes about a person's leadership capabilities and can set a candidate apart from the competition. | How would you handle the task of giving someone bad news? |
| Approach to Negative Feedback | Highlight areas needing improvement while also pointing out areas of excellence and providing a plan for development. | In your opinion, what is the most compassionate way of delivering negative news? |
| Importance of the Truth | Shakespeare rightly noted that 'The truth must be faced.' So, being able to communicate bad news effectively is a critical business skill. | Provide an example where you had to face a difficult truth in the workplace. |
| Acquisition of Skills | Having insights on addressing this common interview question brings you a step closer to performing well in your interview. | Describe a situation where you improved your skill at delivering bad news. |
Getting to grips with how to communicate bad news can be a daunting task, particularly in a corporate setting, and it becomes even more challenging when you're faced with potentially damaging a business relationship.
It's a question that arises in business interviews, geared towards gauging your communication skills. So, how are you meant to handle it, and what are interviewers seeking?
Why Is This Interview Question Asked: Communicate Bad News
"Communicate bad news" This query probes your ability to use tact and maintain professional decorum even while delivering unfavorable information.
Individuals who can convey negative business messages effectively demonstrate superior interpersonal skills and emotional intelligence, which are becoming increasingly valuable in today's business landscape.
Recruiters pay attention to this because it speaks volumes about your leadership capabilities and your potential for roles demanding high-level interpersonal interaction.
Related Course: Leadership Course Online
The Purpose of the Question
The essence of this inquiry is to assess your diplomacy and communication style. The interviewer seeks to test if you can remain composed and respectful while discussing negative events or issues and present your thoughts efficiently without causing unnecessary strife.
Delivering negative business messages in business communication is occasionally essential, and handling it delicately reduces the chances of adverse fallout such as strained business relationships or low morale among employees. Mastery in this skill can certainly give you an edge over other candidates in an interview.
At What Interview Level is It Asked?
This question is common in mid-level to senior-level positions but can also pop up in entry-level roles requiring high levels of communication, such as customer service or public relations.
The aim is to evaluate the candidate's capacity for conflict resolution, decision-making, and leadership - vital attributes for any role involving oversight or liaison.
What Kind of Answer Is Expected from the Candidate?
Interviewers look for responses that demonstrate empathy, responsibility, and a clear understanding of effective communication principles.
Your answer should also exhibit your capacity to engage in empathetic, straightforward, and solution-oriented dialogue. Interviewers value answers that depict the candidate's ability to foster open communication channels, even when the news is not good.
Possible Answers to Consider
Crafting a convincing sample response to this question demands some preparation. Reflect on your past experiences when you've had to express negative news, how you managed it, and the lessons you gleaned from it. A structured answer like the following can be well-received:
"In my previous role, I was often tasked with delivering performance reviews. Some were positive, some were not so positive. In instances where I had to present negative feedback, I ensured to adopt a supportive and clear tone. I underlined the areas that needed improvement, while also highlighting areas they were excelling. I also provided them with a well-thought-out plan for development and was always ready to clarify any doubts or answer questions they had."
What to Consider When Answering
Nailing your delivery of bad news messages in business communication involves catering to the recipient's emotions and perspective.
You should make sure to remain professional, humanize your approach, use clear and direct language. Also, take care to end the conversation with optimism or positive reinforcement.
Commanding the ability to relay negative message in business communication can be a testament to your leadership skills and personal qualities.
It's one of the reasons why negative business message examples often form part of the interview process.
In conclusion, as Shakespeare rightly noted, "The truth must be faced." No business is void of bad news.
The ability to communicate bad news effectively is a valuable skill that leaders and indeed, all professionals should master. Now that you're armed with insights on addressing this common interview question, you're one step closer to acing your job interview.
Effective Strategies for Communicating Bad News in Workplace
| Strategy | Description | Example |
| --- | --- | --- |
| Be direct | Deliver the bad news in a clear and concise manner | I'm sorry, but your request for a raise has been denied |
| Provide reasons | Offer explanations or justifications for the bad news | Unfortunately, your project proposal did not meet the required criteria |
| Offer solutions | Suggest alternatives or possible solutions to mitigate the impact of the bad news | Although we can't promote you at this time, we can offer additional training and mentorship opportunities |
| Show empathy | Demonstrate understanding and empathy towards the recipient's feelings | I understand that this news may be disappointing for you, and I want you to know that we value your contributions |
| Be available for questions | Encourage the recipient to ask questions or seek clarification | Please feel free to contact me if you have any questions or concerns about the decision |
| Follow up | Check in with the recipient after delivering the bad news to offer support or provide additional information | I wanted to follow up with you to see if there is anything we can do to assist you during this transition |
Example Table of Personal Information about Delivering Bad News
| Name | Age | City |
| --- | --- | --- |
| John | 25 | New York |
| Emily | 30 | London |
| Michael | 35 | Tokyo |
| Sophia | 28 | Paris |
| Daniel | 32 | Sydney |
| Olivia | 27 | Los Angeles |
Tips and Techniques for Delivering Bad News to Clients
| Tip | Technique | Explanation |
| --- | --- | --- |
| Be empathetic | Express understanding and compassion | Acknowledge the emotional impact of the bad news and show sincere empathy towards the client's feelings |
| Be clear and concise | Use simple and direct language | Communicate the bad news in a straightforward manner, avoiding any ambiguity or unnecessary details |
| Offer solutions | Present alternative options or solutions | Provide the client with potential alternatives or strategies to address the situation, showing your commitment to finding a resolution |
| Focus on facts | Present objective information | Provide the client with accurate and reliable information, focusing on facts rather than opinions, to ensure transparency and trust |
| Listen actively | Allow the client to express their concerns or questions | Give the client an opportunity to share their thoughts, actively listen without interruption, and address any concerns or questions they may have |
| Follow-up promptly | Provide timely updates or further information | Ensure regular communication with the client, keeping them informed about any developments or additional details related to the bad news |
Similar interview questions:
How can you effectively convey unfortunate news?

What strategies can you use to deliver bad news?

What approach would you take to share upsetting information?

Can you provide an example of a situation where you had to communicate disappointing news?

If you had to inform someone about some negative news, how would you go about it?

What do you think is the best method to relay bad news?

What considerations should be kept in mind while communicating unfortunate updates?

How would you handle the task of giving someone bad news?

In your opinion, what is the most compassionate way of delivering sorrowful news?

Are there any specific techniques to make conveying bad news less daunting?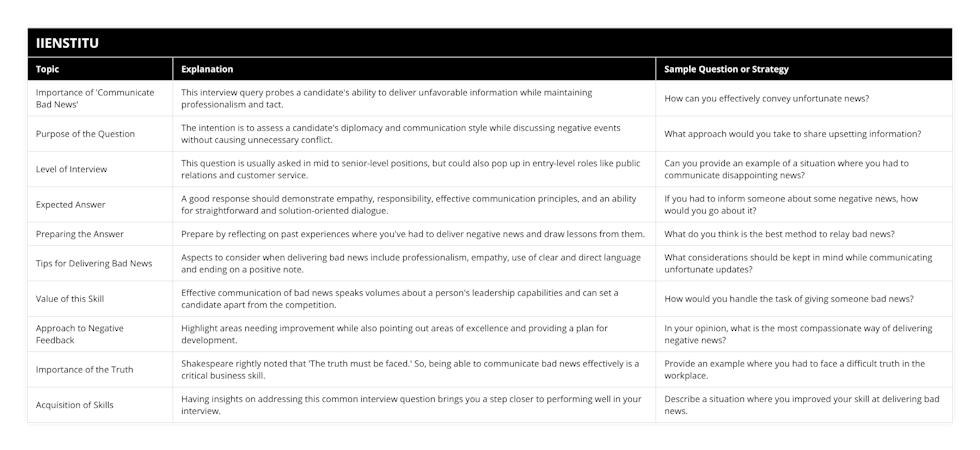 Communicate bad news?
communicate bad news
communicate bad news?
negative messages in business communication examples
bad news messages in business communication pdf
negative message in business communication
writing negative messages in business communication
negative business message
negative business message examples
Yu Payne
Blogger
Yu Payne is an American professional who believes in personal growth. After studying The Art & Science of Transformational from Erickson College, she continuously seeks out new trainings to improve herself. She has been producing content for the IIENSTITU Blog since 2021. Her work has been featured on various platforms, including but not limited to: ThriveGlobal, TinyBuddha, and Addicted2Success. Yu aspires to help others reach their full potential and live their best lives.
Related Posts
Our team of experts is passionate about providing accurate and helpful information, and we're always updating our blog with new articles and videos. So if you're looking for reliable advice and informative content, be sure to check out our blog today.