Interview Questions
Interview Question: Which Tools Aid Your Problem Solving?
25 August 2023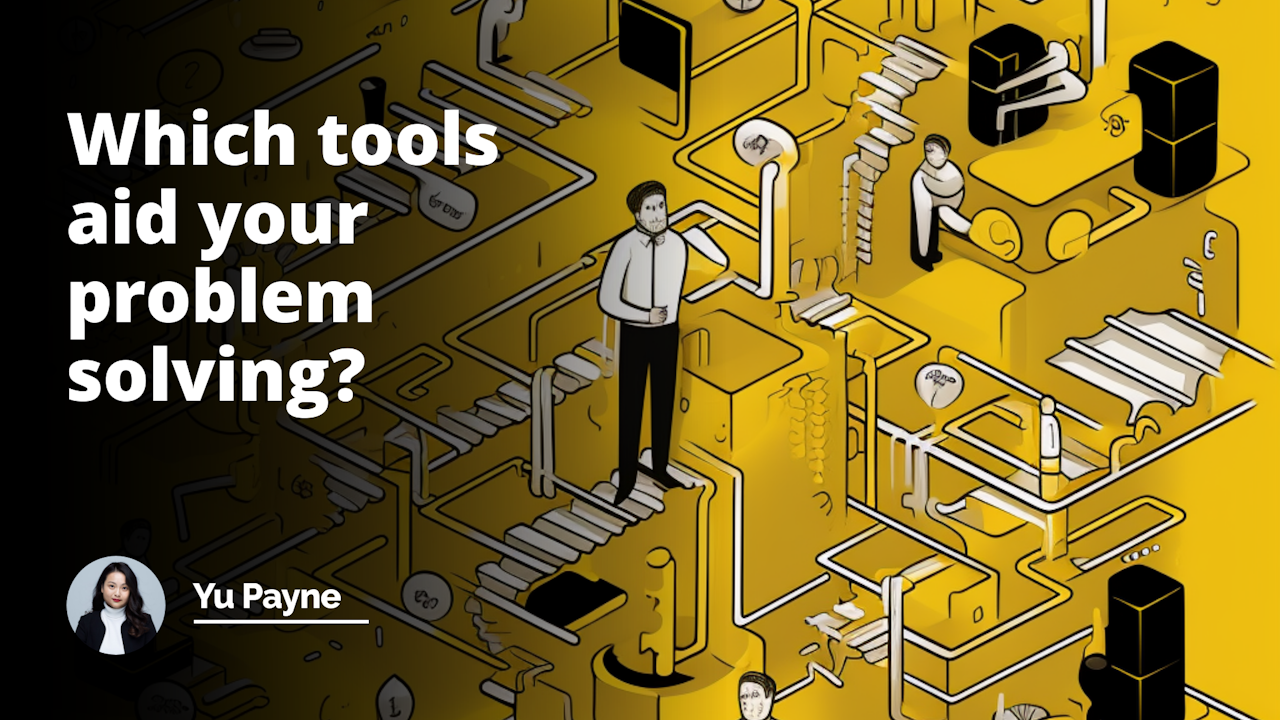 | Problem-Solving Tools | Benefits | Examples of Use |
| --- | --- | --- |
| Collaborative Tools | Facilitate teamwork and information dissemination. | Project management platforms, virtual whiteboards, communication apps. |
| Data Analysis Tools | Support evidence-based approach and provide insightful information. | Spreadsheets, data visualization software, statistical analysis software. |
| Mind Mapping Tools | Organize thoughts, highlight patterns, stimulate creative thinking. | Mind mapping software like XMind and MindMeister. |
| Decision-making Frameworks | Provide structured evaluation of options and informed decision-making. | SWOT analysis, PESTLE analysis, Impact-Effort Matrix. |
| Critical Thinking Tools | Encourage critical analysis, challenge assumptions, provide comprehensive solutions. | 5 Whys technique, root cause analysis, brainstorming methods. |
| Brainstorming Techniques | Encourage individual thought and creativity in generating solution ideas. | Mind Mapping, Blue Slip Technique, Round-Robin Brainstorming |
| Project Management Techniques | Provide a systematic approach to organize and manage resources. | Kanban system, Gantt chart, Critical path method |
| Simulation Tools | Provide visual representation and analysis of complex problems. | Monte Carlo simulations, Finite element analysis, Discrete event simulation |
| Creativity Tools | Foster innovation and creative thinking in problem-solving process. | Lateral Thinking, TRIZ, SCAMPER. |
| Rapid Prototyping Tools | Enable speedy visualization and testing of potential solutions. | 3D printing, Computer-aided design (CAD) software, Wireframing tools. |
Problem-solving skills are highly sought-after in today's competitive job market. Employers value candidates who can analyze, evaluate, and come up with effective solutions to complex issues. When it comes to problem-solving, having the right tools at your disposal can make all the difference.
In this article, we will explore some essential tools that can aid your problem-solving abilities. Whether you are preparing for an interview or simply looking to enhance your problem-solving skills, understanding and utilizing these tools can give you a significant advantage.
Why is this question asked?
This question is commonly asked during job interviews, especially for roles that require critical thinking and problem-solving abilities. Employers want to assess a candidate's problem-solving mindset and their ability to leverage various tools and techniques to address challenges effectively.
Purpose of the question:
The purpose of this question is to gauge the candidate's familiarity with different problem-solving tools and their ability to identify which tools are most suitable for specific scenarios. It also assesses the candidate's analytical thinking skills and their capacity to provide well-thought-out responses based on their expertise and experiences.
Level of interviews:
This question can be asked at various levels of job interviews, from entry-level positions to senior management roles. The level of detail and complexity expected in the answer may vary based on the position's requirements and the candidate's experience level.
Expected answer from the candidate:
The candidate should demonstrate a deep understanding of problem-solving techniques and showcase their knowledge of various tools available. They should be able to explain why the tools are effective and provide examples of how they have personally utilized these tools in problem-solving scenarios. Attention should be paid to clarity, coherence, and relevance in their response. Candidates who can provide well-structured and engaging answers that showcase their expertise are most likely to make a positive impression.
Possible answers:
1. Collaborative tools: Collaboration is crucial in problem-solving. Tools such as project management platforms, virtual whiteboards, and communication apps facilitate effective teamwork and information sharing. By leveraging these tools, teams can brainstorm ideas, share progress, and communicate effectively to achieve collective problem-solving success.
2. Data analysis tools: Data plays a significant role in problem-solving. Tools like spreadsheets, data visualization software, and statistical analysis software help in analyzing large datasets and extracting meaningful insights. By utilizing data analysis tools, problems can be approached with a more evidence-based and informed perspective, leading to more accurate and effective solutions.
3. Mind mapping tools: Mind mapping tools provide a visual representation of ideas and concepts, making it easier to explore different connections and relationships between elements. This technique aids problem-solving by allowing individuals to organize their thoughts, identify patterns, and generate creative solutions.
4. Decision-making frameworks: Decision-making frameworks, such as the SWOT analysis (Strengths, Weaknesses, Opportunities, Threats), PESTLE analysis (Political, Economic, Sociocultural, Technological, Legal, Environmental), and Impact-Effort Matrix, provide a structured approach to evaluating options and making informed decisions. These frameworks help in identifying potential risks, considering various perspectives, and choosing the most suitable course of action.
5. Critical thinking tools: Critical thinking is a vital skill in problem-solving. Tools like the 5 Whys technique, root cause analysis, and brainstorming methods encourage individuals to think critically, ask thought-provoking questions, and challenge assumptions. By utilizing these tools, problems can be dissected and examined from different angles, leading to more comprehensive and effective solutions.
Key considerations when answering:
When responding to this question, it is essential to go beyond simply listing the tools. The candidate should demonstrate their understanding of why each tool is valuable and how it can aid in problem-solving.
Providing concrete examples of how they have utilized these tools in real-life scenarios or explaining how they would leverage them in potential situations can further strengthen their answer. It is crucial to communicate with clarity, coherence, and confidence, showcasing both technical knowledge and practical application.
Effective problem-solving requires a combination of analytical thinking, creativity, and the right set of tools. By familiarizing yourself with various problem-solving tools and techniques, you can enhance your problem-solving abilities, demonstrating your value to potential employers.
Whether you rely on collaborative tools, data analysis software, mind mapping techniques, decision-making frameworks, or critical thinking tools, the key is to be adaptable and strategic in selecting the most appropriate tool for each unique situation.
So, equip yourself with these valuable problem-solving tools, and watch your ability to address challenges and find innovative solutions reach new heights.
| Analytical Tool | Description | Example |
| --- | --- | --- |
| Excel | A spreadsheet program used for data manipulation and analysis | Creating charts and performing calculations |
| Python | A programming language commonly used for data analysis and machine learning | Writing scripts to clean and analyze large datasets |
| Tableau | A data visualization tool that allows for interactive and dynamic dashboards | Creating visualizations to explore trends and patterns in data |
| R | A statistical programming language with extensive libraries for data analysis | Performing statistical tests and creating predictive models |
Similar questions:
What resources do you use to solve problems effectively?

Can you mention any specific instruments that assist you in problem solving?

How do you rely on tools to enhance your problem solving ability?

Do you have any preferred tools for problem solving?

Are there any particular tools that greatly contribute to your problem solving process?

In what ways do tools support your problem solving efforts?

Which tools have proven to be most effective in aiding your Problem Solving Skills?

What role do tools play in improving your problem solving capabilities?

How do you leverage tools to solve complex problems more efficiently?

Can you elaborate on the tools you frequently utilize for problem solving?

What are some essential tools you rely on for successful problem solving?

Are there any unique tools you utilize that have proven to be beneficial in your problem solving endeavors?

How do certain tools enhance your ability to think critically and solve problems?

Are there any online platforms or software that you find particularly helpful in problem solving?

Which specific tools do you find indispensable for effective problem solving?

Can you provide examples of tools that have significantly enhanced your problem solving proficiency?

How do you integrate various tools into your problem solving approach?

What resources do you turn to when faced with a challenging problem?

Have you discovered any innovative tools that have revolutionized your problem solving techniques?

How do you adapt and incorporate new tools into your problem solving methodology?

Which tools aid your problem solving?
which tools aid your problem solving
which tools aid your problem solving?
Yu Payne
Blogger
Yu Payne is an American professional who believes in personal growth. After studying The Art & Science of Transformational from Erickson College, she continuously seeks out new trainings to improve herself. She has been producing content for the IIENSTITU Blog since 2021. Her work has been featured on various platforms, including but not limited to: ThriveGlobal, TinyBuddha, and Addicted2Success. Yu aspires to help others reach their full potential and live their best lives.
Related Posts
Our team of experts is passionate about providing accurate and helpful information, and we're always updating our blog with new articles and videos. So if you're looking for reliable advice and informative content, be sure to check out our blog today.