Personal Development
Facing Fears: Overcoming Anxiety Through Cognitive Change
24 February 2023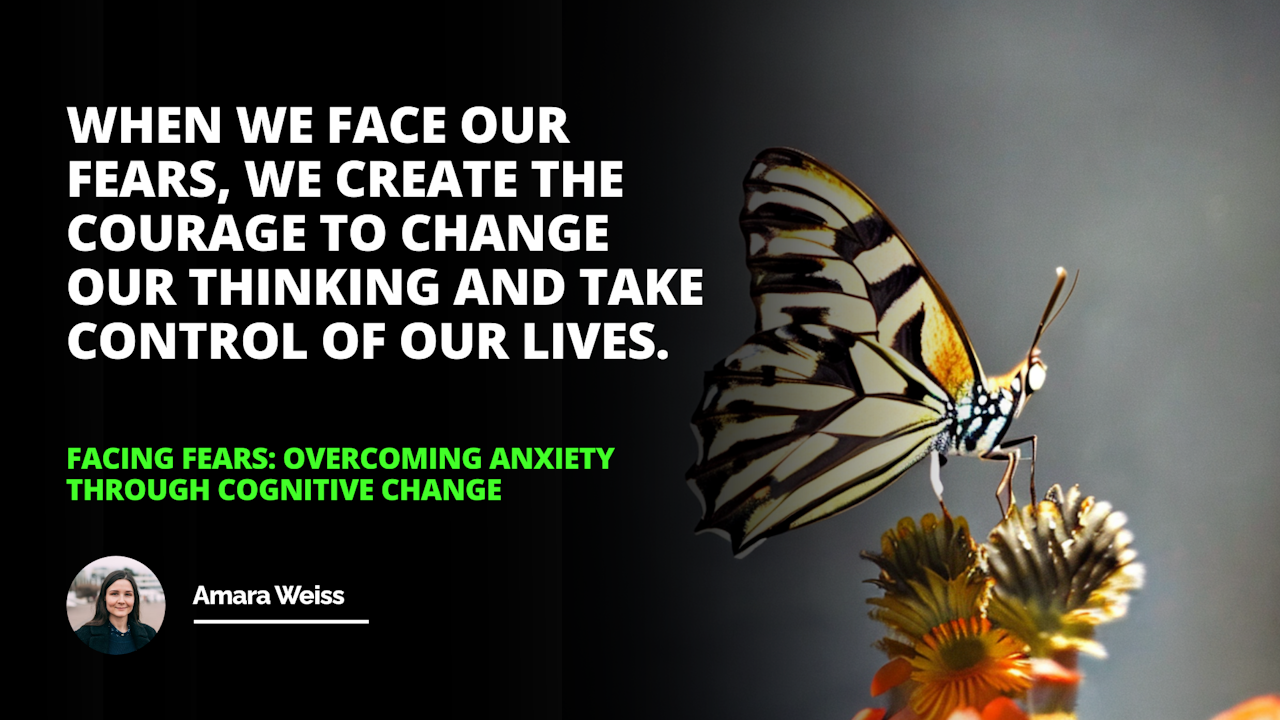 | Topic | Understanding | Practical Application |
| --- | --- | --- |
| Signs of Anxiety | Anxiety can manifest through restlessness, sleep difficulty, trouble concentrating and increased heart rate. | Recognize these signs in ourselves or others to identify when anxiety is present. |
| Emotional Symptoms of Anxiety | Sense of dread, worry or panic when facing certain situations. | If these feelings persist, they may suggest an anxiety disorder. |
| Understanding Cognitive Change | Cognitive change is a therapeutic technique aiming at altering our thought patterns to result in different behavioral responses to situations. | By understanding the root of our thoughts we can alter our emotional and physical reactions. |
| Negative Thought Patterns | Often we have negative thought patterns that contribute to anxiety. | Identifying these patterns is the first step towards cognitive change. |
| Challenging Beliefs | Negative thought patterns can be challenged to assist cognitive change. | Create counterarguments to your negative beliefs or consider gathering evidence that contradicts them. |
| Relaxation Techniques | Practices such as deep breathing and mindfulness can reduce anxiety. | These can be incorporated into our daily routines to reduce anxiety symptoms. |
| Cognitive Change Activities | Activities that promote cognitive change can be helpful in managing anxiety. | Practice cognitive change activities regularly to lessen anxiety. |
| Mindful Addressing of Thought Patterns | Addressing our thought patterns consciously can aid in overcoming anxiety. | Notice thoughts as they arise without labeling them as 'good' or 'bad'. |
| Potential of Cognitive Change | Cognitive change can significantly improve our life quality by enabling us to face our fears. | Use cognitive change techniques to confront fears and overcome barriers to personal goals. |
| Facing Fears | Facing fears can induce courage to change our thinking and have control over our lives. | Learn to face fears gradually, start with less anxious situations and gradually increase the level of difficulty. |
Signs and Symptoms of Anxiety

Understanding Cognitive Change

Practical Steps to Making Cognitive Change
Do you often feel overwhelmed, stressed, and anxious in life? Of course, it's natural for people to experience fear and anxiety in certain situations. For some, however, anxiety can interfere with daily functioning and cause distress. This blog post explores the tension and explains how addressing our thought patterns through cognitive change can help us face and overcome our fears.
Signs and Symptoms of Anxiety
Anxiety can present in a variety of ways. Some common physical signs include restlessness, difficulty sleeping, difficulty concentrating, and increased heart rate. Emotionally, people may experience a sense of dread, worry, or panic when confronting particular situations. Some may even demonstrate avoidance behaviors to prevent facing their fears.
Understanding Cognitive Change
Cognitive change alters one's thinking to produce different behavior in response to a situation. This type of therapy is based on the belief that our thoughts about a particular situation affect our emotional and physical reactions. Therefore, by modifying our thought patterns, we can work to reduce feelings of fear and anxiety.
Practical Steps to Making Cognitive Change
You can take several practical steps to begin the process of cognitive change. First, it is essential to examine our negative thought patterns. By questioning our thoughts, we can understand why we feel a certain way and how our thinking contributes to our anxiety. Once we know our thought patterns, we can challenge these limiting beliefs and practice new ways of thinking. Additionally, introducing relaxation techniques into our daily routines, such as deep breathing and mindfulness, can help to reduce anxiety.
In sum, activities that involve cognitive change can be a valuable tool to help us face and overcome our fears. Understanding negative thought patterns, challenging these beliefs, and practicing relaxation techniques can contribute to feeling less anxious in difficult situations. By mindfully addressing our thought patterns, we can address underlying sources of anxiety and learn to respond differently to potentially triggering concerns. Cognitive change has the potential to significantly improve our quality of life by allowing us to confront our fears and break down barriers that often hold us back from reaching our goals.
When we face our fears, we create the courage to change our thinking and take control of our lives.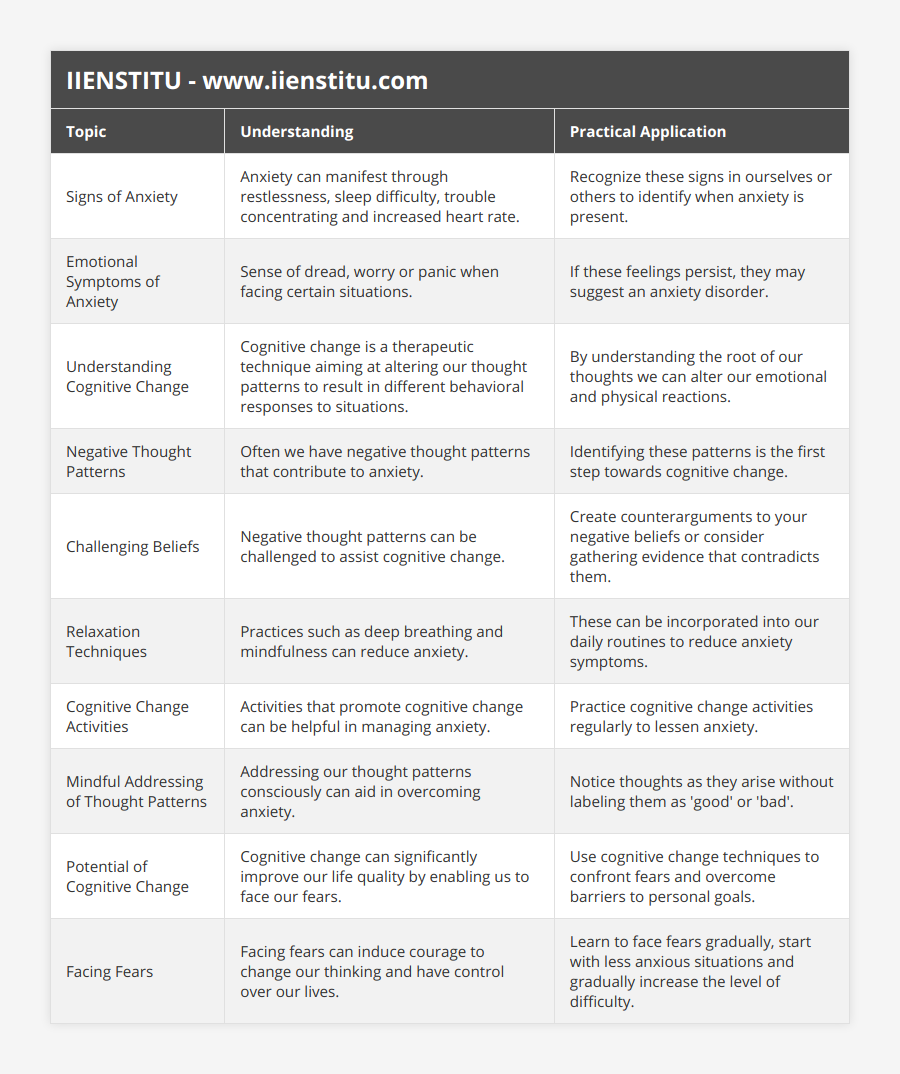 Anxiety
stress
overwhelmed
fear
thought patterns
cognitive change
negative thought patterns
relaxation techniques
deep breathing
mindfulness
triggering situations
quality of life

Amara Weiss
Institute Secretary, Author
I am Amara Weiss and for many years I have worked in the field of education, specifically in the area of technology. I firmly believe that technology is a powerful tool that can help educators achieve their goals and improve student outcomes. That is why I currently work with IIENSTITU, an organization that supports more than 2 million students worldwide. In my role, I strive to contribute to its global growth and help educators make the most of available technologies.
Related Posts
Our team of experts is passionate about providing accurate and helpful information, and we're always updating our blog with new articles and videos. So if you're looking for reliable advice and informative content, be sure to check out our blog today.