Human Resources Management
Curbing Workplace Illiteracy: A Business and School Partnership
20 February 2023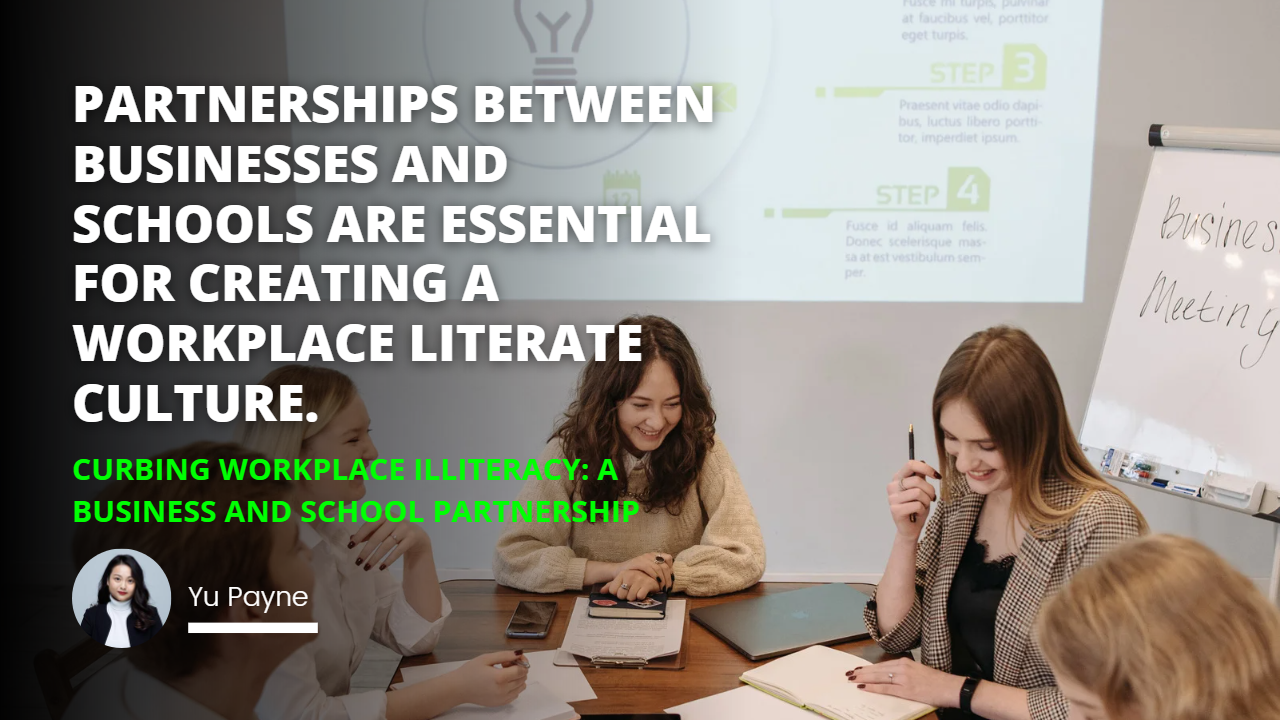 | Challenges of Workplace Illiteracy | Benefits of Business & School Partnerships | Strategies For Effective Partnerships |
| --- | --- | --- |
| Approximately 14% of American workforce is illiterate or lacks basic skills | Potential reduction in recruitment and training costs | Initiate collaborative initiatives with schools in literacy training |
| Higher recruitment and training costs | Engaging students in career exploration opportunities | Introduce apprenticeship and internships programs |
| Lower employee productivity and retention | Better performing and long-term employees | Offer literacy and upskill workshops for employees |
| Decrease in workplace safety | Employees with crucial skills and knowledge for maintaining safety | Include safety lessons in the literacy training programs |
| Lack of motivation to become literate | Effective communication and understanding of job requirements | Provide incentives and motivational programs for literacy improvements |
| Cultural and language barriers | Improved inclusivity and diversity in the organization | Promote multilingual literacy programs |
| Lack of educational opportunities | Better access to education and training resources | Allocate resources for employees' educational growth |
| Reduced employee job satisfaction | Increased employee morale and job satisfaction | Develop supportive literacy environment in the workplace |
| Increased employee turnover | Reduced turnover rates | Make literacy and professional development an integral part of retention strategy |
| Decreased morale | Improved employee engagement and teamwork | Involve staff in shaping literacy and education initiatives |
The Challenges of Workplace Illiteracy

Benefits of Business and School Partnerships in Curbing Workplace Illiteracy

Strategies for Effective Business and School Partnerships
Workplace illiteracy is a significant challenge that plagues many organizations, from small businesses to multinational corporations. It is defined as the inability to read and write at the primary level necessary for an individual to hold a job and participate effectively in society.
The effects of workplace illiteracy can be far-reaching, with high costs to both employers and employees. Fortunately, a productive way to combat workplace illiteracy is through a partnership between local businesses and educational institutions.
The Challenges of Workplace Illiteracy
It is estimated that approximately 14% of the American workforce is illiterate or lacks basic literacy skills. The reasons why workplace illiteracy persists are many. Some common causes are the lack of educational opportunities in certain areas, cultural and language barriers, and a lack of motivation to become literate.
The direct effects of workplace illiteracy on businesses can include higher recruitment and training costs, lower employee productivity and retention, and a decrease in workplace safety. High levels of workplace illiteracy can create a pool of relatively inexperienced employees and result in reduced employee productivity and job satisfaction. In addition, illiterate employees may lack the skills and knowledge to maintain safety standards and put their colleagues at risk of accidents. All of these issues can lead to decreased morale and increased turnover, ultimately negatively impacting the organization.
Benefits of Business and School Partnerships in Curbing Workplace Illiteracy
Businesses have much to gain from forming partnerships with educational institutions to address workplace illiteracy. One of the primary benefits is the potential to reduce recruitment and training costs, as employees with better literacy skills are more likely to stick around and perform better in their positions. Additionally, such partnerships can help to engage students in career exploration opportunities, enabling them to gain exposure to the workforce and develop professional skills that can prepare them for future employment opportunities.

Furthermore, by forming coalitions with businesses, schools can not only engage students in meaningful work experiences but also help increase the workforce's professionalization. This can result in higher employee retention and satisfaction, which leads to increased commitment and productivity within the organization.
Strategies for Effective Business and School Partnerships
Strong communication and coordination between businesses and schools remain critical for establishing and sustaining effective partnerships. The former should take the initiative to reach out to local educational bodies and initiate meaningful collaborations to reduce workplace illiteracy.
Businesses can work with schools to provide students with meaningful career exploration and hands-on work experience. This can include offering paid internships or solving real-world business problems. Additionally, businesses should consider sponsoring on-site literacy and professional training initiatives, such as basic literacy classes or workshops on developing communication and teamwork skills.
Conclusion: Business and school partnerships can effectively reduce workplace illiteracy and its associated costs. Such collaborations can provide students with exposure to the workforce, career exploration experiences, and the chance to develop professional skills that can prepare them for future employment opportunities. In addition, they can allow organizations to reduce their recruitment and training costs, increase employee retention and satisfaction, and lead to an overall improvement in their organization's performance.

Organizations should reach out to local educational partners and build a robust communication infrastructure to ensure the success of their partnership. Moreover, they should consider initiatives designed to offer meaningful work experiences, such as paid internships or sponsoring on-site literacy and professional development training. By taking such steps, organizations can significantly reduce workplace illiteracy, ultimately leading to tremendous organizational success.
Partnerships between businesses and schools are essential for creating a workplace-literate culture.

Workplace illiteracy, a problem affecting approximately 14% of the American workforce, poses significant challenges to both employees and employers, resulting in high recruitment and training costs, decreased productivity and workplace safety, and low employee retention. To combat this issue, the formation of partnerships between businesses and educational institutions emerges as an efficient solution with multiple benefits including reduced recruitment and training expenses, improved employee performance, and provision of career exposure to students. An HR certificate course could be an excellent addition to these educational initiatives, fostering more skilled and literate employees ready for the workforce.hr certificate course
Workplace illiteracy
Small businesses
Multinational corporations
Educational institutions
Causes
Effects
Businesses
Recruitment
Training costs
Employee productivity
Retention
Workplace safety
Employee satisfaction
Turnover
Educational opportunities
Cultural barriers
Language barriers
Motivation
Professionalization
Coalitions
Communication
Coordination
Internships
Hands-on work experience
Literacy classes
Workshops
Communication skills
Teamwork skills
Career exploration
Performance
Yu Payne
Blogger
Yu Payne is an American professional who believes in personal growth. After studying The Art & Science of Transformational from Erickson College, she continuously seeks out new trainings to improve herself. She has been producing content for the IIENSTITU Blog since 2021. Her work has been featured on various platforms, including but not limited to: ThriveGlobal, TinyBuddha, and Addicted2Success. Yu aspires to help others reach their full potential and live their best lives.
Related Posts
Our team of experts is passionate about providing accurate and helpful information, and we're always updating our blog with new articles and videos. So if you're looking for reliable advice and informative content, be sure to check out our blog today.