Human Resources Management
Compassionate HR: Is Equality & Inclusion Enough?
13 February 2023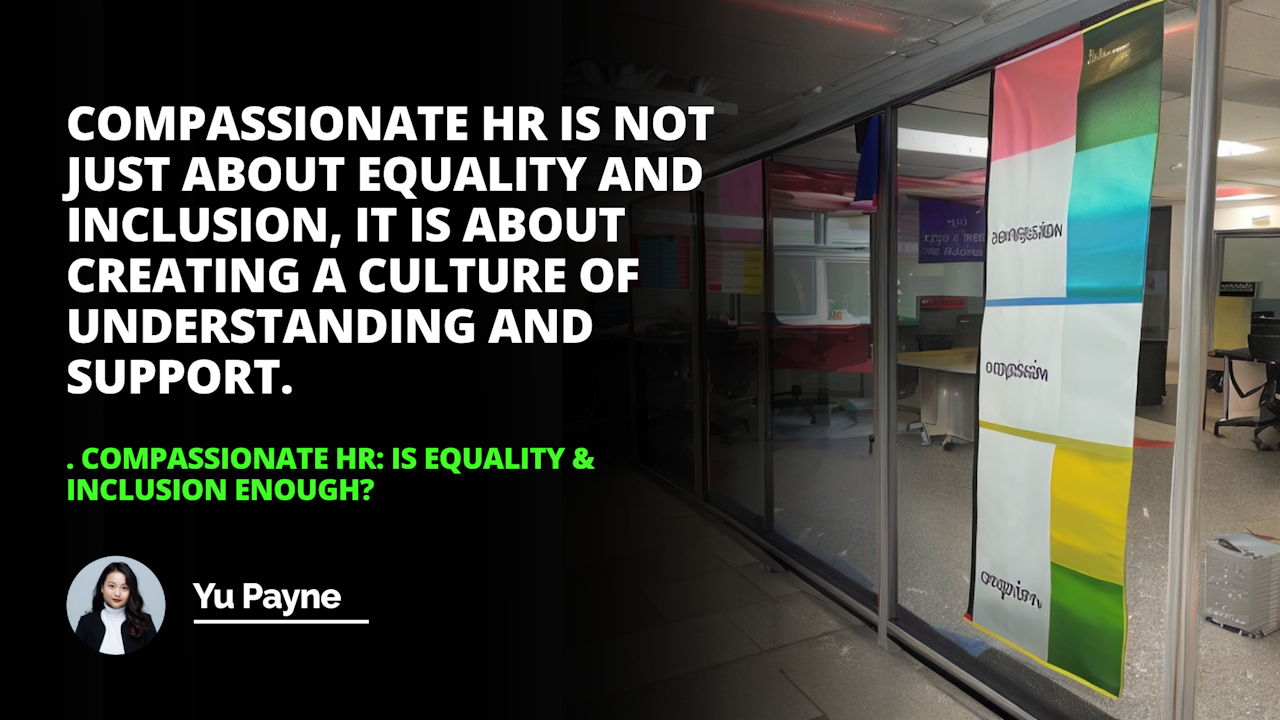 | Key Concept | Explanation | Real-world Example |
| --- | --- | --- |
| Compassionate Business | Creating a culture where equality, inclusion, and kindness are fundamental. | Businesses that address conflict with empathy and fairness. |
| Equality | Ensuring all employees are given the same opportunities, irrespective of their background. | Companies with non-discriminatory hiring practices. |
| Inclusion | Creating an environment where all employees feel valued and can contribute. | Businesses that actively seek input from all employees. |
| Corporate Leaders' Responsibility | Leaders must ensure compassionate practices are ingrained in the company culture. | Google's executive team includes several ethical roles. |
| Discrimination & Harassment | Compassionate businesses strive to create an environment free from these elements. | Companies with strong anti-harassment policies. |
| Diversity | Companies must actively work to ensure a representative workforce. | Facebook's senior workforce shows a lack of diversity. |
| Corporate Transparency | Decision-making processes should be communicated clearly to all employees. | Companies that maintain open channels for employee feedback. |
| Employee Empowerment | Compassionate businesses encourage employee participation in decision-making. | Companies that regularly involve employees in strategy meetings. |
| Workplace Marginalization | Compassionate businesses work against factors leading to workplace marginalization. | Businesses that address and correct power imbalances in their ranks. |
| Workforce Diversity | Workforces should ideally reflect the diversity of the wider population. | Google exhibits improved diversity in its executive team compared to Facebook. |
This article explores the importance of compassionate business practices in the modern world. Human business is defined as creating a culture where equality, inclusion, and kindness are foundational principles. Therefore, corporate leaders must prioritize compassionate business practices to create a workplace where employees feel valued, respected, and safe.
Examples of companies that have failed to prioritize compassionate business practices are given. It is concluded that companies must take responsibility for creating a culture of compassion, equality, and inclusion to remain competitive. Finally, resources are provided for further information.
Introduction

Definition of Compassionate Business

Equality and Inclusion as Foundational Principles

Corporate Leaders' Responsibility to be Compassionate and Just

Facebook's Diversity in Senior Workforce

Conclusion
Introduction: Compassionate business has become increasingly important in the modern world as corporations strive to create a culture of equality, inclusion, and kindness. This type of corporate culture is vital for success in today's-competitive markets and can be achieved through various strategies.
This article will discuss what compassionate business entails, why it is essential, and how corporate leaders can prioritize it. Moreover, an example of a company that has failed to prioritize human practices will be provided along with resources for further information.
Definition of Compassionate Business
Compassionate business is defined as creating a workplace culture in which all employees are respected, valued for their contributions, and recognized for their abilities. It is about actively working to create a just and equitable environment wherein every employee feels safe from discrimination or harassment and empowers to speak up when something doesn't seem right.
It also means ensuring that everyone receives equal opportunities regardless of gender, race, religion, or any other factor contributing to workplace marginalization. In essence, compassionate business puts human values at its core by recognizing the importance of employee well-being and fairness as fundamental principles.
Equality and Inclusion as Foundational Principles
Compassionate business is founded on two essential principles: equality and inclusion. Equality ensures that all people are viewed equally rather than judged based on preconceived notions. Inclusion goes beyond simply offering equal opportunity; it involves providing employees with the tools to participate in their organization's decision-making processes actively.
When corporate leaders prioritize these two principles, they create a more cohesive work environment where employees feel respected and appreciated rather than marginalized or ignored due to differences in background or identity. As such, compassionate businesses recognize difference not as an obstacle but rather as an opportunity for growth - one which can lead to innovation and creative solutions that benefit both the organization and its employees.
Corporate LLeaders'Responsibility to be Compassionate and Just
Corporate leaders must ensure that compassionate business practices become part of their organizational culture if they wish to remain competitive in today's marketplaces. Having policies in place that protect against discrimination or harassment are critical first steps towards achieving this goal; however, companies must also go beyond this minimum requirement by striving for true equality across all facets of the organization - from hiring processes through career progression pathways - so that everyone can benefit from equal opportunities regardless of identity or background. Corporate leaders should also strive to promote transparency regarding decisions made within their organizations so that every employee feels included in process discussions, even if they don't necessarily have direct access or authority over those decisions.
Facebook's Diversity in Senior Workforce
One example of a company failing to prioritize compassionate practices lies with Facebook's senior workforce diversity numbers released earlier this year; only 34% were women while 78% were white males - statistics that show just how far some companies still have left before achieving true equality across different demographics within their workforce (HuffPost). Unfortunately, this kind of disparity isn't uncommon among many large corporations even today despite efforts made by some industry leaders like Google, whose executive team was 45% female, as recently reported (CNN Money).
It is clear then that there is still much progress yet needed before true equality can be achieved across different demographics at many organizations; however, dedicated leadership committed to creating a culture where everybody feels safe, respected, and valued could result in exciting opportunities for both individuals and businesses alike.
Related Course: Online Leadership Course
Conclusion: To conclude, compassionately run companies are essential components within today's dynamic markets since they help foster productive working environments wherein everyone feels valued regardless of identity or background. Research has repeatedly shown how successful businesses prioritize these principles over anything else - leading them towards more significant growth potential - making it paramount for corporate leaders today to understand what constitutes compassionately run businesses and take appropriate measures towards upholding them within their respective organizations.
Resources such as "Women Who Lead" provide excellent guidance for corporations looking deeper into this subject matter, enabling them to make informed decisions when constructing policies promoting diversity, equity, inclusion, respect, kindness, etc., and taking ownership over creating such cultures could propel businesses forward like never before – but only if done correctly.
Compassionate HR is not just about equality and inclusion but about creating a culture of understanding and support.

Compassionate business
corporate leaders
equality
inclusion
culture of compassion
responsibility
just
workforce
creativity
innovation
intelligence
imagination
Facebook
diversity
Uber
low pay
labor strikes
McDonald's
low wages
unsafe work environment
Adidas
racial discrimination
valued
respected
safe
prioritize compassionate business practices
Yu Payne
Blogger
Yu Payne is an American professional who believes in personal growth. After studying The Art & Science of Transformational from Erickson College, she continuously seeks out new trainings to improve herself. She has been producing content for the IIENSTITU Blog since 2021. Her work has been featured on various platforms, including but not limited to: ThriveGlobal, TinyBuddha, and Addicted2Success. Yu aspires to help others reach their full potential and live their best lives.
Related Posts
Our team of experts is passionate about providing accurate and helpful information, and we're always updating our blog with new articles and videos. So if you're looking for reliable advice and informative content, be sure to check out our blog today.