Human Resources Management
Success in HR: Inclusivity, Well-being for Thriving Workforce
19 November 2023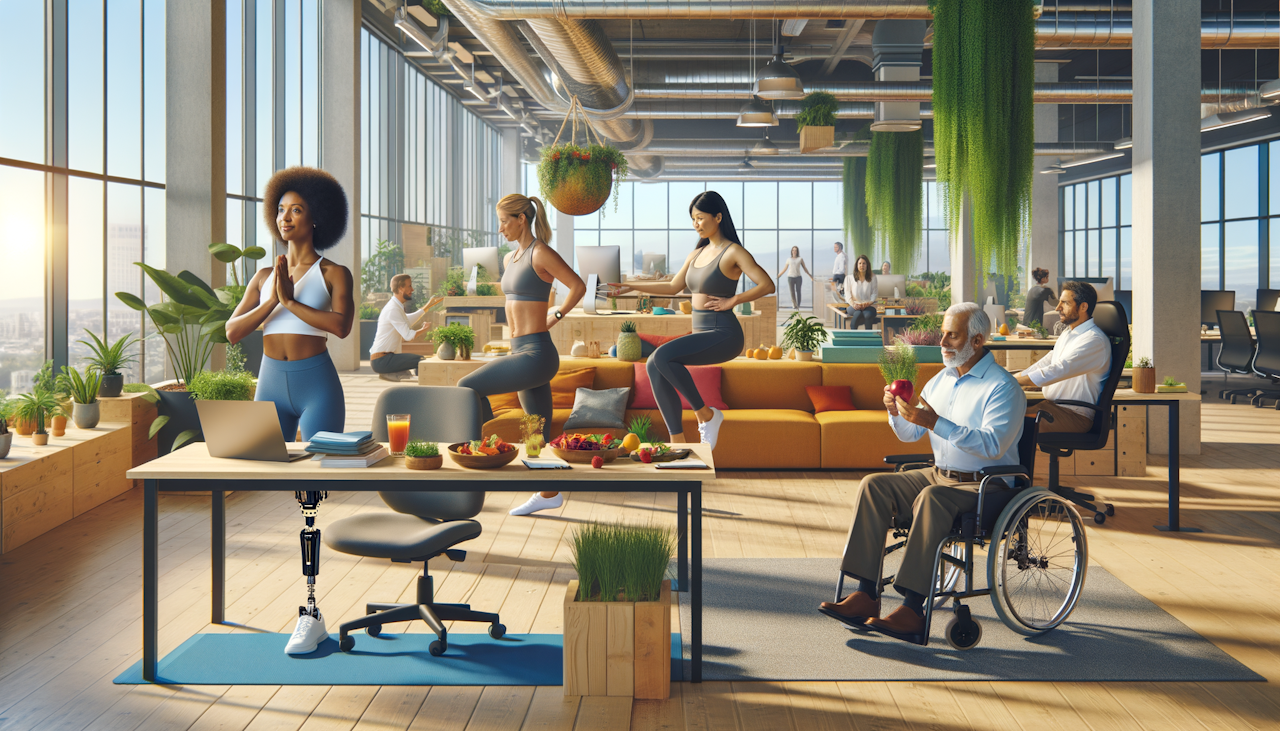 | Key Concepts | Examples | Benefits |
| --- | --- | --- |
| Inclusivity in HRM | Marriott International's Global Diversity and Inclusion Council | Higher employee engagement, increased performance and innovation |
| Benefits of Inclusivity | Marriott ranks among the top companies for diversity and inclusion | Improved talent attraction and retention, an enhanced company reputation |
| Well-being in HRM | Starbucks' focus on employee wellness | Promotion of a healthy and engaging workplace environment, leading to long-term organizational success |
| Employee wellness programs | Starbucks' range of benefits promoting wellness | Improvement of physical, mental, and emotional health of employees and increased workforce productivity |
| Diversity and Inclusion strategy | Google's Diversity and Inclusion team | A workplace environment that respects and values individual differences, leading to improved decision-making |
| Employee well-being initiatives | Google's on-site wellness centers and mental health resources | Supporting employee health boosts morale, productivity, and retention |
| Inclusivity leveraging diversity | Marriott's focus on attracting talent from underrepresented populations | Enhances performance, innovation, and decision-making |
| Comprehensive inclusivity strategy | Marriott's employee resource groups for various affinity groups | Cultivates a workplace environment where employees feel valued and included, attracts high-quality talent |
| Attracting and retaining diverse employees | Google's generous parental leave policies | Higher levels of employee satisfaction, engagement, and retention leading to improved company performance |
| HRM's role in organizational success | Incorporation of inclusivity and well-being into Google's business strategy | Support of a thriving workforce and achievement of both short-term and long-term organizational success |
In the constantly evolving business environment, redefining success has become a crucial task to undertake for organizations seeking to thrive and maintain a competitive edge. One of the most important aspects of modern organizations is their human resources management (HRM), as the workforce can either drive an organization forward or hold it back. HRM departments must, therefore, adapt and incorporate inclusivity and well-being as core elements in their strategies for fostering a flourishing workforce, leading to both short-term and long-term success.
Throughout the years, HRM objectives have evolved to keep up with changing business demands. Traditionally, organizations focused on HRM activities such as recruitment, selection, training, and development in order to drive employee productivity and profitability. However, a growing body of evidence suggests that organizations that also prioritize inclusivity and well-being typically experience higher levels of employee engagement, satisfaction, and retention, resulting in improved company performance and success overall.
For example, Google is widely recognized for its innovative HRM practices, integrating both inclusivity and well-being into the company's overall business strategy. The company has a dedicated Diversity and Inclusion team that collaborates with various departments to ensure a workplace that reflects a wide range of perspectives, backgrounds, and experiences. Google's commitment to employee well-being is also evident in its spectrum of available benefits, from on-site wellness centers and mental health resources, to generous parental leave policies, fostering an environment in which employees feel valued and supported.
Transform Your HR Skills Today!
Join Our Comprehensive HR Mastery Course
Are you ready to elevate your career in Human Resources? Dive into our expert-led HR Mastery Course, designed for both beginners and seasoned professionals.
This article will examine in detail the concepts of inclusivity and well-being in HRM, providing real-life examples of how successful organizations have implemented these principles in their workplaces. Furthermore, the article will discuss the challenges associated with creating a truly inclusive and well-being-centered work environment, offering recommendations for HRM professionals seeking to redefine success and create a flourishing workforce.
Inclusivity in HRM: Leveraging Diversity for Enhanced Performance
Inclusivity involves the creation of an environment that values, includes, and respects individuals with different perspectives, experiences, and backgrounds, leveraging these differences to drive performance, innovation, and decision-making. It goes beyond the idea of simply having diverse employees; rather, it revolves around actively engaging and integrating diversity into organizational culture and policies.
An example of inclusivity in HRM can be seen in the actions of Marriott International, the world's largest hotel company. They recognized the importance of diversity and inclusion, and implemented a comprehensive strategy to foster a more inclusive workforce. The company established a Global Diversity and Inclusion Council, developed employee resource groups for various affinity groups, and focused on attracting talent from underrepresented populations, such as women, people with disabilities, and veterans. As a result, Marriott has been consistently ranked among the top companies for diversity and inclusion, and enjoys a high rate of employee satisfaction and retention.
Benefits of Inclusivity in the Workplace
Organizations that prioritize inclusivity reap a number of benefits, both in terms of employee well-being and company performance. These include:
Higher employee engagement: A diverse and inclusive environment enables employees to feel more connected to their organization and more invested in its success, leading to increased engagement and motivation.

Increased performance and innovation: Diverse and inclusive teams generate a wider range of ideas and perspectives, fostering creativity and problem-solving, which ultimately lead to better decision-making and enhanced organizational performance.

Improved talent attraction and retention: An inclusive work environment is more likely to attract high-quality talent from diverse backgrounds and retain those employees who feel valued and supported.

Enhancement of company reputation: Companies that prioritize inclusivity often enjoy a better reputation among customers, employees, and stakeholders, positioning them as employers of choice in a competitive market.
Well-being in HRM: Investing in Employee Wellness for Long-term Success
Employee well-being encompasses the physical, mental, and emotional health of workers, and has become an increasingly important focus for HRM professionals in recent years. Well-being initiatives aim to provide employees with the resources, support, and environment they need to thrive, both professionally and personally.
Recognizing the importance of employee well-being, Starbucks has made it an integral part of their HRM strategy. The company offers a range of benefits aimed at promoting wellness among its workforce, including comprehensive healthcare coverage, mental health resources, and access to healthy foods and beverages. Additionally, Starbucks offers its employees the opportunity to participate in community service projects, providing them with a sense of purpose and engagement beyond their job responsibilities.
Benefits of Employee Well-being Initiatives
Investing in employee well-being offers a host of benefits for organizations, including:
Reduced absenteeism and presenteeism: Healthy and engaged employees are less likely to miss work due to illness or disengagement, leading to increased productivity and reduced costs associated with sick leave.

Greater employee engagement: Employees who feel cared for and supported by their organization are more likely to be engaged, committed, and motivated to perform at their best.

Increased retention and attraction of talent: Organizations that prioritize employee well-being are more likely to retain their current workforce and attract high-quality candidates seeking comprehensive wellness support.
Challenges in Implementing Inclusivity and Well-being Strategies
While the advantages of prioritizing inclusivity and well-being are clear, several challenges may arise in the pursuit of these goals.
Lack of buy-in from leadership: To create a truly inclusive and well-being-centered work environment, organizations must secure commitment from top leadership to model and champion these values throughout the organization.

Resistance to change: Implementing new policies and initiatives may be met with resistance from employees, particularly if they do not understand the importance of inclusivity and well-being or view them as secondary to more traditional business objectives.

Measurement difficulties: Unlike more quantifiable HRM metrics, such as turnover or productivity, measuring inclusivity and well-being can be challenging. However, using a combination of quantitative and qualitative data can help to establish a comprehensive assessment of these initiatives' success.
Recommendations for HRM Professionals
To overcome these challenges, implement effective inclusivity and well-being strategies, and ultimately foster a flourishing workforce, HRM professionals should consider the following:
Secure leadership buy-in: Engage with top leadership to convey the impact that inclusivity and well-being have on overall company performance, and secure their commitment to model and champion these values.

Develop clear policies and practices: Create clearly defined policies related to inclusivity and well-being, ensuring they align with the organization's business objectives, mission, and values.

Communicate and educate: Provide information and training on the importance of inclusivity and well-being to all employees, fostering understanding and minimizing resistance to new policies and initiatives.

Measure and evaluate: Establish a system for measuring and evaluating the success of inclusivity and well-being initiatives, using both quantitative and qualitative data to inform adjustments and improvements.

Inspire and model desired behaviors: Encourage leaders at all levels to model inclusive and well-being-supportive behaviors, setting the tone for the rest of the organization to follow.
By prioritizing inclusivity and well-being, HRM professionals can help to create a truly flourishing workforce, bolster overall company performance, and redefine success in the modern business environment. This approach not only drives short-term productivity but also ensures long-term sustainability, making it a critical investment in an organization's future.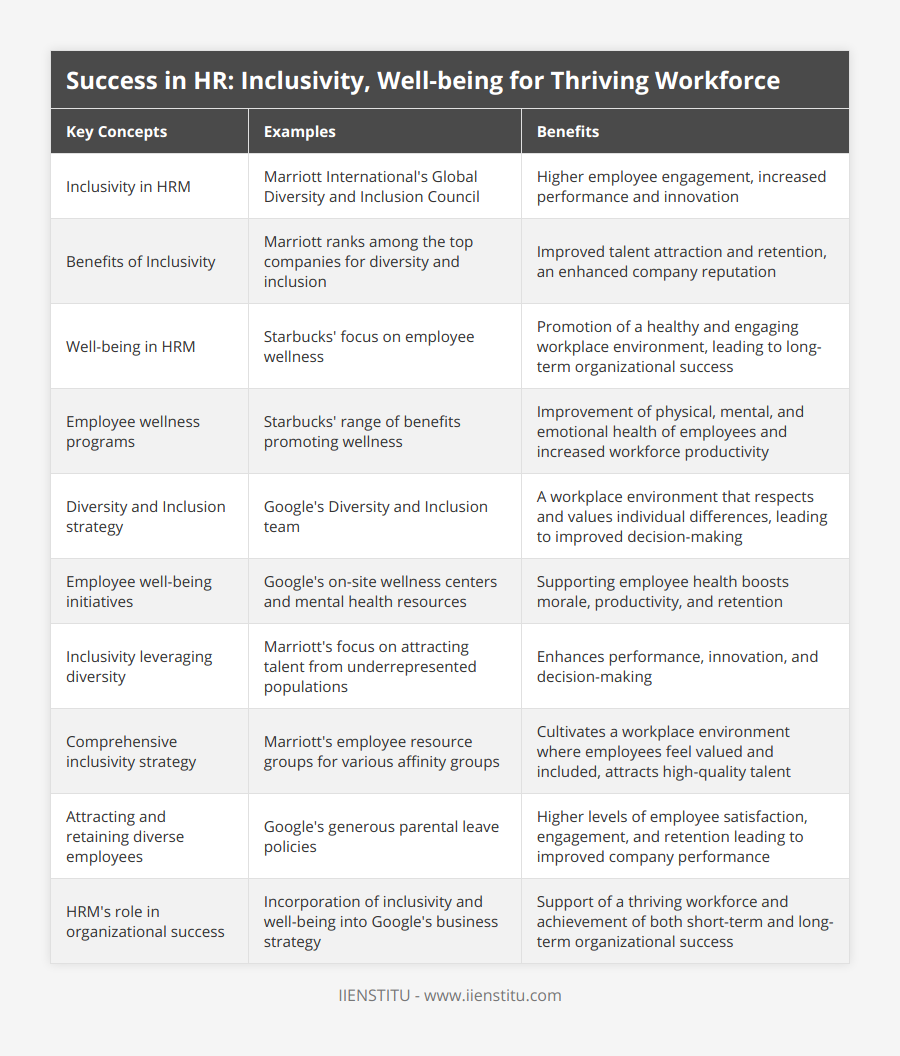 Inclusivity
Wellbeing
HRM
Success
Organizations
Yu Payne
Blogger
Yu Payne is an American professional who believes in personal growth. After studying The Art & Science of Transformational from Erickson College, she continuously seeks out new trainings to improve herself. She has been producing content for the IIENSTITU Blog since 2021. Her work has been featured on various platforms, including but not limited to: ThriveGlobal, TinyBuddha, and Addicted2Success. Yu aspires to help others reach their full potential and live their best lives.
Related Posts
Our team of experts is passionate about providing accurate and helpful information, and we're always updating our blog with new articles and videos. So if you're looking for reliable advice and informative content, be sure to check out our blog today.