Personal Development
Mind Mapping 101: Mapping the Path to Success
15 March 2023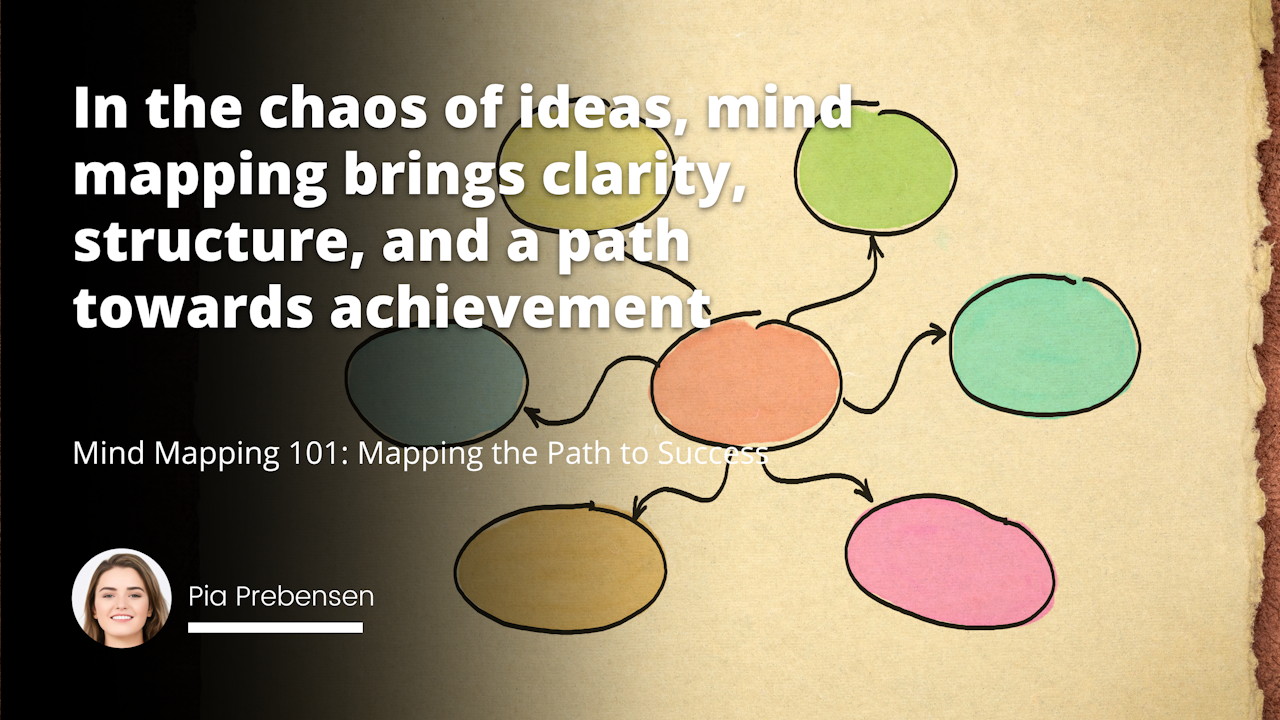 | Concept/Tool | Description | Application |
| --- | --- | --- |
| Mind Mapping | A visual representation of information with a central idea being the core from which related concepts branch out. | Used for brainstorming, information organization, learning enhancement and problem-solving. |
| Central Idea | The main topic or subject is the focal point of the mind map. | Enables clear understanding of the main theme or concept in the mind map. |
| Branches | Lines that extend from the central idea and represent subtopics or related concepts. | Allows hierarchical representation of related ideas or topics in a structured way. |
| Keywords | Concise words or phrases that summarize the essence of a specific branch. | They facilitate quick comprehension of the mind map's contents. |
| Images | Visual elements that enhance the overall appearance and understanding. | Boosts the visual appeal and memorability of the mind map. |
| MindMeister | A cloud-based mind mapping software allowing real-time collaboration. | Ideal for teams and group projects. |
| XMind | A customizable mind mapping application that enables creation and sharing of professional-quality mind maps. | Useful for creating detailed and complex mind maps. |
| MindNode | User-friendly and intuitive mind-mapping tool for macOS and iOS devices. | Ideal for individuals or small teams who prefer Apple devices. |
| Coggle | A web-based application offering a simple and clean interface for creating and sharing mind maps. | Great for fast and easy creation of simple mind maps. |
| Pen and paper | Classic method for creating mind maps with total creative freedom. | Ideal for an individual working in a personal space. |
In this blog post, we will explore the concept of mind mapping. This powerful and versatile tool can be used for various applications such as brainstorming, organizing information, and enhancing learning. We will discuss the fundamental principles of mind mapping and delve into the various tools available for creating effective mind maps. By the end of this article, you will have a solid understanding of mind mapping and be equipped with the knowledge to incorporate it into your personal and professional life.
Introduction:
The human brain is an incredibly complex and powerful organ, capable of processing vast amounts of information and generating creative solutions to problems. However, how we traditionally organize and present information can sometimes be limiting and inefficient. Enter mind mapping: a revolutionary tool that allows individuals to visually organize their thoughts, ideas, and information more naturally and intuitively. This article will provide an in-depth analysis of mind mapping, its principles, and the various tools available for its implementation.
The Fundamentals of Mind Mapping
Mind mapping is a visual representation of information where the central idea or topic serves as the core, from which related ideas and concepts branch out hierarchically. The critical components of a mind map include the following:
Central idea: The main topic or subject that serves as the focal point of the mind map.

Branches: Lines that extend from the central idea and represent subtopics or related concepts.

Keywords: Concise words or phrases that summarize the essence of a specific branch.

Images: Visual elements that can enhance the overall appearance and understanding of the mind map.
The fundamental principles of mind mapping are as follows:
Start with a central idea: Identify your mind map's main subject or topic and place it at the center.

Use branches to represent subtopics: Draw lines extending from the central idea to represent related subtopics or concepts.

Use keywords instead of long phrases: Summarize the essence of each branch with concise keywords to facilitate quick comprehension.

Incorporate images and colors: Enhance the visual appeal and memorability of the mind map by including images and using different colors for various branches.

Maintain a hierarchical structure: Hierarchically organize ideas, with the essential concepts closer to the central idea.
Mind Mapping Applications
Mind mapping is a versatile tool that can be employed in various contexts, such as:
Brainstorming: Generate and organize ideas during the creative process.

Note-taking: Capture critical points and ideas in a visually appealing and easily digestible format.

Project planning: Outline tasks, timelines, and goals for projects.

Problem-solving: Break down complex problems into manageable components and identify potential solutions.

Learning and memorization: Enhance comprehension and retention of information by presenting it in a visually appealing and memorable format.
Tools for Mind Mapping
Many tools are available for creating mind maps, ranging from traditional pen and paper to sophisticated digital applications. Some popular mind-mapping tools include:
Pen and paper: The most straightforward and accessible method for creating mind maps, allowing creative freedom and flexibility.

MindMeister: A cloud-based mind mapping software that facilitates real-time collaboration, ideal for teams and group projects.

XMind: A feature-rich and customizable mind mapping application that allows users to create and share professional-quality mind maps.

MindNode is a user-friendly and intuitive mind-mapping tool for macOS and iOS devices.

Coggle: A web-based application that offers a simple and clean interface for creating and sharing mind maps.
Mind mapping is a powerful and versatile tool utilized in various personal and professional contexts to enhance creativity, organization, and learning. By understanding the fundamental principles of mind mapping and employing the appropriate tools, individuals can unlock the full potential of their minds and map the path to success.
Whether you are brainstorming ideas for a new project, planning a complex task, or simply seeking a more effective way to retain information, mind mapping offers a unique and engaging solution that caters to the natural functioning of the human brain.
As you incorporate mind mapping into your daily life, your ability to process and understand information, generate ideas, and solve problems is significantly enhanced. So why wait? Start your journey toward success today by embracing the power of mind mapping.
Mind mapping unlocks the brain's potential, bridging creativity and organization for success.

Mind mapping tools
Learning and memorization
Problem-solving
Brainstorming
Hierarchical structure
Images
Keywords
Branches
Central idea
Mind mapping
Pia Prebensen
Personal Growth Expert
Pia Prebensen is a personal growth expert who helps people identify and overcome their limiting beliefs. She has been featured in various online and print publications, including Elite Daily and The Huffington Post.
Born and raised in Denmark, Pia has always been fascinated by human behavior and the inner workings of the mind.
Related Posts
Our team of experts is passionate about providing accurate and helpful information, and we're always updating our blog with new articles and videos. So if you're looking for reliable advice and informative content, be sure to check out our blog today.