Personal Development
SWOT Analysis: Meaning, Examples and Personal Applications
15 March 2023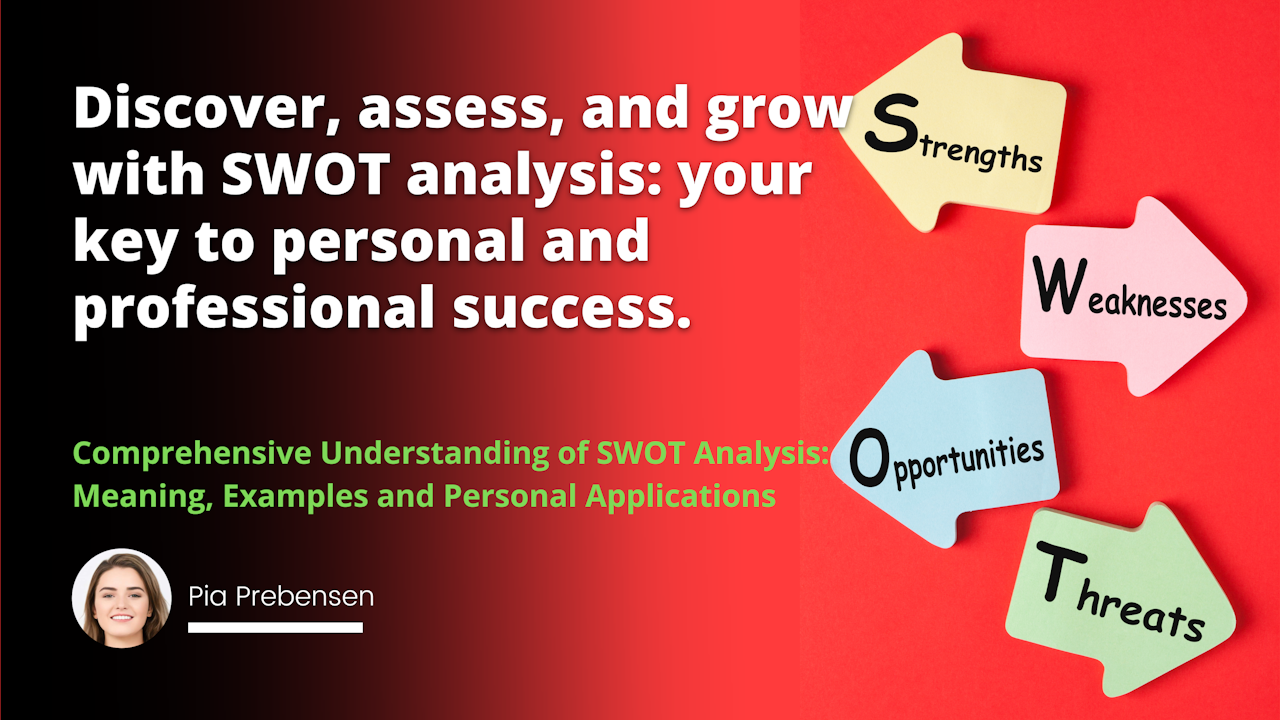 | SWOT Components | Definition | Examples |
| --- | --- | --- |
| Strengths | Internal positive attributes of an individual or organization | Unique skills, specialized knowledge, valuable networks |
| Weaknesses | Internal negative aspects that hinder an individual or organization from achieving its goals | Insufficient resources, outdated technology, poor management |
| Opportunities | External factors that present potential for growth or positive outcomes | Market trends, technological advancements, legislative changes |
| Threats | External factors posing challenges or risks to an individual or organization | Economic downturns, competitors, regulatory changes |
| Business SWOT Example - Strengths | Strengths of a small tech startup | Innovative product with unique features, highly skilled team |
| Business SWOT Example - Opportunities | Opportunities for a small tech startup | Growing demand for software solutions, potential strategic partnerships |
| Personal SWOT Example - Strengths | Strengths of an individual seeking a career in marketing | Strong analytical skills, proven track record in successful marketing campaigns |
| Personal SWOT Example - Threats | Threats to an individual seeking a career in marketing | Competition from job seekers with more experience, job market saturation |
| Application of SWOT Analysis | Use of the assessments for decision-making and strategy | Devising a strategy that capitalizes on strengths and addresses weaknesses |
| Tips for Personal SWOT Analysis | Recommendations for effectively applying results | Being honest and objective, seeking feedback from others |
In strategic planning and decision-making, SWOT analysis has emerged as an essential tool for individuals and organizations. With its ability to provide a clear, structured framework for assessing strengths, weaknesses, opportunities, and threats, SWOT analysis offers valuable insights into the internal and external factors that may affect success. In this article, we will explore the meaning of SWOT analysis, provide examples of its application, and discuss how it can be used for personal development.
SWOT Analysis: Meaning and Definition
SWOT is an acronym for Strengths, Weaknesses, Opportunities, and Threats. This strategic planning method is designed to help individuals and organizations identify their internal strengths and weaknesses, as well as external opportunities and threats. By evaluating these four key factors, users can develop a comprehensive understanding of their current position and make informed decisions about their future.
Strengths
Strengths are the internal positive attributes, resources, or capabilities of an individual or organization. These may include unique skills, specialized knowledge, valuable networks, or strong brand recognition. Identifying and leveraging one's strengths can provide a competitive advantage in the marketplace or contribute to personal growth and development.
Weaknesses
Weaknesses are the internal negative aspects or deficiencies that may hinder an individual or organization from achieving its goals. These include needing more resources, outdated technology, poor management, or skill gaps. Recognizing and addressing weaknesses is crucial for improvement and long-term success.
Opportunities
Opportunities are external factors that present the potential for growth, expansion, or other positive outcomes. These include market trends, technological advancements, partnerships, and legislative changes. Individuals and organizations can adapt to their environment and achieve their objectives by capitalizing on these opportunities.
Threats
Threats are external factors that pose challenges or risks to an individual or organization. These may include competitors, economic downturns, regulatory changes, or technological disruptions. Therefore, identifying and mitigating threats is essential for maintaining stability and safeguarding against potential setbacks.
SWOT Analysis Examples
To better understand the application of SWOT analysis, let us consider two examples: one for a business and another for a personal context.
Business SWOT Analysis Example
Imagine a small tech startup that has recently developed a revolutionary software product. Its SWOT analysis could look like the following:
Strengths:
Innovative product with unique features

Highly skilled and motivated team

Strong relationships with industry influencers
Weaknesses:
Limited financial resources

Lack of brand recognition

Insufficient marketing expertise
Opportunities:
Growing demand for software solutions in the target market

Potential strategic partnerships with more prominent tech companies

Government incentives for tech startups
Threats:
Intense competition from established industry players

Rapid technological advancements rendering the product obsolete

Economic downturn affecting the target market
By evaluating these factors, the startup can devise a strategy that capitalizes on its strengths, addresses weaknesses, exploits opportunities, and mitigates threats.
Personal SWOT Analysis Example
Consider an individual seeking to advance their career in marketing. Their SWOT analysis could look like this:
Strengths:
Strong analytical skills

Excellent communication abilities

Proven track record in successful marketing campaigns
Weaknesses:
Limited experience in digital marketing

Difficulty with time management

Weak professional network
Related Course: Course On Time Management
Related Course: Digital Marketing Free Course
Opportunities:
Online courses and certifications to expand digital marketing skills

Networking events to build connections

Demand for marketing professionals in a growing industry
Threats:
Competition from other job seekers with more experience

Automation and artificial intelligence are replacing specific marketing roles

Economic downturn

Job market saturation in the marketing field
By conducting this personal SWOT analysis, the individual can identify areas for improvement, capitalize on opportunities, and mitigate potential threats to their career progression.
Personal SWOT Analysis: Tips and Applications
A personal SWOT analysis can provide valuable insights into one's strengths, weaknesses, opportunities, and threats. Here are some tips for effectively performing a personal SWOT analysis and applying its results to personal growth and development:
Be honest and objective.
When conducting a SWOT analysis, being honest and objective about your strengths, weaknesses, opportunities, and threats is crucial. Overestimating your strengths or underestimating your weaknesses can lead to ineffective decision-making.
Seek feedback from others.
Obtaining input from friends, family, colleagues, or mentors can provide additional perspectives on your strengths and weaknesses. This can help you gain a more comprehensive understanding of your abilities and areas for improvement.
Prioritize your findings
After identifying your strengths, weaknesses, opportunities, and threats, prioritize them based on their potential impact on your personal growth and development. This will help you focus on the most critical areas and allocate your resources effectively.
Develop actionable plans
Translate the results of your SWOT analysis into actionable plans for improvement. For example, if one of your weaknesses is needing more experience in a particular skill, consider enrolling in a course or seeking opportunities to gain that experience.
Monitor progress and reassess
Regularly monitor your progress in addressing your weaknesses and capitalizing on your opportunities. Periodically reassess your SWOT analysis to account for changes in your circumstances, skills, and goals.
Conclusion
SWOT analysis is a powerful tool for assessing one's current position and making informed decisions about the future. By understanding the meaning and application of SWOT analysis, individuals and organizations can gain valuable insights into their strengths, weaknesses, opportunities, and threats. Moreover, by conducting a personal SWOT analysis and applying its findings to personal growth and development, individuals can succeed tremendously in their careers and personal lives.

reassessment
competitive advantage
improvement
progress monitoring
weaknesses
strategic planning
actionable plans
prioritization
objective evaluation
honest assessment
feedback
strengths
threats
personal example
business example
personal growth
external factors
internal factors
opportunities
SWOT analysis
Pia Prebensen
Personal Growth Expert
Pia Prebensen is a personal growth expert who helps people identify and overcome their limiting beliefs. She has been featured in various online and print publications, including Elite Daily and The Huffington Post.
Born and raised in Denmark, Pia has always been fascinated by human behavior and the inner workings of the mind.
Related Posts
Our team of experts is passionate about providing accurate and helpful information, and we're always updating our blog with new articles and videos. So if you're looking for reliable advice and informative content, be sure to check out our blog today.