SEO
Why Should You Work With A SEO Consultant?
01 December 2021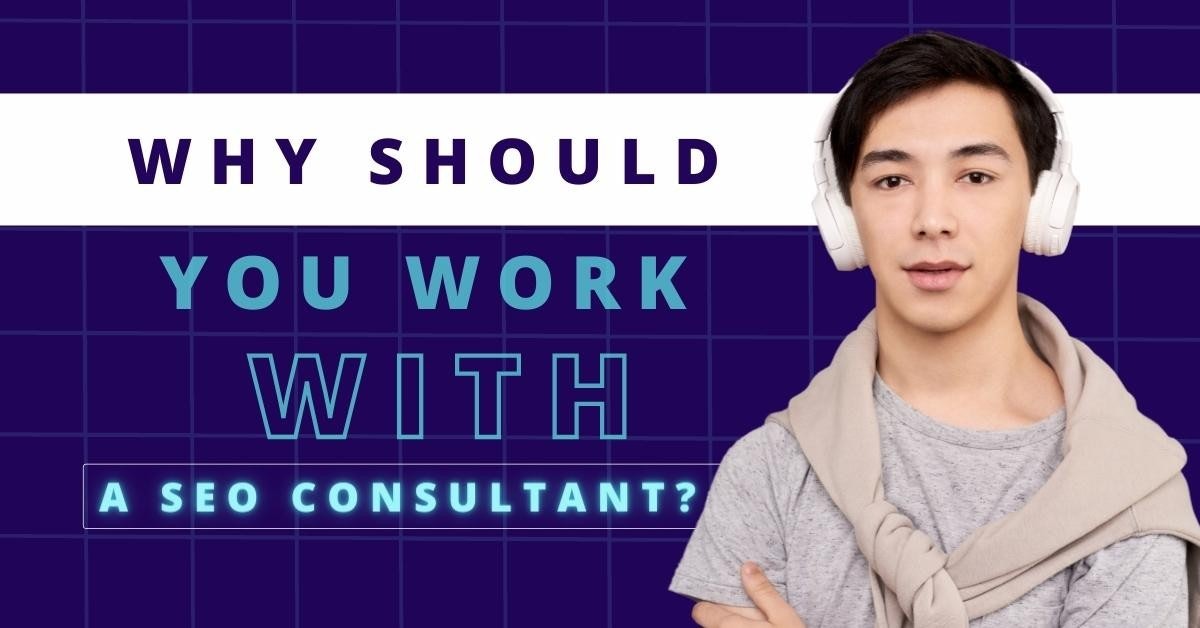 | Consideration | Explanation | Benefits |
| --- | --- | --- |
| Budget | Examine the consultant's fees and ensure it fits with your budget. | No surprise costs and can accurately predict investment |
| Experience | Review the consultant's CVs / résumés available online. | Engage a proven professional who can deliver results |
| Interview Process | Conduct interviews through Skype for more personal interaction. | Can assess consultants' communication and understanding |
| Transparency | Ensure the consultant provides clear fee structure and functional methodology. | Allows for mutual expectations and prevents misunderstanding |
| SEO methods | Consultant should clearly communicate the strategies they use for SEO. | Ensures ethical and effective practices are utilized |
| Track Record | Evaluate previous work and results achieved by consultant. | Can assess professionalism and effectiveness in previous engagements |
| Customization | Consultant should offer tailored solutions to meet unique business needs. | Ensures solutions fit with the business model and objectives |
| Reporting | Consultant should provide regular updates and reports on the progress. | Stay informed and can measure return on investment |
| Relationship | A good relationship with the consultant can significantly enhance the project's success. | Achieve smooth project execution and problem-solving process |
| Continuous Learning | The consultant keeps up to date with the latest SEO trends and changes. | Ensures your business stays competitive in fast-paced digital landscape |
The answer to this question may seem simple at first, but the reality can be much more complicated. First off, businesses should look closely into who will work with them and their fees before considering any potential hires or partnerships--just make sure not to overlook an individual because of lack of funds!  However, once these things have been considered, there's still ample room to indulge in some careful due diligence by looking over résumés/CVs available online then conducting interviews through Skype converse.
When looking for someone to manage your SEO, you want them to be as transparent as possible regarding their fee structure and how they work. This will allow the business to know what is expected of them and the consultant to understand their expectations.
Before you hire anyone, they should be able to answer these questions with ease:
1) What methods do they use?
2) How long will it take to see results?
3) Are they currently contracted with any companies in direct competition?
4) How do you monitor rankings?
These are just a few of the questions that can help businesses know if they're hiring an SEO consultant is going to be worth their time and money or not.
A good SEO consultant is always available for questions. They should be prompt to respond when working on any of your projects. If you feel like you are being led in circles, then perhaps it's time to start looking for someone else or revising your strategy to have a different approach.
Finding the "right" SEO consultant is not always easy, but it can be very lucrative when you get it just right!
The Benefits Of Hiring A SEO Expert To Your Website's Optimization
With so much information on SEO available online, it can be challenging to know if you're doing everything you should be when it comes to website optimization. In this competitive market where people are searching more and more for the products and services your company is offering, having a unique point of difference is vital. One way of differentiating yourself from competitors is by making sure your website is optimized for search engines and mobile devices, provides a positive user experience, and reflects your company's brand values.
While there are certainly benefits in learning these skills yourself, you can save time and stress by hiring an expert to optimize your website instead.
We have provided a list of the top five reasons why you should hire someone who specializes in optimization so that one of our experts can keep your business one step ahead of your competitors.
1) Time is money!
One of the main reasons it's recommended to hire an SEO specialist is because they are part-time experts who already know how to do everything you may need them to. In addition, this frees up your time to focus on growing and improving your business which will ultimately lead to more money in your pocket.
2) You may not have the time or resources to optimize your website technically.
You may not have someone on hand who can install plug-ins or edit HTML code, which is why it's best to hire an expert since they know exactly what needs doing and can do it automatically for you. Unfortunately, it takes years of experience to be a modern-day technical expert who can do [install plug-ins, edit HTML code], and not every website requires these sorts of changes.
3) A professional will prioritize search engine optimization before all other tasks.
When you outsource this task to an SEO specialist like us, you'll notice that they make sure everything is running smoothly online before they start on anything else. This means that if something goes wrong after installing a plug-in or a code change, it can be quickly tackled by your technical specialist without having to worry about fixing search engine problems.
4) Professionals do what they do best.
When you use an expert's skills and knowledge, they can do their job more quickly and effectively without any input from you. This means that the time your website is down for maintenance will be much shorter because everything can be done remotely rather than having to wait for someone to visit your premises or call you on the phone if there's an issue.
5) Professionals are trained at optimizing.
An expert will have all the latest tools and updates which they can use to improve your site. Because of this, hiring someone to do it for you is a more cost-effective option than buying new software or learning how to use it yourself. This ensures that no time is wasted when your website goes back online.
The benefits of hiring an expert to take care of your website's optimization are that it frees up your time to focus on growing and improving your business, you can save time and stress by hiring an expert to optimize your website instead, a professional will prioritize search engine optimization before all other tasks when you outsource this task to an SEO specialist like us they make sure everything is running smoothly online before they start on anything else, experts do what they do best as they have all the latest tools and updates, and finally hiring an expert will give you peace of mind knowing that your site has all its bases covered by an SEO specialist who knows precisely what they're doing.
How Much Does SEO Cost?
In most cases, SEO companies charge a percentage of your company's revenue. This is because many marketing companies simply offer monthly packages to their clients. Therefore, the amount they earn is calculated with the rate of the client's business. This works out very well for both parties. The SEO agency gets a fixed fee per month, and a client receives a fixed cost per month. Good SEO agencies will give you advice. They want to earn your business, so they are willing to invest the time in giving you tips. Suppose the company has a good strategy and optimizes the search engine. In that case, it can be very beneficial for your business. However, you should invest in an SEO agency only when you have enough revenue to justify it.
There are no set rates because every company is different. The cost of SEO services varies from one agency or consultant to another, as there is a massive difference in the quality and prices of their work. Furthermore, the cost of an SEO campaign also varies depending on the level of competitiveness of the keywords, the quality of your website, and its usability.
Companies that are new or struggling with the results they are getting might not want to hire an SEO Agency, but it needs to be done right if they do hire one. The company needs to invest in the agency because the key is that they need someone who can help them with their rankings and show results.
You should never forget that you don't need an agency or consultant. You can do it yourself with the right tools and strategies. Many great resources and courses teach you how to rank your website on Google with no need for an agency or consultant. You can start learning now by checking out the SEO course at IIENSTITU.
Questions:
What are your thoughts on SEO Consultants? 
What skills do you need to become an SEO consultant (this might be different for everyone)? 
How was your experience with working with an SEO consultant?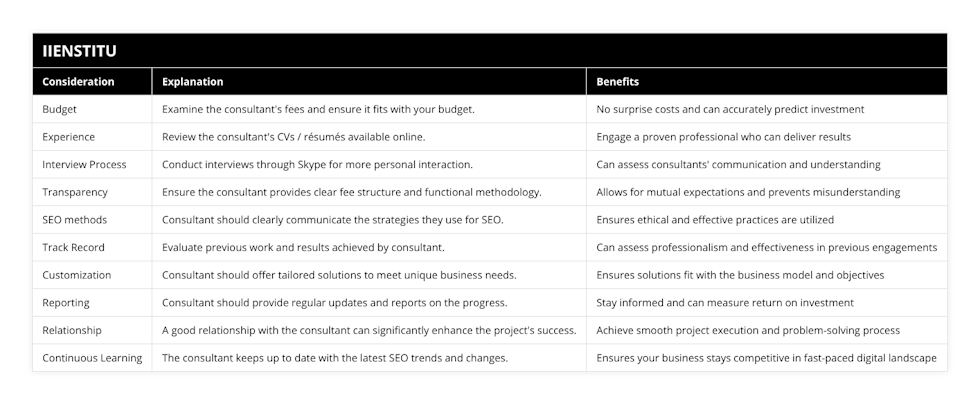 seo course
seo consultant

Monica Bourbon
Blogger
She describes himself as someone who loves to write about digital marketing, social media and public relations. His personal development special interest lies in self-improvement through reading books on the subject of human behavior; she also has an eye for how these topics apply outside just business or career settings too!
Related Posts
Our team of experts is passionate about providing accurate and helpful information, and we're always updating our blog with new articles and videos. So if you're looking for reliable advice and informative content, be sure to check out our blog today.