Logistic Management
Moving Goods: The Fundamental Component of Logistics
03 March 2023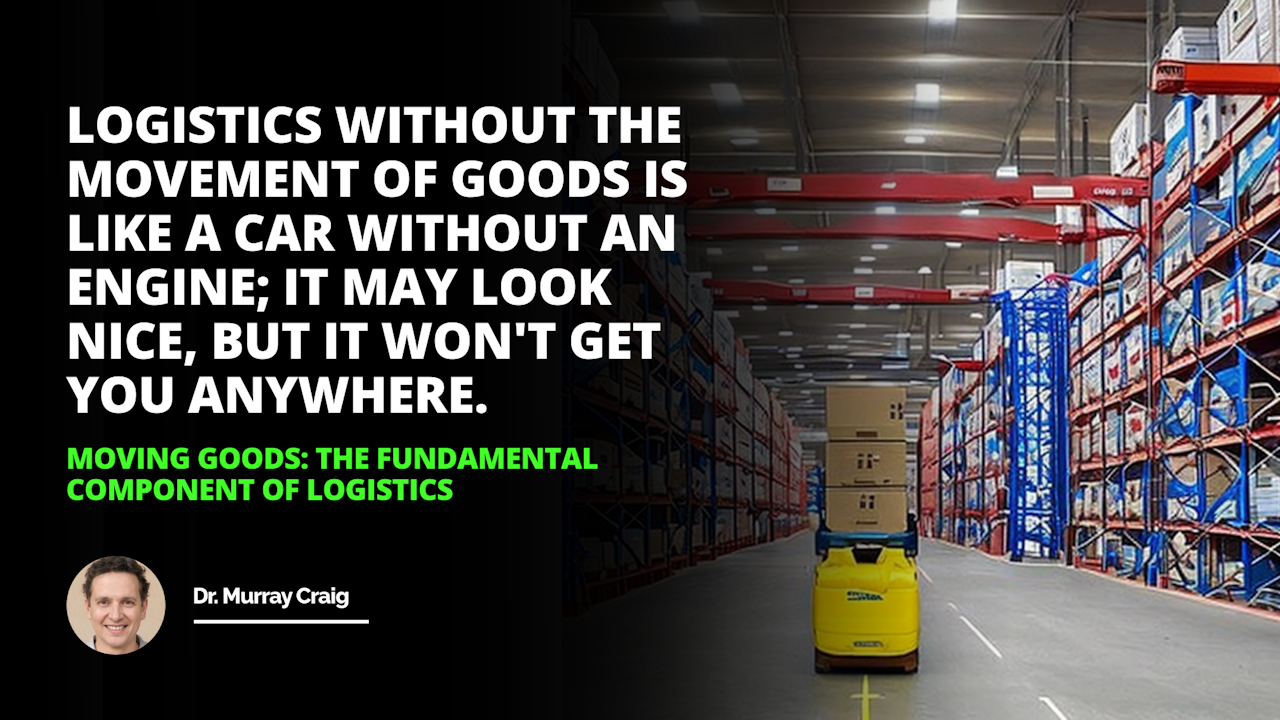 | Key Aspect | General idea | Detailed Explanation |
| --- | --- | --- |
| Logistics | Essential for modern businesses success | Logistics is the method of planning, controlling, and performing the transportation and storage of goods. It enables businesses to optimize resources and customer requirements. |
| Moving Goods | Major part of logistics process | The quick and effective movement of goods determines the success of businesses. It involves managing transportation, tracking shipments, maintaining delivery timelines and quality. |
| Challenges | Obstacles in moving goods | Some typical challenges include transportation costs, transit delays, and risks of damage or loss of goods. |
| Solutions | Methods to tackle challenges | Automated solutions can simplify logistics processes and reduce costs. Implementing tracking systems such as GPS can help monitor shipments in real-time and ensure timely delivery. |
| Automation | Important solution for logistics | Automation can handle tasks involved in moving goods like route mapping, shipment tracking and helps streamline operations and reduce costs. |
| Tracking systems | Monitoring shipments | GPS and other tracking systems allow real-time status updates of shipments. This helps in ensuring timely delivery and maintaining quality. |
| Conclusion | Significance of logistics and moving goods | To achieve success in today's competitive world, companies must efficiently manage the movement of goods. Automation and tracking systems can streamline logistics operations. |
| Further Scope | Continuous improvement | By analyzing insights from tracking systems, businesses can identify potential issues and take necessary corrective measures before they escalate. |
| Analogy | Logistics likened to a car engine | Logistics without the movement of goods is similar to a car without an engine, it may look effective but won't function or progress. |
| Customer Satisfaction | End goal of efficient logistics | By ensuring quick and quality deliveries, businesses not only operate smoothly but also keep their customers satisfied. |
Moving Goods

The Solutions
Logistics are an integral part of modern business; without them, a company's ability to compete would greatly diminish. Logistics is the process of planning, controlling, and executing the transportation and storage of goods from one point of origin to another. Logistics is essential to the success of any business, allowing companies to make the most of their resources and meet the needs of their customers. This blog post will look at the fundamental logistics component – moving goods.
Moving Goods
The process of moving goods is a vital part of the logistics process. It can have a significant impact on the success of a business. Companies need to be able to move their goods quickly and efficiently to meet the demands of their customers. Moving goods is a complex process that involves managing the transportation of goods, tracking the progress of shipments, and ensuring that goods are delivered on time and in good condition.
There are many challenges that companies must face when it comes to moving their goods. These include the cost of transportation, delays in transit, and the risk of damage or loss of goods. To overcome these challenges and ensure the efficient movement of goods, businesses must use the right solutions.
The Solutions
Several solutions can help businesses ensure that their shipments are delivered on time and in good condition. Automation is one of the most effective solutions companies can use to improve their logistics processes. Automation can simplify many tasks involved in moving goods, such as route mapping and shipment tracking, allowing businesses to streamline operations and reduce costs.
Another solution that businesses can use is the implementation of tracking systems. Tracking systems such as GPS can help companies track their shipments in real time, allowing them to monitor their progress and ensure they are delivered on time and in good condition. Tracking systems can also provide valuable insights into the logistics process, allowing businesses to identify potential issues and take corrective action before they become a problem.
Conclusion: Logistics is a critical aspect of business and is essential for companies to be successful in today's competitive environment. Moving goods is a fundamental component of logistics. Companies must be able to move their goods quickly and efficiently to meet their customer's needs. Automation and tracking systems are two solutions businesses can use to help them manage the movement of goods and ensure that their shipments are delivered on time and in good condition. By taking advantage of these solutions and understanding the fundamentals of logistics, businesses can ensure that their operations are running smoothly and that their customers have the best experience possible.
Logistics without the movement of goods is like a car without an engine. It may look nice, but it won't get you anywhere.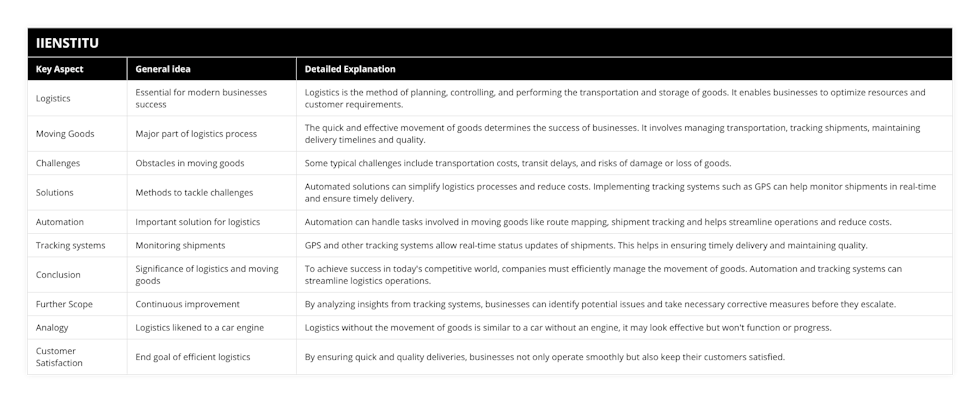 Logistics
Moving Goods
Automation
Tracking Systems
Transportation
Storage
Origin
Execution
Tracking
GPS
Cost
Delays
Risk
Solutions
Route Mapping
Shipment Tracking
Optimization
Truckload
Consolidation
Shipment Routing

Dr. Murray Craig
Academic
Dr. Murray Craig is an academic and researcher who has dedicated his life to the study of human behavior. He has a particular interest in how people interact with their environment, and how that interaction can be used to improve their lives. Dr. Craig has spent many years teaching and conducting research at universities all over the world, and he is widely respected for his work in the field of behavioral science.
Related Posts
Our team of experts is passionate about providing accurate and helpful information, and we're always updating our blog with new articles and videos. So if you're looking for reliable advice and informative content, be sure to check out our blog today.