Human Resources Management
Reaping the Benefits of Work-Life Balance Programs
19 February 2023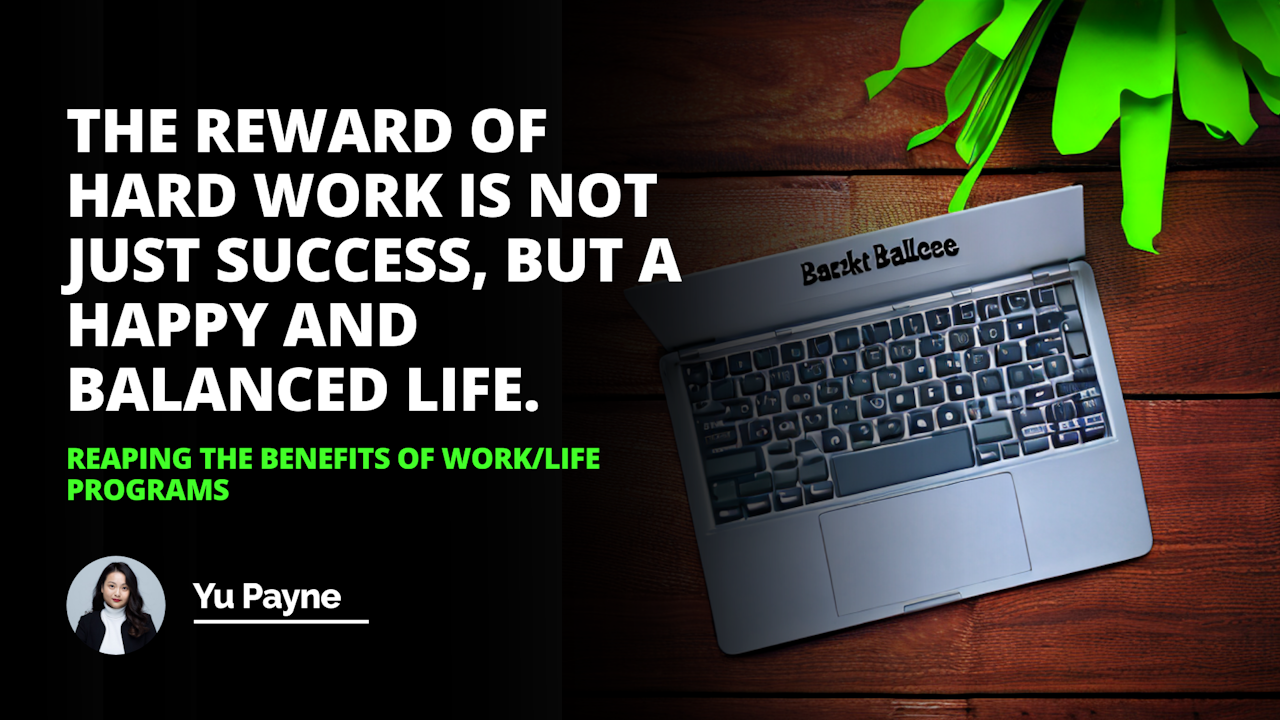 | Work-Life Program | Benefits For Employees | Benefits For Employers |
| --- | --- | --- |
| Flexible Work Hours | Allows working during productive hours, increases job satisfaction | Enhances productivity, fosters an environment of trust and collaboration |
| Paid Parental Leave | Ensures financial security, allows time for bonding with new family member | Improves employee retention, enhances job applicant satisfaction |
| Wellness Incentives | Promotes healthier lifestyle choices, reduces stress levels | Boosts overall workforce productivity, reduces absences due to illness |
| Employee Assistance Programs | Provides support during personal or work-related challenges | Increases employee focus, commitment and retention |
| Remote Work Opportunities | Enhances work-life balance, reduces commute times | Expands talent pool, lowers overhead costs |
| Vacation Policies | Offers rest and recharge, enhances job satisfaction | Boosts employee morale, improves productivity |
| Employee Resource Groups | Provides peer support, promotes professional development | Strengthens company culture, promotes diversity and inclusion |
| Continuous Learning Opportunities | Fosters personal and professional growth, keeps skills current | Boosts company competitiveness, increases employee engagement |
| Childcare Supports | Alleviates childcare concerns, enhances work-life balance | Increases productivity, improves staff retention |
| Mental Health Supports | Promotes mental well-being, reduces stress and burnout | Enhances overall productivity, improves corporate reputation |
Benefits for Employees

Benefits for Employers

Examples of Work-Life Programs
Work-Life programs are those that are designed to improve the quality of life of employees. They are created with the idea that if employees balance their work and personal life, it will result in better job performance. Work-Life programs often include flexible work hours, paid parental leave, wellness incentives, and other strategies that ultimately create a win-win situation for both the employer and employee. There are many benefits of Work-Life programs that make them invaluable tools to have in the workplace.
Benefits for Employees
The primary benefit of Work-Life programs for employees has improved workplace morale. When employees feel that their employer is offering them the opportunity to live a balanced life, they are more likely to be engaged and motivated. In addition, employee satisfaction increases when they are given options for flexible schedules, which can improve workplace productivity by allowing employees to work during their most productive hours.
Another benefit of Work-Life programs is the improvement of physical and mental health. Employees with access to such programs are more likely to make healthier lifestyle choices, such as participating in wellness activities and taking time off for vacation. This can result in fewer absences and lower stress levels, leading to a healthier, more productive workforce.
Benefits for Employers
The primary benefit for employers has improved staff retention. When employees have a balance between their work life and personal life, they are less likely to be disengaged and seek employment elsewhere. Employers that seek to optimize Work-Life programs will reap the rewards in terms of team morale and overall productivity.
Another benefit of Work-Life programs is increased job applicant satisfaction. Job seekers increasingly care about the quality of life they will have in their next position, and having Work-Life programs in place can make a company appear more attractive to top talent.
Finally, Work-Life programs can also help to boost a company's corporate reputation. Consumers and potential customers increasingly demand companies adopt socially responsible policies that demonstrate their commitment to their employees. This can result in more consumer loyalty and more positive brand association.
Examples of Work-Life Programs
One famous example of a Work-Life program is flexible scheduling. This allows employees to work during the most productive times and can create an environment of increased trust and collaboration between employers and employees.
Paid parental leave is also a great example of a Work-Life program. This program allows parents to take time off to bond with their new baby and helps ensure that employees can return to work without worrying about financial concerns.
Finally, investing in employee wellness programs (such as gym memberships and health incentives) is another way to create a balanced employee experience. Offering these programs can result in healthier and more motivated employees, ultimately improving the bottom line.
Conclusion: Work-Life programs are invaluable tools for employers to have in their workplace. They greatly benefit employers and employees, improving workplace morale, productivity, and physical and mental health. Examples of such programs include flexible scheduling, paid parental leave, and employee wellness programs. All in all, these programs can help boost a company's bottom line and help ensure that employees are as productive, engaged, and happy as possible. Therefore, investing in Work-Life programs is essential to creating a thriving workplace.
The reward of hard work is not just success but a happy and balanced life.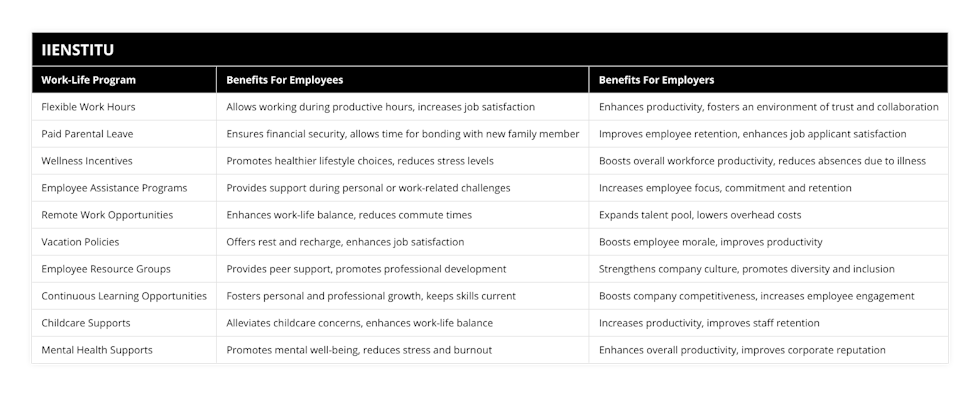 Work/Life programs
flexible scheduling
paid parental leave
employee wellness programs
improved workplace morale
increased workplace productivity
physical and mental health
consumer loyalty
brand association
trusting collaboration
health incentives
improved bottom line
Yu Payne
Blogger
Yu Payne is an American professional who believes in personal growth. After studying The Art & Science of Transformational from Erickson College, she continuously seeks out new trainings to improve herself. She has been producing content for the IIENSTITU Blog since 2021. Her work has been featured on various platforms, including but not limited to: ThriveGlobal, TinyBuddha, and Addicted2Success. Yu aspires to help others reach their full potential and live their best lives.
Related Posts
Our team of experts is passionate about providing accurate and helpful information, and we're always updating our blog with new articles and videos. So if you're looking for reliable advice and informative content, be sure to check out our blog today.