Stress Management
Stress Management Tips to Help You Relax
15 September 2022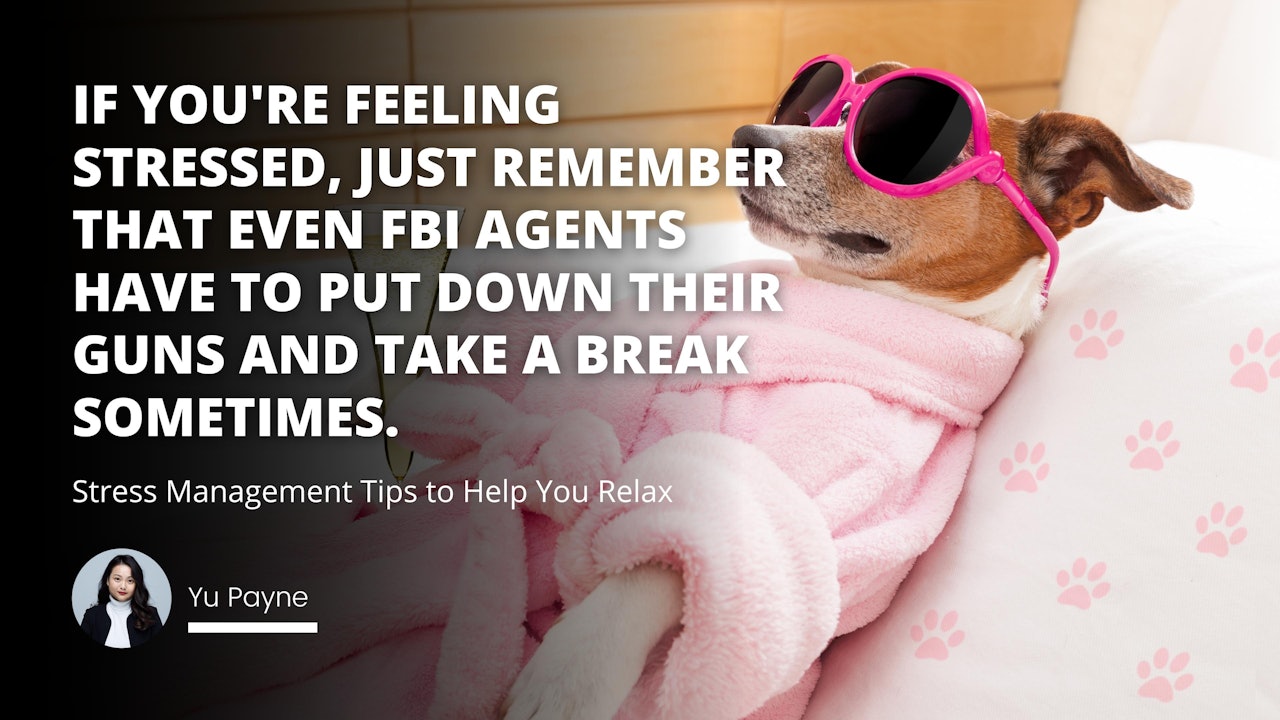 | Stress Management Tips | Explanation | Benefits |
| --- | --- | --- |
| Deep breathing exercises | Involves inhaling deeply, causing the abdomen to expand and the diaphragm to move downward. | Reduces stress, promotes relaxation, slows the heart rate, lower blood pressure. |
| Progressive Muscle Relaxation (PMR) | Systematically tensing and relaxing different muscle groups throughout the body. | Helps to release built-up tension, promotes relaxation, distracts from stressful thoughts. |
| Visualization or imagery | Visualizing a peaceful scene, such as a tranquil beach or serene forest. | Promotes relaxation, reduces stress. |
| Diaphragmatic breathing | Involves breathing deeply from your stomach, filling your lungs with fresh air. | Promotes relaxation, reduces stress. |
| Mindfulness meditation | Focusing the mind on the present moment, acknowledging and accepting one's feelings, thoughts, and bodily sensations. | Improves focus, reduces stress, helps in treating mood disorders. |
| Regular exercise | Engaging in regular physical activity. | Lowers stress hormones, improves sleep quality, boosts confidence. |
| Healthy diet | Eating a balanced diet rich in fruits, vegetables, lean proteins, and whole grains. | Improves overall health, helps combat stress. |
| Avoid caffeine, alcohol, and nicotine | These substances can increase stress levels rather than reducing them. | Helps maintain balanced mood and energy levels, mitigates stress. |
| Time management | Planning and controlling how much time to spend on specific activities. | Reduces stress, increases productivity and efficiency. |
| Sufficient sleep | Getting a good night sleep to let your body and mind rest. | Improves concentration, reduces stress, promotes overall health. |
Most of us have experienced stress at one time or another. Stress can seem impossible to avoid, whether it's a looming deadline at work, a fight with a loved one, or a natural disaster. But what exactly is stress? The American Psychological Association defines stress as "the body's response to any demand."
When we perceive a threat, our bodies go into "fight-or-flight" mode, releasing hormones like adrenaline and cortisol. This physiological response can help us deal with an immediate threat, but it takes a toll on our bodies when constantly activated. In addition, chronic stress has been linked to many health problems, including heart disease, cancer, and depression. So how can we manage stress in our lives?
What is stress?
Stress is the body's response to any demand. The demand could be physical, such as lifting a heavy object, or psychological, such as a looming deadline at work. Stress triggers the release of hormones, such as adrenaline and cortisol, which prepare the body for action. The fight or flight response is an evolutionary mechanism that helped our ancestors survive against predators and other threats.
We rarely face life-threatening situations in today's world, but we still experience stress in response to everyday demands. If the stressor is removed and the body is not allowed to return to its normal state, a person may experience chronic stress. This can lead to health problems like high blood pressure and anxiety. Chronic stress can also make it difficult to concentrate, remember things, and make decisions. Therefore, finding ways to manage stress to maintain good mental and physical health is essential.
The stress response is the body's way of protecting itself. When you perceive a threat, your nervous system releases a flood of stress hormones, including adrenaline and cortisol. These hormones rouse the body for emergency action. As a result, your heart pounds faster, muscles tense, blood pressure rises, breath quickens, and your senses become sharper. This "fight-or-flight" response is designed to protect you in an emergency by preparing you to either fight or flee from danger.
In the short term, stress can be beneficial, providing the extra energy and focus you need to meet a challenge. But when it becomes chronic (long-lasting), it can affect your health and well-being.
The effects of stress
Stress can cause both physical and emotional symptoms.
Physical effects:
Headaches

Muscle tension or pain

Chest pain

Fatigue

Upset stomach, including diarrhea, constipation, and nausea

Problems sleeping
Emotional effects:
Anxiety

Restlessness

Lack of motivation or focus

Irritability or anger

Sadness or depression
Stress can also make chronic health problems worse. For example, it can worsen symptoms of asthma and other respiratory disorders; subscribe to my Youtube channel, increase the risk of heart attack and stroke, and contribute to gastrointestinal problems such as ulcers. Long-term stress can also lead to mental health problems such as anxiety and depression.
Managing stress
There are several things you can do to manage stress in your life.
Relaxation techniques:
Deep breathing exercises: Relaxation techniques are a great way to reduce stress and promote overall wellness. Deep breathing exercises are one such technique that can be quickly done anywhere, at any time. When you inhale deeply, your lungs fill with air, causing your abdomen to expand.
This encourages the diaphragm to move downward, massaging the abdominal organs and promoting blood flow. Additionally, deep breathing can slow the heart rate and lower blood pressure. As a result, deep breathing exercises can help to reduce stress and promote relaxation.
Progressive muscle relaxation (PMR): One popular method is progressive muscle relaxation (PMR). This involves systematically tensing and relaxing different muscle groups throughout the body. By alternately tensing and relaxing muscles, PMR can help to release built-up tension and promote relaxation.
Additionally, many people find that focusing on the physical sensations of muscle tension and release can help to distract from stressful thoughts and emotions. As a result, PMR can be an effective tool for managing stress and promoting relaxation.
Visualization or imagery: One popular relaxation technique is visualization or imagery. This involves picturing a peaceful scene in your mind, such as a tranquil beach or a serene forest. As you focus on the details of the image, you should start to feel more relaxed. Another effective relaxation technique is diaphragmatic breathing.
This involves breathing deeply from your stomach, filling your lungs with fresh air. You may also want to try progressive muscle relaxation, which involves tensing and relaxing different muscle groups in your body. By exploring other relaxation techniques, you can find the one that works best for you and learn how to reduce stress in your life.
Mindfulness meditation: Mindfulness meditation is a type of mindfulness practice in which you focus your attention on the present moment while acknowledging and accepting your feelings, thoughts, and bodily sensations. Mindfulness meditation aims to bring your attention to the present moment without judgment.
This can be done by focusing on your breath or a specific word or phrase that you repeat to yourself. You may also find it helpful to focus on a particular object or sensation, such as feeling your feet on the ground. When your mind wanders, acknowledge the thoughts or feelings that you are having and then gently return your focus to the present moment.
Mindfulness meditation can be practiced for a few minutes or more extended periods. It is essential to find a comfortable position and practice where you will not be interrupted.
Exercise:
Regular physical activity can help reduce stress and improve your overall health. Even moderate exercise can make a difference. Try to get at least 30 minutes of exercise most days of the week. If you don't have time for 30 minutes, try shorter periods of activity throughout the day.
Sleep:
Getting enough sleep is essential for both your physical and mental health. When stressed, you may have trouble falling asleep or staying asleep. Aim for 7-8 hours of sleep each night.
Nutrition:
Eating a healthy diet can help you feel your best and manage stress. So be sure to include plenty of fruits, vegetables, and whole grains in your diet. And limit sugary and fatty foods.
Time management:
Related Course: Free Online Time Management Course
One way to reduce stress is to manage your time more effectively. Please list the things you need to do each day, and then prioritize them by importance. Try to do the most important tasks first, and don't procrastinate. Also, try to break large tasks into smaller ones that you can complete more easily. And learn to say "no" when you need to. You don't have to do everything that's asked of you.
Stress is a normal part of life, but it can become chronic and take a toll on your health if you don't manage it effectively. You can do several things to reduce stress in your life, including relaxation techniques, exercise, sleep, and nutrition. Time management is also essential. You can improve your overall health and well-being by taking steps to manage stress.
Overcome stress more easily by attending our five-day, interactive stress management course.
---
Additionally, according to Martin Seligman, hope and optimism about future outcomes are vital factors in our overall wellbeing and ability to overcome life's difficulties. Positivepsychology

And not only that, according to the broaden and build theory, they strengthen our psychological resources for overcoming tough, stressful times (Seligman, 2011) Positivepsychology

Set realistic goals and expectations It's also OK — and healthy — to realize you can't be 100% successful at everything all at once. clevelandclinic

When you're stretched too thin and running behind, it's hard to stay calm and focused. helpguide

body and mind
stress relief
stress relievers
chronic stress
long term
stress and anxiety
feel good
stress response
nervous system
feel overwhelmed
physical activity
reduce stress
stress hormones
stress level
stress reduction
mental health
muscle tension
deal with stress
manage stress
deep breathing
Yu Payne
Blogger
Yu Payne is an American professional who believes in personal growth. After studying The Art & Science of Transformational from Erickson College, she continuously seeks out new trainings to improve herself. She has been producing content for the IIENSTITU Blog since 2021. Her work has been featured on various platforms, including but not limited to: ThriveGlobal, TinyBuddha, and Addicted2Success. Yu aspires to help others reach their full potential and live their best lives.
Related Posts
Our team of experts is passionate about providing accurate and helpful information, and we're always updating our blog with new articles and videos. So if you're looking for reliable advice and informative content, be sure to check out our blog today.