Life Coaching
Overcoming Hurt: A Guide to Assertive Communication
25 February 2023
| Topic | Explanation | Benefits |
| --- | --- | --- |
| Assertive Communication | A healthy way of communicating based on respect. It allows for honest, direct expression of wants, needs, and feelings without resorting to threats or insults. | Improved self-confidence, healthier relationships, effective problem-solving, improved mental and emotional well-being. |
| Hurtful Communication | Unwanted and damaging communication that can take various forms: passive, aggressive, or passive-aggressive. It can range from avoidance to indirect or even overt aggression. | Understanding it helps to avoid or manage it effectively, maintaining healthy relationships and emotional balance. |
| Setting Boundaries | The process of establishing and maintaining personal boundaries to protect oneself from further hurt. It involves identifying one's needs and limits and communicating them clearly and directly. | Protects from hurtful communication, preserves self-esteem and emotional well-being. Encourages respectful relationships. |
| Conflict Resolution | Utilization of effective communication skills to resolve conflicts. Involves empathetic listening and honest communication for expressing needs, desires, and emotions. | Decreases conflict, improves relationships, reduces stress and creates harmonious environments. |
| Passive Communication | A form of hurtful communication characterized by avoidance such as avoiding contact or not expressing one's opinion. | Identifying it helps to assertively express oneself instead, improving relationships. |
| Aggressive Communication | Another type of hurtful communication that involves verbal and physical aggression, such as criticism and threats. | Understanding it allows for effective countermeasures and helps maintain healthy relationships. |
| Passive-Aggressive Communication | A hurtful form of communication involving indirect aggression, like sarcastic comments or manipulative behavior. | Recognizing it helps to promote assertive communication and maintain healthier relationships. |
| Improved Self-Confidence | One of the outcomes of practicing assertive communication. | Allows for expressing needs and feelings, reduces stress, boosts self-esteem. |
| Healthier Relationships | A benefit resulting from assertive communication, the establishment of boundaries, and effective conflict resolution. | Reduces misunderstandings, enhances interpersonal connections, fosters mutual respect. |
| Effective Problem-Solving | Enhanced through assertive communication, which promotes open and honest discussions. | Identifies issues timely, finds solutions more effectively, reduces conflict. |
What is Assertive Communication

The Benefits of Assertive Communication

Understanding Hurtful Communication

Taking Control: Setting Boundaries

Effectively Responding to and Resolving Conflict
Hurtful communication can have a profound impact on both personal and professional relationships. It can lead to guilt, shame, anxiety, and depression. Fortunately, there are ways to manage and overcome hurtful communication by practicing assertive communication. Assertive communication is a healthy way of communicating that allows individuals to maintain control, assert their rights and feelings, and respectfully express them. This article will guide how to effectively sustain assertive communication to manage hurtful communication.
What is Assertive Communication
Assertive communication is based on the concept of respect for oneself and others. It is a way of communicating that involves expressing one's wants, needs, and feelings honestly and directly. It is assertive in its delivery but does not involve threats or insults. By practicing powerful communication, individuals can maintain control of their emotions and stand up for their rights and beliefs.
The Benefits of Assertive Communication
Assertive communication is beneficial for both communicators and their relationships. It conveys respect and genuine regard for the other person without sacrificing the communicator's rights. The benefits of assertive communication include the following:
Improved self-confidence.

Better relationships.

Healthier communication patterns.

More effective problem-solving.

Improved mental and emotional well-being.
Understanding Hurtful Communication
Hurtful communication is unwanted and can have a damaging and lasting impact. It comes in many forms, including passive, aggressive, and passive-aggressive communication. Passive communication is characterized by avoidance, such as avoiding contact or not expressing one's opinion. Passive-aggressive communication involves indirect aggression, such as sarcastic comments or manipulative behavior. And aggressive communication involves verbal and physical aggression, such as criticism or threats.
When analyzing relationships involving hurtful communication, it is essential to identify where the communication comes from. For example, is it the other person's behavior or the communicator's? Having an honest look at the situation and asking informed questions can help clarify hurtful communication.
Taking Control: Setting Boundaries
When faced with hurtful communication, assertive boundary setting is necessary to protect oneself from further hurt. Establishing personal boundaries is the first step in this process. Establishing personal limitations involves assessing one's needs and limits and communicating those clearly and directly. Sharing and maintaining those boundaries is the next step. Being firm and consistent when dealing with people trying to push those boundaries is essential.
Effectively Responding to and Resolving Conflict
Developing practical communication skills is essential to resolve conflict. Listening attentively and empathizing with the other person's feelings is critical to conflict resolution. Communicating calmly and honestly is crucial in expressing needs, wants, and emotions. Negotiating and making compromises can help build consensus and find acceptable solutions for both parties.
Conclusion: Assertive communication is crucial to maintain control, expressing one's needs and feelings, and protecting oneself from hurtful communication. It can help to improve communication patterns, build relationships, and reduce conflict. The benefits of assertive communication extend beyond conflict resolution. When practiced, they are a powerful tool to remain resilient and optimistic in the face of hurt.
Hurt cannot last long when compassion leads the way.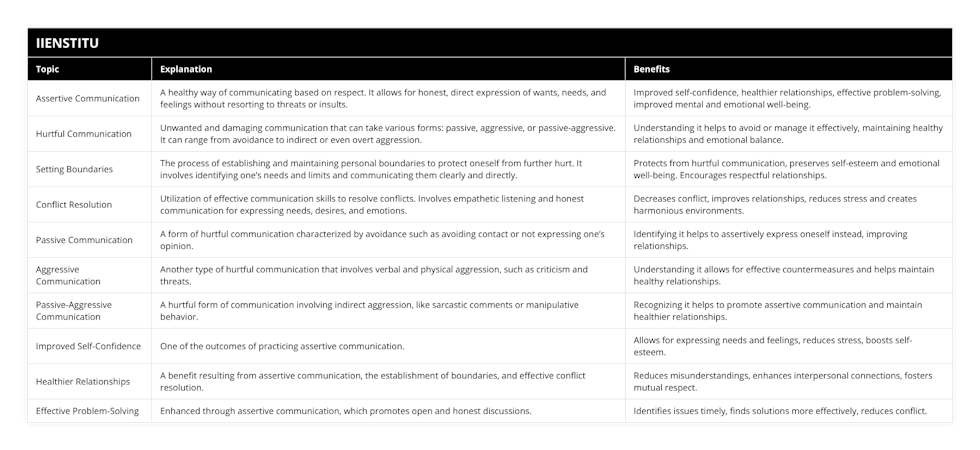 Hurtful communication
assertive communication
respect for oneself
respect for others
self-confidence
better relationships
healthier communication
effective problem solving
mental health
emotional wellbeing
passive communication
aggressive communication
passive-aggressive communication
verbal aggression
physical aggression
personal boundaries
listening attentively
empathetic
honest manner
negotiating
compromises
building consensus
resilience.

Amara Weiss
Institute Secretary, Author
I am Amara Weiss and for many years I have worked in the field of education, specifically in the area of technology. I firmly believe that technology is a powerful tool that can help educators achieve their goals and improve student outcomes. That is why I currently work with IIENSTITU, an organization that supports more than 2 million students worldwide. In my role, I strive to contribute to its global growth and help educators make the most of available technologies.
Related Posts
Our team of experts is passionate about providing accurate and helpful information, and we're always updating our blog with new articles and videos. So if you're looking for reliable advice and informative content, be sure to check out our blog today.