Personal Development
Unlocking Core Beliefs: A Journey Into SelfAcceptance
23 February 2023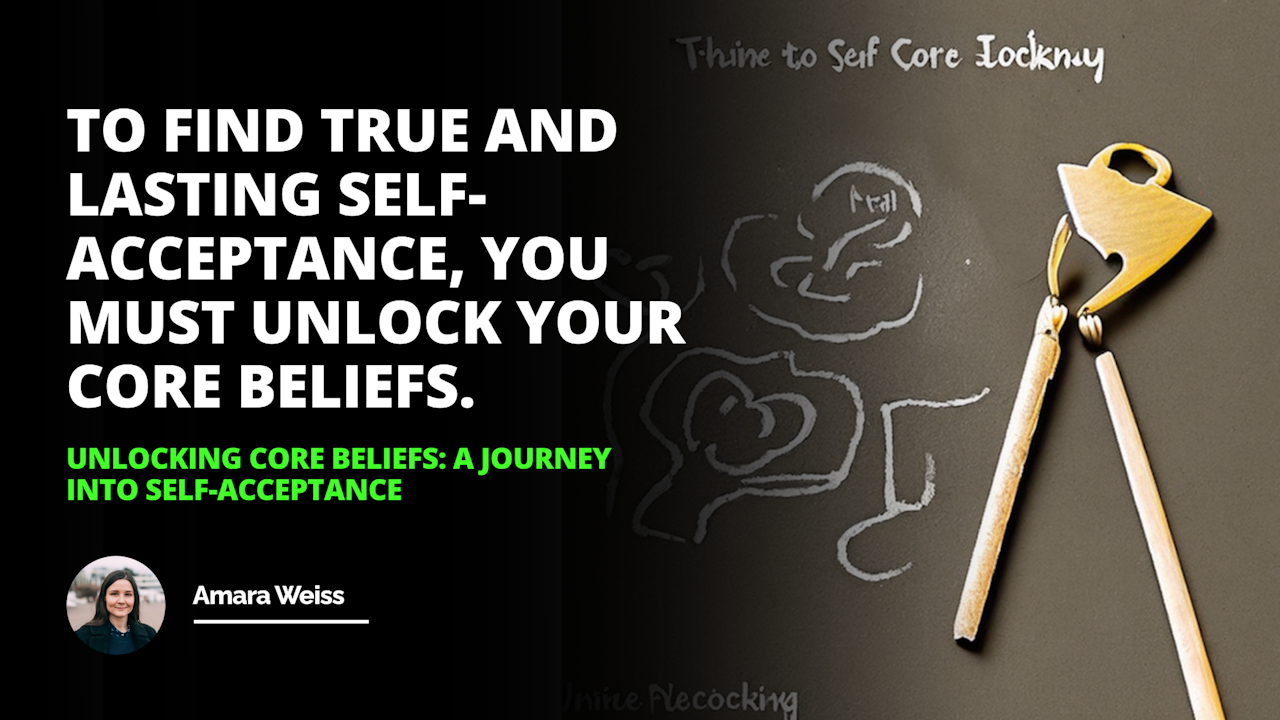 | Core Concept | Description | Role in Self-Acceptance |
| --- | --- | --- |
| Understanding Core Beliefs | Core Beliefs form the basis of who we are and how we interact with others, acting as filters for life events and experiences. | Unlocking core beliefs is vital for self-acceptance and can lead to healthier relationships. |
| Reflection on Core Beliefs | A process of examining where our beliefs originated and if they remain relevant today. | Helps us identify irrational, outdated, or inaccurate core beliefs that hinder self-acceptance. |
| Sources of Core Beliefs | Upbringing, societal values, past relationships, and personal narratives can greatly contribute to our core beliefs. | Understanding the sources of our core beliefs allows us to reassess our self-perceptions accurately. |
| Self-Acceptance | A state of comfort with oneself, accepting our weaknesses and mistakes, and acknowledging our inherent qualities. | Essential for unlocking and challenging core beliefs to achieve personal progress. |
| Cognitive Behavioral Therapy (CBT) | A therapeutic approach of examining distortions and irrational beliefs and replacing them with more effective strategies. | Helps in acknowledging and modifying core beliefs, promoting self-acceptance. |
| Mindfulness and Meditation | Techniques used to create space for non-judgemental self-observation and core belief identification. | Assists in building self-acceptance by promoting a better understanding of our feelings and emotions. |
| Positive Self-Talk | A practice of consciously reframing our thoughts and creating a supportive internal narrative. | Strengthens self-acceptance through fostering a more positive self-perception. |
| Fear of Self-Acceptance | Some individuals may equate self-acceptance with selfishness or complacency, leading to its rejection. | Overcoming this fear is a significant step towards fostering a healthy level of self-acceptance. |
| Value of Self-Acceptance | Understanding self-worth, strengths, and flaws is an important aspect of self-acceptance. | Allows us to appreciate our imperfections and strengths, fostering unconditional positive self-regard. |
| Challenges in Self-Acceptance | Unlocking core beliefs can be difficult due to experiences or societal conditioning that encourage self-rejection. | Recognizing these challenges can guide us in building resilience and cultivating self-acceptance. |
Reflection on Core Beliefs

Exploring Self-Acceptance

Techniques for Building Self-Acceptance
At the core of our being lies a set of beliefs – what we perceive to be true about ourselves, our relationships, and the world. These beliefs form the basis of who we are, how we interact with others, and our environment. They are called Core Beliefs and operate as filters for life events and experiences. In psychology, unlocking core beliefs has become an increasingly important part of therapy. It can lead to self-acceptance and acceptance of another's opinion, which can be essential in restoring healthy relationships.
The benefits of unlocking core beliefs are twofold. First, it can help us manage our reactions to negative experiences by shifting our perspective and allowing us to make room for alternative interpretations of events. Second, it can help us become more mindful of our thoughts and feelings, allowing us to become more self-aware and better equipped to address our needs.
Unlocking core beliefs is a crucial component of self-acceptance, as it enables us to move beyond the limited view of ourselves that our core beliefs have created. However, we can only unlock these beliefs and move forward with a healthier mindset when we learn to accept ourselves and the experiences that have shaped us.
Reflection on Core Beliefs
The first step in unlocking core beliefs is to examine them. Next, we must reflect on where our ideas originated and whether they remain relevant today. As we do so, it's essential to remember that some of our beliefs may be based on inaccurate assumptions or outdated or incorrect.
Familiar sources of erroneous beliefs include our upbringing, past relationships, and cultural or societal values. In addition, some of our ideas are likely a result of the narrative we were told about our worth as we grew up and the people we were surrounded by. These narratives can inform our core beliefs and provide ideas that may be difficult to unlearn.
We must be mindful of the origin of our core beliefs and dig deeper to uncover the source of our misperceptions and outdated representations of reality. In doing so, we can better understand our inherent ideas and identify those that may be inaccurate, irrational, or unnecessary.
Exploring Self-Acceptance
The process of unlocking core beliefs is only possible with self-acceptance. Self-acceptance refers to a state in which we are comfortable with who we are and express unconditional positive regard for ourselves. This entails accepting our weaknesses and mistakes and believing that our inherent qualities and gifts are valuable and deserving of love and respect. Self-acceptance requires an intimate understanding of our flaws, strengths, and overall worth.
While self-acceptance is essential to any healthy individual, unlocking core beliefs can be challenging due to the rejection of self-acceptance. Many of us have been taught to believe that self-acceptance is selfish or that accepting ourselves is wrong. We may even fear that if we get ourselves, we'll be unable to press on and improve.
However, these fears are unfounded. Cultivating a state of self-acceptance is necessary for progress. With it, our core beliefs will remain unchanged, preventing us from challenging our views and engaging open-mindedly with ourselves and others.
Techniques for Building Self-Acceptance
Once we understand the significance of self-acceptance in unlocking core beliefs, we can use various techniques to cultivate it. One of the most well-known approaches is Cognitive Behavioral Therapy (CBT). This method involves examining our distortions and irrational beliefs and replacing them with more effective strategies. It helps us take ownership of the thoughts and feelings generated by our core beliefs and use them to make positive changes.
We can also build self-acceptance through mindfulness and meditation. The mindful approach allows us to check in with ourselves and more accurately assess our feelings and emotions. It helps to create space between what we say and do, so we can observe our behavior without judgment and become aware of our core beliefs and their impact on our well-being.
Finally, self-acceptance can be strengthened through the generation of positive self-talk. Instead of meditating on our perceived shortcomings, we can consciously reframe our thoughts and create a more supportive internal narrative. We can embrace ourselves as we are and move away from self-criticism, taking the time to appreciate our experiences and the beauty of our imperfections.
In summation, unlocking core beliefs can be essential in cultivating self-acceptance and allowing us to live a healthier, more meaningful life. It involves reflecting on our core beliefs, examining the origin of these beliefs, exploring self-acceptance, and using techniques such as CBT, mindfulness and meditation, and positive self-talk to strengthen them. Ultimately, this can lead to a better understanding of our self-concept, more excellent reflection on our inner narrative, and more meaningful interpersonal relationships.
To find true and lasting self-acceptance, you must unlock your core beliefs.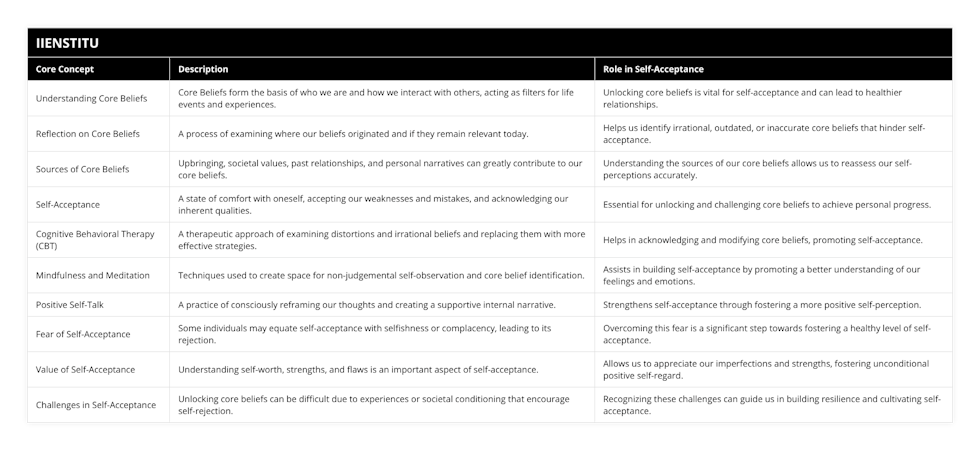 Core beliefs
self-acceptance
cognitive behavioral therapy (CBT)
mindfulness
meditation
positive self-talk
inner narrative
interpersonal relationships

Amara Weiss
Institute Secretary, Author
I am Amara Weiss and for many years I have worked in the field of education, specifically in the area of technology. I firmly believe that technology is a powerful tool that can help educators achieve their goals and improve student outcomes. That is why I currently work with IIENSTITU, an organization that supports more than 2 million students worldwide. In my role, I strive to contribute to its global growth and help educators make the most of available technologies.
Related Posts
Our team of experts is passionate about providing accurate and helpful information, and we're always updating our blog with new articles and videos. So if you're looking for reliable advice and informative content, be sure to check out our blog today.